Homemade cranberry sauce is unbelievably easy to make, and can be ready in 30 minutes, stove to table.
The title of this post could easily be "Cranberry Sauce: The Easiest Thing You'll Ever Make This Side of a Cheese Quesadilla."  I started making homemade cranberry sauce a couple of years ago on a whim, and after the first batch, I thought to myself, "Why didn't anyone ever tell me how freaking easy this is to make?  Why have I been buying that stuff in cans all these years?
There are almost as many variations to cranberry sauce as there are tables to serve it on.  This morning I met up at Longbottom's with a few friends, and when I mentioned that I was making cranberry sauce today, the ideas started flying.  "Raspberries!" says Ruth.  "I add raspberries,"  "Pomegranates…"  "And spices – I love all the spices."  (I think that was Janice, but it might have been Ruth again.)  Kathy, who had never made cranberry sauce before seemed hooked by the idea, and promised to stop by here to check out the recipe. (Hi, Kathy!)
I've spent the last few years perfecting my cranberry sauce recipe, each time cutting back a little more on the sugar and adding a little more of this and that – Mr B and I both like a cranberry sauce with a little bit of bite.  (Speaking of bite – the Grand Marnier is optional, but it adds another layer of flavor that you just cannot get from orange extract.)
This recipe is practically foolproof.  I double the batch and freeze or can the extra for use throughout the year. Makes a great hostess gift too!

Homemade Cranberry Sauce
Author:
Renée B. ♥ The Good Hearted Woman
Ingredients
8 cups cranberries
1 cup water
1 cup fresh orange juice
1 Tbs orange zest (about 1 orange)
10 whole cloves
10 whole allspice berries
6 whole cinnamon sticks
1 whole star anise
1¾ cups sugar
¼ cup Grand Marnier or other orange-flavored liqueur (optional)
Instructions
Place fresh cranberries, orange juice and water in a medium saucepan over medium heat.
Make a spice bag (see below). Wrap cloves, allspice berries and cinnamon sticks, and star anise in a spice bag.
Place spice bag in the pot with the cranberries. Cook until cranberries begin to burst, about 10 minutes.
Stir in sugar and orange zest. Reduce heat to low, and continue cooking 5 minutes, or until all the sugar has dissolved.
Add Grand Marnier and cook 2 minutes more. (You can omit the Grand Marnier, but if you do, add a teaspoon of orange extract and increase the sugar to 2 cups.)
Remove from heat and allow to cool. Discard spice bag. You can serve this right away, but I recommend that you chill it in the refrigerator 8 hours or overnight before serving to allow the flavors to blend.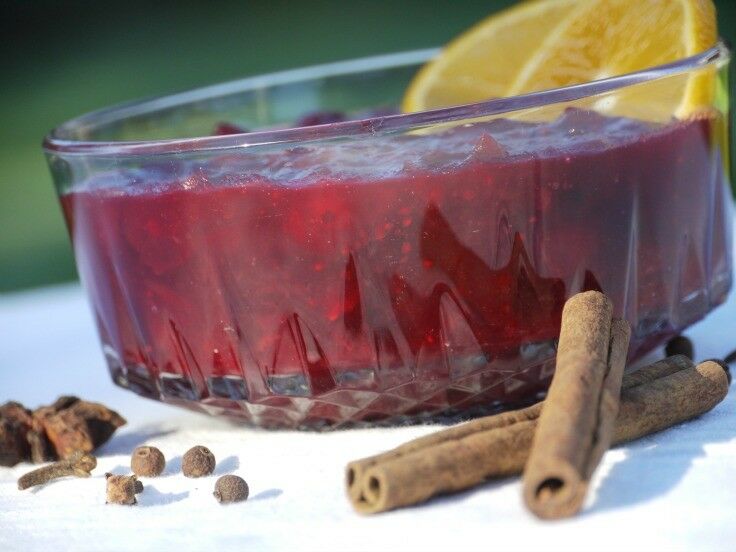 Need some zesty advice? Check out my How to Zest an Orange video!