There is simply here's no avoiding it: it's going to be a bumpy week no matter how this election all shakes out. Honestly, I cannot wait until the whole thing is over and tied in a bow (although I'm sure not holding my breath for that to happen right away). How about you? The way I see it, no matter which side of the fence you shuck your corn over, between election overload and colder weather and the dark days of autumn falling into winter, we could all use a little extra comfort right now. Thank goodness it's soup season!
Today I'm sharing a simple, belly pleasing, stick-to-your ribs recipe that will take all of 20 minutes of your time to prepare. You can let the slow cooker do all the work for the other approximately 20 hours (for the Slow Version) or 2 hours (for the Lightning Version) that it takes to cook.
As written, this White Chicken Chili is relatively mild, but you can spice it up by leaving the seeds in the jalapenos and/or adding more of them to the mix.
Depending upon which approach you take to making this White Chicken Chili, it will take you between two and 24 hours to prepare, but your actual hands-on prep time remains constant – about 20 minutes. All five versions listed produce delicious, savory results:
Slow: 20 hours – recipe as directed: overnight soak, then slow cooker on low.
Moderate: 18-19 hours – recipe as directed: overnight soak, then slow cooker on high.
Moderately fast:  10-12 hours – "Fast Soak" beans. (See Fast Soak Instructions at the bottom of the post) Continue with recipe as directed, with slow cooker on low.
Fast: 5-6 hours – "Fast Soak" beans. Continue with recipe as directed, with slow cooker on high.
Lightning: 1 1/2 – 2 hours – Use canned beans. Continue with recipe as directed. Cook in slow cooker on high for at least one hour.
White Chicken Chili
Author:
Renée B. ♥ The Good Hearted Woman
Ingredients
1 lb small white beans (or 2 - 15oz can great northern beans, drained and rinsed)
1 large onion, chopped
2-3 cloves garlic, minced
2 tablespoon olive oil
Juice of ½ lime
2- 4oz can diced green chilis
1 - 2 jalapenos, minced (for mild chili, removed seeds)
1½ teaspoons salt
1½ teaspoons cumin
1½ teaspoons dried oregano
¼ teaspoon freshly ground pepper
1 lb shredded chicken
6 cups chicken broth
1 lb cooked, shredded chicken
Toppings: avocado slices, lime wedges, sour cream, tortilla strips, and chopped cilantro
Instructions
Soak beans for 4-8 hours, or overnight. Drain and rinse.
In a large heavy skillet over medium heat, sauté onions and garlic in the olive oil over medium high heat. Cook until the onions are translucent and just beginning to turn brown.
Combine sautéed onions and garlic, soaked beans, and all of the remaining ingredients except the chicken in slow cooker. Cover and cook on low for 10-12 hours (or high for 4-5 hours), or until the beans are very tender. (Add additional broth or water if necessary.)
When beans are very tender, use an immersion blender or potato mashed to mash some of the beans up. This will slightly thicken chili. (Don't overdo it though or you will have bean puree!)
Add chicken about thirty minutes before the chili is done.
Serve with toppings on the side: avocado slices, sour cream, lime wedges, tortilla strips, and chopped cilantro are all good choices.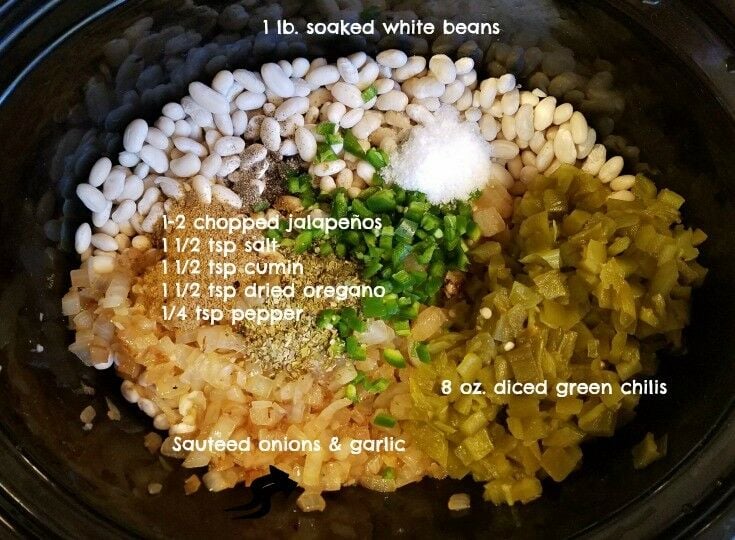 How to FAST SOAK beans:
In a medium saucepan, cover the beans with enough water so that it is at least an inch above the top of the beans. Bring the beans to a boil over high heat. Cook for one minute, and then remove from heat. Cover pot and allow beans to soak for one hour. Drain and rise beans before proceeding.
"To win the people, always cook them some savoury that pleases them."
― Aristophanes, The Knights