Notes from the Man Cave
Today is National Chicken Wing Day!  (I would never have known that if Renée hadn't told me, but she says it is, so it must be true.)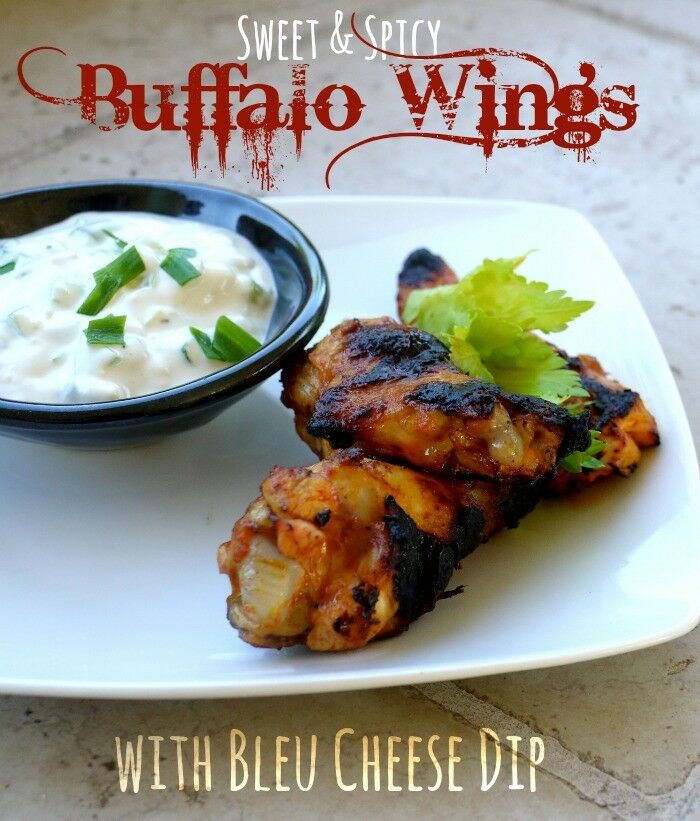 To celebrate this auspicious occasion, I thought I'd share Renée's wing recipe with you – because they are amazing! She served them up for my last poker night and the guys had them stripped clean in minutes! They have just the right amount of spice for a party.  (I like to spice things up a little more, but that's easy enough to do.)  The mild sweetness of the sauce really brings them together, too.  And that Blue Cheese Dip!  Wow! (My wife insists on spelling it "Bleu," but with a name like Renée, who can blame her?)
You can make them with bone-in wings or chicken tenders; Renée doesn't like to get her face messy when she eats, so she prefers the tenders.  Me, I'm all about good old-fashioned chicken wings.  Dig in!

Sweet & Spicy Buffalo Wings with Bleu Cheese Dip
Author:
Renée ♥ The Good Hearted Woman
Ingredients
3 lbs. chicken wings or tenders (or a combination of both)
Wing Sauce:
1½ cups Franks Hot Sauce
1 cup cola (DO NOT use diet cola! Try to use one with real sugar.)
2 tsp. paprika
½ cup butter, melted
2 tbls. Honey
Bleu Cheese Dip
½ cup sour cream
½ cup bleu cheese crumbles
¼ cup mayonnaise
1 large stalk celery, finely chopped
2 green onions, including tops, thinly sliced
1 clove garlic, minced
2 tbls. buttermilk
1 tbls. lemon juice
½ tsp. Kosher salt
¼ tsp. freshly ground pepper
Instructions
Chicken Wings
Mix the sauce ingredients together in a bowl.
Put the chicken tenders/wings in a ziploc bag or a dish and pour half the sauce over them. (Reserve the rest of the sauce for later.) Marinate for an hour or six.
Barbeque the chicken wings (or tenders) over medium heat until it is done.
Once the chicken is done, you can pour the remaining sauce over the wings, or serve it on the side and let people take what they want.

Bleu Cheese Dip
In a medium bowl, mix all the dip ingredients together. Refrigerate until you are ready to serve the wings.