Create a little culinary magic!
Bake up this nearly fool-proof Dutch Oven Pineapple Upside-down Cake on your next camping trip – or in your own backyard.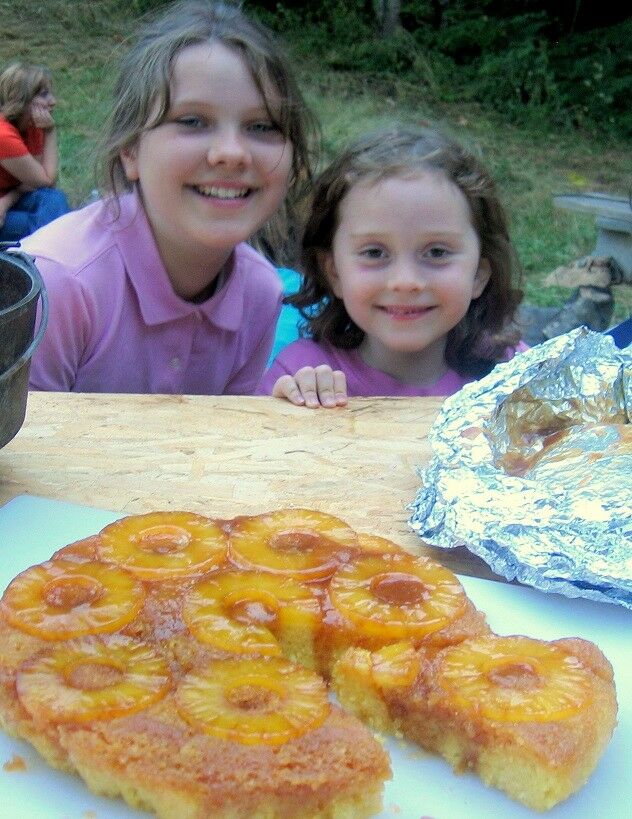 This post may contain affiliate links, but don't worry – they won't bite.
By conservative estimates, I believe I have taught over 1,000 adolescent and teenage girls (and more than a few grown women and men) how to make Dutch oven pineapple upside-down cake.
Nearly fool-proof and dependably crowd-pleasing, it is a camping staple in my family. So much so that my kids, their friends, my Girl Scouts, and a long string of Counselors-in-Training have all come to expect it as a God-given right – if I take them anywhere near a campfire, they will get pineapple upside-down cake.
Before I outline the process though, I'll tell you what I always tell people when I teach Dutch oven cooking:
"When the lid is on the big round thing, it is NOT a pot!
It is an

OVEN

!"
A Dutch Oven is NOT Just Another Cooking Pot
Say it with me –
"A Dutch oven is NOT a Pot!"
Make that your mantra.
"A Dutch oven is NOT a Pot!"
With a little practice, you can learn to regulate the temperature of your Dutch oven very closely and then you will be able to cook almost anything in it that you can make in your oven at home.
Essential Equipment for Dutch Oven Cooking
For outdoor cooking, you need a Dutch oven meant for camping – one with legs.
Physical Features

:
When purchasing A Dutch oven for camping, make sure to get one with "feet." When cooking with briquettes or coals, it is essential that your oven sit above the coals, allowing for appropriate air-flow. You also want a lip around the lid's edge. (DO NOT purchase an oven with a rounded lid thinking you can just rest the coals on top. They will fall off.)

Size

: At one time, I cooked for a family of seven, and a 12-inch oven was essential. Now, with only three to five of us on any given camping adventure, a 10-inch is more than enough. If you have a big family and healthy appetites, you may want to check into a 14-inch oven. Anyway way you go though, be sure and buy a quality product, because in the case of Dutch ovens, you definitely get what you pay for.
Also, at the risk of suffering the wrath of all that is holy in the camping and Dutch oven baking worlds, I have to admit that my favorite Dutch oven for baking
is… (shhhh)… aluminum. Yep. There, I said it. I feel better now… I think.
I've cooked in a lot of Dutch ovens, and while you can't beat cast iron for giving you a perfect brown and sizzle, when it comes to delicate baking, I much prefer an aluminum Dutch oven.
Using aluminum, I can regulate the temperature more accurately (this is, admittedly, a personal thing) and I feel like the baking process is "cleaner." As a bonus, it only weighs about a third of that of a similarly sized cast iron version.
Dutch oven lid lifters are nifty little gadgets that came out when I was a kid. I remember when we got ours: my Dad thought it was absolutely the "cat's meow."
Not only does a lid lifter allow you to carry your (often very heavy) Dutch oven safely, but it holds the lid so steady that you can lift it to take a peak without getting ashes or disturbing your coal/briquette distribution. I won't cook with a Dutch oven without one.
Camping Hack: If you don't have a lid-lifter, the claw end of a claw hammer works too. Slide the claw under the lid handle and use it for leverage, anchoring the claw against the lid to safely lift it.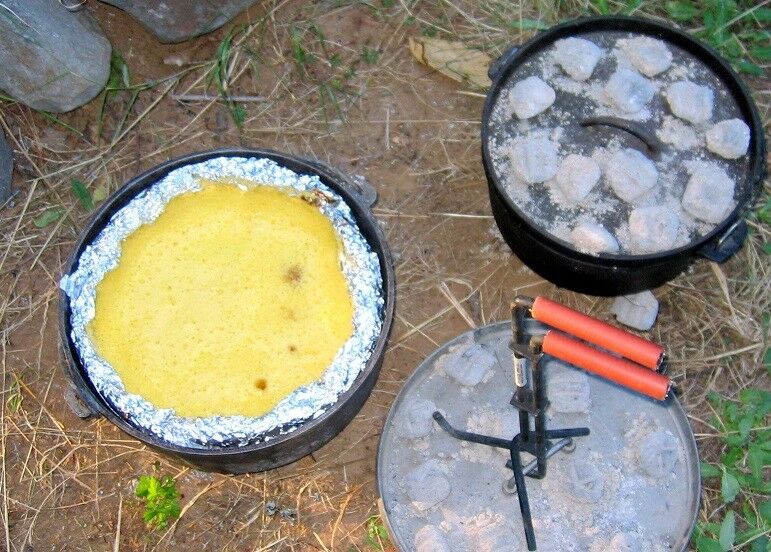 Because fire is hot.
Not Essential, but Nice to Have:
Can I Make this Pineapple Upside Down Cake at home in my oven?
Absolutely.
The following recipe directions assume that you are outside in a camping environment; however, there is no rule that says you can't make it at home in your oven. If you wish to do this, just prepare as directed below and bake according to your cake mix directions.
(OK, honestly, I do have a rule – I only make this when we have a campfire: that's one of the things that make it special. But you can make up any rules you want.)
Dutch Oven Pineapple Upside-Down Cake
Create a little culinary magic! Bake up this nearly fool-proof Dutch Oven Pineapple Upside-down Cake on your next camping trip - or in your own backyard.
Print Recipe
Pin Recipe
Ingredients
For one 10-12 inch Pineapple Upside Down Cake, you will need:
1/2

cup

butter

2

cups

brown sugar

20

ounces

pineapple rings

(1 large can) reserve juice

1

Yellow Cake Mix

3

Eggs*

or as cake mix requires.

1/2

cup

Vegetable Oil*

or as cake mix requires.

Water

see directions for amount
Instructions
Double line your Dutch oven with aluminum foil.

TIP: I use the extra-sturdy, extra-wide variety.

Melt the stick of butter in the bottom of the Dutch oven, either by sitting it over coals or on top of a camp stove.

When the butter is completely melted, throw in the brown sugar and stir until it begins to melt. It should be thick, but not clumpy.

Set the pineapple rings in the bottom of the Dutch oven on top of the brown sugar mixture, reserving pineapple juice.

PRO TIP: If you are using a 10-inch Dutch oven, you will have one extra ring of pineapple. Give the extra pineapple slice to your favorite child.

Make cake following the directions on the box.

Use the reserve pineapple juice in place of water. If you don't have enough (you probably won't, add just enough water to achieve the required amount.

TIP: I always just use the pineapple can to measure the liquid – it makes one less dish to wash.

Carefully pour the cake batter over the pineapple and brown sugar mix.

Put the lid on the Dutch oven.

Put briquettes on top of and below your Dutch oven.

On calm, moderately warm day with little or no wind, you will need about 12-14 briquettes on top and 9-10 on the bottom for a 10-inch Dutch oven. 

And yes, I mean briquettes. Charcoal briquettes. This cake can be (and has been) cooked using fire coals; however, I highly recommend using briquettes for baking a Dutch oven. Doing so allows you to very specifically set the temperature inside your Dutch oven, thus insuring perfect results.

Bake the cake for about 30 minutes.

DO NOT lift the lid to check it for at least the first 20 minutes or you will just let all the heat out.

I usually check the cake the first time when I can smell it baking. It usually takes about 30-40 minutes, depending on outside conditions.

The cake is done when it is bouncy to the touch. When the cake is done, remove it from the coals and remove the lid.
Time for the Magic!
OK, this is the tricky, magical part. (And do not wait to do it until the cake cools or the magic won't work!)

You will need two big, flat surfaces that are easy to lift. (i.e., a large baking sheet, cutting board, etc.)

Using two hands, carefully lift the cake out of the Dutch oven and set it, in the foil liner, on the first big flat thing. (Be sure to use something to protect your hands - this is hot work!)

You now need another big flat thing to put on top.

For this, I usually cover my camp cutting mat with foil, because this second surface is ultimately what your cake will be served from.

Now, gather all the kiddos around, because this is usually pretty impressive.

Peel back the edges of the foil from the cake sides but leave the bottom alone. Set the second big flat thing gently on top of the cake.

Put one hand underneath and one hand on top. Say "1-2-3" and flip the cake in one smooth, fluid motion. Flourish is optional.

Carefully peel away the foil from the now top, and stand back to accept appreciative "oohs" and "aawws."
Nutrition
Serving:
1
slice
|
Calories:
366
kcal
|
Carbohydrates:
59
g
|
Protein:
3
g
|
Fat:
14
g
|
Saturated Fat:
10
g
|
Cholesterol:
46
mg
|
Sodium:
306
mg
|
Potassium:
107
mg
|
Fiber:
1
g
|
Sugar:
46
g
|
Vitamin A:
240
IU
|
Vitamin C:
3
mg
|
Calcium:
103
mg
|
Iron:
1
mg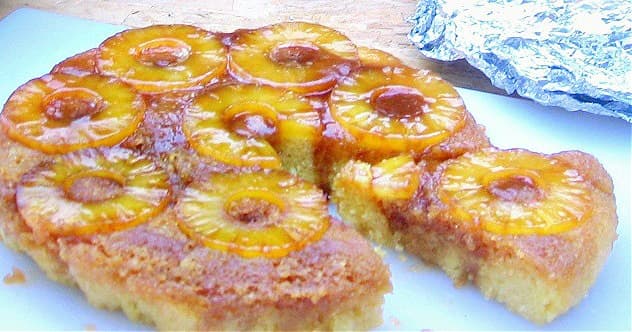 THANK YOU so much for being a faithful reader and supporter
of The Good Hearted Woman. 🌻 Be sure to PIN this post!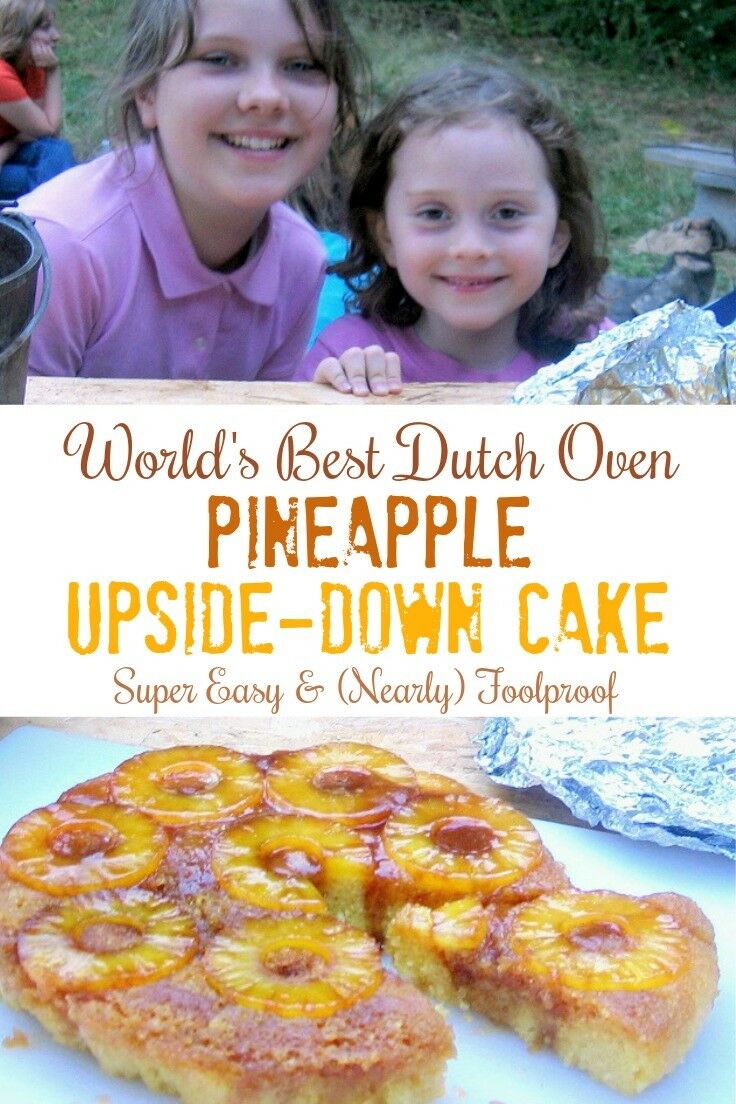 Disclosure: This post may contain affiliate links, including Amazon affiliate links, which means we may receive a commission if you click a link and purchase something that we have recommended. While clicking these links won't cost you any extra money, they do help keep this site up and running. As always, all opinions and images are my own. Please check out our disclosure policy for more details. Thank you for your support!