Chef Steve Debaste, of the New Leaf Café on Orcas Island, shares his recipe for "Grilled Halibut over Local Salad Greens with Verjus White Truffle Vinaigrette."
In my last post, I share our experience and thoughts about our dining experience at the New Leaf Café on Orcas Island. Today, I'd like to tell you a little about the man behind the food.
When Seattle native Chef Steve Debaste was hired on in 2010 as Chef at the New Leaf Café, he already had quite an impressive resume. Chef Debaste began his career as the Chef at the Creperie de Touraine in Honolulu. After some years, he returned to Seattle, where his positions included Chef of the nationally recognized 1904 Restaurant and Wine Bar, District and Executive Chef at Microsoft, and Executive Chef for Guckenheimer. He was recognized as the Pacific Northwest Chef of the Year in 2006.
Since his arrival at the New Leaf Café, Chef Debaste has developed a creative menu, inspired by and designed around locally sourced ingredients and products. Today's recipe – Grilled Halibut over Local Greens with Verjus White Truffle Vinaigrette – is no exception. (Don't worry – it may sound fancy, but is in reality quite easy to prepare.)
Halibut season begins in early May in the Pacific Northwest. Not only is halibut a delicious fish to eat, but it provides many health benefits as well. A 6-ounce halibut fillet as a good source of omega-3 fatty acids, and is loaded with phosphorus, magnesium, niacin, selenium and vitamins B6 and B12.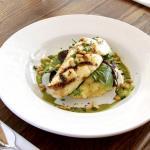 Grilled Halibut over Greens with Verjus White Truffle Vinaigrette
Print Recipe
Pin Recipe
Ingredients
4

6 oz.

Fresh Halibut Filets

Salt & Pepper

8

oz

local salad greens

Verjus vinaigrette

(see recipe below)

2

tablespoons

melted butter

2

tablespoons

pine nuts

1

tablespoon

chopped parsley

4

cups

creamy mashed potatoes
Instructions
Season the Halibut with Salt and Pepper and Grill until your desired doneness.

Gently toss the salad greens in enough vinaigrette to coat the greens.

Plate 1 cup of mashed potatoes in the center of your dinner plate.

Place the dressed greens on the mashed potatoes.

Place the Grilled Halibut on the Salad greens and brush with melted butter.

Garnish the plate with a circle of vinaigrette around the potatoes.

Garnish the Halibut with pine nuts and chopped parsley. Serve immediately.
What is Verjus?
(I have to admit that until Chef Debaste sent this recipe to me, I had never heard of verjus. In case it is new to you too, here's what I learned.)
Verjus is a tart, fresh non-alcoholic juice pressed from unripe wine grapes – essentially a very young white wine without the alcohol. Verjus, which takes its name from the French term vert jus, which literally means "green juice," is a culinary ingredient most often used in sauce making. Verjus is available in gourmet food stores, or directly from producers.
If you don't happen to have any verjus sitting around your kitchen, try using a very astringent white wine.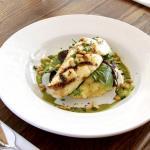 Verjus White Truffle Vinaigrette
Print Recipe
Pin Recipe
Ingredients
3

shallots

2

cloves

garlic

¾

cup

Mt Baker Vineyards Verjus

4

tablespoons

white balsamic vinegar

1

tablespoons

French Dijon mustard

1.5

cup

Canola-Olive oil blend

.5 cups white truffle oil

1

bunch chopped flat leaf parsley
Instructions
Process in a blender until smooth

Salt and pepper to taste ( 1 tsp salt-1/2 tsp pepper)
You may be asking, is there a substitute for white truffle oil? Not really, but if you don't have any and don't want to pop for a bottle (its expensive!) you can use a fresh and flavorful extra virgin olive oil. To achieve the musty mushroom flavor that truffle oil imparts, you can also use a little truffle salt in place of regular salt when you season the dish. Truffle salt can be made at home by pulsing together a little porcini mushroom powder (or any dried mushroom from the store) and salt.
Planning a trip to Orcas Island? Be sure to check out my Orcas Island Vacation Guide!