After attending a media event at Portland's Heathman Restaurant celebrating the launch of their new happy hour menu, I went home curious to find out more about the woman who had developed it – Chef Kathy Casey. I learned that not only is Chef Casey is a celebrated chef, entertaining expert, cookbook author and pioneer in the bar-chef movement, but she also has a love of deviled eggs that rivals my own. I decided immediately that I needed to check out her cookbook, D'lish Deviled Eggs.
D'lish Deviled Eggs is a beautifully photographed book, comprehensive in its scope. In addition to fifty-four diverse deviled egg recipes, it also includes everything from the history of deviled eggs to instructions on how to perfectly hard-boil a quail egg. (Don't worry – it tells you how to cook a chicken egg too!) The easy-to-follow recipes range from simple and classic to fancy-schmancy varieties that include such ingredients as truffle oil and caviar. Designed for a dozen eggs, I adjusted each recipe that I made down to six eggs (12 halves) and all of them turned out just fine. I highly recommend Chef Casey's book, for yourself or as a lovely hostess gift.
I occasionally go overboard with things, and this was one of those times. I ended up making 48 hard-boiled eggs, from which I made six of the fifty-four recipes included in the book. Then I served them up to one of my writers groups to get some objective feedback.
Classic Picnic Style: Nothing revolutionary here, just a solid, basic deviled egg recipe that results in exactly what you expect to taste when you bite into a deviled egg. Make the filling the night before – it tastes much better after the flavors have had time to blend.
Bacon-Cheddar:* With a rich, classic, savory bite, the bacon-cheddar eggs were the overall crowd-pleasers: they will likely be one of my go-to appetizers for parties from now on. I think everyone in our group except the vegetarians liked these.
Chili-Ginger:* Of the all varieties we sampled, this was my personal favorite. With just a hint of sweet heat, these delicious little darlings are garnished with cilantro and cucumber, and are pretty enough to serve at your classiest soiree. (My cilantro had gotten a bit out-of-hand, and this was a lovely way to use the little flowers!)
Green Goddess: I really wanted to love these, but unfortunately, this turned out to be the only recipe I can't recommend. Nearly everyone at our gathering agreed: the egg and avocado mixture was confusing to the palate and just didn't sit well.
Beeting Heart:* Colored with a mixture of beet juice, red wine vinegar and sugar, these were delicious. In fact, one of my writer-friends (also a deviled egg lover) declared them the best deviled eggs she had ever eaten. Nevertheless, learn from my mistakes: after a late night making fillings, I decided to let the eggs soak overnight instead of staying up even later to take them out after four hours as directed. The extended pickling process resulted in a beautiful but overly tough egg. In hindsight, I think an hour would have been plenty. Prepared correctly, these magenta beauties would be absolutely stunning served at a holiday party.
Grandma's Old-Fashioned: Based on Chef Casey's own grandmother's recipe for deviled eggs, this was more popular than the Classic at our party. I think it might have been the pinch of sugar and vinegar that did it.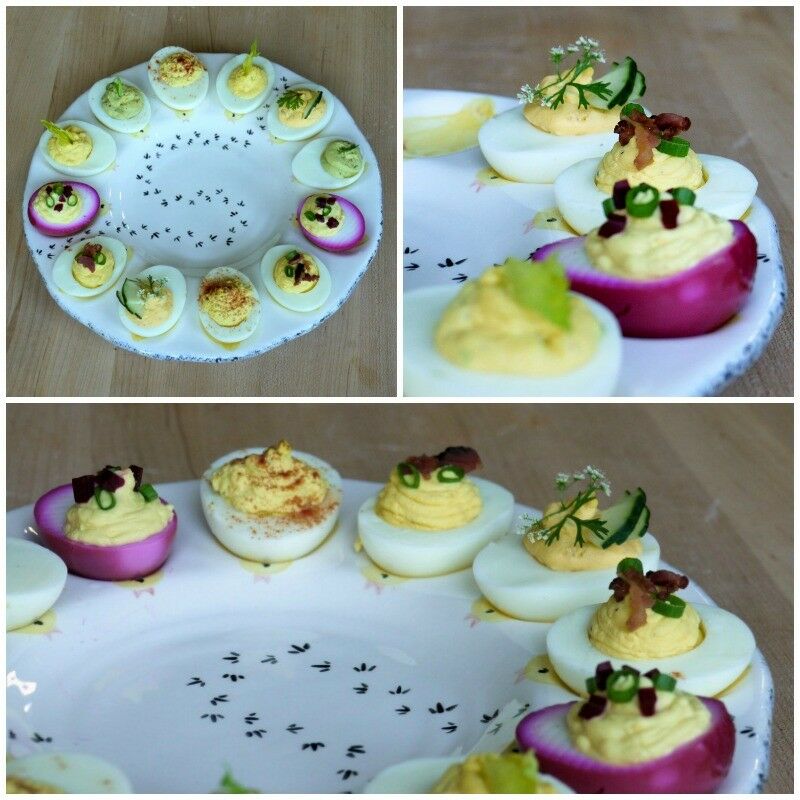 I loved all the innovative applications, the beautiful photos, and the entertaining and holiday ideas, but the most significant take-away from Chef Casey's book for me was Inspiration. I learned that, with practically limitless possibilities, deviled eggs can be tooled to go with nearly any menu, and provide a visually appealing, inexpensive complement to any occasion.
Especially for "Miracle Whip Families":
One of the hardest things for me to do in the kitchen is follow a recipe to the letter. I tried – I really did. However, we are a "Miracle Whip" family (as opposed to a "Mayonnaise" family), and we tend to like just a touch of "sweet" in our deviled eggs. So about halfway through making (read: tasting) my six batches of egg filling, I switched from using only mayo (as most of Chef Casey's recipes call for) to a combination of half mayo and half Miracle Whip. It came as no surprise that the fillings that included Miracle Whip ended up being favorites for me and Mr B. Just something to consider if you have a "Miracle Whip household" too. Note that I do not recommend substituting Miracle Whip for all the mayo – it will overpower the other ingredients and make them far too sweet.
*In the recipes discussed above, those I made with a 50/50 mixture of mayo and MW are starred.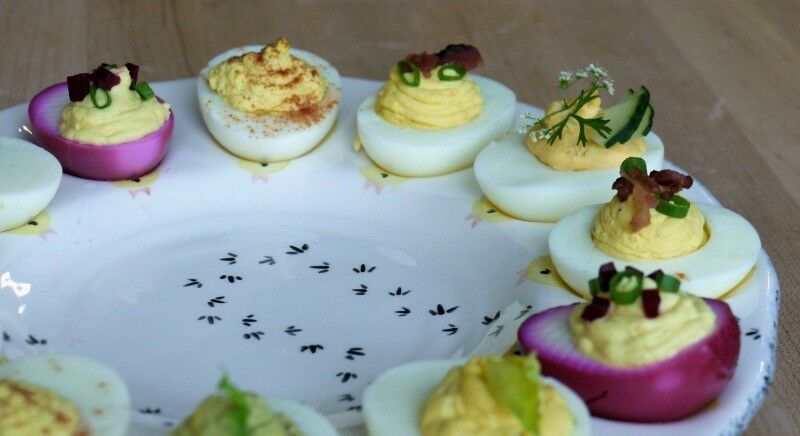 If you would like to purchase a copy of Chef Casey's book, D'lish Deviled Eggs, click >>here<<. (Yes! This is absolutely, positively an affiliate link! If you buy 10 or 20 copies of this book, I might make enough to buy more eggs… if they are on sale.)
Check out my version of Chef Casey's Ginger-Chili Deviled Eggs.
Egg Week #2