Lentils are easy to cook, amazingly healthy, and a great addition to everything from appetizers to dessert!
We love lentils at our house, and eat them quite regularly. Not only are lentils delicious, but (as you may already know) they are low in fat and calories, high in protein, and a great source of fiber and minerals. They're great for last minute soups and curries too, because they don't require soaking like beans do.
Recently, however, I had an eye-opening experience when Mr B and I (along with a number of other Portland area bloggers) attended a delicious, Spanish-themed dinner party hosted by Lentils.org. From the first bite, the menu – created by Portland restaurateur and chef Mike Kessler, and Toro Bravo Chef de Cuisine John Gorman – shattered all of our preconceived notions about cooking with lentils.
When we arrived, we were greeted with champagne and cocktails, and a host of savory appetizers, including some of my favorite bites of the night – these delicious Red Lentil & Queso Fresco Empanadas.
We also noshed on Spanish Olives, assorted Spanish cheeses, housemade lentil flatbread (Yes! Lentil bread!), lentil croquettes, and that famously satisfying Toro Bravo charcuterie.
The event was hosted at Plaza Del Toro, a beautiful private event space and modern test kitchen located in Portland's Central Eastside Industrial District.
If all I had to eat for dinner was our salad course, I would have been as happy as a polar bear in a bucket of ice cubes. (←This is my new favorite "happiness" metaphor: I plan to use it as often as possible.) Mr B and I both loved the combination of flavors in this salad: the sweet richness of the roasted carrots and beets, the peppery earthiness of the green lentils, the clean freshness of the snap peas and watercress – all brought together by the tart creaminess of a lemony yogurt dressing.
Green lentils, like those used in our salad, have a robust, somewhat peppery flavor. They generally take the longer to cook then red or brown lentils, but they keep a firm texture even after cooking.
Mr B was thrilled when the Calamari a le Plancha arrived, because he knew he would be getting double calamari, as I am just not a fan. However, I very much enjoyed the rich, complex bed of black lentils, salsa verde and sofrita it was served with!
The courses just kept coming! Next was Roast Quail with a black and red lentil stuffing, herb dé provence veloute, and fresh lavender flowers.
Our final "main" course" was a deceptively sophisticated Green Lentil Cassoulet with duck comfit, house made bacon, and boudin blanc sausage. Mmmmmmmmm. That's all I've got to say about that. Just Mmmmmmm. So good.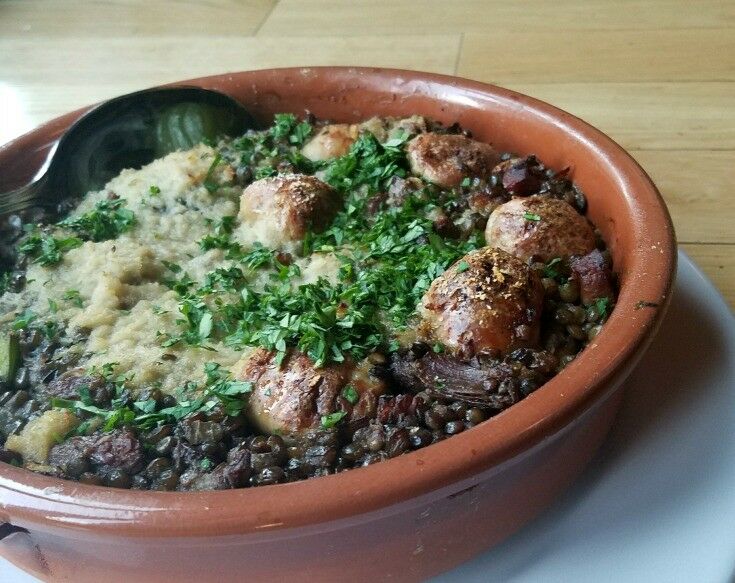 Honestly, I wasn't sure how our chefs were going to pull off a lentil dessert, but they did it magnificently with these Cardamom Lentil Crépes with strawberries & creme fraiche ice cream. Cardamom is one of my favorite spices, and in this case set off the subtle flavors of the lentil crepes while still allowing the strawberries to shine.
Many thanks to Lentils.org for sponsoring this beautiful, inspiring culinary event; and to Chefs Mike and John for their delectably enlightening menu. I know that I will be rethinking my own use of lentils in the future.
Disclosure: Mr B and I attended this "Lentils & Utensils" popup dinner free of charge at the invitation of Lentils.org. Items offered in the giveaway were also provided. As always, all opinions are our own.