Sometimes a picture really is worth a thousand words – and sometimes it's worth a lot more than that.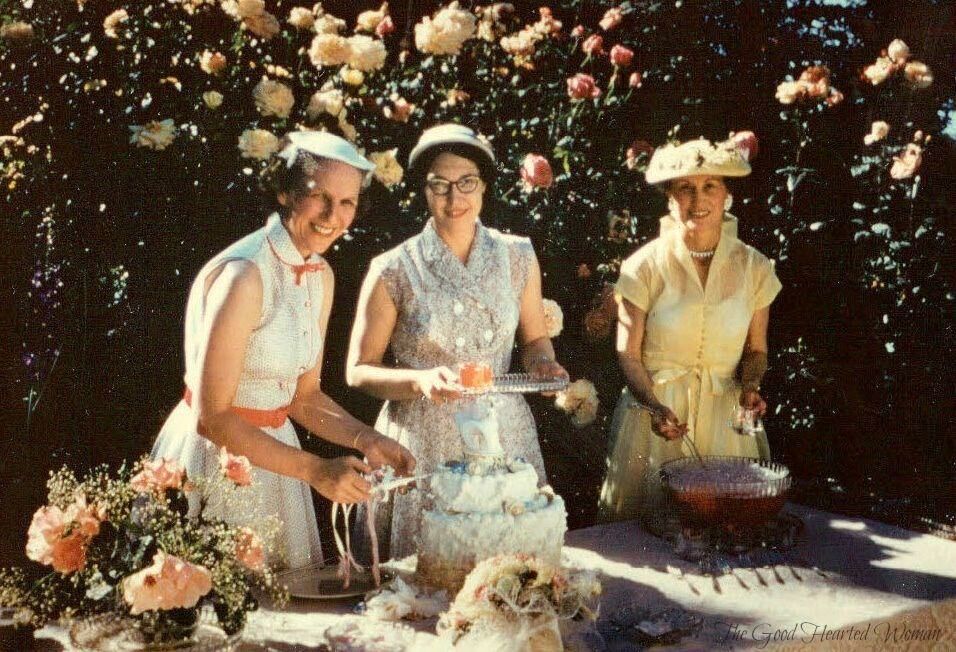 That's our Auntie Dorothy Ellen there in the center, looking like she just stepped off a page of Ladies Home Journal, circa 1961.
My earliest memories include finger-painting at her kitchen table, and sitting on her lap as she read to me from When We Were Very Young and Now We Are Six. It was my Auntie who introduced me to Broadway music and Laura Ingalls Wilder and Francie Nolan.  If it weren't for her, you might not be reading this today.
Auntie was an elementary school teacher for over 30 years – the kind of teacher you hope and pray your child will have even once in a lifetime. She never married and dedicated her entire professional life to educating children, mostly in low income neighborhoods.  No one will ever know how much of her own money she poured into her classroom each year. Every child received a book for their birthday, one for Christmas, and as many as she could afford to hand out throughout the year. They were often the first books that her students ever owned.
When I was about four, Auntie left Oregon to pursue her doctorate at Columbia University in New York.  From thereon until she returned to Oregon some years later, every occasion large and small brought a card addressed to me in her perfect Palmer printing, always with a stick of Juicy Fruit enclosed. A few years ago, I put together a Book of Life to celebrate her 90th birthday, and in it shared one of my favorite memories from that time:
Auntie lived in New York and Ashland for much of my younger years, and conjuring images of her exciting, cosmopolitan life was a favorite pastime of mine.  Unfortunately, the only single career woman I knew when I was six lived inside my television; thus, my imaginings of my aunt's daily life were fashioned entirely on Mary Tyler Moore.
That still makes her laugh when I mention it.
Today is Auntie's 93rd birthday, and I am still learning from her.  If her lesson these days had a title, it would be, Old Age is Not for Wienies. Physical, mental, and emotional health as an aging adult may be part luck and part genetics, but it also takes Work. Her solid, supportive group of friends and neighbors and her sharp mind did not happen by accident.  She exercises every morning for an hour, attends her Mount Tabor Book Club meetings every month, keeps her mind active, and nurtures her support network.  She still attends Blazer basketball games, where she has been a season ticket holder almost since the beginning. (A few years ago, she even received a plaque at halftime on center court, commemorating her years of support to the franchise.) And lest you think it is easy, you should know that she was involved in a multi-car accident back in the 70s that left her with intense, chronic back pain that no amount of surgery has been able to alleviate. She is not a whiner and she is not a quitter.
She is a teacher.
Happy 93rd Birthday to our amazing Auntie, Dorothy Ellen.