UPDATE: January 2015 - I would like to sincerely thank the Seahawks franchise for making this post relevant for the second year in a row.
Here in the PNW, we are all about the the Big Game this weekend - our very own Seattle Seahawks are in the Superbowl!!  (OK, as a Portlander, saying "our very own" and "Seattle" in the same sentence hurts just a little bit, but we don't have our own football franchise, so it's time to suck it up and take one for the team embrace and support our brothers and sisters to the north.)
Believe it or not, this will be my very first Superbowl, ever.  True story.  I'm pretty excited about it too, because as far as I can tell based on the publicity and the Pinterest boards, at least half the hoopla is all about the party food.  And beer.  (OMGosh - have you seen the new Budweiser commercial with the puppy and the horse?  It is so freaking sweet - it seriously made me cry.)  Anyway, Mr B. and I are going over to the home of one of his poker buddies to watch the Game, and since I do have my reputation to uphold, I've been trying to think of something unique and easy to make for the party.  Here's my PNW-proud take on a classic - Seahawks Seven-Layer Dip: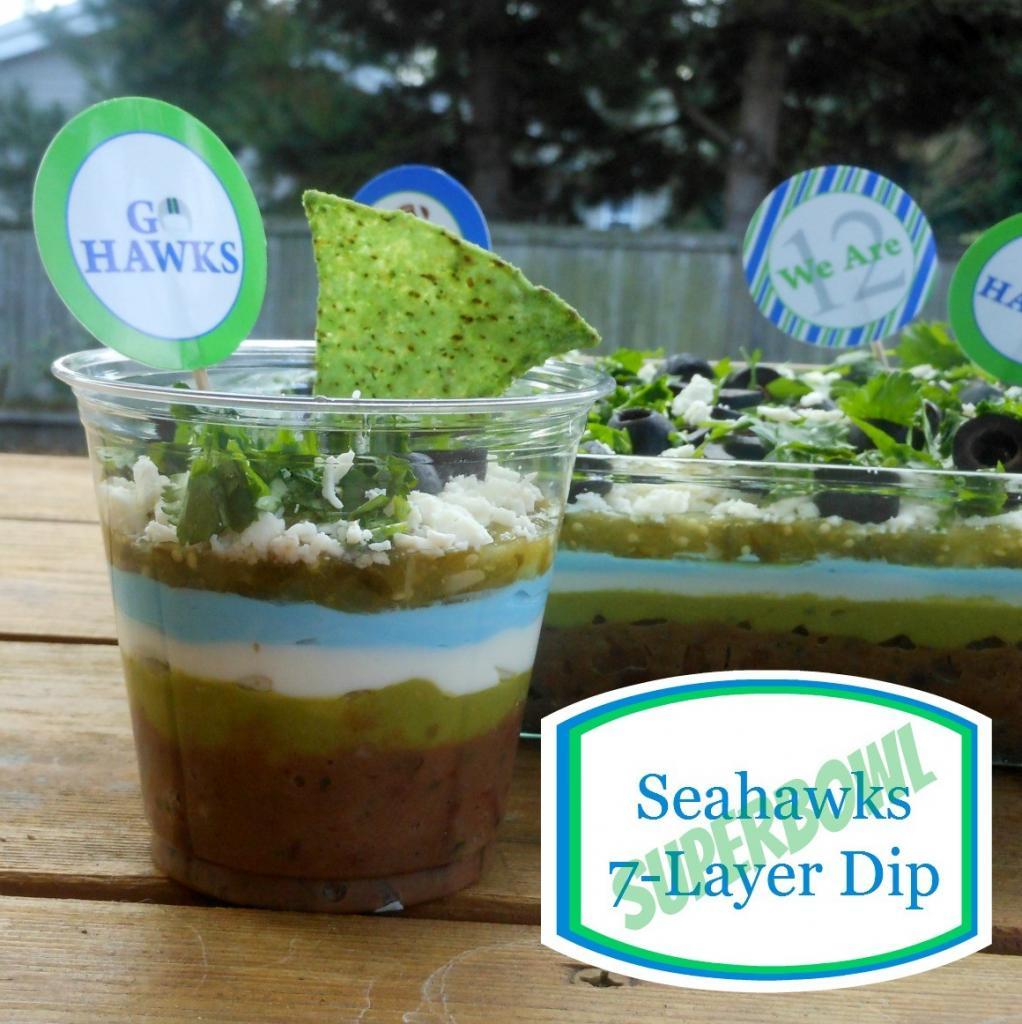 Seahawks Seven-Layer Dip
This is WAY easier to put together than it looks - it should only take about 30 minutes tops, start to finish, including making the tomatilla salsa.  For 1- 9x9 or 8x12 Layered Dip you will need:
1 batch Black Bean Dip Base (recipe below)
2 cups Guacamole (fresh or store-bought)
1 cup Plain Sour Cream
1 cup Blue Sour Cream (directions below)
Tomatillo Salsa (recipe below)
6 oz. Low-fat Cotija Cheese, grated (or finely chopped)
Top with cilantro and olives
Layer in the order above, beginning with Black Bean Base.  I put the sour cream and guac in ziploc bags and cut a hole on the end to squeeze them out with more consistent, controlled distribution.  For a festive, easy-to-hold option, layer individual servings into clear plastic cups instead.
Serve with:
Blue Corn Chips
Guacamole-flavored corn chips
Black Bean Dip Base
1 Tbls olive oil
1 large sweet onion, chopped
4 cups cooked black beans (or 2 [15 oz] cans, rinsed and drained)
⅓ cup chopped cilantro
1 clove garlic, minced
1 small jalapeño, seeds removed and diced
Juice and zest of one lime
½ teaspoon ground cumin
1 teaspoon kosher salt
¼ teaspoon black pepper
Saute chopped onion in olive oil until translucent. Add garlic and saute one minute more.
Put half the beans, all of the sauteed onions, and the remaining ingredients into a blender or food processor. Pulse until chunky-smooth. Add the remaining whole beans and stir to combine.
(I like a little texture in my bean dip – if you like yours completely smooth, then add all the beans at the beginning.  Can be made ahead of time - easily keeps for a couple of days to a week in the fridge.)
Blue Sour Cream:
Mix 1 cup of light Sour Cream with a few drops of Homemade Natural (or Store-bought Artificial) Blue Food Coloring, until you achieve the color you want.  (I'm not a big fan of food-coloring, but this is a special occasion. If you avoid artificial coloring all together, the Homemade Natural Food Coloring takes just a few minutes: you will need a few leaves of red cabbage to make it.) Or you can just use blue food coloring from a tiny little plastic bottle.
Tomatillo Salsa
This is the best stuff!! You can make it when you need it, or way ahead of time.  It does thicken up as it cools.  Keeps in the fridge for a couple of weeks.
10 tomatillos, husked
½ large sweet onion, chopped
3 cloves garlic, chopped
1 jalapeno pepper, chopped
¼ cup chopped fresh cilantro
salt and pepper to taste
Place tomatillos in a saucepan and barely cover with water. Bring to a boil, and reduce to a simmer, cooking until tomatillos soften and begin to burst (about 10-12 minutes).
Drain tomatillos and place in a blender or food processor or blender with onion, garlic, jalapeno pepper, cilantro, salt and pepper. Pulse until chunky-smooth, but don't get too carried away.
Weight Watchers: One cup (as shown above with ⅓ cup beans, 3 Tbls light sour cream, 2 Tbls guacamole and a generous sprinkle of cotillja) is just 5 little PointsPlus! Serve it with carrot rounds or little peppers for dipping and you are good to go!
I'm not the only PNW blogger who has the party spirit though!  Check out these great recipes from some of my favorite blogger buddies!
Kale Chips & Cocoa-Chili Spiced Nuts from Killer Pickles (Sarah says, "Try Oregon hazelnuts for the Spiced Nuts!")
Chilled Vegetable Pizza from Pechluck's Food Adventures (Pech lives in a mixed-eating household, and has a ton of Veggie-friendly recipes on her blog!)
Game Day Eats from Spabettie (This is a marvelous collection of Vegan recipes!)
More Game Day Recipes from Spabettie!
Northwest Bruschetta and Fried Pickles from Noble Pig (The bruschetta looks absolutely melt-in-your-mouth devine!)
How to Build a Snackadium from Sunshine & Sippy Cups
Homemade Steak Fries from The Coupon Project