Find out what's new this season from Sur La Table and KitchenAid®, including a FREE online cooking class! 

When I stepped off the elevator into Sur La Table's headquarters last week, I had literally been looking forward to the moment for an entire year. A highly-coveted excursion ticket at this year's International Food Bloggers Conference [IFBC] in Seattle, it was a chance to see demonstrations of some of the newest KitchenAid® products, kitchen gadgets (who doesn't want more kitchen gadgets!!), and seasonal offerings from Sur La Table. (Plus, I'd be lying if I didn't mention that I was looking forward to receiving one of those now-legendary IFBC blogger gift bags Sur La Table has become known for.)
After an entire afternoon of product demos and delicious treats, I think the thing that most impressed me was Sur La Table's commitment to culinary education. This quote, emblazon across the headquarters entry wall, highlights this mission:

So, did you know that Sur La Table has a culinary education program? I'm not just talking about in-house "cooking classes," but a full-on culinary education program.
"We try to teach techniques instead of just recipes," Sephi Coyle, Director of Sur La Table's Culinary Program, told us. "If you learn techniques, you can then apply them in all kinds of ways in your home kitchen."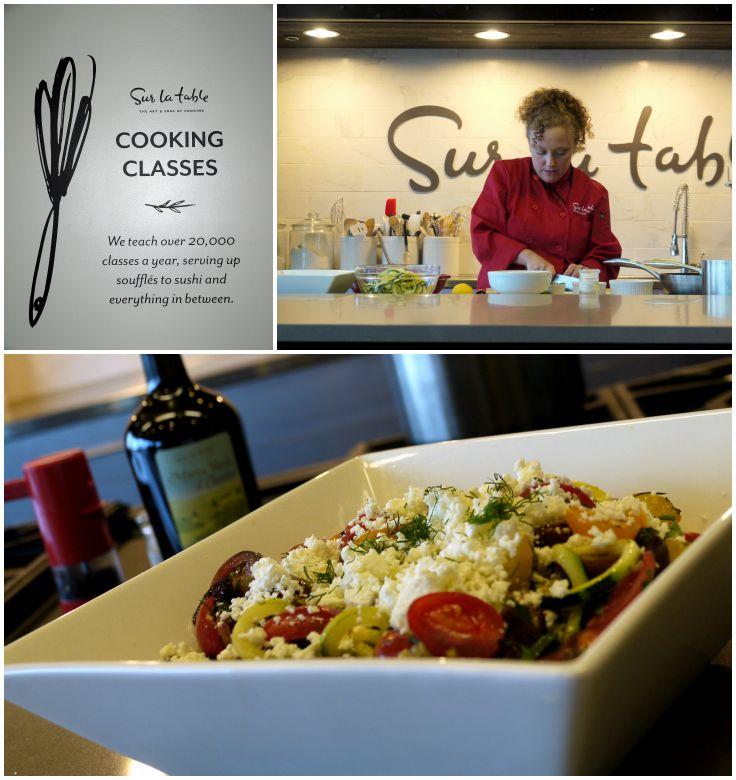 Technique classes are offered every day of the week at local stores, and also online through Craftsy.  Check out Sur La Table Craftsy online class offerings for October:
In addition to learning about their culinary education program, we got a sneak peek of the upcoming holiday line at Sur La Table, plus a couple very cool product demos.
Unfortunately, the first of the product demos is going to cost me, because I'm getting one.
By now, you've probably seen the plethora of spiralizers on the market. Most require significant wrist-action or hand-cranking, which is why I've avoided them [thank you, carpal tunnel].  But this KitchenAid® Spiralizer attachment, exclusive to Sur La Table, is pretty darn slick. Not only does it create long, beautiful spiral veggie noodles effortlessly, but it also peels, cores, and slices, as shown below. (Sorry that there are no action shots of it spiralizing actual vegetables. I was so fascinated by the process that I momentarily forgot to take any pictures.)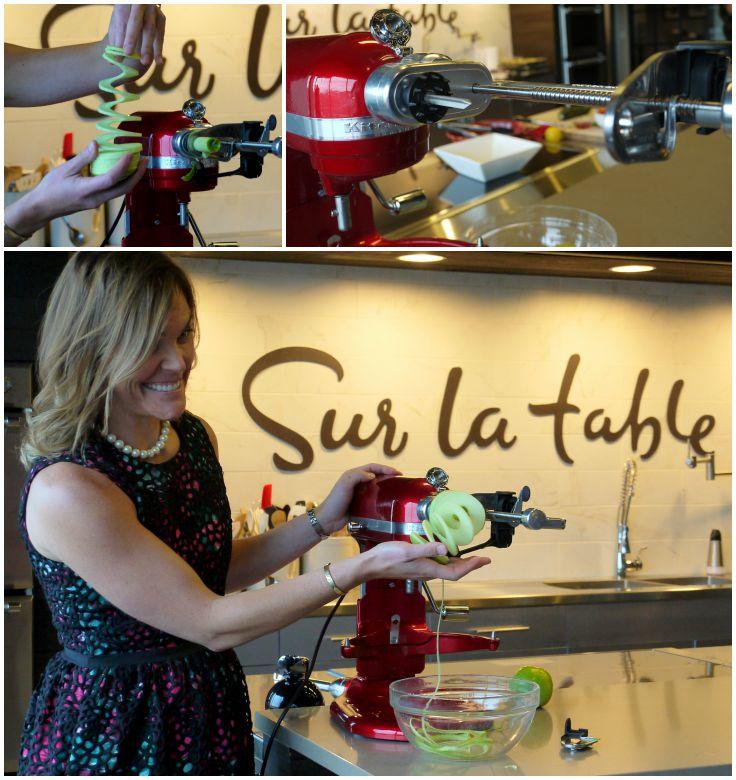 We also got a demo of KitchenAid®'s new Precision Press Coffee Maker. With both an integrated timer and an accurate scale, this battery-powered French press gives you precise control over every part of the brewing process.
After the coffee maker demonstration (and a rather dramatic pause) it was announced that we would all be taking one home in our gift bags, and the reaction of the blogger-collective was priceless. (Oh, how I wish I had my camera filming!) You'd have thought Oprah herself had just come into the room – in all her royal Oprahness – and boomed, "You get a coffee maker, and you get a coffee maker, and you get a coffee maker…"
When I called home later that night to tell Mr. B about our new coffee maker, I could literally hear him doing his happy-dance over the phone!
A free KitchenAid® Precision Press Coffee Maker would have been a wonderful gift all by itself, but Sur La Table has made a name for itself among past IFBC attendees for its generous blogger gift bags, and this year they definitely did not disappoint!
In addition to the aforementioned awesome coffee maker, seasonal swag dominated our gift bags, including some of my personal favorites: a beautiful Staub Pumpkin Cocotte (a fancy name for a oven-safe casserole/soup bowl) and a NordicWare Pumpkin loaf pan. Oh, and brownies – Cheesecake Swirl Pumpkin Spice Brownies. Oh.My.Goodness.
You will be seeing that Pumpkin Loaf Pan in my post this Wednesday, when it serves up my very own recipe for "Nana's Old-Fashioned Pumpkin Gingerbread."
Disclosure: As an attendee of the International Food Blogger Conference in Seattle this year, I participated in an excursion to Sur La Table, where I received all of the aforementioned swag and then some. Furthermore, this post contains affiliate links. (Don't worry, they won't hurt you: I think there's even a ointment for them.)