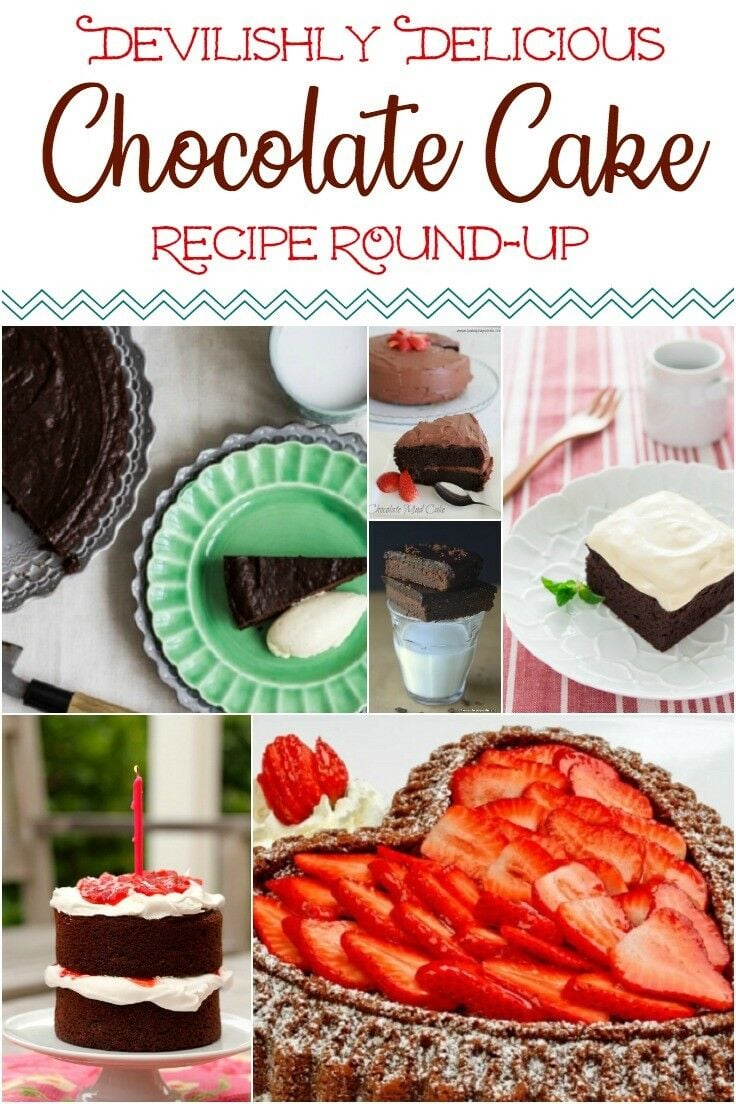 Let's face it, a nice creamy chocolate cake does a lot for a lot of people;
it does for me.
~ Audrey Hepburn
Happy National Chocolate Cake Day!
January 27th is National Chocolate Cake Day! (Yes! It's a real thing!) In celebration of this momentous annual celebration, I asked some of my favorite foodies to share their best chocolate cake recipes. Many thanks for all who generously shared.
All you need is love. But a little chocolate now and then doesn't hurt.
~ Charles M. Schulz
The Bundts
Eggless Milkless Chocolate Cake with Caramel Frosting from Melanie Makes
Double Chocolate Bundt Cake from It's Yummy
Quadruple Chocolate Bundt Cake from Shockingly Delicious
Chocolate Caramel & Pecan Bundt Cake from Balancing Motherhood
Chocolate is the first luxury. It has so many things wrapped up in it: deliciousness in the moment, childhood memories, and that grin-inducing feeling of getting a reward for being good.
~ Mariska Hargitay
Decadent Bites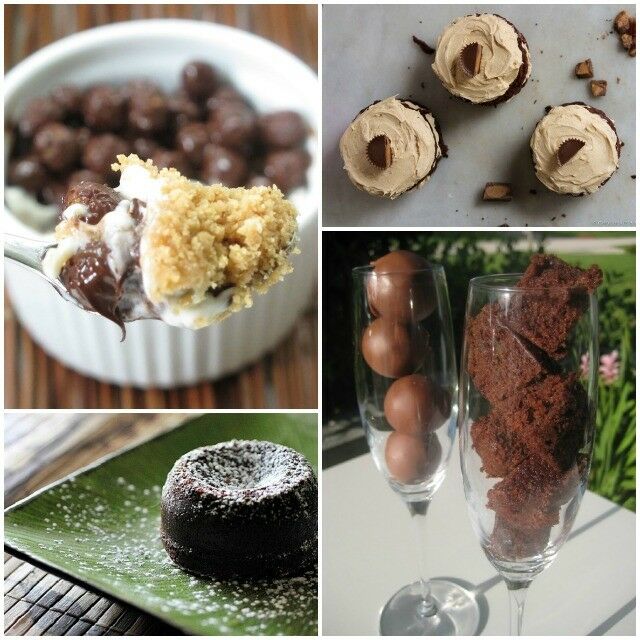 Single Serving No-Bake Chocoalte Peanut Butter Desserts from Mother Would Know
Dark Chocolate & Peanut Butter Brownie Cakes from Chocolate & Marrow
Champagne Brownie Cake from Recipe for Perfection
Molten Chocolate Cake with Peanut Butter Filling from Mind Over Batter
He showed the words "chocolate cake" to a group of Americans and recorded their word associations. "Guilt" was the top response. If that strikes you as unexceptional, consider the response of French eaters to the same prompt: "celebration."
~ Michael Pollan, In Defense of Food: An Eater's Manifesto
A Little Something Extra
Chocolate Cola Cake from Baking Beauty
Cold Chocolate Snacking Cake from The View From Great Island
Chocolate Mega or Jumbo Muffins from Mother Would Know
What you see before you, my friend, is the result of a lifetime of chocolate.
~ Katharine Hepburn
Layers Upon Layers
Chocolate Cake with Peanut Butter Buttercream Frosting from Chez CateyLou
Chocolate Mud Cake from Bake Play Smile
Strawberry Chocolate Anniversary Cake from Karen's Kitchen Stories
Supreme Chocolate Cake with Chocolate Mousse Filling from Sweet & Savory by Shinee
My therapist told me the way to achieve true inner peace is to finish what I start. So far today, I have finished 2 bags of M&M's and a chocolate cake. I feel better already.
~ Dave Barry
Picture Perfect
Chocolate Almond Pound Cake from The Luna Cafe
Almost Flourless Chocolate Cake from Foodie Goes Healthy
Flourless Chocolate Decadence from The Joy Kitchen
"Can I come back and see you sometime?"
"Long as you bring me some chocolate," Gramma said, and smiled. "I'm partial to chocolate."
"Gramma, you're diabetic."
"I'm old, girl. Gonna die of something. Might as well be chocolate."
~ Rachel Caine, The Dead Girls' Dance
Sweet Temptation
Chocolate Whiskey Bundt Cake from Big Flavors from a Tiny Kitchen
Kahlua Coffee Poke Cake from Very Culinary
Gluten-free Chocolate Cake from No Recipes
Oh. My. Goodness. I just spent a few hours drooling over these while I put this post together, and even after all this contemplation, I can't pick a favorite. Can you?
---
---
Thank you so much for being a faithful reader and supporter of The Good Hearted Woman.

❤

Be sure to Pin this post!