Mr. B isn't usually very big on bread at meals; biscuits in particular have always been a head-shaker for him.  If there was a Goldilocks of biscuits, he would be it.  He said whenever anyone made them, they were always too hard, too soft, too dry, too bland, too salty, too sweet,  too floury, too, too… too biscuity.  Until last night.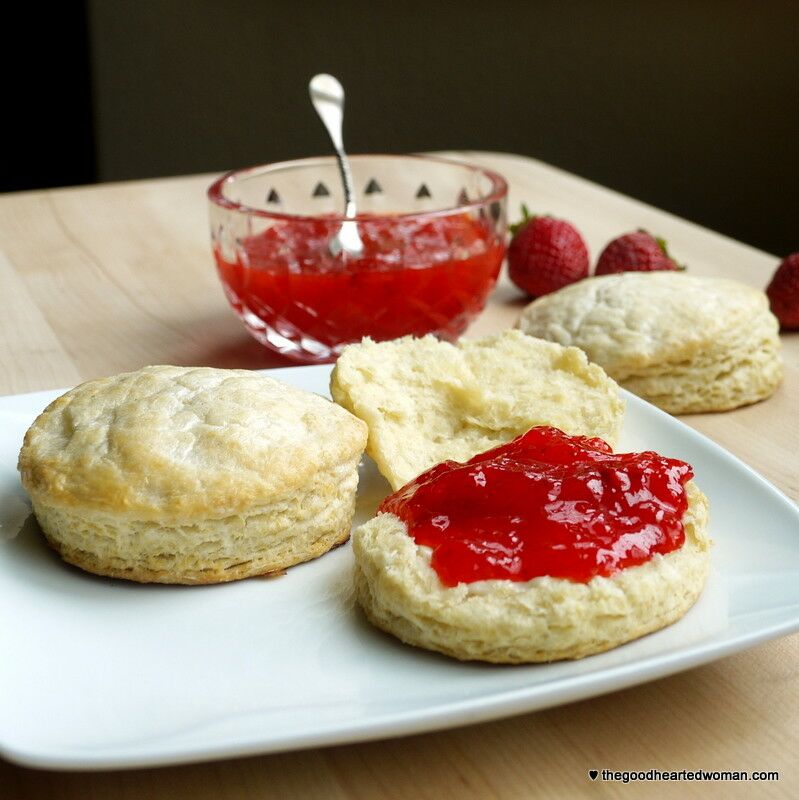 We were having 13-Bean Stew for dinner, and at the last minute, I decided to make some biscuits using a new recipe I have been working on. A few bites in, Mr B looked at me mid-biscuit-bite and nodded enthusiastically, "Weese roar rewwy rood!" Swallowing, he said it again for emphasis, "These are really good!" I think even he was surprised that he liked them.
These really are perfect buttermilk biscuits – the lightest, flakiest biscuits I've ever made. After dinner, we ate them with fresh strawberry freezer jam for dessert. Then we ate them again for a late night snack. We finished them off this morning with our eggs and a little more of that fabulous Hood Strawberry Jam. (Tutorial coming next week!)  I made another batch of biscuits this morning just to be sure I had every thing right. (Plus, I had to take pictures 🙂 ) They will be gone by the end of snack-time today, I'm sure.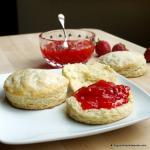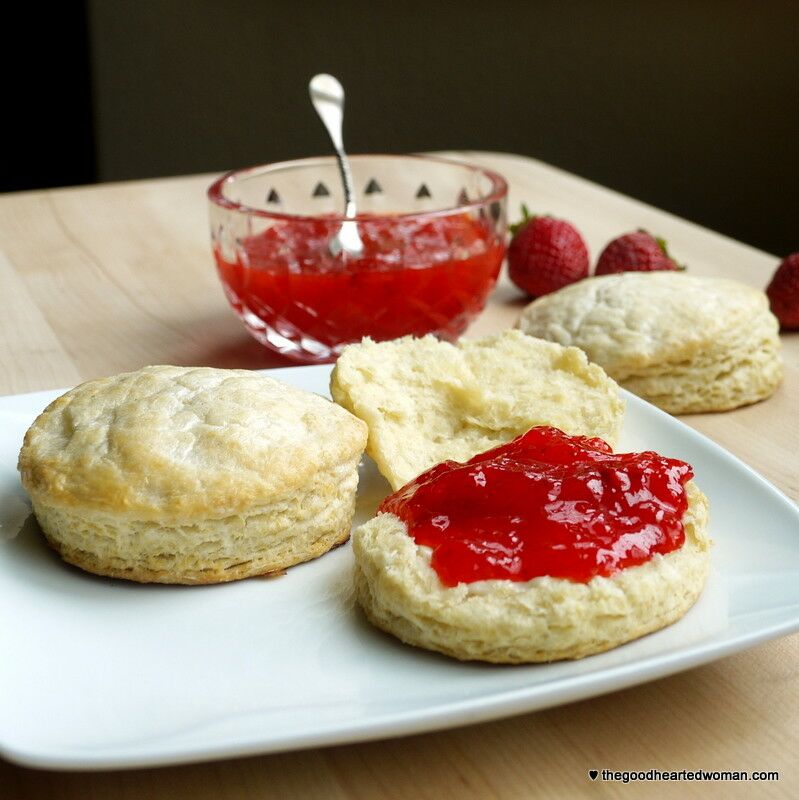 Perfect Buttermilk Biscuits
Print Recipe Pin Recipe

Servings: 12 biscuits
Ingredients
2 cups flour
2 tsp baking powder
1 tsp kosher salt or 1/2 tsp if you use salted butter
1/2 tsp baking soda
1 tsp sugar
7 Tbs butter sliced into 1 Tbs pieces and chilled in freezer
3/4 cup buttermilk
A little extra buttermilk for brushing on the tops
Instructions
Preheat oven to 425 degrees F (220 degrees C).

Sift flour, baking powder, salt, baking soda and sugar into a large bowl.

Slice butter very thinly and work it into the flour mixture until it resembles coarse crumbs. (I could tell you I use a pastry fork or blender, but that would be fibbing – I usually use my fingers.)

Make a well in the center of the flour mixture and pour the buttermilk into it. Stir just enough to combine.

Turn the dough onto a floured surface and pat it down. Roll the dough ½ inch thick and fold in half. Roll it out again to ½ inch thick.

Using a round biscuit cutter or the top of a drink glass, cut biscuits out.

Transfer the biscuits to a parchment-lined baking sheet.

Brush the tops of the biscuits with additional buttermilk.

Bake in preheated oven about 15 minutes, or until lightly browned.