I think I have mentioned that back in my college days, I used to wait tables at Farrell's, an old-timey restaurant and ice cream parlor. Every Saturday morning, it fell to me to prep and set up the salad bar before we opened.  The last task on the list, after all the veggies were cut and the dressings were poured, was to put everything out in the ice-filled salad bar and cover all the crushed ice between the bins with dark green curly kale.  Kale, back then, was strictly ornamental: no one (in our world) even considered eating it.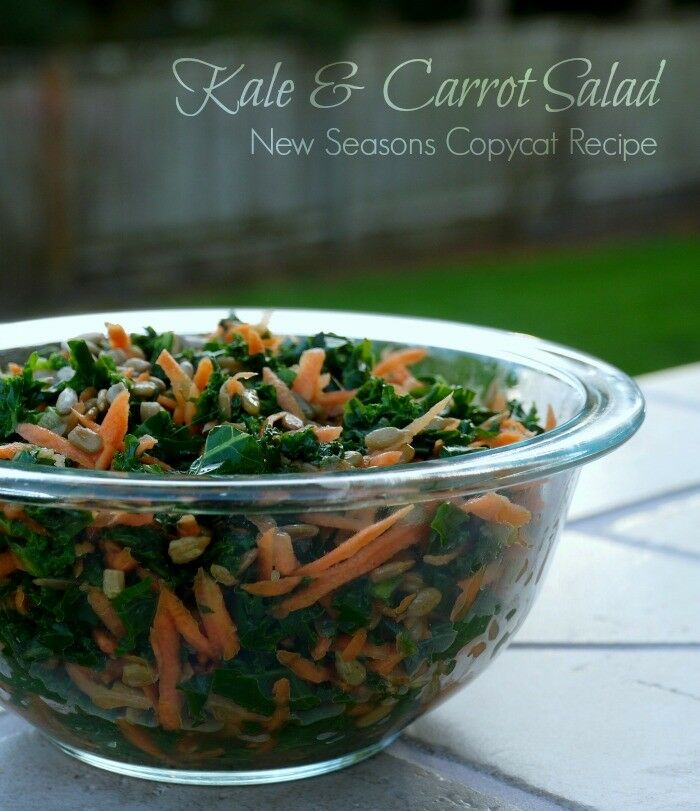 All that has changed. One could even make an argument for Kale being the current It Vegetable, if there is such a thing.  You can now find it everywhere, in everything.  The other day, one of our daughters brought home a bag of kale and made kale chips, because they are so popular and so good for you.
She really wanted to like them. We all did. But no. NO. I know that this may bring the wrath of the Vegan/Paleo/>insert personal eating style here< community, but I just cannot endorse kale as a Chip. Not today, not ever. It's a personal choice, I know, and my personal choice is – No.
That said, we now had a big bag of kale and needed to figure out something to do with it – and I knew exactly what that something was: Kale & Carrot Salad a la New Seasons.
Our local New Seasons stocks this salad in the Grab-n-Go case. It's one of my favorites, and with that stockpile of kale staring me down, I decided that it was high time I figured out how to make it at home.  It wasn't too hard to figure out either – New Seasons generously lists the ingredients right there on the label. This comes pretty darn close and it got rave reviews from both Mr. B and Gramma Edith, which is good enough for me.  Enjoy!
Kale & Carrot Salad
Print Recipe
Pin Recipe
Ingredients
3/4

lb

fresh kale

2

large carrots

peeled and grated

1/2

cup

raw sunflower seeds

2

tablespoons

soy sauce

2

tablespoons

seasoned rice wine vinegar

2

tablespoons

sesame oil

1

teaspoon

fresh ginger

minced

Scant 1/2 teaspoon cumin

2-3

cloves

garlic

minced
Instructions
Using a sharp knife, remove tough center veins and stems from kale. (This is easier to do if you fold the leaves in half first.) Discard stems & veins.

Bring a large pot of water to a boil and put the cleaned kale into the pot. Cook 2-3 minutes.

Drain in colander and wash with very cold water. Squeeze to remove excess water.

While the kale is still in a kind of wet wad, take a large kitchen knife and slice it into small, thin pieces.

Put cut kale into a bowl and separate the pieces using your fingers. Add grated carrots and sunflower seeds.

In a small bowl, combine remaining ingredients and stir vigorously to combine. Immediately pour dressing mixture over kale mixture and toss thoroughly to combine.
Notes
Salad will keep for a number of days in the fridge.