For the last two months, I've been a part of a very cool group called Bakin' Friends – a collection of bakers, bloggers and foodies who each month bake something yummy (with a secret ingredient!!) and send it to another Bakin' Friend. This month, the secret ingredient was Zucchini, and my Bakin' Friend was Stephanie, from Sweets by Stephanie.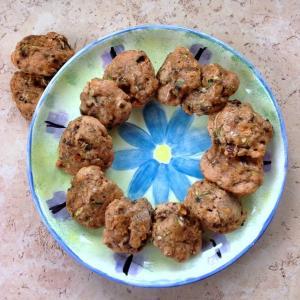 If you take the time to check out what I sent Stephanie (Coconut Date Cake-Bars) you may note that "Bakin' Friends" does not necessarily equate to "Postal Delivery Friends," in that the postal system is not always too kind to baked goods. Stephanie sent me cookies – Delicious VEGAN Apple Cookies to be exact – and the mail was no kinder to her shipment than it was to mine. I chose to forgo taking a picture of the wrapping altogether, and opted to show you the star of this show – her cookies. Did I mention that they were (in deference to the last day of VEGAN MOFO) Vegan cookies?!? That's right – Vegan Zucchini Apple Cookies to be exact!  I thought that was so great of Stephanie to take on the a challenge when I mentioned to her that I was participating in Vegan MoFo. And Boy-o-boy, can tell you??! These cookies are Moist. M-O-I-S-T. (I know, some of you just squirmed when you read that word, but I had to use it.) They were so moist that the box they arrived in had a little moist halo all around inside it, and with the heat we had a few weeks ago, I'm glad they arrived fast – they would not have survived another day! They sure were delicious though!!
Here's the recipe she sent with them:
Vegan Zucchini Apple Cookies
Print Recipe
Pin Recipe
Ingredients
1/2

cup

apple sauce

1/2

cup

granulated sugar

1/2

teaspoon

ground cinnamon

1/2

teaspoon

ground allspice

1/2

teaspoon

vanilla

flax seed mixture

1 tsp ground flax seed + 3 tbls water

2

cups

flour

1

teaspoon

baking soda

1

cup

shredded zucchini

1/2

cup

rolled oats

1/2

cup

small diced apple

1

cup

chopped pecans
Instructions
Preheat oven to 350°.

Line baking sheet with parchment paper and set aside.

In a large bowl, stir together the first six ingredients, then stir in flour and baking soda. (The dough will be very thick.) Add the remaining ingredients and stir until well combined. Spoon onto prepared baking sheet and bake 8-10 minutes.