Armenian Lentil Stew is a thick, rich medley of eggplant, peppers, tomatoes, onions, golden raisins, and lentils, all flavored with a savory-sweet blend of traditional herbs and spices. Naturally vegan and gluten-free, it is wonderful alone, or served over a bowl of rice or bulgar.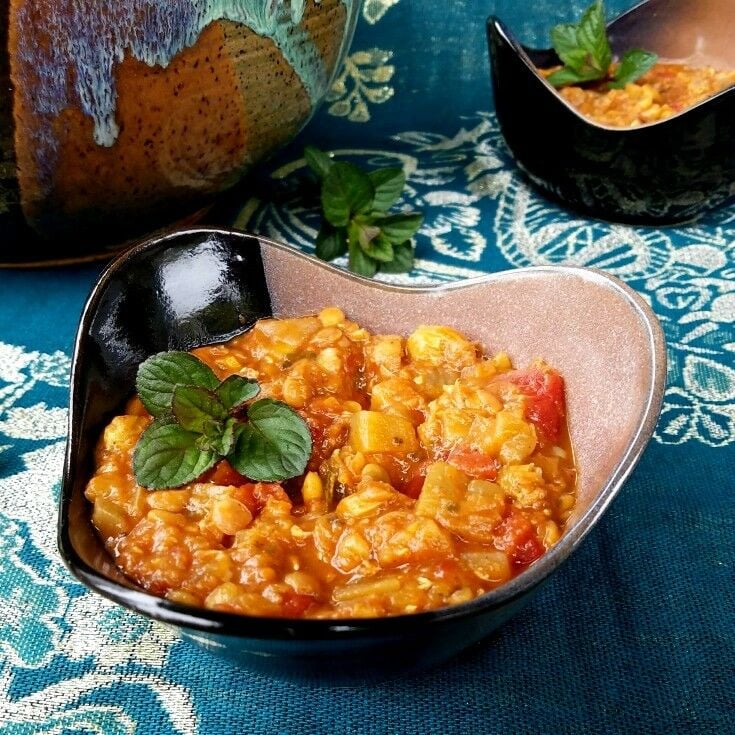 Ten years ago, my daughter married a young Armenian named Vahe. When I first met Vahe, I could barely locate Armenia on a map; moreover, I knew virtually nothing about its rich culture and even less about the tumultuous history of its proud and faithful people. All I knew was this earnest, poetic young man loved my daughter, which is all I really needed to know back then.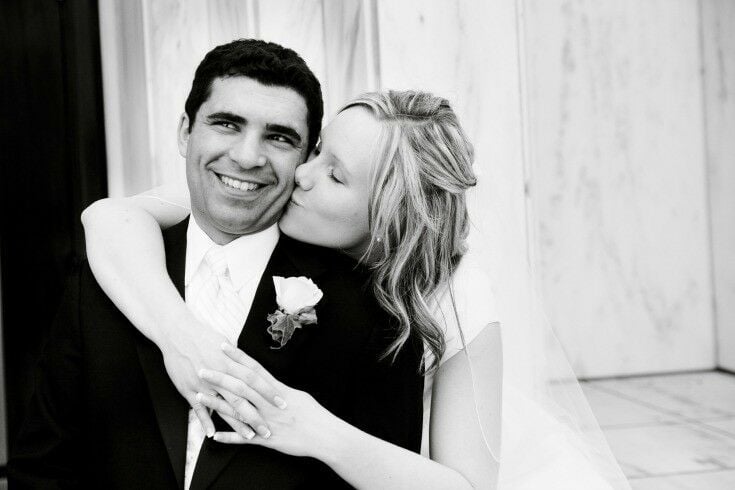 And I knew he could cook, because whenever he visited us, that is what he did – COOK! Using nearly every pan in my kitchen, he would make us a bountiful feast of Armenian-inspired fare. Everything from delicious garlicky green beans with eggs to delectable eggplant rolls stuffed with carrots and raisins to amazing fire-roasted shish kabobs. (Like many Armenians, Vahe is a master of fire and skewer.)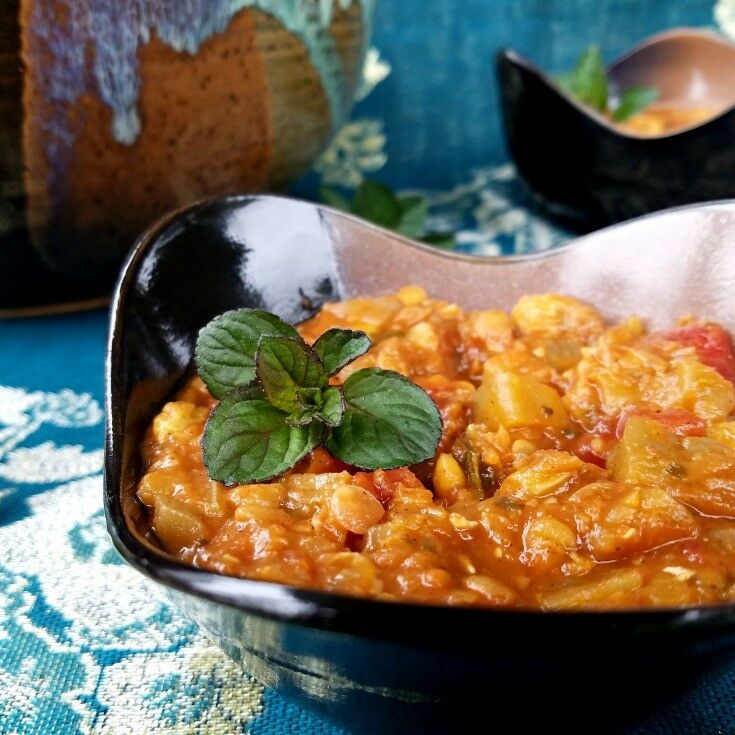 Over the last decade, I've learn a lot. I've developed a great appreciation and genuine respect for my son-in-law and the hard-fought struggle he has endured to become an American citizen. I've gained four amazing Armenian-American grandchildren and a wonderful extended family. I've read a number of books and countless articles on Armenian history (of which I was taught virtually nothing about in school) and learned a great deal about traditional Armenian cooking as well.
Did you know that Armenia is one of the oldest countries in the world?  With a recorded history of about 3500 years, the small, landlocked country has a cuisine as old as the nation itself, where it occupies a unique place in Asiatic cuisine. Relying on a rich medley of diverse tastes and fragrances, Armenian cooking often employs savory flavors like lemon, garlic, onion, paprika, and sumac, and warm spices like cinnamon, vanilla, and cloves.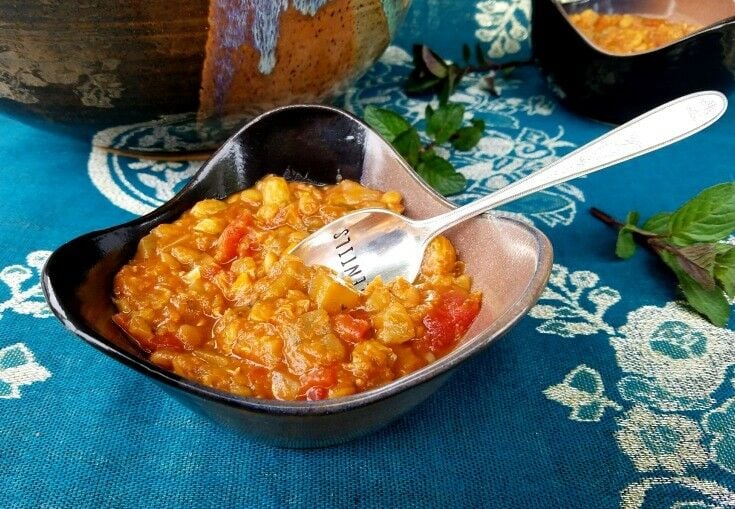 I've known for some time that I wanted to celebrate this milestone in our family's history here on GHW with a traditional Armenian recipe, so when I saw "Armenian Lentil Stew" on a restaurant menu awhile back, I knew that I had to give it a go. In the end, I don't know how "traditional" this recipe is; in fact, my culinary instincts are telling me that, even with my exhaustive research, it may be a bit Americanize. All I know is, it's delicious.
When it comes to ethnic recipes, I'm usually a stickler for authenticity, but under the circumstances, I think it's perfect. My son-in-law – who coaches his daughters' soccer team and reads Kant (in Russian) to his three-year old son, who would move heaven and earth for my daughter, and who stood almost five years ago in a courthouse and pledged his allegiance to the United States of America… well, he's a little Americanize now, too.
Happy Anniversary, kids. May you have many more to come. 💚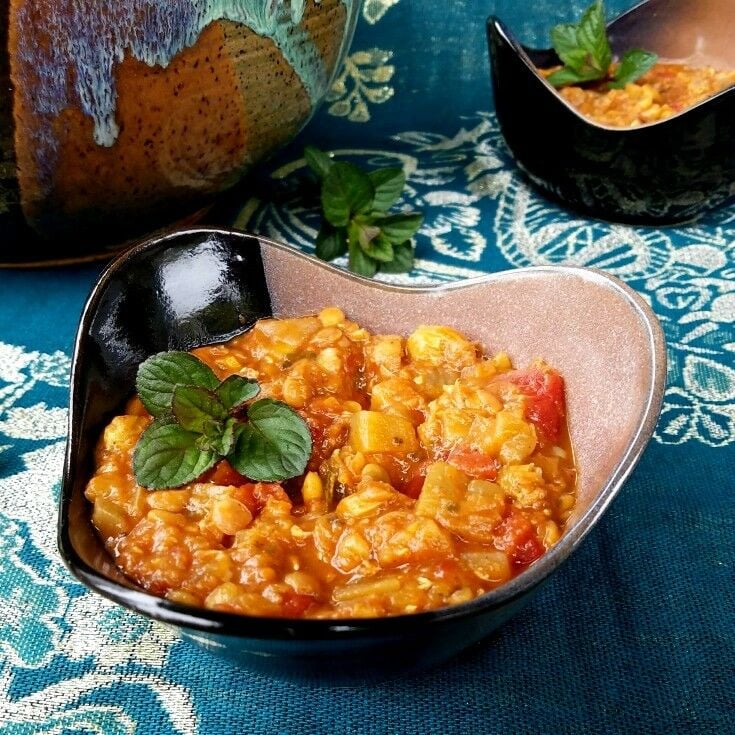 Armenian Lentil Stew
Print Recipe
Pin Recipe
Ingredients
Stew
1

cup

dried red or brown lentils

or combination

5

cups

vegetable or chicken broth

1/2

cup

golden raisins

chopped

2

tablespoons

olive oil

1/2

large onion

diced

1

pound

eggplant

peeled and diced 1/4-3/8"

1

28-oz can

diced tomatoes

undrained

1

bell pepper

red, green or yellow, diced

3

cloves

garlic

minced

1

tablespoon

packed brown sugar

2

teaspoons

hot paprika

or regular paprika

1-2

teaspoons

kosher salt

or to taste

3/4

teaspoon

ground cinnamon

1/2

teaspoon

cumin

1/4

teaspoon

allspice

1

heaping teaspoon

crushed dried mint leaves

1/2

teaspoon

lemon zest
Garnish (Optional)
fresh mint or cilantro

chopped

sour cream or plain Greek yogurt
Instructions
Rinse lentils and place in large sauce pan. Add broth and chopped apricots and bring to a boil over medium-high heat. Reduce heat, cover, and simmer for 20 minutes.

Heat olive oil in a Dutch oven or other heavy pan over medium heat until it begins to glisten, and then add chopped onions. Saute onions 5-7 minutes, until translucent.

Add eggplant, tomatoes, bell pepper, and garlic to onions. Reduce heat, cover, and simmer for 10 minutes.

Add lentil mixture and remaining Stew ingredients to vegetable mixture. Simmer until lentils are tender; about 30 minutes. Adjust seasonings to taste.

Garnish with fresh mint or cilantro and a dollop of sour cream or Greek yogurt. Serve as is, or over cooked bulgar or basmati rice.
Notes
WW Smartpoints [2018] - 16 Smartpoints total for one whole batch, or 2 Smartpoints per serving
If stew becomes too thick while cooking, just add some additional broth or water.
Like most stews, this is always better the next day when the flavors have had a chance to play together. 
I used a number of recipes for inspiration and guidance in the development of this Armenian Lentil Stew recipe; most notably, Armenian Lentil Soup with Eggplant and Apricots [Peanut Butter Runner], and Armenian Lentil Soup [Epicurious].