These Crispy Sauerkraut Fritters with Bacon, Sausage and Cheese are the perfect appetizer for all your favorite fall celebrations! They can be prepared days ahead of time, stay crisp for hours, and are a snap to make in your air-fryer!

This post may contain affiliate links, but don't worry – they won't bite.
Last summer, while Mr B and I were traveling through Billing, Montana, we stopped for dinner at a local favorite, Oktoberfest German Restaurant. Twice.
The food at Oktoberfest German Restaurant was fresh and tasty, the portions enormous, and the service friendly and attentive. Over the course of the two nights we dined there (ahem… research), we sampled a wide variety of menu offerings, including sauerbraten, schnitzel, and spaetzle. (Oh my!)
The sauerkraut fritters stood out both for their amazing flavor and for their unique presentation, so when we got home, I started working up a recipe.
Luckily, I didn't need to reinvent the wheel for this one: I started with this recipe from Food Republic. I experimented with ingredients, amounts, and refrigeration times to achieve the best flavor and optimal conditions for air frying. For this recipe process is nearly as important to achieving perfect results as are the actual ingredients. (Don't worry – I've made it super easy!)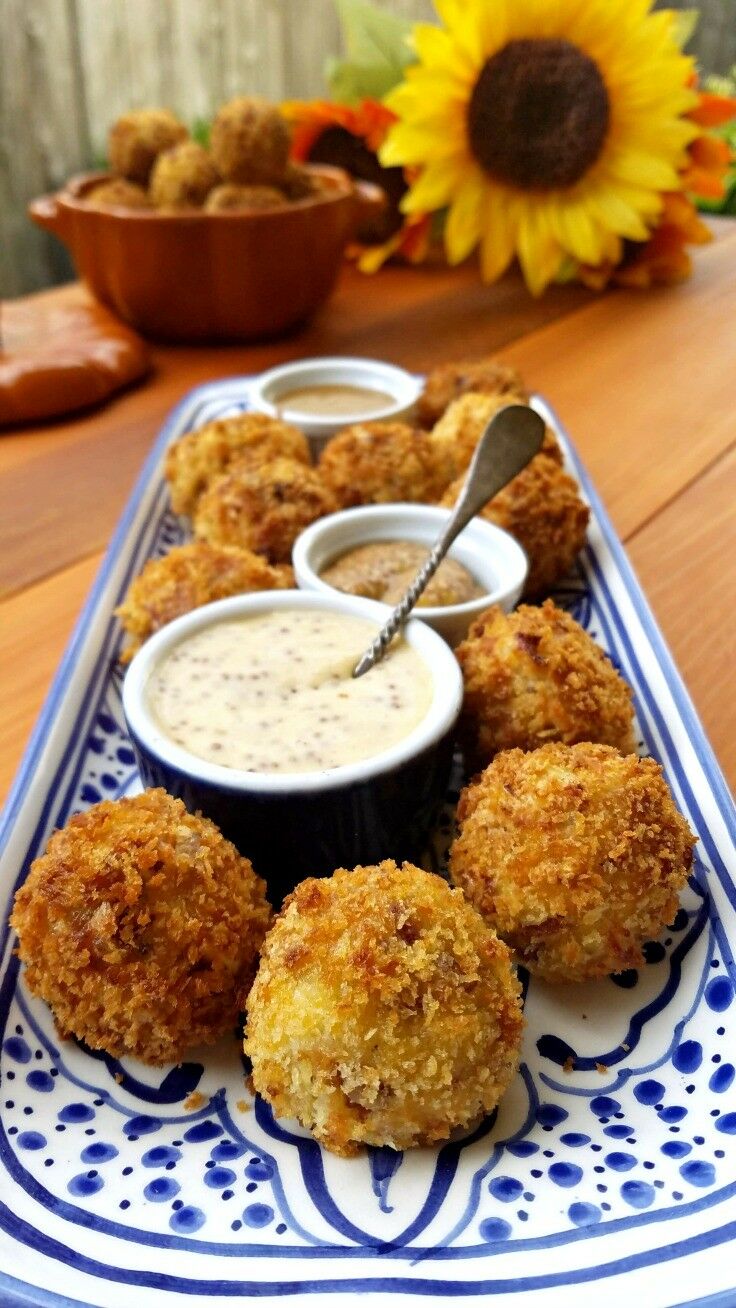 Nailed it! I could not be happier with the results! These little golfball-size babies turn out crispy on the outside, tender on the inside, and oh, so tasty!
Ingredient Notes
Sauerkraut: My parents used to make crocks full of sauerkraut to can every year: whenever I opened my Dad's office door in the late fall, a wave of thick, pungent fermenting cabbage would hit me square in the face. When I moved out on my own and started buying my kraut from a store, I quickly learned that (like pickles) the flavor of any given sauerkraut is heavily dependent up on both method and maker. For this recipe, try to start with a milder Bavarian-style kraut for the best results.
Sausage: Use any good, high-quality smoked German or Polish sausage. Sausages need to be chopped into very small (1/4-inch) pieces before frying. If the casing is very tough, remove it before chopping.
Cheese: The reference recipe I used called for Gruyere, but I found that while processed Gruyere is cheap and widely available, "real" Gruyere is both difficult to find and ridiculously expensive. Personally, I find both the texture and the flavor of processed Gruyere off-putting; moreover, its overly melty consistency makes the fritters slump as they fry, and who wants frumpy fritters?!? Jarlsberg holds up better in the fritter mix while adding a subtle nutty essence that enhances the flavor of the entire fritter.
Panko Crumbs: Panko crumbs are lighter than regular bread crumbs, and consistent in both moisture retention and browning when air-fried.
AIR FRYER THOUGHTS: I love my air fryer! Can I just say that? My mom gave us ours for Christmas last year, and I put off using it for the longest time, but now I am completely hooked! I made these beautiful fritters in eleven minutes with absolutely no added oil, and the clean-up took less than a minute. Seriously! If you are on the fence about getting an air fryer, take the leap!
Crispy Sauerkraut Fritters with Bacon, Sausage & Cheese
These Crispy Sauerkraut Fritters with Bacon, Sausage and Cheese are the perfect appetizer for all your fall celebrations! They can be prepared days ahead of time, stay crisp for hours, and are a snap to make in the air-fryer.
Print Recipe
Pin Recipe
Instructions
Inner Fritter Mixture
Thoroughly drain the sauerkraut. A one-pound bag after draining will weigh 7-8 ounces. Set aside in a large bowl.

Cut the bacon and sausage up into very small pieces. Heat a medium skillet over medium heat. When the skillet is sizzling hot, add the chopped bacon and sausage and cook until the bacon is crispy and the sausage is lightly browned, 5-7 minutes. Remove from heat and allow to cool. DO NOT DRAIN!

Add the cooled, cooked bacon and sausage (including the rendered fat) to the drained sauerkraut. Add the mustard, Panko crumbs, and grated Jarlsberg and mix.

Stir in the 3 beaten eggs and mix everything thoroughly to combine.

Cover mixture and set in refrigerator for at least three hours, and as long as overnight.

When mixture is thoroughly chilled, use your hands or a 2-tablespoon cookie scoop to form into one-ounce balls. You can measure them out with the scoop if you want, but you really need to use your hands to form them, because you want them to be nice and tight. (Loose fritter balls will make the breading step unnecessarily frustrating.) Set the formed balls on a plate or dish and cover lightly to keep in moisture. Refrigerate at least one hour, and up to four days.
Fritter Breading
When you are ready to bread the fritters, you will need three bowls, each big enough to hold at least a few of the prepared sauerkraut balls. Put the following into each bowl:

• Bowl 1: Flour, kosher salt, and pepper. (Stir to combine.)

• Bowl 2: Beaten eggs.

• Bowl 3: Panko crumbs

Remove fritter balls from refrigerator. They should feel cold and firm.

For each fritter: Roll in flour mixture [Bowl 1] and shake off excess, then dip in the beaten egg [Bowl 2], and finally roll in the Panko crumbs [Bowl 3]. Place breaded fritters on a plate until you have enough done for a batch.
Air Frying
Set the breaded fritter balls in the bottom of your air fryer basket. Be sure to leave space around each ball for air to circulate.

Set air-fryer to 360°F [180°C] for 11 minutes. If you want your fritters to be perfectly round and consistently golden, carefully turn balls over halfway through the air-frying process. When done, remove air-fried sauerkraut fritters to a wire rack to cool slightly before serving.

Serve with Honey Mustard, Whole Grain Mustard, and/or Honey-Mustard Sauce.
Notes
If you are in a hurry, or just don't want to deal with flipping them halfway thru the cooking time, you can just air-fry them for 11 minutes at 360°F [180°C]
Don't worry too much about your fritters getting cold. You can make them all well ahead of time and easily warm them up in a low oven or in the microwave, or just serve them at room temperature.
Nutrition
Serving:
1
fritter
|
Calories:
131
kcal
|
Carbohydrates:
9.4
g
|
Protein:
7.3
g
|
Fat:
7
g
|
Saturated Fat:
2.3
g
|
Cholesterol:
42
mg
|
Sodium:
530
mg
|
Potassium:
133
mg
|
Fiber:
1.2
g
|
Sugar:
1
g
|
Calcium:
59
mg
|
Iron:
1
mg
Sauerkraut Fritters can be served with ready-made condiments, but this honey mustard sauce is super easy to mix up, and will give you another wonderful layer of flavor.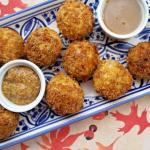 Honey-Mustard Sauce
Honey-Mustard Sauce is a slightly sweet, slightly sour accompaniment for all things German.
Print Recipe
Pin Recipe
Instructions
Combine all ingredients in s small bowl. Cover and refrigerate to store.
Nutrition
Serving:
2
tablespoons
|
Calories:
54
kcal
|
Carbohydrates:
6
g
|
Protein:
1
g
|
Fat:
3
g
|
Saturated Fat:
1
g
|
Cholesterol:
2
mg
|
Sodium:
193
mg
|
Potassium:
11
mg
|
Fiber:
1
g
|
Sugar:
5
g
|
Vitamin A:
10
IU
|
Vitamin C:
1
mg
|
Calcium:
5
mg
|
Iron:
1
mg

THANK YOU so much for being a faithful reader and supporter
of The Good Hearted Woman. 🌻

Be sure to PIN this post!



What's on Your Oktoberfest Menu?
Disclosure: This post may contain affiliate links, which means we may receive a commission if you click a link and purchase something that we have recommended. While clicking these links won't cost you any extra money, they do help keep this site up and running. As always, all opinions and images are my own. Please check out our disclosure policy for more details. Thank you for your support!