Sugar & Spice Cranberries are a tart, sweet treat – made with a deliciously spiced simple syrup.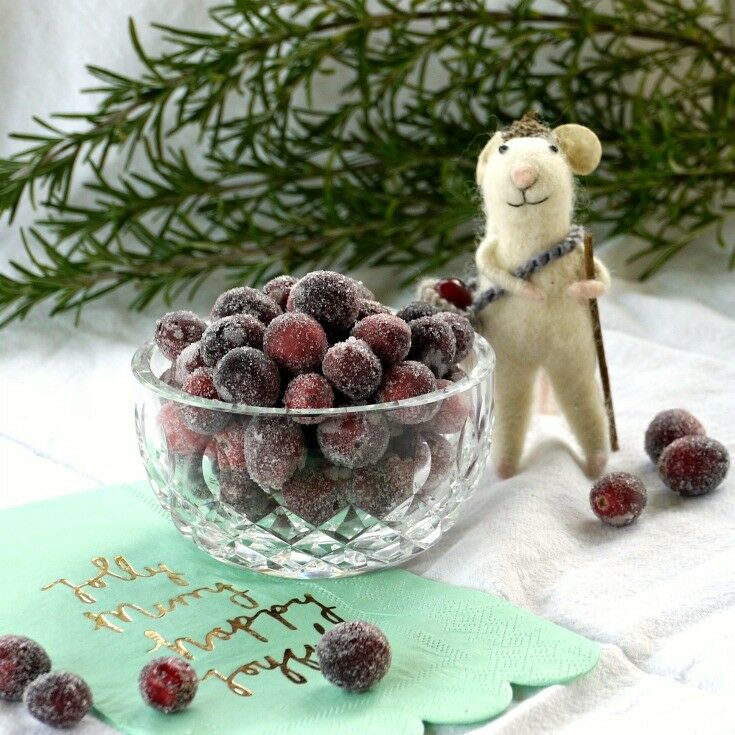 The older I get, the more I come to appreciate the simple things, and at no time of the year do I feel this more intensely than during the holiday season. Call me boring (and some of you will!) but one of my favorite things to do this time of year is curl up with my sweetheart in our big, comfy chair and watch "It's a Wonderful Life." Not because I love the movie so much – honestly it isn't my favorite. But it is his favorite.
To see the man I fell in love with three decades and more ago still tear up when George Bailey stands on those stairs, the whole town gathered around, and that little bell on the Christmas tree rings – that singular moment is the reason I love it.
It is in that moment when Jimmy Stewart, standing there on the stairs holding Juju and her petals, manages across seven decades to communicate to us on a level so deep that the first recognition comes not in cerebral cognizance, but through the base reactions of our own bodies. Our eyes well and our cheeks flush and our hearts grow – and we know to our marrow that life really is wonderful.
And then, inevitably, a single heavy tear falls down my sweetheart's face, and he pulls me close and looks into me with wide-open eyes and wraps my soul in his smile.
That. That right there. I would watch "It's a Wonderful Life" a thousand times from beginning to end for that.
Believe me; I didn't intend to go this direction at all when I started typing, but here I am. And now, here you are reading it. I guess that's the thing about being your own editor: sometimes you keep the sentences [even the ridiculously long fragments] you love – not because they are particularly good, but simply because you love what they mean to you.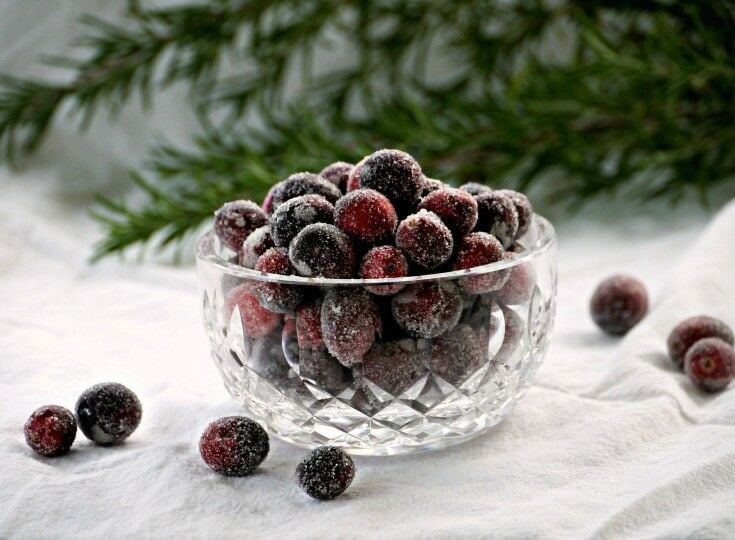 And now, back to our regularly scheduled program….
This post grew from the need to make a Spiced Simple Syrup for an amazing Spiced Cranberry Mule that Mr B will be sharing in an upcoming post. I started thinking about garnishes for his latest concoction and remembered seeing a recipe for Sugared Cranberries that I'd always wanted to try. Then, as usual, I decided to take it a step further, and Voilà! Sugar & Spice Cranberries!
Sugar & Spice Cranberries are a tart, sweet treat, made with a deliciously spiced simple syrup; perfect for holiday snacking, creating beautiful garnishes, or decking out everything from salads to desserts.
Sugar & Spice Cranberries
Print Recipe
Pin Recipe
Ingredients
1/4

cup

Spiced Simple Syrup

Recipe Below

1

cup

fresh cranberries

1

cup

granulated sugar
Instructions
Line a baking pan with a silicone mat, aluminum foil or plastic wrap and set a wire cooling rack on top.

In a small bowl, toss one cup of cranberries in ¼ cup of the spiced simple syrup. Remove with slotted spoon and place on wire rack. Let cranberries set on the wire rack for at least an hour.

Place the granulated sugar in a medium bowl or Ziploc bag, and toss the sticky cranberries until well coated. Refrigerate prepared cranberries for at least an hour before using. Cranberries can be refrigerated for up to a week.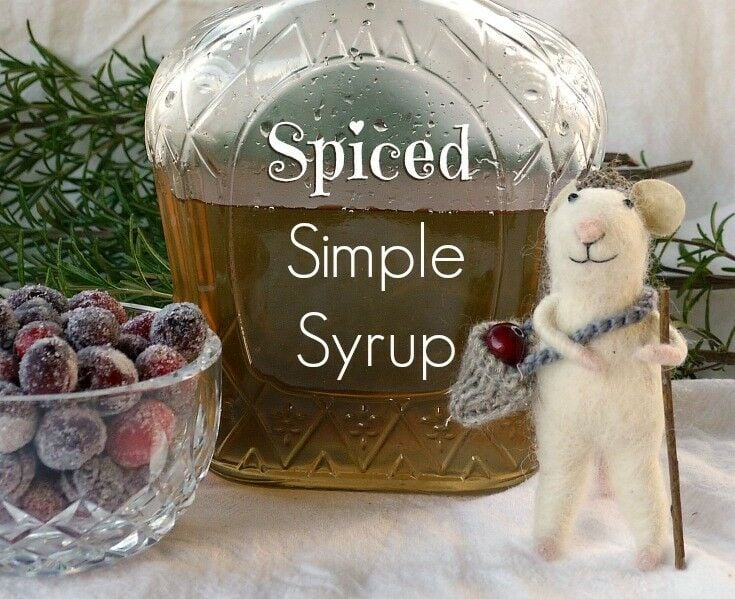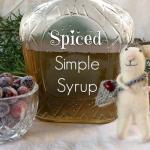 Spiced Simple Syrup
Print Recipe
Pin Recipe
Ingredients
2

cups

water

2

cups

granulated sugar

3-4

slices

fresh ginger

4-5

cinnamon sticks

3

whole star anise

15

whole allspice
Instructions
In a small saucepan over medium-high heat, stir together water, sugar, cinnamon sticks, sliced ginger, star anise, and heat, stirring frequently, until the sugar has completely dissolved. Bring mixture to a boil and allow to simmer for 4-5 minutes. Remove from heat and allow mixture to cool completely.

Using a slotted spoon, remove spices from liquid and pour into bottle or jar. Mixture can be refrigerated for at least two weeks.
You should probably make a batch this weekend – you may be needing a little Spiced Simple Syrup and some Sugar & Spice Cranberries sooner than you think!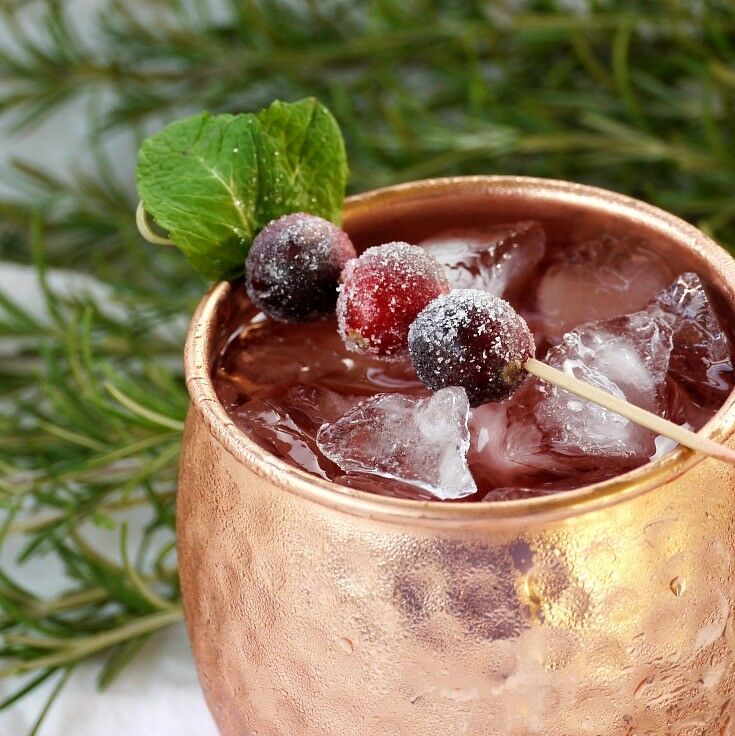 Thank you so much for being a faithful reader and supporter of The Good Hearted Woman.

❤

Be sure to Pin and Print this recipe!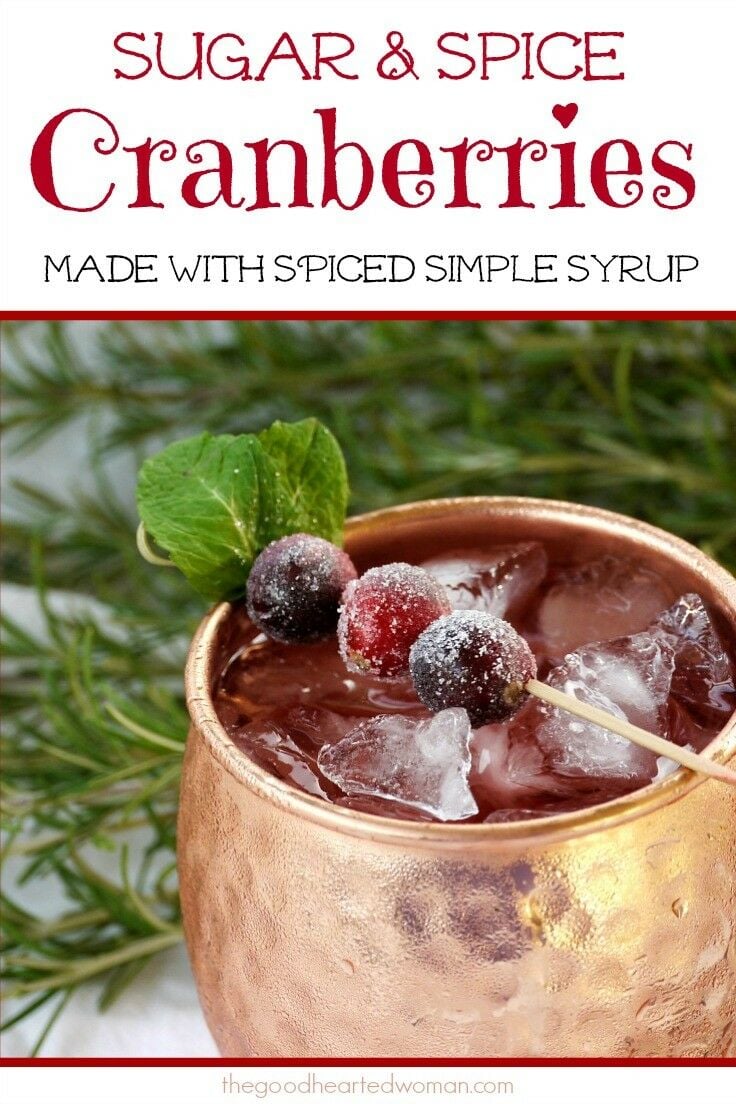 Disclosure: This post may contain affiliate links, which means we may receive a commission if you click a link and purchase something that we have recommended. While clicking these links won't cost you any extra money, they do help keep this site up and running. As always, all opinions and images are my own. Please check out our disclosure policy for more details. Thank you for your support!