Perfect for Oktoberfest (or Any-fest!), the recipe for this amazing Rye Sourdough Spaetzle – with Caramelized Cipollini, Sauteed Mushrooms, and Tabasco Shallots – comes to us courtesy of Chef Ryan Mead of Portland's Bent Brick.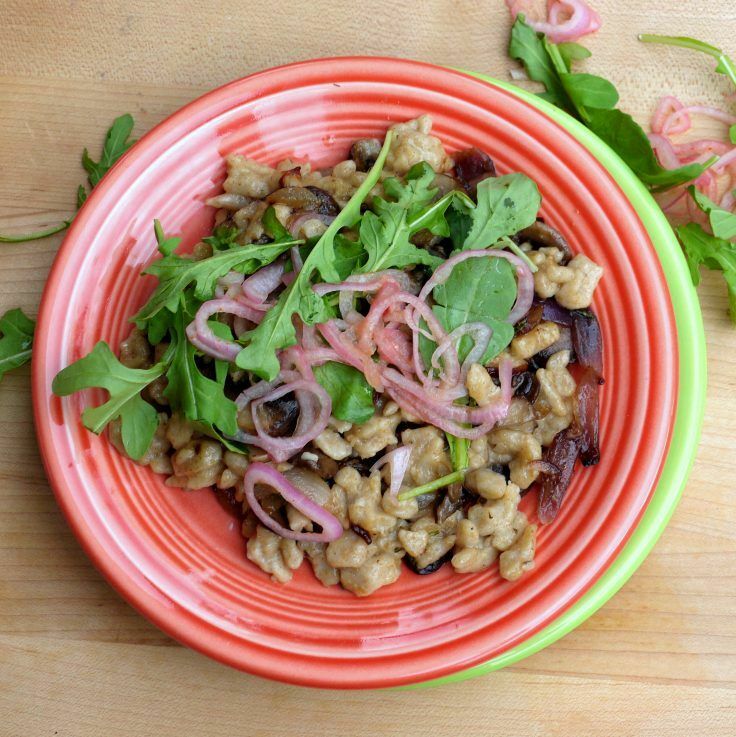 This post may contain affiliate links, but don't worry – they won't bite.
I'll be honest: I've been holding on to this recipe for almost two years now because I wanted to run it during Oktoberfest season. This amazing dish, which I first sampled while on a Portland Food Blogger Progressive Dinner, was created and generously shared with me by Chef Ryan Mead of The Bent Brick in Portland.
Chef Mead's recipe was made to feed a multitude, so I've adjust both amounts and process to better suit home cooks. There are a number of steps to this recipe, but it goes together surprisingly quickly, and the results are outstanding. If you try it once, it is sure to become an annual Oktoberfest (or Any-fest) tradition.
The sourdough does take some planning, so be sure to start it about a week ahead of time. (Want to make it tonight? Just make some using regular spaetzle batter or boil up some frozen spaetzle.)
Once you are ready to make the rye sourdough spaetzle batter, just follow the easy workflow found at the bottom of this post. It takes just 30 minutes from stovetop to table!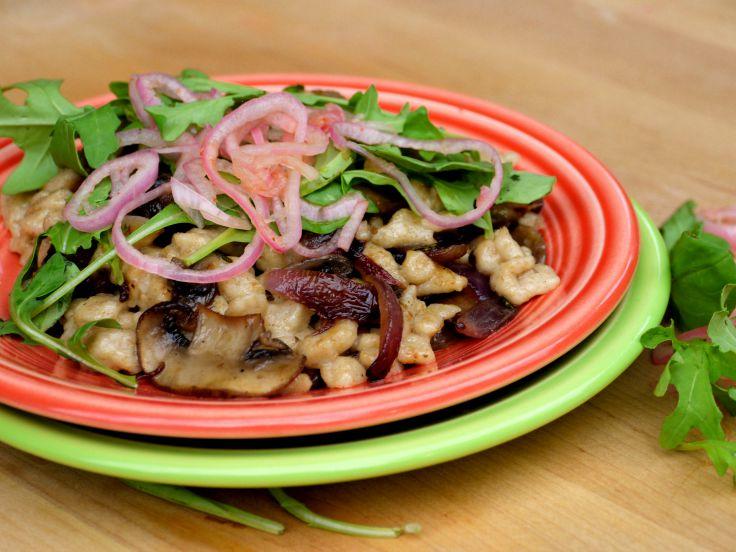 30-minute Spaetzle Workflow
Put the pan of water to cook the spaetzle in on the stove on high.
Make the spaetzle batter.
While the water is heating, slice the shallots and and toss in Tabasco-vinegar marinade.
Cut the cipollini into petals and begin sautéing.
Slice mushrooms and begin sauteing in separate pan. (Yes, you will now have 3 pans going on the stove!)
Complete both sauteed mushrooms and caramelized cipollini and set aside to cool.
When the water has boiled, begin cooking the spaetzle.
Quick-cool spaetzle in ice bath and drain.
Toss with sauteed mushrooms and caramelized cipollini, garnish with arugula and Tabasco shallots and serve.
I do hope you will take the time to make this fabulous dish, and once again, thanks to Chef Ryan and The Bent Brick for their generosity.
If you don't have an "official" spaetzle tool, there's no need to run out and buy one. You basically just need something with small holes in it that will allow the batter to drop down and into the boiling water in little drops, and many tools that are likely already in your kitchen will work just fine. (If you come up with a new idea, please share it with me and I will add it to my list!)
Potato ricer
Colander and spatula
Large flat cheese grater
Plastic bag – just poke a few holes in one corner and squeeze the batter through
Cipollini (pronounced chip-oh-LEE-nee) are small, flat, pale onions. They are sweeter and have more residual sugar than garden-variety white or yellow onions, but not as sweet as shallots. Their shape lends them well to roasting, and their sweetness makes a lovely addition to recipes that include caramelized onions.
Cipollini are harvested in the fall, but can be somewhat difficult to find the rest of the year. You may be able to find them in specialty markets or Whole Foods. (I found mine at New Seasons.) If you can't find them (or don't want to bother) simply substitute a sweet onion for this step.
What's on your Oktobestfest menu?
Thank you so much for being a faithful reader and supporter of The Good Hearted Woman. ❤ Be sure to
Pin
and print this recipe!
Disclosure: This post may contain affiliate links, which means we may receive a commission if you click a link and purchase something that we have recommended. While clicking these links won't cost you any extra money, they do help keep this site up and running. As always, all opinions and images are my own. Please check out our disclosure policy for more details. Thank you for your support!