This easy, breezy Fresh Peach Tart with Vanilla-Cardamom Cream is the cotton dress of desserts – a pretty summer treat that always leaves them wanting more.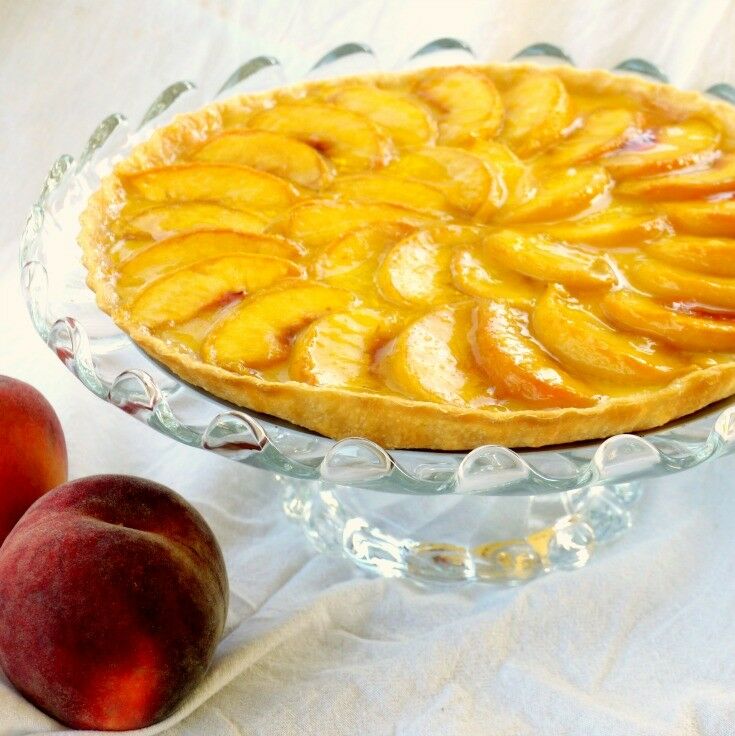 Many moons ago, I lived just around the bend from a peach farm that was owned by my friend Candy. During the harvest season, Candy and I used to can peaches together, and I will always be grateful to her for sharing her secret for amazing peaches with me. (Shhhh. This is strictly between you and me now…It's cardamom.) (Yep!) Just a little sprinkle of this uniquely aromatic spice makes a fresh peach pop with enough flavor to make Cinnamon and Ginger both jealous.
This post may contain affiliate links, but don't worry – they won't bite. 
Fresh Peach Tart
Print Recipe
Pin Recipe
Ingredients
Follow The Good Hearted Woman on Pinterest for more great recipes!
1

large pie crust

homemade or store-bought

3

large peaches

2

tablespoons

raw sugar

1

batch vanilla-cardamom cream

recipe follows

1/4

cup

peach jam

preserves, or jelly
Instructions
Preheat oven to 375° F.

Roll out pie crust and lay in a shallow pie dish or tart pan. Crimp or trim edges.

Bake empty pie crust for 10 minutes and remove from oven. This is a prebaking step, so crust should be bubbly but not yet browned. Set aside.

Prepare Vanilla-cardamom cream. Cover with plastic wrap and allow to cool in pan for 15 minutes.

Pour into prepared pie crust. Allow cream to cool completely.**

Fill a medium bowl with cold water and add 1-2 teaspoons of lemon juice. (Orange juice works too!)

Peel peaches. (I prefer to use a quick

boiling water bath

to remove the skins.) Slice into thin slices.

Submerge peach slices in prepared lemon-water for a few minutes, and then remove and pat dry with paper towels.

Arrange peach slices on top of the tart. Sprinkle with two tablespoons of raw sugar.

Return tart to oven and bake 35-45 minutes, until the edges of the peaches are just barely turning light brown.

Remove tart from oven and allow to cool for about 30 minutes.

Using a mixer, blender, food processor or hand blender, puree peach preserves.

Brush pureed peach preserves over the top of the tart.

Serve warm or cold.
Notes
**Typically when you prepare a cooked pudding or cream pie filling, you cover it with plastic wrap for the entire time that it is cooling to avoid a skin from forming on the top. However, for this tart, the skin is helpful for keeping the peaches from sinking into the tart, so do not cover it once you pour it into the crust in the tart pan.
The pastry cream is basically a thick cooked pudding that is a little less sweet than a traditional cooked pudding.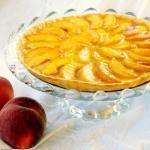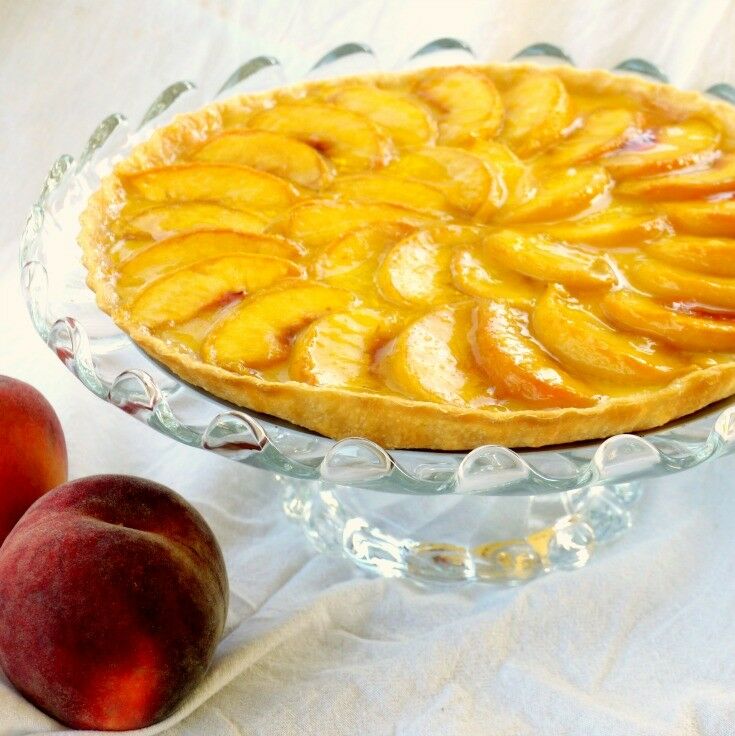 Vanilla-Cardamom Cream
Print Recipe
Pin Recipe
Ingredients
2

cups

milk

1/4

cup

cornstarch

1/2

cup

white sugar

3/4

teaspoon

cardamom

2

egg yolks

1

egg

2

tablespoons

butter

1

teaspoon

vanilla
Instructions
In a medium bowl, whisk together egg yolks and egg. Set aside

In a small bowl, stir together cornstarch, sugar, and cardamom.

In a heavy saucepan, add cornstarch mixture to milk and whisk to combine. Bring to a simmer over medium heat, stirring constantly, just until the mixture begins to thicken.

To avoid cooking the eggs, temper them by adding ¼ cup of the hot milk mixture to the eggs in the small bowl, one tablespoon at a time. When the entire 1/4 cup of hot milk mixture has been added to the eggs, slowly pour the egg mixture to the milk mixture in the saucepan, whisking constantly. Continue stirring until the mixture boils and thickens. Remove from heat.

Whisk in butter and vanilla.

Pour into a heat-proof container and place a piece of plastic wrap directly on the surface to prevent a skin from forming. Refrigerate until chilled before using. **
Notes
Serving size: 1/8 Tart Calories: 224 Fat: 10.3 Saturated fat: 4.6 Unsaturated fat: 4.9 Trans fat: 0 Carbohydrates: 28.3 Sugar: 16.3 Sodium: 114 Fiber: 0.6 Protein: 4.5 Cholesterol: 8.8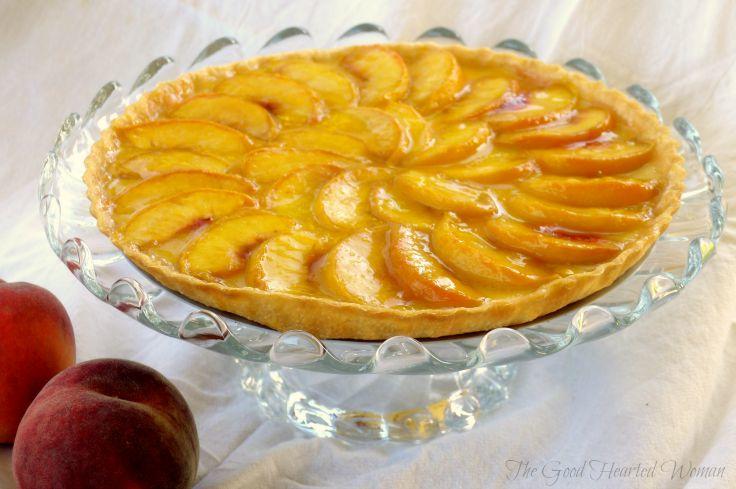 Disclosure: This post may contain affiliate links, which means we may receive a commission if you click a link and purchase something that we have recommended. While clicking these links won't cost you any extra money, they will help us keep this site up and running – and (relatively) ad-free!! Please check out our disclosure policy for more details. Thank you for your support!