Our simple, classic fresh blueberry pie recipe lets the blueberry flavors shine! Made with our homemade sweet pie crust (or store-bought crust) and fresh (or frozen) berries, this delicious pie pairs perfectly with a scoop of vanilla ice cream and a hot summer night.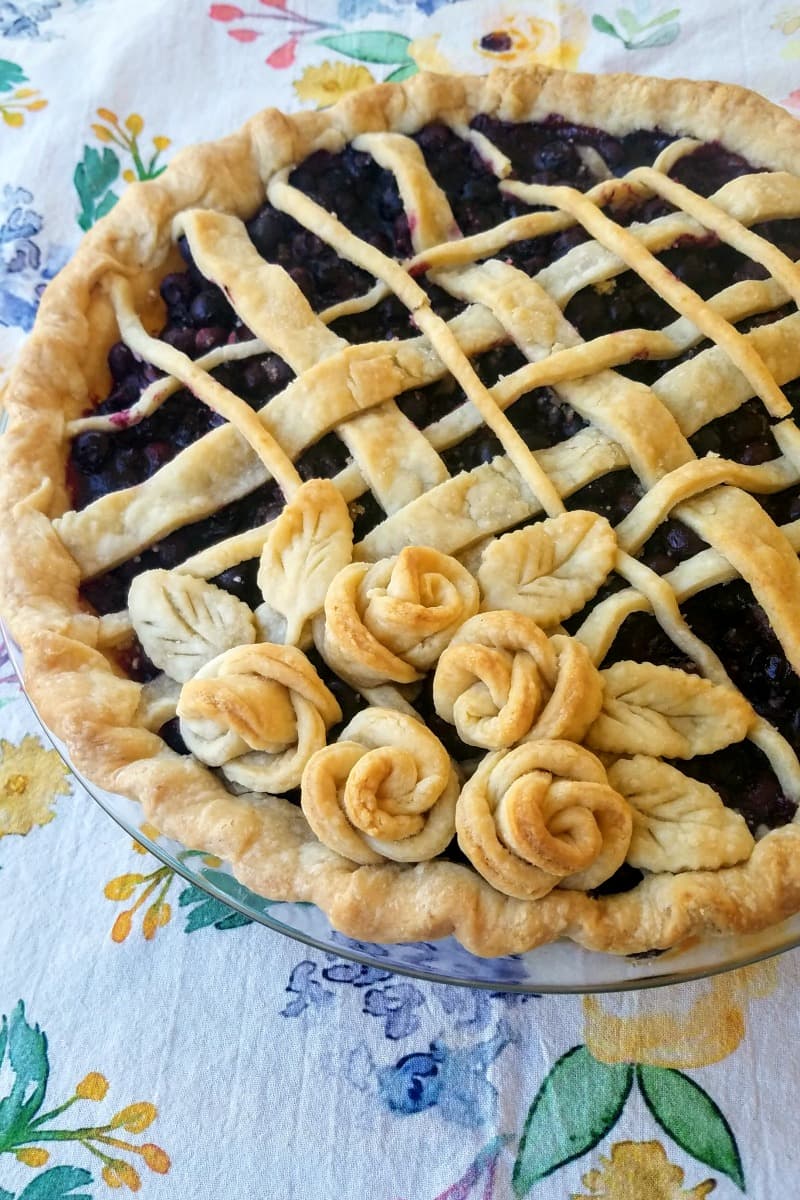 This post may contain affiliate links, but don't worry – they won't bite.

There really isn't anything quite like a slice of fresh blueberry pie with a scoop of cold vanilla ice cream on a hot summer evening.
Our blueberry bushes yielded a bumper crop this year, and I've been freezing and baking up berries – including blueberry pies of all shapes and sizes – for a few weeks now. I'd forgotten how much I love baking with fresh blueberries!
As I was developing this blueberry pie recipe, I compared the results against my memories of the best blueberry pie I've ever eaten; decades ago at a little boat-in family restaurant called Harmony Falls on the shore of Spirit Lake, at the foot of Mount St. Helens. (Needless to say, it's been awhile.)
We couldn't be more pleased with the outcome of this pie recipe! The filling is sweet, tart, juicy blueberry bliss; and the flaky, tender, slightly sweetened crust adds the perfect finishing touch.
Whether it's been decades or days since you last ate a slice, this fresh blueberry pie will bring back memories of pies-gone-by like they happened yesterday. You are going to love it!
How many blueberries do I need for this pie?
Reality: This is how I measure berries for a pie.

For the purposes of this post, I weighed the berries I used so I could give an exact measurement in the recipe. (About 42 ounces for a deep dish, and 21 ounces for a standard single pie.)
However, if you fill you pie pan(s) so that the top rounds up just a bit, you will have the exact right amount for your pie. The rest of the ingredient amounts are based making filling for one deep dish blueberry pie (as pictured here) or two standard 9-inch pies.
IMPORTANT: Blueberries used for filling must be room temperature. DO NOT use chilled berries, or your filling will take too long to cook and your pie shell will burn before the filling is done.
Why is it so important to rinse blueberries before baking with them?
As you may know, you should never rinse blueberries until you are ready to use them. Rinsing removes the "bloom," which is the waxy, silvery-white coating that appears on blueberries, grapes, and some plums. Bloom acts as a barrier against insects and bacteria, and helps to seal in the fruits' moisture. Rinsing breaks down this protection, ultimately allowing the berries to cook more efficiently.
For the purposes of this recipe, rinsing also adds just enough liquid to the mixture to allow the tapioca to begin working its magic before the berries begin to burst during baking. Do not skip this step, or your filling may not cook correctly.

What about the pie crust?
You can use any pie crust you want for this pie. However, if you want to make your own dough (and I strongly encourage you to do so), my favorite, go-to sweet pie dough recipe is tender, flaky, and easy to make. (And if you follow the directions, it's next to foolproof!)
Follow these three easy rules for successful pie crust:
Keep everything crust-related ICE COLD! That means; if you aren't using it, it should be chilling. This includes your pie dish. (DO NOT chill filling ingredients.)
Mix in the fats by hand, and leave pea to peanut-size pieces in the dough.
Do not overmix your dough. Overworking encourages the formation of gluten, which makes pastry dough tough. Pastry dough should never be a uniform color: don't try to make it so.
One more important Pie-Making Tip:
I have one more tip for successful pie making, blueberry or otherwise: invest in a good 9½-inch rimmed glass pie dish. Get a deep dish or standard pie dish depending on your preference, or both!
I prefer a glass pie dish over metal or ceramic for a couple of reasons; most notably, I can see through glass to check the color of my bottom crust, which is a primary determinate for whether the pie is done or not.
Do I have to make the pie crust all fancy like this pie?
Nope. You can top it with a well-vented solid crust; or better yet, make a simple lattice crust.
Want to fancy it up? Vary the size of your lattice strips, and add a few super simple pie dough roses like I did! [How-to post coming next week.]
If you decide to go with a solid top crust, be sure to cut some large vents, or better yet, use a small cookie cutter to open up the top to allow all that steam to escape while the berries are cooking.
Pie Crust PRO TIP: Cut the bottom crust larger enough so that, after you add the top crust, the bottom edge can be folded up over it and sealed, as shown in the image above. In my experience, this significantly cuts down on pie shell leakage around the edges.
Classic Fresh Blueberry Pie
Our simple, classic fresh blueberry pie recipe lets the blueberry flavors shine! Recipe makes enough filling for one 9-inch deep-dish blueberry Pie, or two standard 9-inch pies.
Print Recipe
Pin Recipe
Ingredients
42

ounces

fresh blueberries

room temperature (Defrost to room temp if using frozen berries)

4

tablespoons

instant tapioca

2/3

cup

white sugar

See Notes below.

1

tablespoon

all-purpose flour

1½

teaspoons

fresh lemon zest

1/2

teaspoon

ground cinnamon

1/4

teaspoon

ground nutmeg

1

tablespoon

lemon juice

1

tablespoon

butter

cut into small pieces

1

batch

Sweet Pie Dough

per pie (or your favorite double-crust pie dough)
Instructions
Preheat oven to 400°F [200°C].

Pour fresh berries into your pie dish to measure out proper amount.

PRO TIP: Chill pie plate in refrigerator for 30 minutes before beginning.

Gather and prep all ingredients.

Rinse blueberries in colander. This step is NOT OPTIONAL.

In a large bowl, combine berries, tapioca, sugar, flour, zest, cinnamon and nutmeg.

Gently toss to mix. Sprinkle with lemon juice, toss one more time, and allow to sit for 15 minutes.

While the pie filling is setting out, take the pie plate and one half of your pie dough out of the refrigerator.

Roll out bottom crust and line pie dish. (Continue to chill other half of crust.)

Put rolled bottom crust in freezer for 5 minutes before proceeding.

Fill chilled pie crust with prepared filling.

Sprinkle lemon juice over top of pie. Dot with butter pieces.

Remove dough for top crust from refrigerator. Roll out on lightly floured board. Add top crust to pie as desired. You can simply top it with a solid crust, or make it as fancy as you like.

If you use a solid top crust, be sure to cut a few vents.

If you pie dough seems saggy or too warm when you get done adding the top crust, put the whole thing back in the freezer for 5 minutes.

Baking times will vary somewhat, depending upon your pie dish, oven, and depth of filling. Keep an eye on your pie after the first 30 minutes of baking to avoid burning. • 9½" Deep Dish Pie: Bake at 400° [200°C] for 45-55 minutes, or until lightly browned.• Standard 9" Pie: Bake at 400° [200°C] for 40-50 minutes, or until lightly browned.

After the first 30 minutes of baking, gently lay a sheet of plain, flat aluminum foil over the top of the entire pie to avoid over-browning the top. Do not press down or otherwise form the foil: just lay it gently, like a feather.

Pie is done when crust is light golden brown and filling is bubbly.

Allow pie to cool completely before serving.
Notes
IMPORTANT: Blueberries used for filling must be room temperature. DO NOT use chilled berries, or your filling will take too long to cook and your pie shell will burn before the filling is done. 
---
You can adjust the amount of sugar based on the tartness of your berries and your personal tastes. Add up to an additional 1/3 cup sugar if your berries are very tart, or if you prefer your pies very sweet. 
Nutrition
Serving:
1
slice
|
Calories:
405
kcal
|
Carbohydrates:
56
g
|
Protein:
4
g
|
Fat:
18
g
|
Saturated Fat:
8
g
|
Cholesterol:
6
mg
|
Sodium:
175
mg
|
Potassium:
110
mg
|
Fiber:
3
g
|
Sugar:
24
g
|
Vitamin A:
319
IU
|
Vitamin C:
10
mg
|
Calcium:
13
mg
|
Iron:
2
mg
Why does this blueberry pie recipe include both flour and tapioca as thickeners?
Thickening the natural fruit juices from any berry is tricky, especially when the filling is cooked in the pie. (As opposed to pre-cooking the filling.) Blueberries are particularly pesky, natural pectin-wise, and it seems that some varieties gel better than others.
You want your pie-fruit to be thick enough to sit on a fork, but you don't want a gummy, gelatinous mess that feels weird on your tongue and totally overwhelms the fresh, natural flavors of the berries. You also need that crust to bake up nice and flaky. It's a balancing act.
That said, I am not a fan of cornstarch for thickening pies, and I avoid it whenever possible. Sure, thickening with cornstarch is easy, but it often results in what I can only describe as a gloppy, bouncy filling.
For this pie, I use my pie thickener of choice – instant tapioca, plus just a little flour and butter to seal the deal. This combination gives me the most consistent results with my blueberry pie filling, yielding a thick, juicy filling that highlights (instead of hides) all those delicious fresh berry flavors.
Blueberry pies, in particular, thicken a lot when they cool. Don't be concerned if your filling seems thin when you first take it out of the oven. For best results, allow pies to set up completely before cutting in.

THANK YOU so much for being a faithful reader and supporter
of The Good Hearted Woman. 🌻 Be sure to PIN this post!

Disclosure: This post may contain affiliate links, including Amazon affiliate links, which means we may receive a commission if you click a link and purchase something that we have recommended. While clicking these links won't cost you any extra money, they do help keep this site up and running. As always, all opinions and images are my own. Please check out our disclosure policy for more details. Thank you for your support!