Knowing how to pick a perfect watermelon isn't a magic trick. Just remember: Girls are sweeter, size matters, and your Mama was probably right.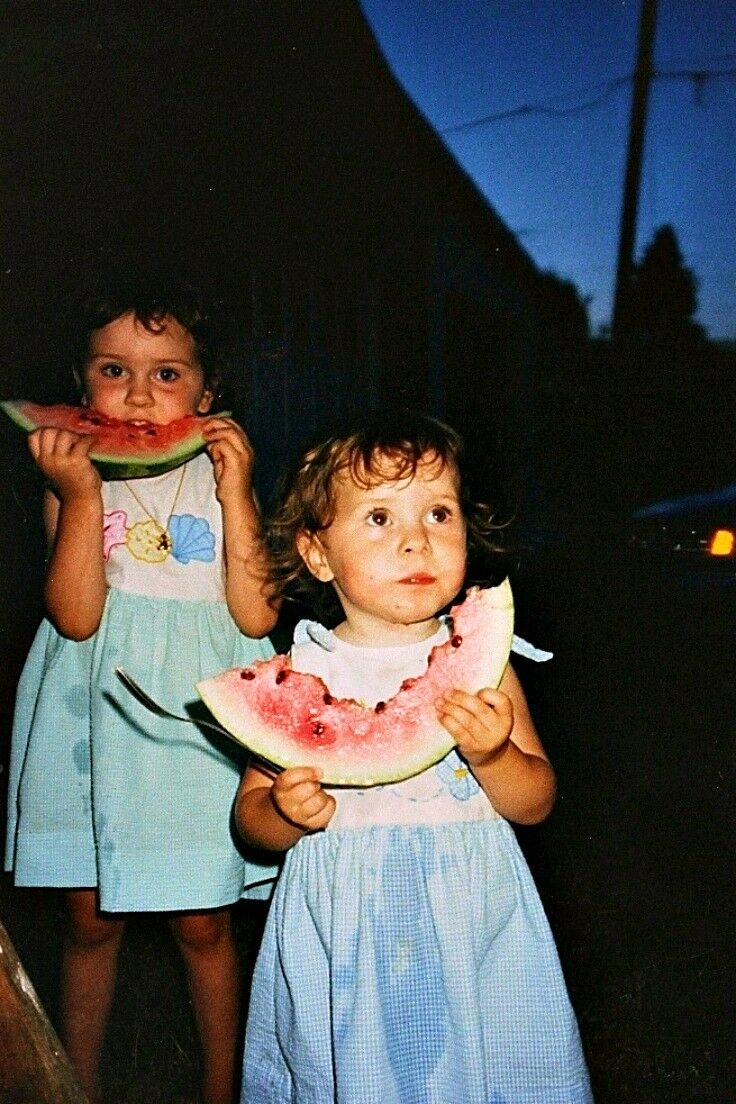 The picture above is one of my all time favorites. It was taken on a sweltering July night in the summer of 1995, in my Uncle Russel's backyard in Maryville, Missouri. The little girl on the left looking straight into the camera grew up to be a dedicated, compassionate teacher, and her sister is now a talented photographer with a gift for capturing light. This image recalls one of my fondest memories from their childhood, and the second best watermelon I've ever eaten in my life.
For the record, the best watermelon I've ever eaten was on the shores of Spirit Lake in the shadow of Mount St. Helens, a few years before she blew her top. It was the first of my "coming-of-age" summers, and I still remember the boy I was sitting with. (His name was Shawn, and he was beautiful.)
Coincidentally, the third best watermelon I've ever eaten was, like the second, grown and eaten in Missouri… and even as I type that, it occurs to me that my summer memories are as entwined with the feels and flavors of ripe watermelon as a field of vines in the late summer sun.
How to Pick a Perfect Watermelon
Hey, remember that summer we had that mealy, grainy, flavorless watermelon? How 'bout we go find one just like it and relive the moment!
~ No One Ever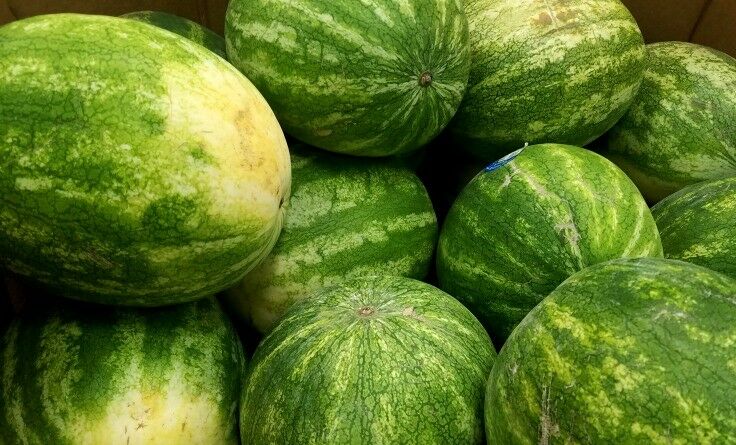 If you're like me, eating watermelon isn't always just about eating watermelon. Sometimes, one cool, juicy bite can take you back to times and places and loved ones long gone, and bring them into clear focus for a sweet moment. No one wants to a mealy, grainy, flavorless melon – it cheats you out of both the moment and the memory.

Here are a few easy tips to help you pick a perfect watermelon:
Check the "Field Spot."
The yellow spot, known as the field spot, is the place where the watermelon rested on the ground as it was growing. The yellower the spot, the riper the melon. A ripe watermelon will have a creamy yellow or orange-yellow spot. If the field spot is white or very pale yellow, choose another melon.
Look for "Webbing."
When you see weblike brown spots on the watermelon, it means that bees touched the pollinating parts of the flower many times. The more pollination, the sweeter the fruit.
Avoid bumps & blemishes.
Other than webbing, note any lumps, dents, soft spots, or other irregularities. If the melon you're considering is covered with blemishes or bumps, choose another.
Girls are sweeter.
Did you know that there are male and female watermelons? Male watermelons are more elongated, usually bigger, and can have a flat, watery flavor. Female watermelons are usually rounder and sweeter.
Size matters.
Don't go for the biggest or smallest melon in a group: try to choose an average sized melon that feels heavy for its size. A ripe watermelon will feel heavier than one that is less ripe. (I use this trick for choosing oranges, too.)
Check the tail.
If your melon still has its tail, check to be sure it has dried up. If it's still green, it means the watermelon was picked too early. Similarly, the surface of the melon will turn from shiny to dull when the melon is ripe.
Thump it!
Your Mama knew what she was doing! Go ahead and give it a good knuckle-thump, and then take note of how it sounds. You want to hear a deep, hollow sound. If the sound is dull, the fruit likely isn't quite ripe.

Now that you've picked out your perfect watermelon, here are 101 things you can do with it!
Beverages [Kid-Friendly]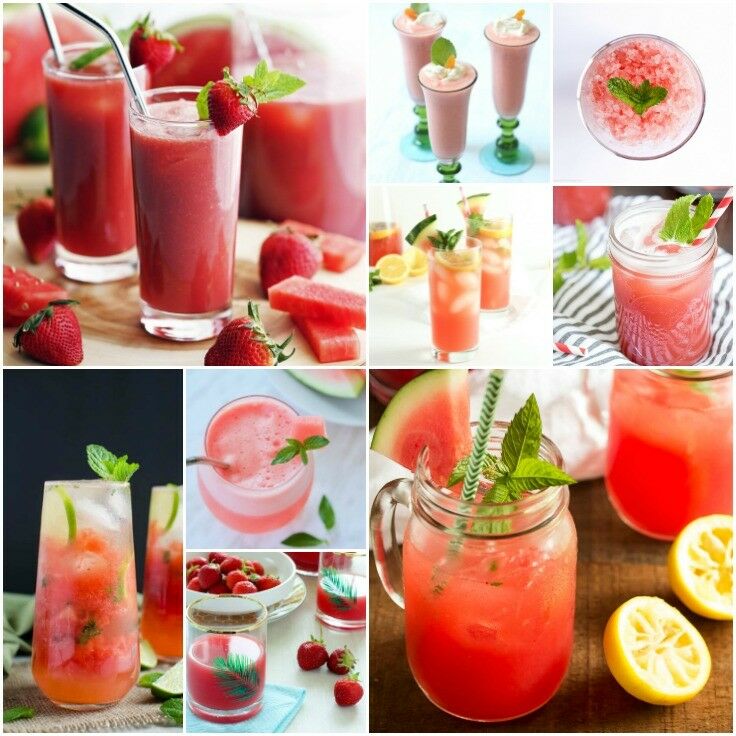 Beverages [Adults only]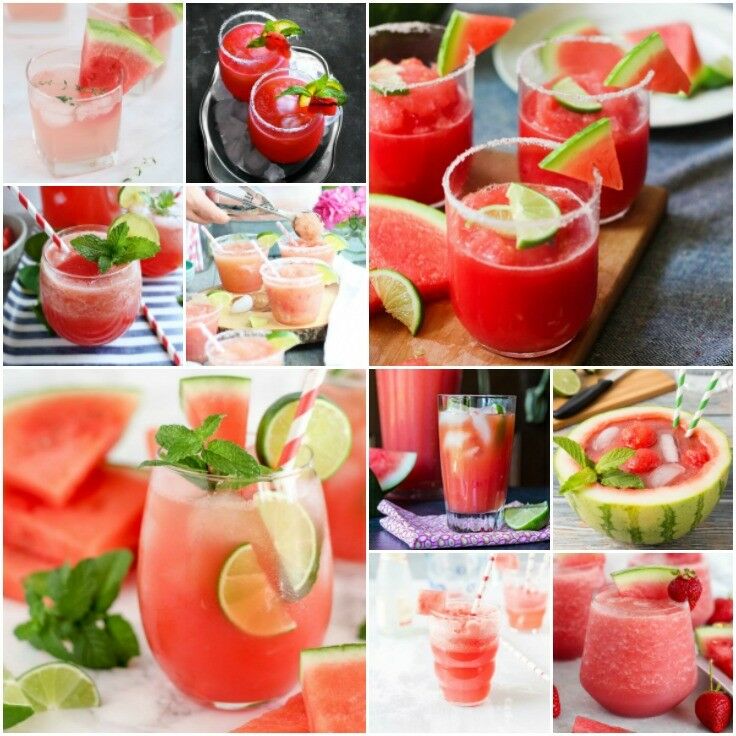 Frozen Treats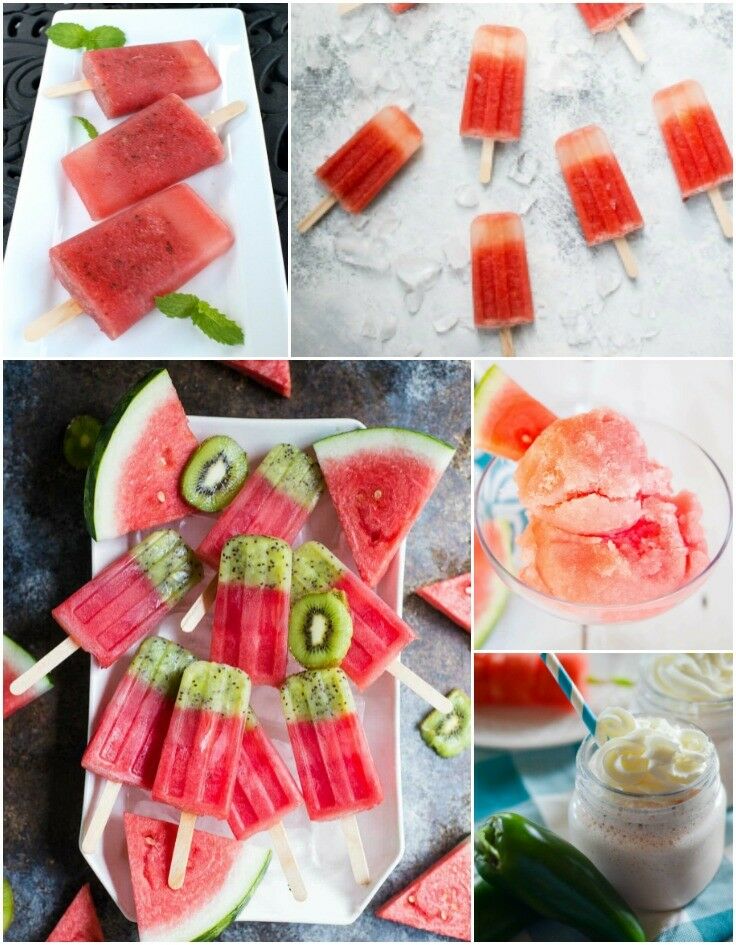 Salads
Salsas

Soups, Skewers & Savory Dishes
Watermelon Mix [Sweets, Party Food & Misc]
Pin this post!