Perfect for Oktoberfest (or Any-fest!), this amazing Rye Sourdough Spaetzle – with Caramelized Cipollini, Sauteed Mushrooms, and Tabasco Shallots – comes to us courtesy of Chef Ryan Mead of Portland's Bent Brick.
I'll be honest: I've been holding on to this recipe for almost two years now because I wanted to run it during Oktoberfest season. This amazing dish, which I first sampled while on a Portland Food Blogger Progressive Dinner, was created and generously shared with me by Chef Ryan Mead of The Bent Brick in Portland.
Chef Mead's recipe was made to feed a multitude, so I've adjust both amounts and process to better suit home cooks. There are a number of steps to this recipe, but it goes together surprisingly quickly, and the results are outstanding. If you try it once, it is sure to become an annual Oktoberfest (or Any-fest) tradition.
The sourdough does take some planning, so be sure to start it about a week ahead of time. (Want to make it tonight? Just use a regular spaetzle batter.) Once you are ready to make the spaetzle batter, just follow the easy workflow found at the bottom of this post, it will take just 30 minutes from stovetop to table!
Rye Sourdough Spaetzle
An uptown spin on a traditional German noodle dish.
Ingredients
3/4

cup

Rye Sourdough Starter

3/4

cup

all-purpose flour

1

egg

1

egg yolk

1/2

teaspoon

salt
You will also need:
Sauteed mushrooms

instructions follow

Caramelized Cipollini

instructions follow

Tabasco Shallots

instructions follow

Handful of arugula
Instructions
In a mixing bowl, combine the starter, whole egg, egg yolk and salt. Mix on low speed until the eggs are combined.

With the mixer running slowly add the flour. When the flour has been fully incorporated place the mixer on medium speed and whip for 3 minutes. The batter should be the consistency of thick pancake batter when you are done. Don't overmix.
Cook the Spaetzle
Bring a large pot salted water to a boil. (Use about 2 teaspoons of salt per gallon of water.)

Using the spaetzle making tool of your choice, add batter to the boiling water a little at a time.

Do not put too many noodles through the spaetzle tool at once or they will clump together and get gloppy.

Cook noodles for 2-3 minutes, until they float to the top of the boiling water. (Do not overcooked, or they will get mushy.)

Place cooked noodles in a colander and run them under cold water (or better yet, throw them into an ice water bath) to stop the cooking process.

Set aside and continue process until all noodles are cooked.
Finishing up:
Toss cooked rye spaetzle with prepared caramelized cipolini and sauteed mushrooms. Garnish with Tabasco Shallots and arugula, Serve warm.
If you don't have an "official" spaetzle tool [affiliate link], there's no need to run out and buy one. You basically just need something with small holes in it that will allow the batter to drop down and into the boiling water in little drops, and many tools that are likely already in your kitchen will work just fine. (If you come up with a new idea, please share it with me and I will add it to my list!)
Potato ricer
Colander and spatula
Large flat cheese grater
Plastic bag – just poke a few holes in one corner and squeeze the batter through
Caramelized Cipollini
Ingredients
1/2

pound

cipollini

cleaned & cut into petals

2

tablespoons

butter

1

teaspoon

fresh thyme

1/2

teaspoon

salt

2 1/2

tablespoons

bourbon
Instructions
Melt the butter in a medium skillet over medium-low heat. When the butter begins to slightly brown, add the cipollini and cook over medium heat until they caramelize, about 15 minutes.

Once the cipollini are caramelized add the bourbon and picked thyme. Cook for an additional 3 minutes.

Place the cipollini on a parchment lined sheet tray and cool.
Cipollini (pronounced chip-oh-LEE-nee) are small, flat, pale onions. They are sweeter and have more residual sugar than garden-variety white or yellow onions, but not as sweet as shallots. Their shape lends them well to roasting, and their sweetness makes a lovely addition to recipes that include caramelized onions.
Cipollini are harvested in the fall, but can be somewhat difficult to find the rest of the year. You may be able to find them in specialty markets or Whole Foods. (I found mine at New Seasons.) If you can't find them (or don't want to bother) simply substitute a sweet onion for this step.
Sauteed Mushrooms
Author:
Ingredients
1 tablespoon olive oil
1 clove garlic, minced
1/2 lb fresh mushrooms, sliced
salt and black pepper to taste
Instructions
Heat olive oil in a medium skillet over medium-high heat.
Add the minced garlic and sauté for 30 seconds.
Add sliced mushrooms, stir to coat, and sauté, stirring with a wooden spatula and keeping them moving until they are dark brown, about 5 minutes.
Season with salt and freshly ground pepper to taste.
Set aside.
Tabasco Shallots
Ingredients
2

medium shallots

sliced very thin

1/4

cup

red wine vinegar

1

teaspoon

Tabasco

or Sriracha

Salt to taste
Instructions
Toss ingredients in a bowl.

Season with salt.
30-minute Spaetzle Workflow
Put the pan of water to cook the spaetzle in on the stove on high.
Make the spaetzle batter.
While the water is heating, slice the shallots and and toss in Tabasco-vinegar marinade.
Cut the cipollini into petals and begin sauteing.
Slice mushrooms and begin sauteing in separate pan. (Yes, you will now have 3 pans going on the stove!)
Complete both sauteed mushrooms and caramelized cipollini and set aside to cool.
When the water has boiled, begin cooking the spaetzle.
Quick-cool spaetzle in ice bath and drain.
Toss with sauteed mushrooms and caramelized cipollini, garnish with arugula and Tabasco shallots and serve.
I do hope you will take the time to make this fabulous dish, and once again, thanks to Chef Ryan and The Bent Brick for their generosity.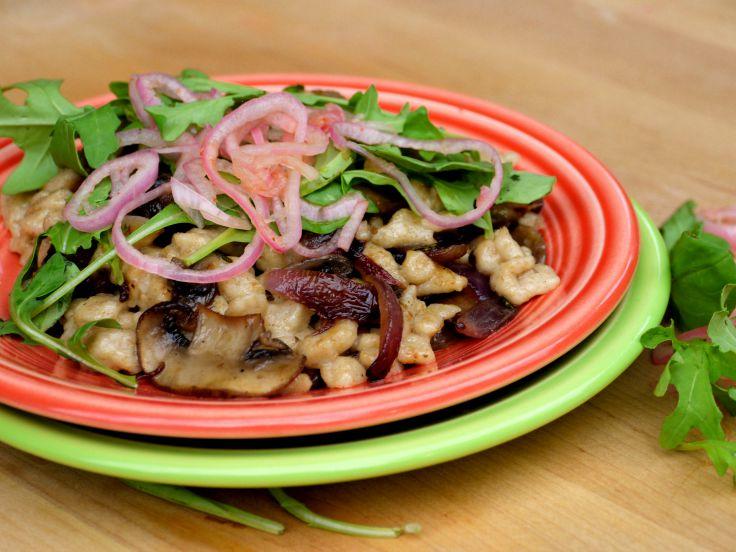 What's on your Oktobestfest menu?