Tis the season. (No, not that season.) It's Farmers Market season. That magical time of year when local markets are busting at the seams and roadside stands pop up nearly everywhere. Those long, hot summer days when we load up on every sweet, luscious fruit and vegetable we can get our mouths on, before they disappear for another year. Sure you can buy things year round in the store, but they just aren't the same, and we all know it. Especially when it comes to things like Peaches, Tomatoes, Watermelon… and Corn.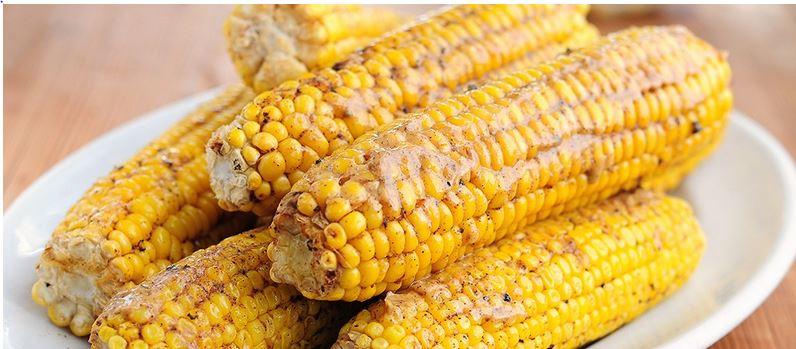 Ahh, Corn. Fresh corn. Freshly grilled corn. Mmmm…
Compound butter for corn on the cob! The beautiful part about it is that you can experiment to your heart's content. Last night we ended up having roasted corn with Lemon Basil Butter, and it was delicious. I just followed the recipe for Mesquite Cilantro Butter, substituting McCormick's Perfect Pinch® Lemon & Pepper Seasoning for the Grill Mates® Mesquite Seasoning, and basil for the cilantro. I loved how the lemon flavor really brightened the flavor of the corn.
I love the open-corn method (as in the video) if I'm wanting corn with that carmelly grilled flavor. It's especially wonderful for using as an ingredient in salads and such. But for corn on the cob, we prefer the method shown below. It results in a decadently moist ear of corn that bursts with delicious corn goodness. (Bonus: Super-fast husk removal – no fussing with corn silk at all!)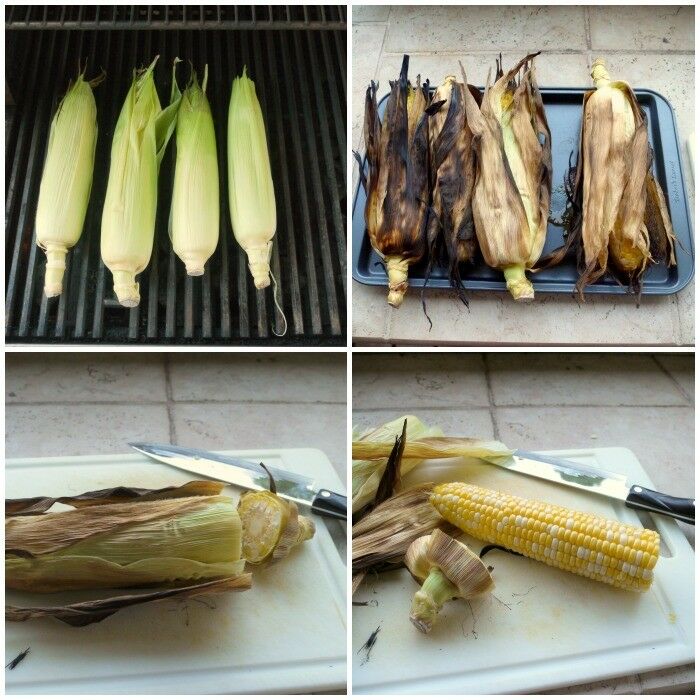 To roast corn this way, simply throw the corn, husks and all, onto your barbecue. Turn them every few minutes and in about 15 mintues, you will have perfectly raosted corn. Then just cut the end off and slide the husk and all the corn silk off the other end. It doesn't get easier than this! (If I had only known about this method years ago. I can't even count how many hours of my life have been spent shucking corn!)
Whether you choose to grill it with the corn exposed as in the video, or with the husk still on as above, the compound butter makes every bite of corn pop with flavor. (Ha! I totally didn't plan that, but there it is 🙂 )
Finally, while I was writing this post, I discovered something very cool on the McCormick website – their FlavorPrint Profile. If you click through and answer just a few questions about your personal tastes, the website will use your FlavorPrint Profile to match up "recipe recommendations that get you. Every time." Every FlavorPrint Profile is a little different, and when you are done, you get a cool little icon to represent your profile.
This sounded like an interesting concept, so I thought I would give it a try. The brief FlavorPrint Profile questionnaire took me less than a minute to complete, and asked me preference questions about everything from cilantro to cheese cake. The questions also seemed to vary depending on the answers (I did it a couple of time, just for you). Once complete, I did a search for "grilled corn," and a ton of delicious sounding recipes popped up, each indicating how closely it matched my FlavorPrint Profile. (As you can see, today's Grilled Corn recipe is a 89% match for my personal profile.)
When you finish, the website offers you one recipe that is specifically matched to you – no strings attached. If you want to give them your email address, you can search through McCormick's seemingly limitless collection of recipes, with the results displayed indicating how each recipe matches up to your personal tastes.
Disclosure: This post was sponsored by Viral Gains, and I was financially compensated for writing it. Grilled Corn, FlavorPrint icon and FlavorPrint Search Results images courtesy of McCormick.com. All other photos used are mine. Grilled Corn video courtesy of Kitchy Kitchen and McCormicks/Viral Gains. All opinions expressed are my own.