Looking for an easy brunch that will Wow your overnight holiday guests? Dutch Apple Cranberry Crêpes are just the thing! (They will make your house smell fabulous too!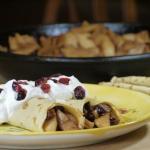 Dutch Apple Cranberry Crêpe Filling
Print Recipe
Pin Recipe
Servings:
10
-12 filled crêpes
Ingredients
1 Batch Sweet Vanilla Crêpes
Instructions
Make a batch of Sweet Vanilla Crepes.
Dutch Apple Filling:
Peel, core, and slice apples into a large mixing bowl. Add dried cranberries (if desired), and then lemon juice, cinnamon, nutmeg, allspice. Toss to coat. Cover the bowl with plastic wrap and let set for about half an hour.

In a cast iron skillet or other heavy pan over medium heat, melt butter and brown sugar together, stirring frequently. When mixture begins to bubble, add salt and reduce temperature to medium low.

Add prepared apple mixture and bring to mixture to a simmer, stirring frequently. Cook apples until they are no longer crunchy, but still have some texture to them. (You don't want applesauce!)

If the mixture is very runny, add cornstarch a half-teaspoon at a time and simmer until thickened.
Assembling the Crêpes
Fill crêpes with prepared Dutch Apple Cranberry Filling, fold and garnish with whipped cream and dried cranberries.