Until eight or nine years ago, I would have been hard-pressed to even point out Armenia on a globe. Then one of my daughters married a charming young Armenian, and whole new world of culture, history – and delicious food! – opened up to me.
In 301, Armenia became the first state in the world to adopt Christianity as its official religion, and since that time, Easter has been a beloved and much anticipated holiday for its people. Today it is celebrated with many traditional events, dishes, songs, greetings. The custom of coloring eggs red for Easter has its roots in the biblical lore regarding red eggs and cheorek (sweet bread): "When Christ was crucified, his mother took some eggs and bread wrapped in the shawl. When the Mother saw her Son crucified and his arms bleeding, she knelt down and cried. The Mother's tears and Son's blood dropping on the shawl colored the eggs and bread. Then the Mother put the shawl on her head."
(For the record, many European, Mediterranean and West-Asian countries share this particular egg-dying tradition [including Russia, Serbia, and Greece] but since my closest ties are Armenian, that's what's getting top billing today.)
These beautiful, traditionally dyed eggs are very easy to make – the most difficult part of making them is collecting the onion skins. If you plan ahead, you can just save your onion skins as you use them. However, the easiest way is to go to your local grocery store and clean out the bottoms of the onion bins. I filled a large sack in a matter of minutes, and they didn't charge me a cent.
To make naturally dyed eggs with lovely, leafy designs, you will need:
1 large soup pot
1 bag of onion skins (probably about 8-10 onions worth, or more)
1 pair of nylons (yes, they can be old or runny.)
Eggs (Try Nest Fresh Eggs!)
Cilantro, dill, or parsley (or anything else that you think would look pretty)
Twist ties, yarn or twine
Olive oil for polishing eggs
PREPARE THE DYE (You can do this step a day or two ahead of time if you want.)
Fill the soup pot with onion skins. Add enough water (about 2-3 quarts) to cover the skins and push them all down in the water.
Over medium heat, bring to a boil and then simmer 15-20 minutes. Remove from heat and let cool.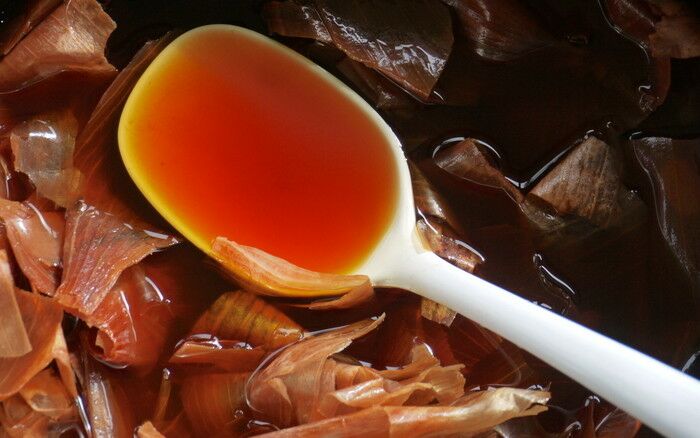 LEAF DESIGN PREP
Use scissors to cut the legs of the nylons into 4-5" tubes.
Tie a tight knot at the end of each tube.
Use a little water to adhere a small leaf or flower to an egg.
Carefully insert the egg into the nylon tube and draw the nylon tightly up and around it.
Secure the end of the tube with a twist tie, yarn, or twine.
DYING THE EGGS (For solid eggs with no design, start here.)
Put raw eggs into the cool dye. Make sure they are completley submerged. (I like to leave the onion skins in the dye and use them to separate and cushion the eggs.)
Bring dye to a gentle boil, then reduce heat to low and simmer for about 10 minutes.
Turn the heat off, and allow the eggs bathe in the dye for at least another 10-15 minutes, until they reach that lovely brick-red color.
Remove eggs from dye bath and allow to cool completely.
FINISHING THE EGGS
Remove nylon tube from egg. (You can use these again.)
Carefully peel off leaves or flowers.
Polish eggs with a little olive oil and a paper towel.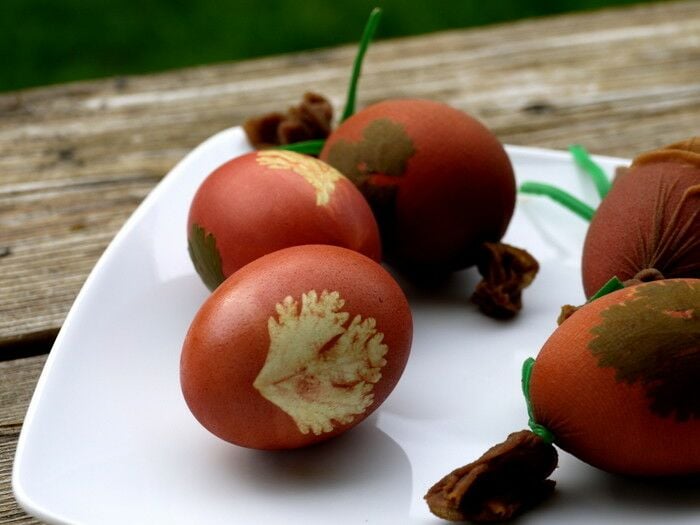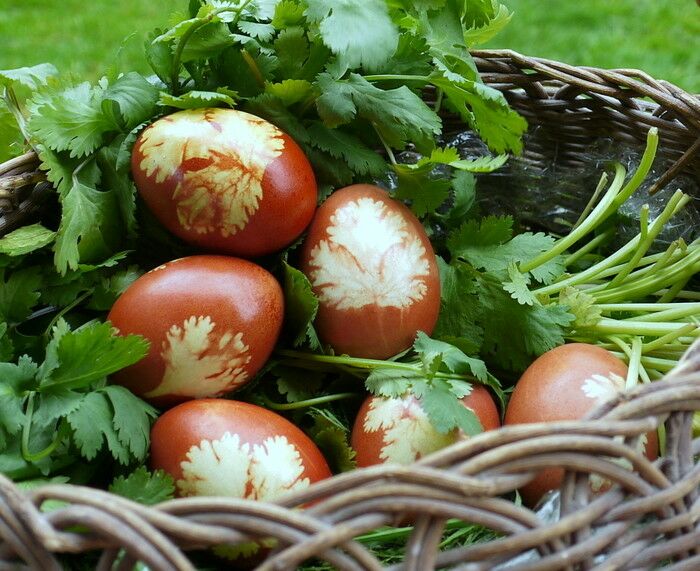 Many thanks, Maria, for all your help and encouragement. (And thanks, Google Translate, for making it possible!)
Շնորհակալություն, Մարիա, բոլորի համար, ձեր օգնության եւ քաջալերանքի.