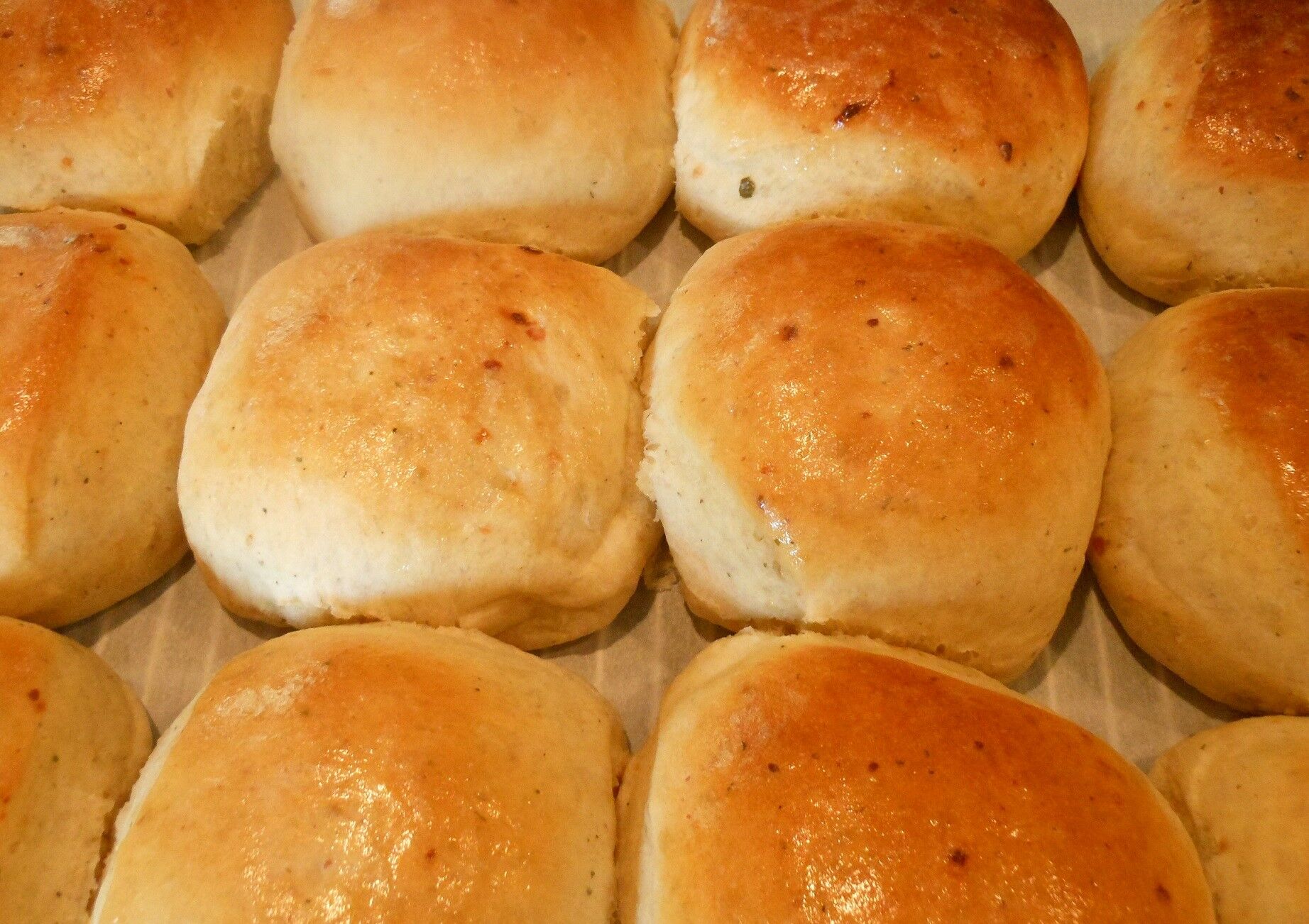 Every other Thursday night like clockwork, Mr. B gathers with a bunch of his buddies for three hours to play poker and talk about man stuff. They've been doing this for years now, rotating houses and taking turns hosting: whoever hosts provides at least a substantial snack, and more often, a full-on meal. I usually vacate on Poker Night – too much testosterone and bragging in a confined space can make a girl woozy – but before I leave, I always try to make a good dinner for them, including a them a little something special. According to Mr. B, I've developed a reputation among the group as their favorite Poker Night cook, and while I admit these guys are obviously easily impressed, I'll take it. Awhile back, I made pulled pork sandwiches (no veggies in that group!) with fresh buns and homemade coleslaw on the side, and when I got home, the first thing Mr. B said was, "Baby, the guys all love your buns!"
Making beautiful burger buns is just about as simple as it gets. I'm not even the bread expert in our family – my oldest daughter is much more talented a bread maker than I will ever be, but you don't need much talent or finesse to make buns. Just pick your favorite bread recipe, let it rise once, form buns, let them rise again and bake. Boom!!
Let me break it down for you.
First, make your favorite bread recipe. You can do these first steps in a bread maker like I did, or by hand – either way works fine. Below is my recipe for Cheezy Ranch Bread – one of my favorite go-to recipes for making buns – but just about any bread recipe will do.
It was my kids' Gramma Edith who first taught me about the elegantly simple science behind bread making:
"You just need some kind of liquid, some kind of fat, some flour, a little salt, a little yeast, and a little something sweet to feed the yeast. If you have those, you can make bread. Every bread you will ever make is some combination of those things, plus whatever else you feel like throwing in." ~ Edith H.
She was right. The more I make bread and I learn about the chemistry involved, the more I understand how forgiving the process can be. This knowledge can come in really handy too. For example, today I didn't have any plain yogurt. (I thought I did, but when I looked in the fridge, I found that my 16-year old had eaten the last of it with her cereal yesterday.) So for this recipe, I substituted about ¾ cup vanilla yogurt – because that was all I had, and topped it off with about ¼ cup Greek Cucumber Yogurt Dip (from Costco). And because of all the sweeteners in the vanilla yogurt, I omitted all but one teaspoon of sugar in the recipe. (I probably could have left it all out, but that made me nervous.)
Cheezy Ranch Burger Buns
This rich, savory bread is makes wonderful burger buns - or form it into loaves for sandwich bread.
Total Time
2
hours
15
minutes
Ingredients
1/2

cup

water

1/2

cup

milk

1

cup

plain yogurt

2

beaten eggs

6

cups

white bread flour

1

tablespoon

sugar

3

tablespoons

powdered Ranch dressing mix

I buy this in bulk at Winco

1 1/2

cups

about 6 ozs. cheddar cheese

2

tablespoons

chopped dried onion flakes

4

teaspoons

yeast
Instructions
To make it in the bread machine: Layer ingredients in the order shown in bread maker on dough setting. This makes a lot of dough, and almost raises the roof on my large bread machine, so if you have a smaller machine, either cut the recipe in half, or do make it by hand.

You can find excellent directions for making bread without a bread machine

here

.

After the dough has risen to double its size (about an hour), divide it into 16 equal pieces. I do this by gently rolling it out on the counter until it is about 1/2 - 3/4 inch thick and cutting it into squares with a pizza cutter. If you do this, you will have little square buns. I try to round the corners up a bit before I let them rise again.

Place the dough patties on parchment paper on a cookie sheet, cover with a towel, and let them rise again.

Bake at 375º for about 15 minutes, remove from the oven, baste with melted butter (I actually just rub a stick of butter on the hot buns and it melts right in), and allow to cool to room temperature.
Recipe Notes
Recipes makes 16 burger buns or 2 standard bread loaves.
Now your buns are ready to slice and toast (if you're into that kind of thing) and serve up with your favorite burger, faux meat, or sandwich makings. It's best to eat them with a day or two, or they will keep in an airtight container for up to a week.
Buns can be frozen for later. Let them thaw overnight, or wrap in foil and thaw in a 300º oven for about 10 minutes.