Every year, Portland holds a week-long literary event called Wordstock, a celebration with a mission: to use the power of writing to effect positive change in people's lives. Last year, my old Camp Fire compadre Z and I attended the WordStock Poetry Slam together, and afterwards decided to stop for a little late night nosh at the adjacent Bagdad Pub. Z and I ordered the Three Faces of Eve, (aka fancy hummus plate) and sat down to rehash the slam, poet by poet.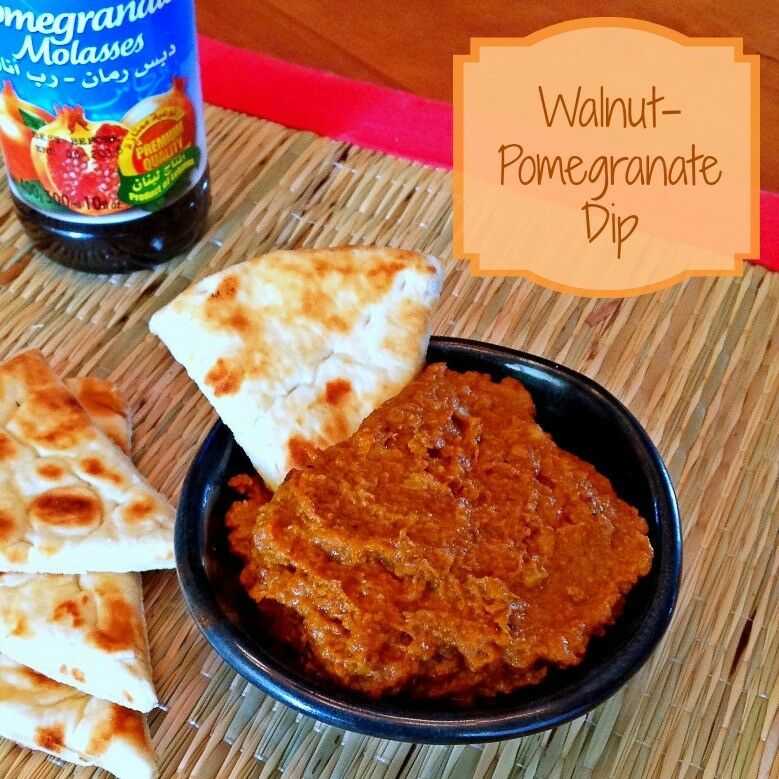 Forty-five minutes later, still no hummus plate. When we finally got our waitress's attention and she went to check on our order, she returned frantic and apologizing all over the place: she had no idea what happened but the kitchen never got our order. (P.S. I was a waitress when I was in college – we all know what happened, sweetie. It isn't a mystery. But it's OK – stuff happens.)
"Is there anything I can do to make it up to you?" she asked us, at least seven times. (Well, of course – comp our hummus!) In between apologizing, she kept up a steady train of chatter, trying to be so accommodating that it was driving us nuts. All either Z or I could think was, "It's OK. Please just stop talking and leave." Finally, I told her what would really make me happy: I wanted the recipe for their walnut-pomegranate dip. Which I love. LOVE. As in, I have been known to go to this pub solely for the walnut-pomegranate dip. (It is my favorite of Eve's faces.)
"Can you get the recipe for me?" I asked, smiling my best 'you might just be able to salvage your tip' smile.
"I dunno, but I'll try." She didn't sound very confident, but it gave her something to do besides hover over us like a needy dragonfly.
Ten minutes later, she emerged from the back with a big grin, waving piece of white paper. My recipe!! I was so happy I almost got misty. I had literally been wanting this recipe for years! I scanned it briefly before I returned to Z and our conversation – and it was a good thing I did. Because I somehow lost it almost immediately. Like I said, stuff happens.
However, I am lucky enough to have a very interesting brain (don't we all, really?) and I remember stuff pretty well – like what page Lincoln's Gettysburg Address was on in my seventh grade history text, or the math page that had equation for figuring the surface area of a regular dodecahedron. (No, I don't remember the actual equation anymore, nor do I care.) So when I somehow I misplaced that treasured piece of paper that held my long-desired, newly acquired recipe, I wasn't really panicked – I had a good sense of what was in it, including basic ratios. (Pomegranate Molasses was the most surprising ingredient: until the moment I read it on the list, I had never heard of it. It can be found in specialty stores, Middle Eastern markets, or on the internet.)
In the long run, losing it was the best thing I could have done because I it gave me the opportunity to make it my own. I made a few changes, most notably roasting the veggies. I'm pretty sure I left out an ingredient or two, and added one or two new ones. But the end product is delicious – totally worth it, with a unique savory-sweet flavor that will have you making it again and again.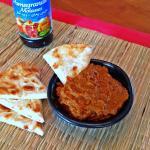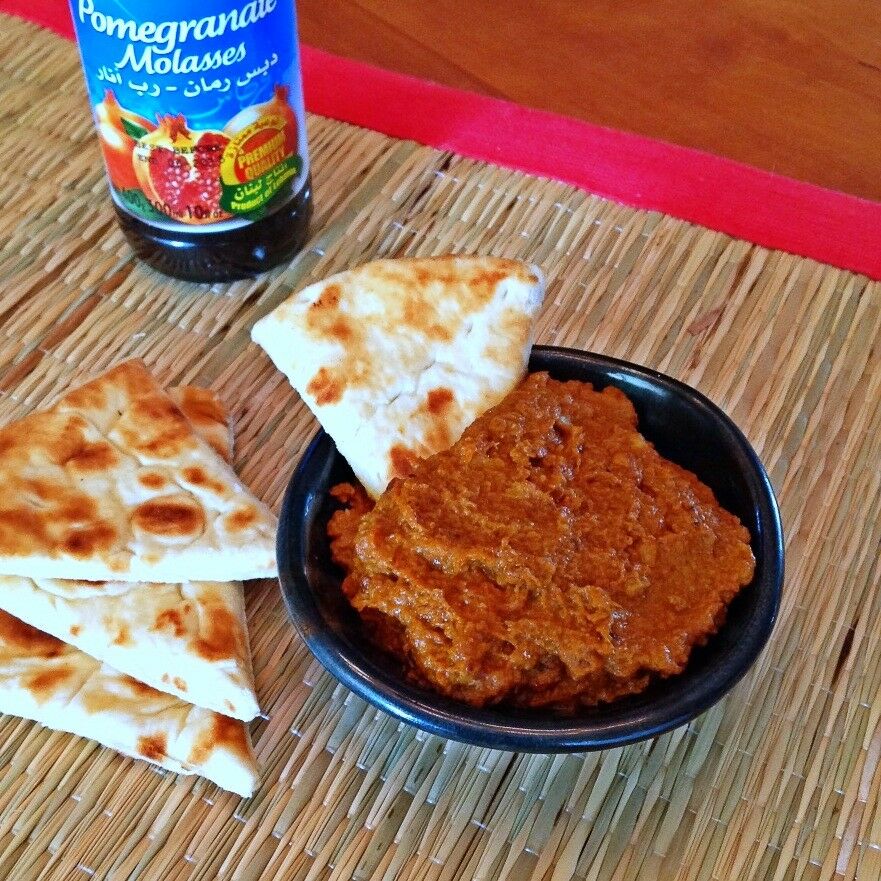 Walnut-Pomegranate Dip (Muhammara)
Inspired by the Walnut-Pomegranate Dip on the "Three Faces of Eve" Plate at McMenamins Bagdad Theater & Pub in Portland, Oregon.
Ingredients
1

teaspoon

cumin

1

teaspoon

smoked paprika

4

tablespoons

olive oil

1

large

red pepper

quartered, seeded, peeled & roasted*

1

lb.

carrots

peeled and roasted*

1

cup

walnuts

lightly toasted**

1

clove

garlic

2

tablespoons

Pomegranate Molasses

Salt to taste
Instructions
In a small skillet, heat olive oil over medium heat. Add the cumin and paprika and heat until fragrant - just a few seconds. Remove from heat and allow to cool slightly.

Put all ingredients into a food processor or blender and pulse until smooth. You may need to add a little bit of water to get it to go. Serve with warm pita triangles, celery sticks, carrot sticks, or whatever makes you happy.
Recipe Notes
To roast carrots & pepper: Heat the oven to 425°. Spray a 17 x 11-inch pan with the cooking spray. (I use a large glass roasting pan.) Toss all vegetables with oil in the prepared pan and season with a little salt and cumin. Roast the vegetables for 30-45 minutes, until they get soft and start to brown. Remove peel from pepper after it cools. To toast walnuts: Heat walnuts in a dry, heavy skillet over medium heat for 1 to 2 minutes or until golden brown and smell toasted. Walnuts burn easily in a skillet, so be sure to stir constantly to ensure even toasting until the nuts turn a rich, golden brown.