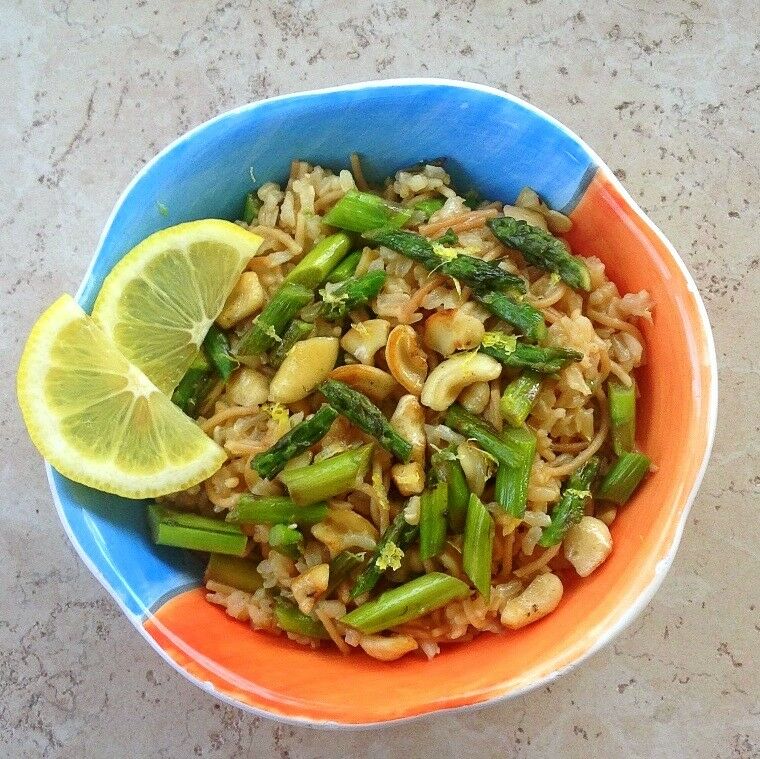 For years I was kind of jealous of people who loved asparagus because they just seemed to relish the eating experience so much. Every spring, I'd hear giddy little squeals of delight at the farmer's market and in the grocery store: "Thank goodness it's asparagus season!" So each year, I would dutifully try it – again – and hope that my palate has "matured" enough to enjoy it with everyone else. But time after time, I would take one bite and a weird green-bitter flavor would bounce around on my tongue and that was it.
Then about two years ago, I decide to try a different tactic. Maybe starting with a pile of naked asparagus wasn't the answer – maybe it needed to be "in" something. First I tried Shaved Asparagus Pizza – which is basically bread, sauce, cheese, and a little bit of asparagus and lemon.  Pretty good.  I could do that.  So on a whim, I made this Cashew Asparagus Pilaf, an adaptation of an old Armenian recipe. As we sat down to dinner, I took a my first bite, fully expecting that bitter bleck once again. But low and behold, instead of strange and unpleasant, my mouth filled with an amazing complexity of flavors! I loved it!! Somehow, the cashews and lemon provide exactly what is needed to bring out the lovely, delicate sweetness of the asparagus with none of the weird aftertaste. At least for me. It was so delicious I couldn't stop eating it.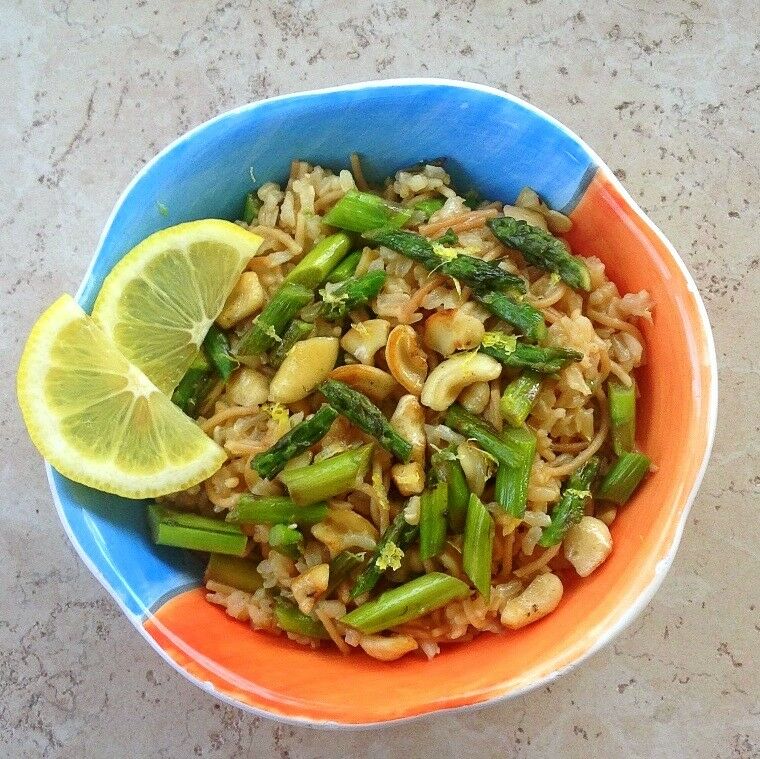 Cashew Asparagus Pilaf
This adaptation of an old Armenian recipe is a great way to stretch expensive seasonal asparagus and pricey cashews. It's excellent as a side dish or as a vegetarian entree.
Print Recipe
Pin Recipe
Ingredients
4

Tablespoons

butter

divided (use Vegan Butter if that's your deal)

2

oz

uncooked spaghetti

broken into 1-inch pieces (make sure it is vegan-friendly)

¼

cup

minced onion

½

tsp

minced garlic

1

cups

uncooked jasmine rice

or your favorite – adjust cooking time accordingly

3

cups

light vegetable broth

Salt and pepper to taste

½

lb

fresh asparagus

trimmed and cut into 1 – 2-inch pieces

½

cup

raw cashew halves

or more!

Juice and zest of ½ lemon
Instructions
Melt 3 tablespoons vegan butter in a medium saucepan over medium-low heat. Increase heat to medium and stir in spaghetti pieces, cooking until coated with the melted butter and lightly browned.

Stir onion into the saucepan and cook about 2 minutes, until translucent. Stir in garlic and rice,* and saute for about 5 minutes. Pour in vegetable broth and bring the mixture to a boil. Cover, reduce heat and simmer for about 20 minutes, stirring a couple of times, until rice is tender and liquid has been absorbed. Check and add liquid as needed toward the end of cooking time.

While the rice mixture is cooking, melt remaining vegan butter in a medium skillet over medium heat. Add asparagus pieces and cashews and sauté until asparagus is tender. (Be careful not to overcook it!) Season with a little kosher salt to taste.

When rice mixture is done cooking, remove from heat and stir in asparagus and cashew halves. Sprinkle with lemon juice and zest. Serve warm.
Notes
In the example pictured, I used brown rice. It gives the dish a nice nutty flavor, but it does almost double the cooking time.
This website provides approximate nutrition information for convenience and as a courtesy only. You are solely responsible for ensuring that any nutritional information provided is accurate, complete, and useful.