Grilled Stuffed Squash Blossoms, filled with a velvety mixture of sweet potato, mascarpone, and fresh rosemary browned butter, make for a delicious seasonal side dish.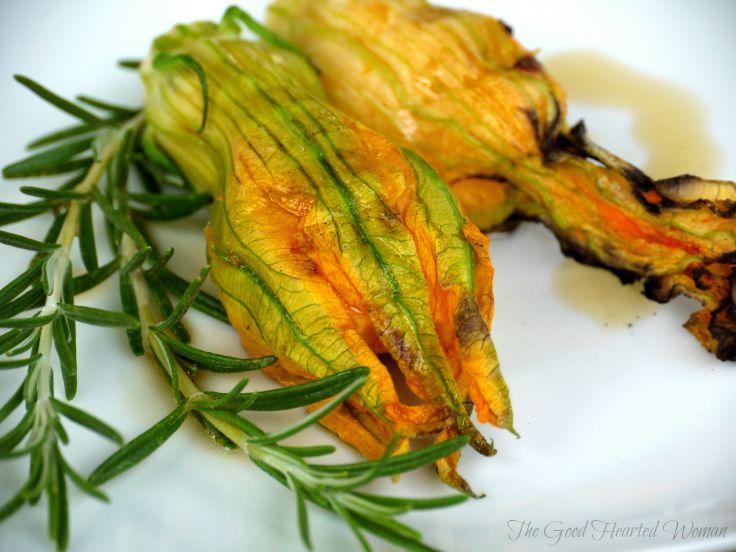 This post may contain affiliate links, but don't worry - they won't bite.
The amazing sweet potato, mascarpone, and browned butter filling for these grilled squash blossoms is absolutely decadent! The nutty, fragrant rosemary brown butter is a perfect complement to the sweet potatoes, and the mascarpone gives it a velvety smooth, rich texture.
Once you prepare the filling, there are just two more easy steps to completing this beautiful, delicious grilled squash blossom recipe: stuffing and grilling the squash blossoms.
There are a number of ways to prepare stuffed blossoms once you fill them; deep-frying being the most popular. However, grilling seems to be the best option to me: not only is it healthier than the traditional deep-fry method, but it also preserves the delicate flavor of the squash blossoms without covering it up.
Which Squash Blossoms Should You Use for Stuffing and Grilling?
Squash blossoms are typically out from late spring through early fall. If you grow your own squashes, you can simply pick them as they emerge, before they begin to ripen as you thin your plants.
But does it matter which blossoms you pick to make this grilled squash blossom recipe? Well, it may.
All squashes produce male and female flowers. If you look inside the flower, the male ones will have a little stamen in the middle. If preserving your squash harvest is a concern, try to pick the male flowers for your squash flower recipes. (Just don't pick all of them!)
[You can find more information about distinguishing male and female squash blossoms here.]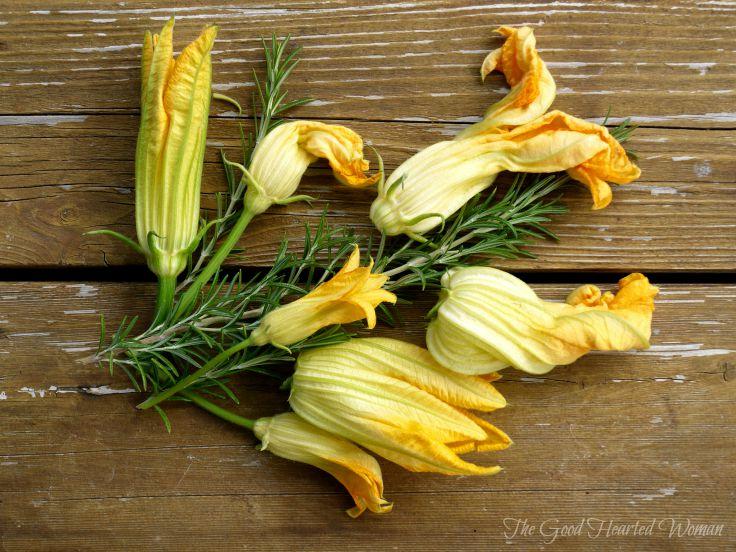 Don't have a garden? That's OK! You can find squash blossoms for all your squash flower recipe needs at your local Farmers Market from early spring clear into fall.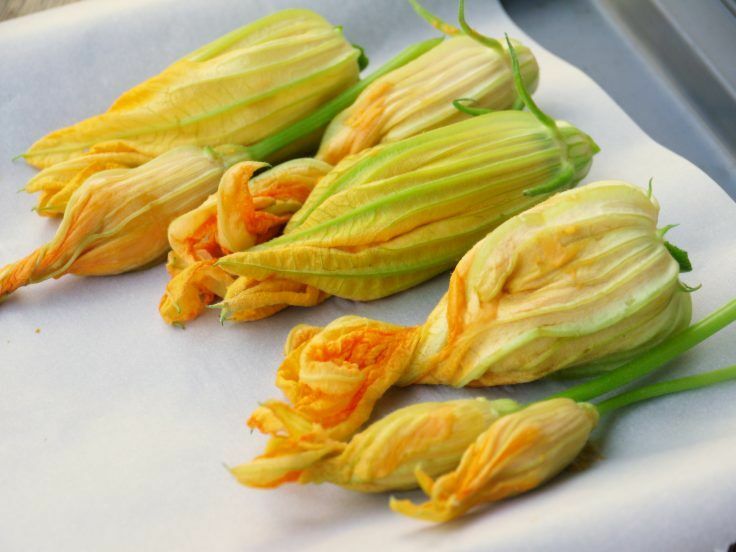 I cannot tell you how much we love the sweet potato filling in these squash blossoms. The nutty, fragrant rosemary brown butter is a perfect complement to the sweet potatoes, and the mascarpone gives it a velvety smooth, rich texture.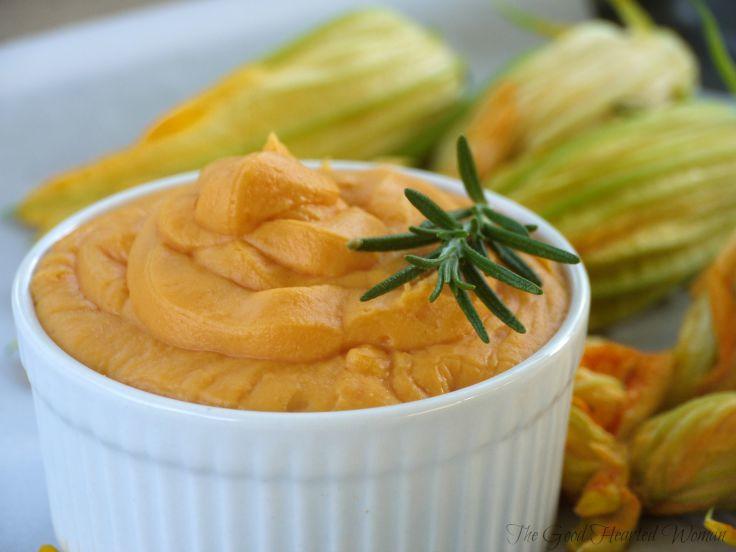 As we were in the process of developing the filling recipe, as we licked the last bits out of the bowl with our fingers, Mr. B and I already had a long list of things I could create using the filling as a base: sweet potato pie (of course), and cookies, ice cream, fudge - who knows what else. I know food bloggers are always raving about how delicious their own creations are, but honestly, this stuff is good. Really good.
For this recipe, all you need is a batch of filling and a handful of fresh squash blossoms. Enjoy!
Grilled Stuffed Squash Blossoms
Sweet Potato, mascarpone, and fresh rosemary browned butter go together to make the most amazing filling for this delicious stuffed squash blossom recipe.
Print
Pin
Add to Shopping List
Go to Shopping List
Ingredients
1

pound

orange-fleshed sweet potatoes

peeled and cut into ½ cubes

¼

cup

mascarpone

½

teaspoon

kosher salt

or more, to taste

4

ounces

salted butter

2

sprigs

fresh rosemary

plus more for garnishing

6-8

squash blossoms

2-3

teaspoons

olive oil
Instructions
Prepare Rosemary Browned Butter:

In a small skillet over medium-high heat, heat butter and rosemary until the butter melts and begins to foam.

Continue cooking, swirling the pan occasionally, until the butter turns a golden brown and gives off a nutty aroma.

Be careful not to burn the butter.

Remove from the heat immediately and allow to cool slightly.

Remove rosemary sprigs from butter.

Make Sweet Potato Filling:

Place prepared sweet potatoes in a medium saucepan and add enough water to cover them, plus an extra inch.

Bring the water to a boil and cook the cubed sweet potatoes for about 15 minutes, or until they are very tender.

Drain the sweet potatoes, and place them back in the pot.

Add mascarpone, salt, and 2 tablespoons of the prepared Rosemary Brown Butter. (Reserve the rest of the browned butter for the final step.)

Using an immersion blender, puree ingredients until everything is smooth and creamy, with no lumps remaining. (You can do this step in a food processor if you don't have an immersion blender.)

Fill Squash Blossoms:

Place Sweet Potato mixture in a zip-top bag, trim one comer and use to pipe into each blossom.

Carefully pipe the mixture into the flowers. Do not overfill the flowers.

Gently twist the petals closed at the top as shown.

Spray or brush stuffed flowers very lightly with with olive oil.

Grill Stuffed Squash Blossoms

Preheat grill (indoor or outdoor) to medium-high heat.

Place filled squash blossoms on hot grill for 3-4 minutes.

Use tongs to turn the squash blossoms over, and grill another 3-4 minutes.

Using a spoon, skim the clear browned butter from the top of what remains after making the filling. (Leave the dark brown remains at the bottom of the bowl.)

Drizzle the clear browned butter over the grilled squash blossoms.

I put the remaining browned butter in a small bowl for this step.

Garnish with fresh rosemary sprigs and serve warm.
Notes
Alternative Prep Method: You can also bake the filled squash blossoms in a 375° F oven for 10-15 minutes.
If you wish, you can use tweezers to remove the stamen from the male blossoms before you fill them.
Nutrition
Serving:
1
serving
|
Calories:
255
kcal
|
Carbohydrates:
15
g
|
Protein:
2
g
|
Fat:
21
g
|
Saturated Fat:
13
g
|
Trans Fat:
1
g
|
Cholesterol:
50
mg
|
Sodium:
376
mg
|
Potassium:
263
mg
|
Fiber:
2
g
|
Sugar:
3
g
|
Vitamin A:
11369
IU
|
Vitamin C:
2
mg
|
Calcium:
41
mg
|
Iron:
1
mg
This website provides approximate nutrition information for convenience and as a courtesy only. You are solely responsible for ensuring that any nutritional information provided is accurate, complete, and useful.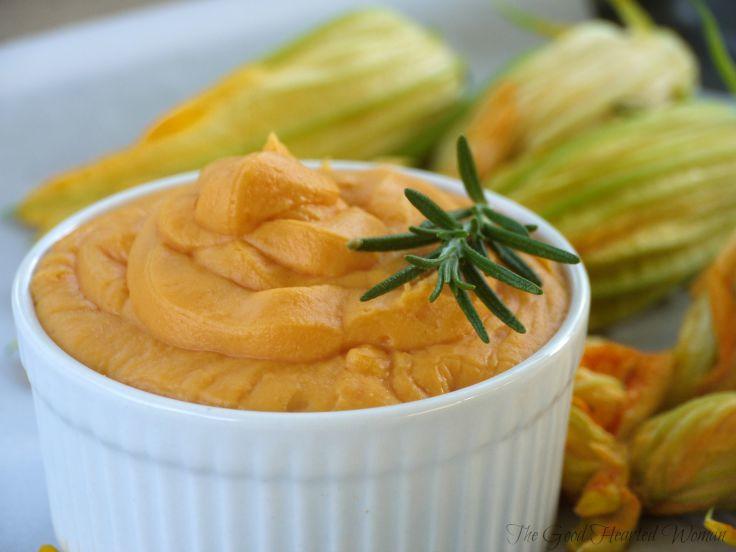 Did you know that rosemary is very easy to grow? It's a hardy evergreen, and the fresh herbs can be used year round.
If this Grilled Squash Blossoms recipe sounds tasty to you, you might also like our recipe for Spaghetti Squash with Garlic and Almonds.

THANK YOU so much for being a faithful reader and supporter
of The Good Hearted Woman. • Be sure to PIN this post!
Disclosure: This post may contain affiliate links, including Amazon affiliate links, which means we may receive a commission if you click a link and purchase something that we have recommended. While clicking these links won't cost you any extra money, they do help keep this site up and running. As always, all opinions and images are my own. Please check out our disclosure policy for more details. Thank you for your support!