Delicious, healthy, Homemade Chicken Stock for all your soups and sauces. Make it for just pennies with a leftover rotisserie chicken carcass and vegetable scraps.
This post may contain affiliate links, but don't worry – they won't bite.
Soups are a personal specialty of mine, but I never would have learned to make delicious soups if I hadn't first learned to make a good soup stock. Canned broths and stocks just don't cut it.
Homemade chicken stock can be made entirely from scraps: leftover chicken bones, carrot peelings, onion peels and ends, celery tops and roots. The things many people throw away are the source of some of the best soup stock you can make!
Homemade chicken stock will raise your recipes to a whole new level, giving depth and rich flavor to soups, sauces, braises, curries, stir-frys, gravies, casseroles, and anything else for which you normally use chicken broth.
Homemade chicken stock couldn't be easier to make, and the results are always amazing. It's nearly foolproof. (One time, I fell asleep while the stockpot was simmering and it boiled down too far because I slept an hour and half past when I was supposed to take it off the heat; but as long as you stay awake, it's foolproof.)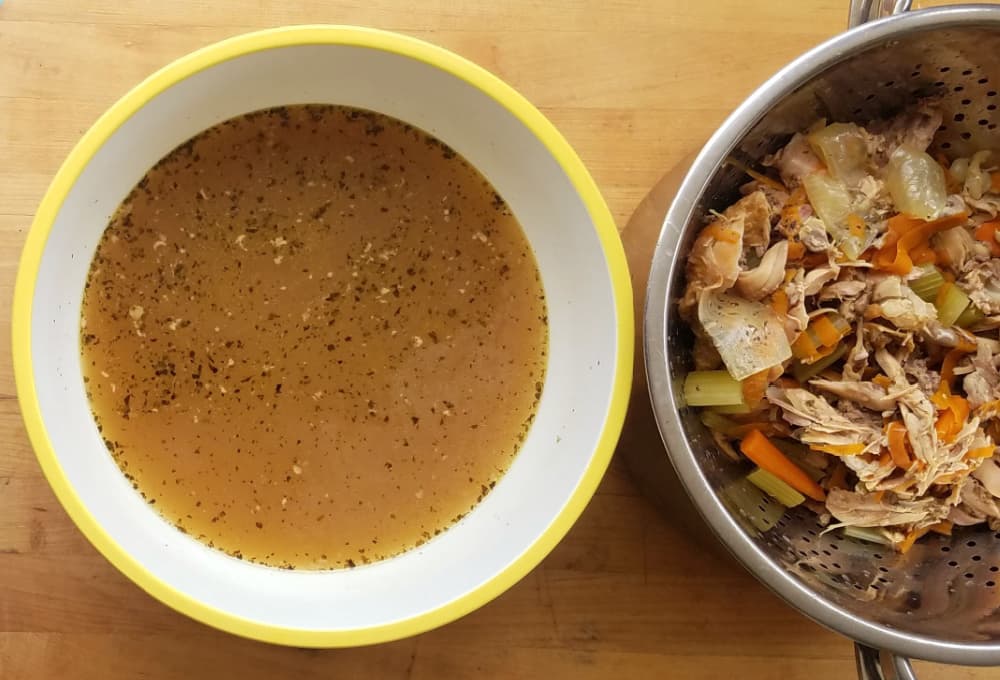 I prefer a more "rustic" chicken stock; however, if you don't want any little bits in your stock, you can also strain it through a fine-mesh sieve.

Three Key Ingredients for Perfect Homemade Chicken Stock
Homemade chicken stock has three basic ingredients: water, chicken and/or chicken bones, and aromatics. (Salt is optional.)
This chicken stock recipe gives you ample leeway to tweak your ingredient list to fit your needs.
Water: Be aware, if your water is treated and has an overpowering taste because of it, that flavor may taint your chicken stock, which will in turn negatively flavor whatever you make with it.
Chicken: I prefer to use a rotisserie chicken carcass for my stock, but you can use chicken bones from any cooked chicken.
Aromatics: Aromatics are a combination of vegetables and herbs release and impart deep, rich flavors into the dish as it is cooking.
The veggies you use to flavor your stock are completely up to you. I tend to stick with the basic onion-carrot-celery combo for most stock – it's perfect for my homemade chicken pot pie. However, if I'm making a soup that needs to be garlicky, I'll add garlic. If I'm making something with an Asian flare, I may throw in additional celery and some ginger. I've even thrown an orange peel in my stock on occasion if I'm planning to make something like our Cranberry Orange Pearl Couscous. Use your imagination.
As far as herbs are concerned, Herbs de Provence is my go-to herb mix when making homemade chicken stock; however, you can use whatever makes you happy: sage and thyme are good choices.
Salt: I also usually add some salt to my stock, but it's personal choice; much like stocking salted versus unsalted butter. I've included it as an optional ingredient in the recipe.

Post Updated October 1, 2020 (Originally published October 31, 2012)
Homemade Chicken Stock
Delicious, healthy, homemade chicken stock for your soups and sauces. Make it for just pennies with a leftover rotisserie chicken carcass and vegetable scraps.
Print Recipe
Pin Recipe
Servings:
1
quart (concentrated)
Equipment
Medium Stockpot (6-10 quarts)
Ingredients
1

rotisserie chicken carcass

including skin & juices

1

pound

trimmings from onions, celery, and carrots

give or take

1

teaspoon

Herbes de Provence

or ½ tsp. dried sage + ½ tsp. dried thyme

2

teaspoons

kosher salt

OPTIONAL

water
Instructions
Debone chicken. Set chicken meat aside to use for another purpose.

If you are not using vegetable scraps to make your stock, roughly chop vegetables. (i.e., onions, carrots, celery. SEE NOTES)

Put the chicken carcass, skin and all the juices from the rotisserie chicken into a medium stockpot.

Add the chopped vegetables or vegetable scraps.

Add enough water so that it comes to about an inch above the chicken and vegetables.

Season with Herbs de Provence and (optional) salt.

Cover and bring to a boil over medium-high heat.

Reduce heat to low, and simmer for 2-3 hours.

When stock has simmered for about two hours, remove from heat and let stand for 30-60 minutes.

To speed up the process, reduce the simmering time to one hour. The longer you simmer it (up to 3 hours) the deeper in color and flavor the stock will be.

Strain through metal colander to remove bones and vegetables.

If you'd like to remove the fat from the stock, let your stock cool until the fat settles at the top; or, allow it to chill in the fridge for about an hour, and then skim the fat off the top.

Personally, I prefer a more "rustic" stock; however, if you don't want any little bits in your stock, you can also strain it through a fine-mesh sieve.

At this point, you should have about 2 quarts of chicken stock, give or take.

For a more robust, concentrated chicken stock, return the strained stock to the stockpot.

Bring to a boil over medium high heat, and continue to boil uncovered for an additional 30 minutes to one hour, or until it has reduced by half (or more, depending on your preference).

Concentrated Homemade chicken stock, ready for cooking, freezing or canning.
Notes
This recipe will make 2-3 quarts of light stock, or one quart of concentrated stock. 
To use as a recipe ingredient, dilute with water as needed to achieve the desired stock strength. 
If you don't have vegetable scraps, you can use:
1 yellow onion, roughly chopped
2 stalks of celery, roughly chopped
2 or 3 carrots, roughly chopped 
No need to peel anything: just chop them up and throw them in. 
Nutrition
Serving:
1
quart (concentrated)
|
Calories:
184
kcal
|
Carbohydrates:
43
g
|
Protein:
5
g
|
Fat:
1
g
|
Saturated Fat:
1
g
|
Sodium:
4670
mg
|
Potassium:
662
mg
|
Fiber:
8
g
|
Sugar:
19
g
|
Vitamin C:
34
mg
|
Calcium:
123
mg
|
Iron:
2
mg
What is the difference between Chicken Stock and Chicken Broth?
While they can be used interchangeably in most recipes, there is a difference between broth and stock.
That stuff you buy in the can – that's broth. It's very thin: nearly water. Chicken Broth is made from chicken meat, simmered for a shorter period of time. (You can make it at home, too, but this isn't it.)
Stock is usually made from bones that have been cooked or roasted, and simmered for a long time, which yields deeper, richer results.
Okay, so what is Bone Broth then?
Some years ago, my hometown was abuzz with a new health drink trend – Bone Broth. It was everywhere: you could even take class in the Sellwood District on how to make it. When I first saw it being touted as a health drink, I thought I must have something extra or different that set it apart from regular soup stock. But no.
The truth is, Bone Broth is really just traditional stock – richer and thicker than broth by virtue of the collagen that drains out of the bones and joints during the long simmering process. You can make bone broth using bones from just about any animal; wild, domestic, mammal, fish, or fowl.

THANK YOU so much for being a faithful reader and supporter
of The Good Hearted Woman. 🌻 Be sure to PIN this post!

Disclosure: This post may contain affiliate links, including Amazon affiliate links, which means we may receive a commission if you click a link and purchase something that we have recommended. While clicking these links won't cost you any extra money, they do help keep this site up and running. As always, all opinions and images are my own. Please check out our disclosure policy for more details. Thank you for your support!