Enjoy the bounty of the season with this easy, family-pleasing 3-cheese Zucchini & Tomato Casserole.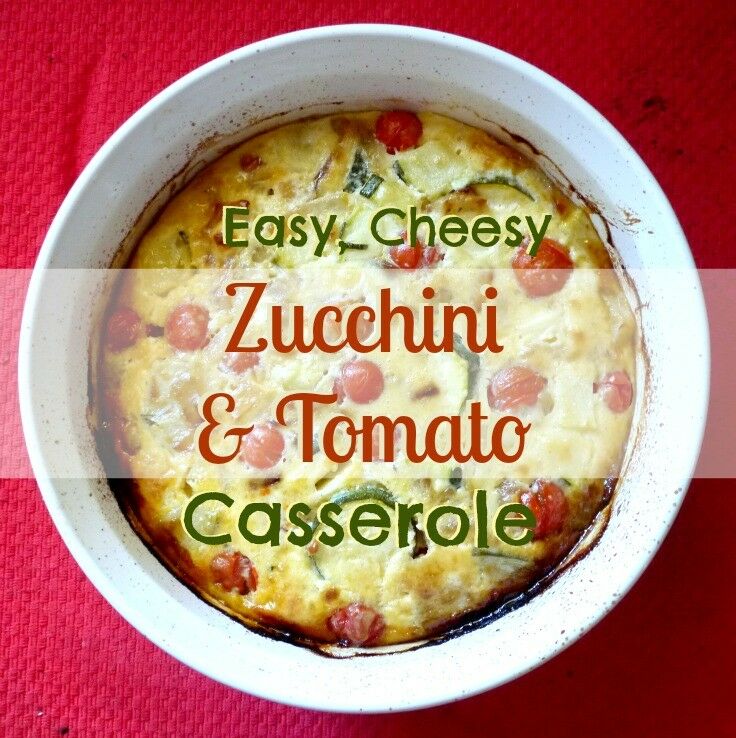 This 3-Cheese Zucchini & Tomato Casserole is fast becoming a favorite on our weekday family menu. It's one of those meals I fondly call the Easy-Uglies. You know - the meals you can throw together at the last minute with your eyes closed: chili mac, goulash, hash, casserole, frittata, and stir fry all come to mind. They aren't always pretty, but they come through every time, and even though you don't usually serve them to company, you probably should because they are some of the best stuff that comes out of your kitchen.
If your garden is anything like mine, it's been going crazy these last few weeks as the summer growing season comes to an end. Just today, I counted ten new blossoms on my (single giant) zucchini plant and at least a couple hundred cherry tomatoes on the vine, not to mention the thirty-something larger-variety green tomatoes waiting to be stored for winter or fried up fresh. I've been struggling to keep up, and in the process, and a few weeks ago, I managed to throw together what turned out to be a delicious 3-Cheese Zucchini and Tomato Casserole. A cross between a crustless quiche and a hearty frittata, this goes together in just 15 minutes and makes a truly savory and satisfying weeknight meal, and a real contender for my Easy-Ugly Top 10.
Easy Cheesy Zucchini & Tomato Casserole
Print Recipe
Pin Recipe
Ingredients
Follow The Good Hearted Woman on Pinterest for more great recipes!
1

large onion

chopped

2

large cloves garlic

minced

2

tablespoons

butter

1

lb.

zuchinni

chopped or sliced

½

lb.

tomatoes

cherry or chopped

4

eggs

beaten

2

oz.

marcarpone or cream cheese

room temperature

1

cup

crumbled feta

¼

grated Parmesan

½

teaspoon

garlic salt

Pepper to taste
Instructions
Preheat oven to 375° F. Spray a 2-quart casserole dish with non-stick cooking spray.

In a medium skillet over medium-low heat, caramelize onions & garlic.

Using a whisk, beat marscarpone (or cream cheese) into eggs. (It's fine if there are small lumps.)

Stir feta, Parmesan, and garlic salt into egg mixture.

Fold in zucchini, tomatoes, and caramelized onions and garlic.

Pour into prepared casserole dish and bake at 375 for 45 minutes.

Remove from oven and let stand for 10 minutes before serving.
Nutrition
This website provides approximate nutrition information for convenience and as a courtesy only. You are solely responsible for ensuring that any nutritional information provided is accurate, complete, and useful.
Everyone has a few Easy-Ugly meals. What's at the top of your list?
Remember to Pin this recipe for later!