Delicious, comforting, classic Chili Mac (i.e., American Goulash, or American Chop Suey) is neither sophisticated nor fancy, but Grammi's Chili Mac recipe is one thing you can always depend on.
---
My mom was good cook, but she wasn't a great one: she'd tell you that herself if you asked her. Her culinary repertoire was limited, and her midcentury Midwestern roots restrained her from doing much "outside-the-box" experimentation. However, there were a handful of recipes Mom made so well that I wouldn't trade away one bite for anything.
Her Chili Mac recipe was one of them.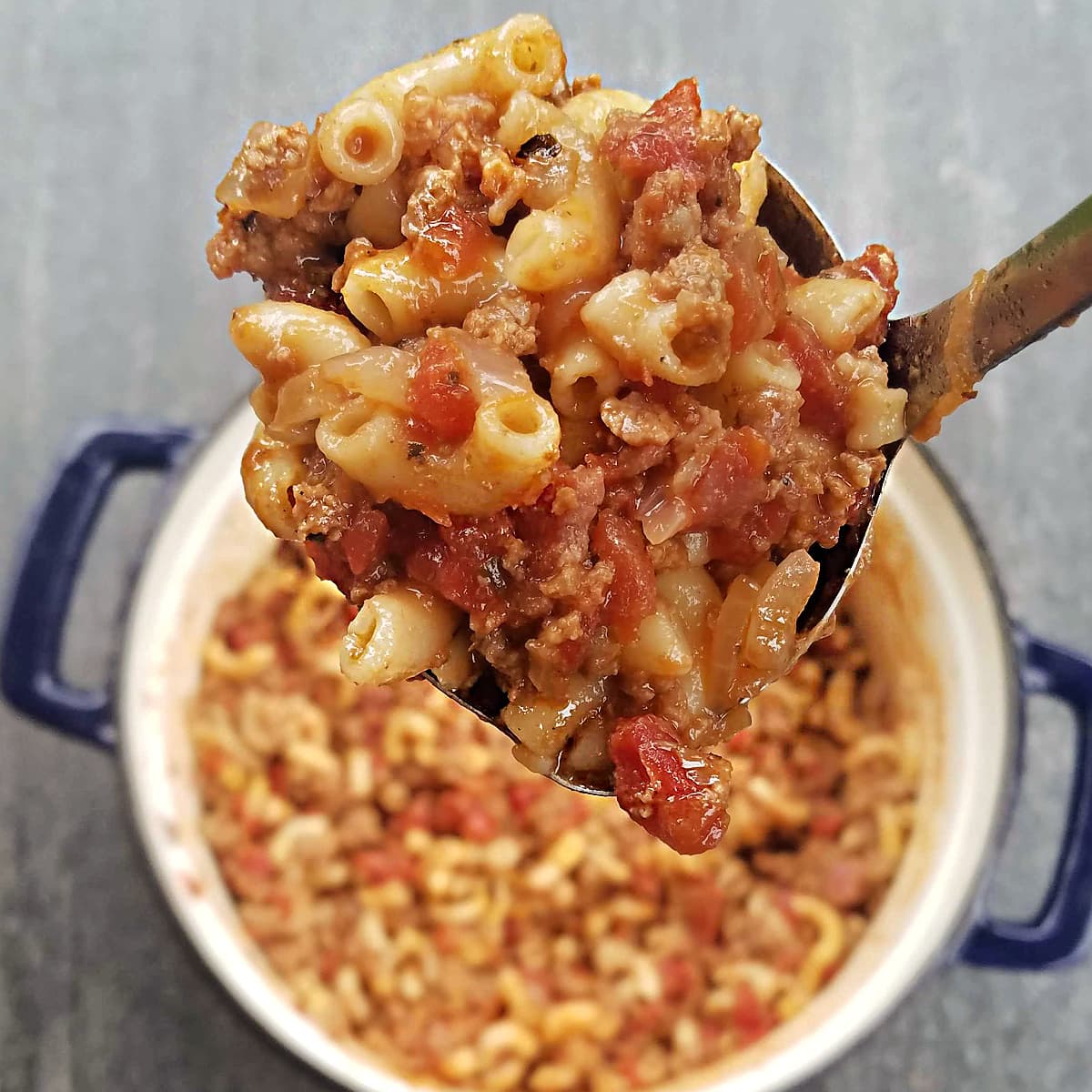 This post may contain affiliate links, but don't worry - they won't bite.
Growing up, I'm pretty sure Chili Mac was served at our dinner table more often than any other entrée (with the possible exception of creamed chipped beef on rice). Mom made Chili Mac at least twice a month, plus then we had leftovers.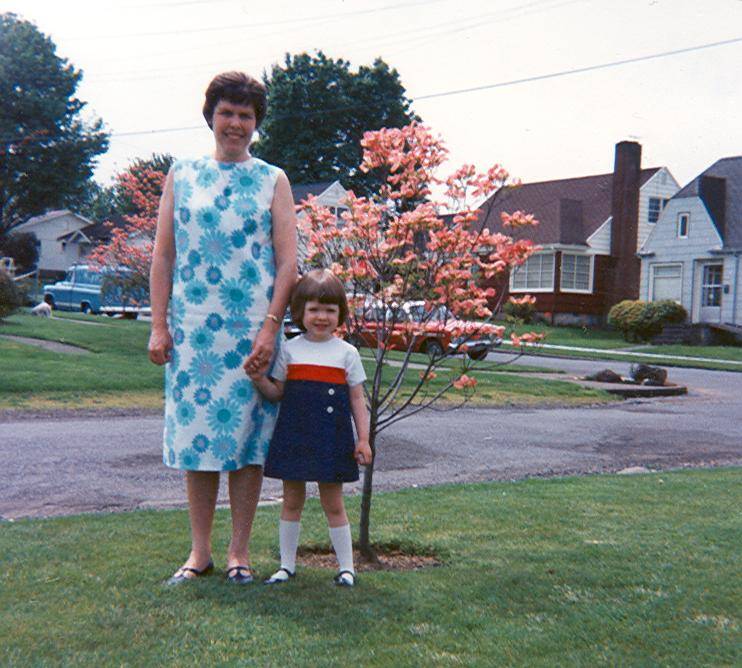 Neither sophisticated nor fancy, Mom's Chili Mac was one thing I could always depend on to be good, even when nothing else in life was. Now, it is the taste of home for me.
This legacy of comfort has passed down to my girls as well. Chili Mac was one of the last meals Mom ever made for us when she was still cooking, and at least one of my daughters makes it for herself now whenever she is in need of a little extra comfort.
Let's talk Seasonings for a minute.
The other day, one of my daughters mentioned that she had made my lasagna recipe for her friends.
"Your lasagna is great, Mama, but I added a bunch of spices to it and think I made it even better! I mean, who only uses a teaspoon of basil anyway?"
I explained to her that when it comes to listing seasoning amounts in recipes that I share, I tend to go conservative, because (I think) most people are inclined to add more of something as opposed to less, or add their own spin and seasonings to a recipe.
In any event, I don't want them to overdo it. Too much salt in a preparation, for example, can ruin a whole meal. Add too little and the worst thing you'll have to do is add a little more salt.
"Yeah," she told me, "But I don't think people my age cook like that anymore. Almost everyone I know follows the recipe exactly as it's written. If a recipe says put in ¼ teaspoon of salt, they'll only put in a ¼ teaspoon of salt."
I have to say, that was a little surprising to me.
Don't get me wrong: I go to great lengths to provide exact measurements for my recipes here on the blog: I know that many cooks measure with both a spoon and a knife. However, when it comes to home-style comforty sorts of recipes like this one, I think of the seasoning amounts fall into a special category that, by definition, requires some flexibility.
For example, if a recipe says "one clove of garlic," I'm almost always going to add at least two, because Mr B and I like garlic a lot. Conversely, if a certain daughter is visiting, I'll back it off, because garlic isn't her friend. When you are cooking, you adjust.
So I'm curious: what about you? Are you a meticulous recipe follower, or do you use a recipe more like a roadmap?
As far as I'm concerned, Chili Mac is one of those meals that, as you finish it up, you really need season to your own tastes. Maybe you toss in a little more paprika, or add a little Himalayan sea salt, or maybe even dash of nutmeg. Have some fun - make it your own. It's all part of the cooking process.
That said, the seasonings in Grammi's Chili Mac Recipe below are pretty much exactly as Mom made it. Season at your own risk!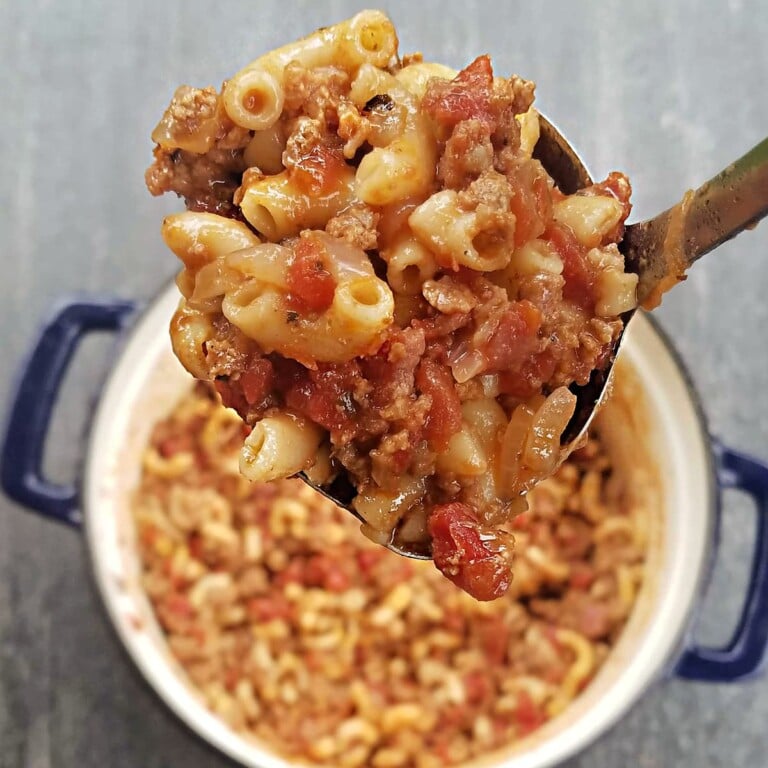 Classic Chili Mac
Neither sophisticated nor fancy, Chili Mac is the solidly dependable taste of home.
Print Recipe
Pin Recipe
Ingredients
Garnish
shredded cheese

Parmesan or cheddar are both good choices.
Instructions
Heat a 10-inch Enameled Cast Iron Dutch Oven or large, heavy skillet on stovetop over medium high heat until a drop of water sizzles on the surface. Add cut up bacon and cook, stirring frequently until bacon pieces are crispy. Turn off heat, remove bacon from pan and set aside.

Return heat under pan to medium and add chopped onion to hot bacon fat. Sauté onion until it begins to become translucent, 3-4 minutes.

Add ground beef (or other ground protein). Stir and cook until browned.

OPTIONAL STEP: Use a colander to drain fat from mixture, and then return it to pan. If you choose to do this step, DO NOT RINSE!

Reduce heat to medium-low. Add canned tomatoes, chicken stock, salt, garlic salt, and paprika and bring to a simmer.

Stir in elbow macaroni. It should be completely submerged in mixture. (If the mixture looks too dry or if too much macaroni is sticking out of the liquid, add another ½ cup of chicken stock or water.)

Simmer, stirring frequently, until macaroni is just barely al dente: about 7-8 minutes. Cover, remove from heat, give it one good stir, and let set for about 10 minutes. (The resting time allows the flavors to blend and the macaroni to finish cooking on its own. This method will help you avoid overcooking the macaroni.)

Stir reserved bacon pieces back in. Taste and season again before serving.
Notes
INGREDIENT NOTES:
Ground Beef - You can use the ground protein of your choice. I often make this with ground turkey or ground chicken Italian sausage with great results.
Canned tomatoes - I almost always use Petite Diced Tomatoes with Basil, Garlic & Oregano. 
Dried Basil & Oregano - If I use the aforementioned canned tomatoes, I don't usually add as much dried seasoning. 
Hot Sauce - This is Totally Optional! Mom never used this, by we like to add a little kick to our chili mac.
Nutrition
Serving:
1
serving
|
Calories:
269
kcal
|
Carbohydrates:
18
g
|
Protein:
25.8
g
|
Fat:
310
g
|
Saturated Fat:
3.4
g
|
Cholesterol:
66
mg
|
Sodium:
515
mg
|
Potassium:
626
mg
|
Fiber:
2.2
g
|
Sugar:
4.2
g
|
Calcium:
23
mg
|
Iron:
12
mg
This website provides approximate nutrition information for convenience and as a courtesy only. You are solely responsible for ensuring that any nutritional information provided is accurate, complete, and useful.
Do you love classic comfort food? You're going to love our scratch-made Classic Homemade Chicken Pot Pie recipe!
---
THANK YOU so much for being a faithful reader and supporter of The Good Hearted Woman. • Be sure to PIN this post!
Disclosure: This post may contain affiliate links, including Amazon affiliate links, which means we may receive a commission if you click a link and purchase something that we have recommended. While clicking these links won't cost you any extra money, they do help keep this site up and running. As always, all opinions and images are my own. Please check out our disclosure policy for more details. Thank you for your support!