Spice up your beverages and desserts with Homemade Ginger Syrup!
Mr. B and I love ginger. When we discovered how easy it is to make homemade ginger syrup, and this delicious condiment immediately became a new favorite among our kitchen staples.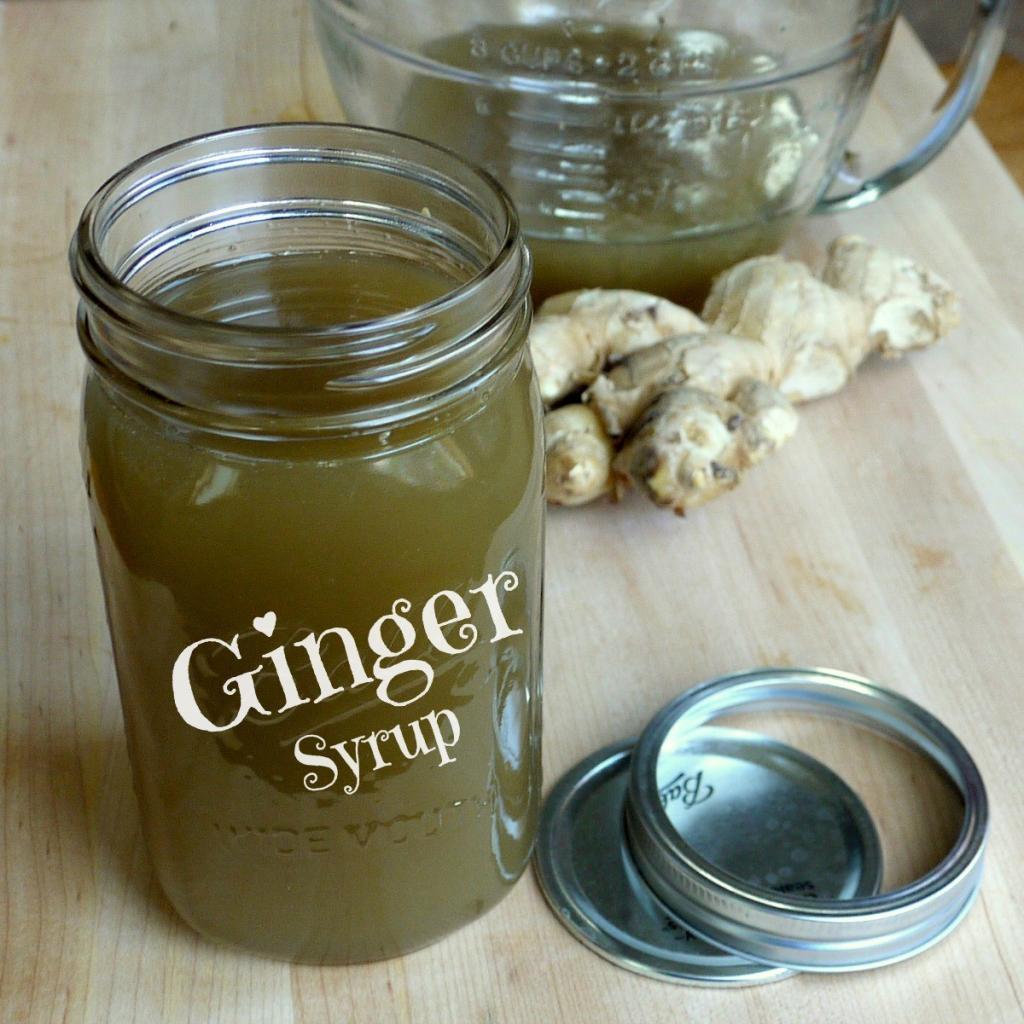 Scroll to the bottom of the post for just a few of the ways we enjoy using it. Please let me know in the comments if you come up with any new ideas!
Homemade Ginger Syrup
Print Recipe
Pin Recipe
Instructions
Put 3 cups of water and all the sliced ginger in a blender and blend until ginger is chunky smooth.

Pour the blended mixture into a large saucepan. Stir in the remaining 3 cups of water and the sugar, and bring to a boil over medium heat. Reduce to low and simmer for 30 minutes.

Allow the syrup to cool in the pan.

Line a sieve with two to three layers of cheesecloth and strain syrup. Squeeze the cheesecloth bag tightly to get out all the gingery goodness.

Pour syrup into containers and refrigerate or freeze.
Notes
Makes about 8 cups of very strong ginger syrup. You can easily scale down the amounts (3 cups/3 cups/1/2 lb) and make less syrup, but you will regret it. This stuff is delicious!
This website provides approximate nutrition information for convenience and as a courtesy only. You are solely responsible for ensuring that any nutritional information provided is accurate, complete, and useful.

Ginger Frenzy
Here are just a few delicious ways to use Homemade Ginger Syrup:
Ginger ale - add a tablespoon of Ginger syrup to a glass of club soda or seltzer water and make your own ginger ale.
Ginger Lemonade
Ginger Iced Tea
Ginger Apple Juice
Ginger Ice Cream - just drizzle a couple of tablespoons into the ice cream mix before you freeze it.
Ginger Peaches
Ginger Yogurt - add a teaspoon or two to a cup of yogurt. Vanilla, peach, and raspberry all taste great this way!
Disclosure: This ↑ ad bar contains affiliate links, which means we may receive a commission if you click a link and purchase something that we have recommended. While clicking these links won't cost you any extra money, they will help us keep this site up and running - and (relatively) ad-free! Please check out our disclosure policy for more details. Thank you for your support!