This hand-painted watercolor printable – perfect for St Patrick's Day – depicts a Celtic knot shamrock in shades of green and aubergine, encircled with the familiar, comforting words of the traditional Irish Blessing. Free to our readers - no strings attached.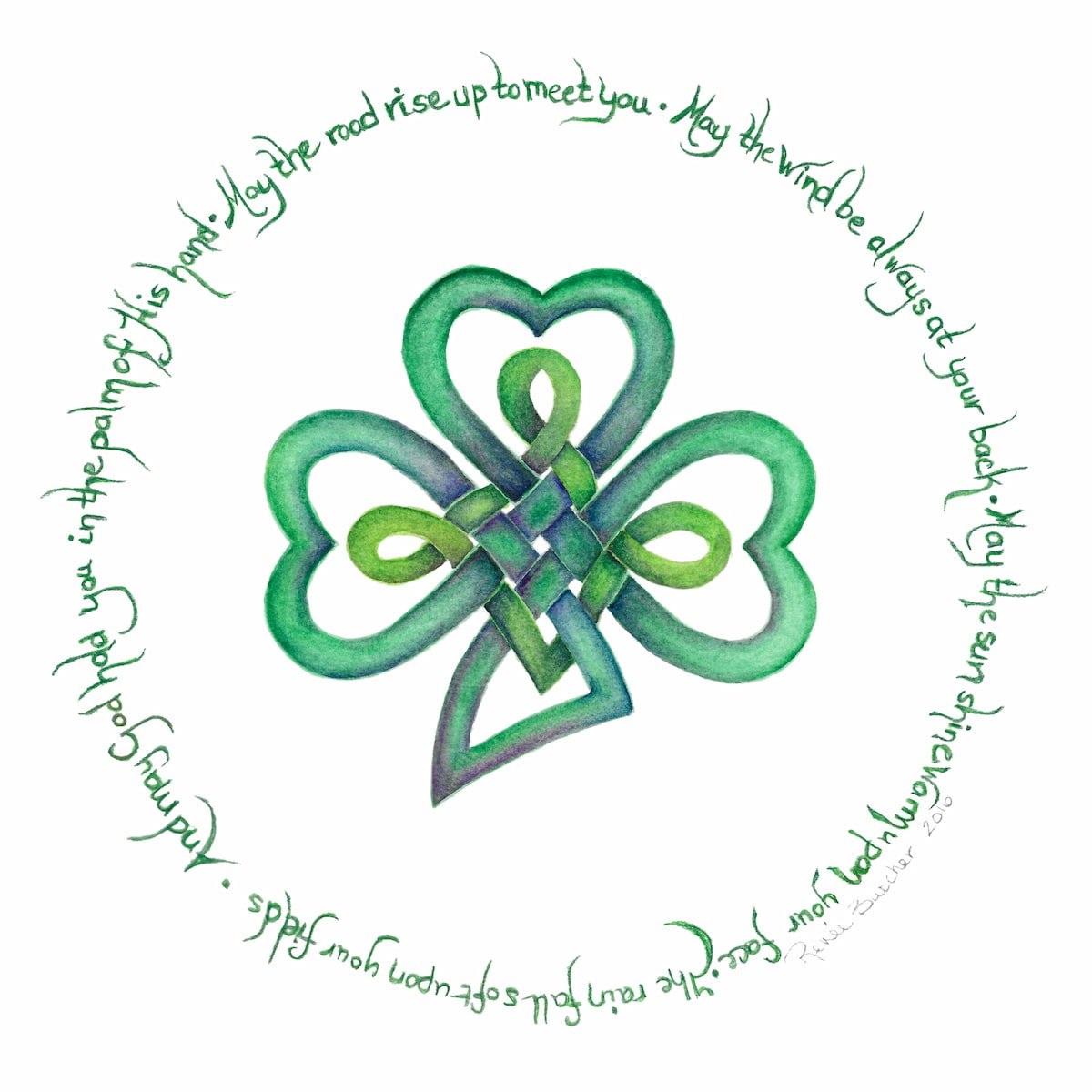 When Mr B and I went to school together back at old Madison High, one of the best parts of our day was our concert choir class. (Mr B is a gifted baritone, and I a passable soprano.)
Our choir director, Fred Hammack, was a talented, warm, demanding, wonderful man who taught us far more than music, and wove his way into our hearts so deeply that even now – decades later – we remember him with abiding admiration, gratitude, and affection.
Ultimately, it was because of Mr. Hammack that I painted this Irish Blessing piece. It was his practice to end every concert with a four-part choral arrangement called A Parting Blessing [J. Jerome Williams], the lyrics of which are taken from the traditional Irish Blessing.
It's not surprising then, that after years of practice and performance, this beautiful, meaningful song found a permanent place entwined in our musical memory.
♫ ♪ May the road rise up to meet you… May the wind be always at your back
May the sun fall warm upon your face ~ The rain fall soft upon your fields
... And may God hold you in the palm of His hand. ♪♫
Whenever those lines roll their way through my mind, I remember our choir and the people with whom we sang with great fondness. Music saved Mr B and I in high school (along with so many others); so to us, this beautiful song recalls far more that a simply holiday in March.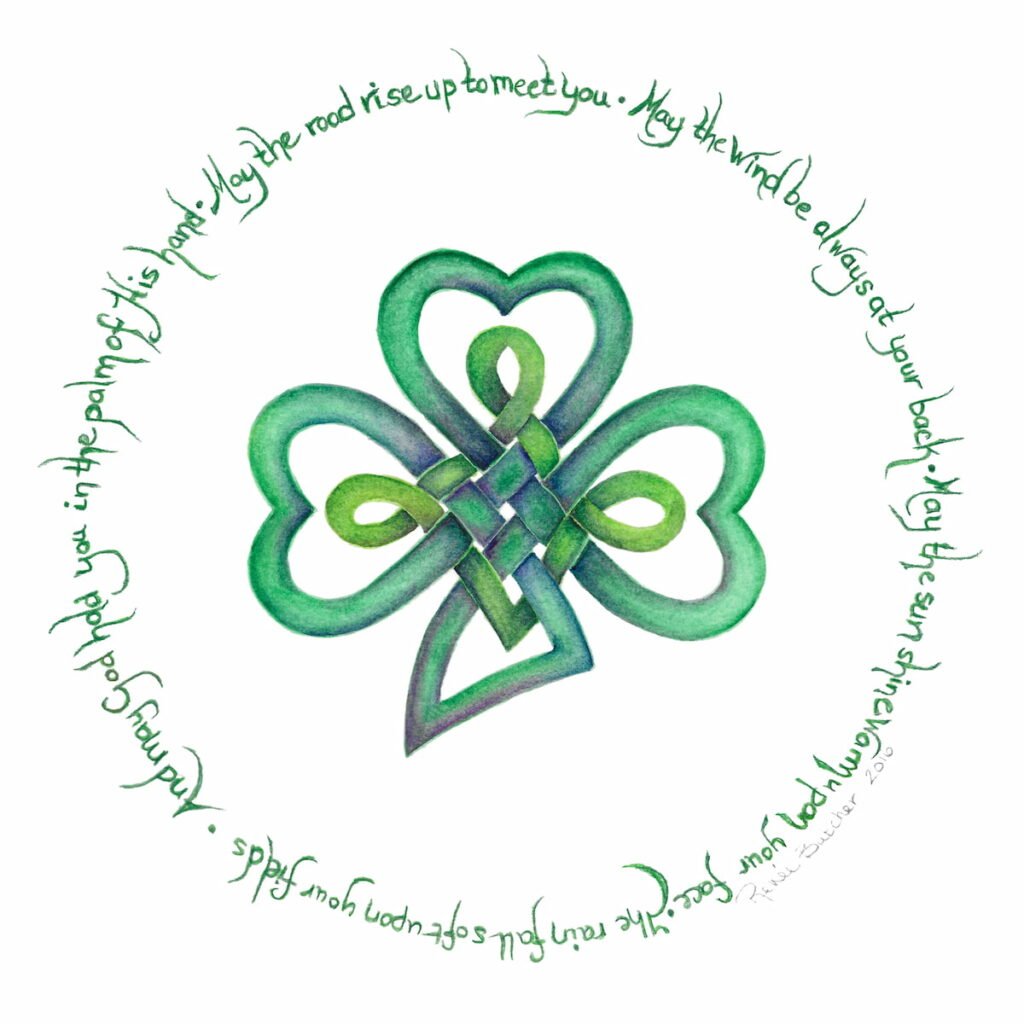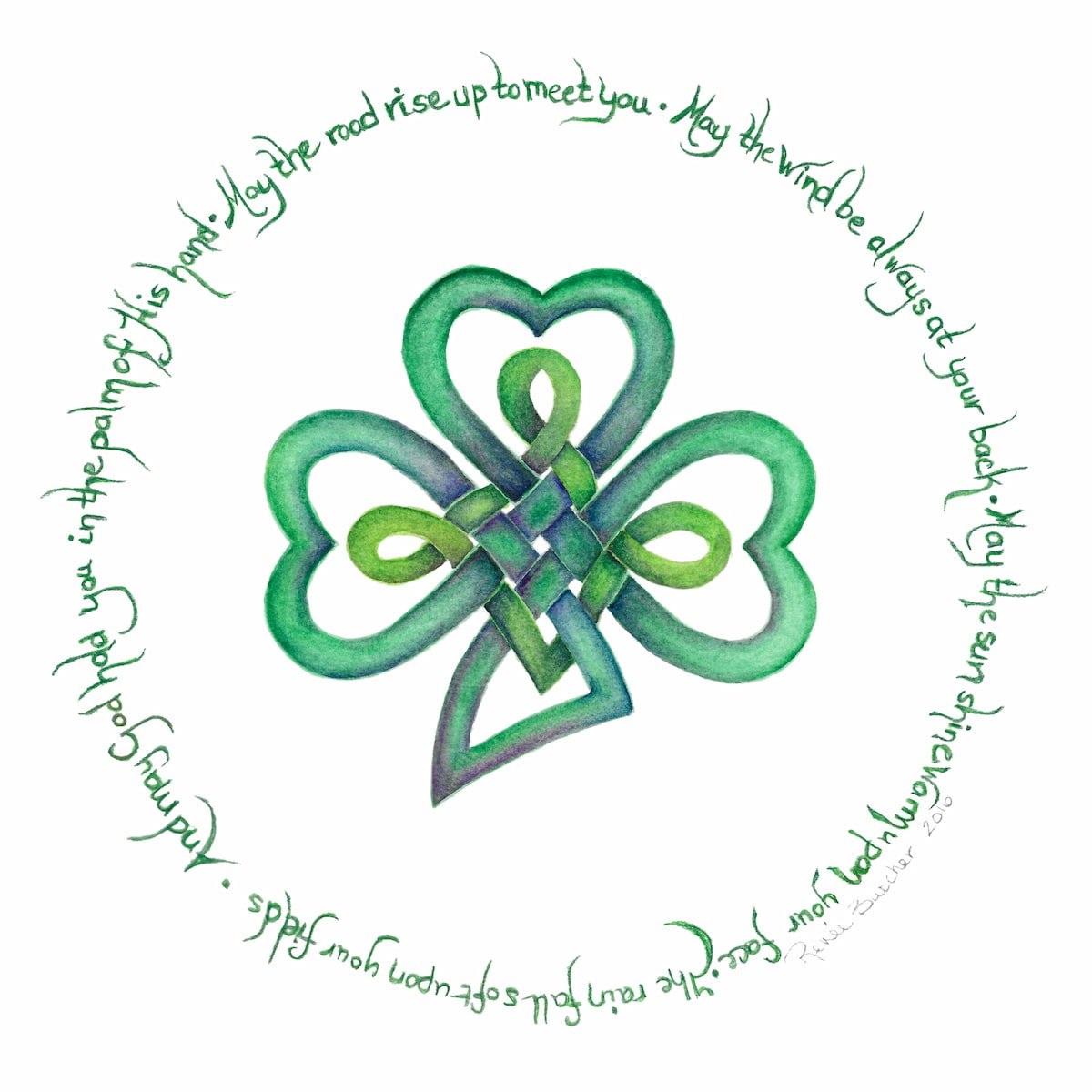 Free Irish Blessing Print
St. Patrick's Day is my favorite holiday. I love it more than Thanksgiving or Christmas or Easter, or even Valentine's Day; but the reason might surprise you. I painted this shamrock a few years ago to celebrate the both the song and the season.
If you would like a free printout of this Irish Blessing print, click the thumbnail image to download the PDF. No strings attached.
If you feel inspired to do some drawing yourself, I used this tutorial from Dragon Art to sketch the Celtic-knot shamrock.
COPYRIGHT NOTICE: This probably could go without saying, but there's always that one guy, so… Harmony Cat LLC © 2022. You may print this watercolor image for your own use, but you may not alter it in any way, repurpose it, or sell it in any form. You may use this image online; however, if you do so, you must use proper attribution and link directly back to this post.
---
Celebrate St Patrick's Day!
Update 2020: Our old high school in NE Portland is being completely razed and remodeled. (Believe me: it needed it!) As part of the ground breaking (May 2019), Mr B and I had the chance to sing A Parting Blessing with an alumni choir formed specifically for the event.
Being a part of the alumni choir was an amazing, heartwarming experience, and it was such a privilege to be able to sing with all those wonderful, talented people once again.
Unfortunately, I don't have a video of the choir performance of the Irish Blessing song, but thanks to a generous classmate, I do have one of Mr B singin' a solo at the Groundbreaking event (That's me backing him up on my autoharp.) He's reprising the song he sang at our Senior Assembly many years ago.
Disclosure: This post may contain affiliate links, including Amazon affiliate links, which means we may receive a commission if you click a link and purchase something that we have recommended. While clicking these links won't cost you any extra money, they do help keep this site up and running. Please check out our disclosure policy for more details.