Shepherd's Pie is classic comfort food - rich, warm, and deeply satisfying. One bite of this time-tested family favorite will wrap you in a blanket of goodness as cozy as a winter fire.
This post may contain affiliate links, but don't worry - they won't bite.
Some years ago, on the day after St Patrick's Day, my daughter Gracie and her father were t-boned by a truck-driving teenager. Gracie sustained multiple life-threatening injuries, and was admitted to ICU, where she stayed for nearly a month.
At the time, in addition to nine-year old Gracie, we had four other young children, including an eight-week old newborn. While the girls' father held down the fort at home, Baby Em and I slept and lived at the hospital with Gracie. I survived the first week almost entirely on saltine crackers and Jello Pudding cups from the ICU refrigerator.
It was several days before I finally made my first real trip home – to take a real shower, revive my spirits, and visit my other girls and their father.
When I arrived, I found my dear friend Bev and some other ladies in my kitchen, delivering dinner to my family. After a short visit with the ladies, I went to shower and clean up. I read the girls a book, sang them a song or two, and packed up for the next week.
Almost as an afterthought, I spooned some of the potato-topped casserole that Bev had left us into a plastic tub to take with me, and then I buckled Em back into her carseat and sped off to the hospital.
It wasn't until late in the night, as my injured child slept amidst her web of tubes and wires, that realized I was hungry. When I opened the plastic container, the sterile hospital air filled with amazing savory goodness.
Padding down to the Parents' Kitchen, I microwaved it, and then, fork full by fork full, I let that Shepherd's Pie wrap me in a blanket of warmth, kindness, generosity – and hope. Even today, the memory – standing there alone in the hospital kitchen eating Bev's Shepherd's Pie – brings me to tears.
From that time on, making Shepherd's Pie has been a labor of love, and in that spirit, we have made it a Valentine's Day tradition. It is warm, comforting, enduring, and hope-filled – and serving it to the people who mean the most to me in this world is one way I show my love to them.

Bev's original recipe was A-Mazing, but over the years I've made a few tweaks. Most notably, the original recipe calls for peas, but I substitute diced yams because, as I mention frequently, I strongly dislike cooked peas.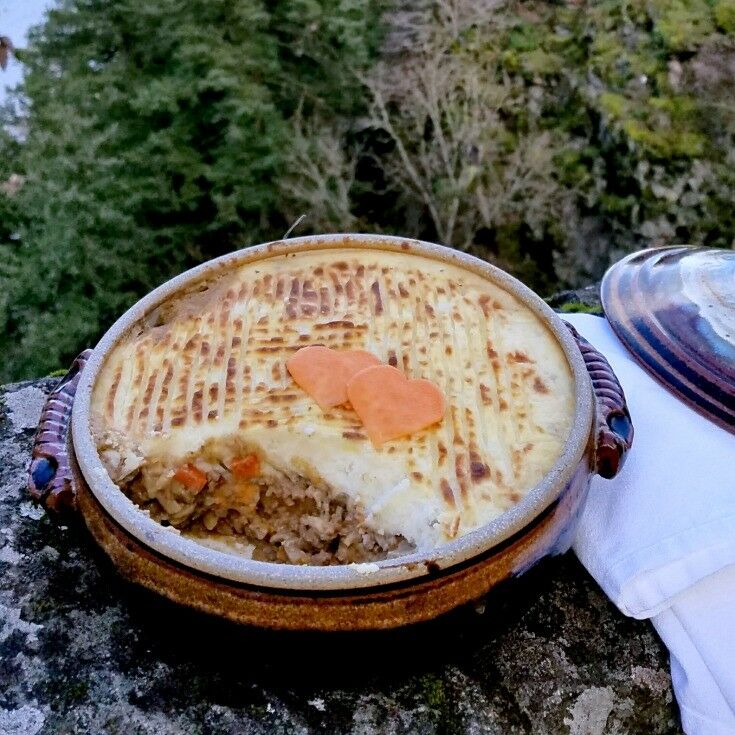 Best Ever Shepherd's Pie
One bite of this time-tested family favorite will wrap you in a blanket of goodness as cozy as a winter fire. 
Print Recipe
Pin Recipe
Ingredients
Filling
1

pound

ground beef

or ground turkey

2

tablespoon

olive oil

1

small

yam

peeled and diced ¼"

1

large

onion

minced

2

medium

carrots

peeled and diced ¼"

1

pound

mushrooms

chopped

Salt and black pepper to taste

1

tablespoon

ketchup

or more if needed

½

cup

heavy whipping cream

1 ¾

cup

vegetable broth

¾

cup

red wine

or apple juice

2

tablespoons

Worcestershire sauce

2

tablespoons

fresh thyme

chopped
Topping
1 ½

pound

russet potatoes

peeled and cut into 1-inch cubes

½

pound

sweet potatoes

peeled and cut into 1-inch cubes

2

tablespoons

butter

½

cup

heavy whipping cream

Salt and freshly ground black pepper to taste

1

large

egg
Instructions
Adjust oven rack to upper middle position and preheat oven to 375°. 
Filling
Brown ground beef in a large skillet. Remove from skillet, drain and set aside.

In the same large skillet, heat olive oil over medium heat.

Add yams, onions, and carrots and cook, stirring frequently until everything is tender.

Add mushrooms and cook until mushrooms soften and release their juices.

Sprinkle flour over everything, and then squirt in ketchup. Stir and cook over medium-low heat for about one minute.

Add cream and cook about another minute. Add wine or juice, Worcestershire sauce, and thyme.

Simmer over medium heat, stirring frequently, until mixture is thick but still saucy, 5-8 minutes.

Add browned ground beef to the mixture in skillet and stir to combine. Pour mixture into a 2-quart casserole dish. 
Topping
In a large saucepan over high heat, bring potatoes, sweet potatoes, ½ teaspoon salt, and water to cover to boil.

Reduce and simmer until tender, 15-20 minutes; until tender.

Drain potatoes. Add butter and cream to potatoes and mash until smooth.

Season with salt and pepper.

Carefully spread prepared potatoes over meat and vegetable filling, using a spatula or large spoon to smooth the top.

In a small bowl, make an egg wash by whisking together 1 tablespoon water with egg.

Brush the top of the potatoes with egg wash, and then drag a fork across the top to make ridges.

Put in oven and bake until the filling is bubbling, about 15-20 minutes. 

Turn on broiler and cook until top is golden brown, 3-5 minutes.

Remove and cool 10 minutes. Serve.
Nutrition
Serving:
1
serving
|
Calories:
400
kcal
|
Carbohydrates:
37.2
g
|
Protein:
23.4
g
|
Fat:
16.2
g
|
Saturated Fat:
7.2
g
|
Cholesterol:
79
mg
|
Sodium:
317
mg
|
Potassium:
1268
mg
|
Fiber:
5.3
g
|
Sugar:
5.3
g
|
Calcium:
40
mg
|
Iron:
13
mg
This website provides approximate nutrition information for convenience and as a courtesy only. You are solely responsible for ensuring that any nutritional information provided is accurate, complete, and useful.
Looking for a unique, budget-friendly Valentine's Day treat? Check out these Personalized Homemade Fortune Cookies, complete with Takeout Box DIY and Printable Valentine's Day Fortunes!

Is this Shepherd's Pie or Cottage Pie?
Technically, this is a recipe for Beef Cottage Pie.
What's the difference between Shepherd's Pie and Cottage Pie?
The ingredients and directions for making Shepherd's Pie and Cottage Pie (also known as Farmer's Pie) are exactly the same, except for the primary protein.
Shepherd's Pie is traditionally made with lamb. (Hence, the Shepherd.)
Cottage Pie is named for its primary protein: Turkey Cottage Pie, Chicken Cottage Pie, Beef Cottage Pie, etc. You get the idea. The only protein that doesn't go into Cottage Pie is lamb or mutton. (Because that would make it Shepherd's Pie.)
Why don't you change the name of this recipe to "Beef Cottage Pie" or "Beef Farmer's Pie"?
First off, I believe that the delineation between shepherd and cottage and farmer is in great part a regional issue. In my neck of the woods, if you go into a restaurant and order Shepherd's Pie from the menu, you will almost always be served a beef-based pie. If you invite us to dinner and tell us that you will be serving Shepherd's Pie, we will not be expecting lamb. More to the point though, I have been making this casserole and calling it Shepherd's Pie for two decades, so I'm sticking with it.
Bottom line: this the best in cozy comfort food, no matter what you call it!
Hope that clears everything up for everyone.

More Serious Comfort Food recipes from GHW:

THANK YOU so much for being a faithful reader and supporter
of The Good Hearted Woman. ? Be sure to PIN this post!

Disclosure: This post may contain affiliate links, including Amazon affiliate links, which means we may receive a commission if you click a link and purchase something that we have recommended. While clicking these links won't cost you any extra money, they do help keep this site up and running. As always, all opinions and images are my own. Please check out our disclosure policy for more details. Thank you for your support!