You can't buy the legendary Original Taco House Fiesta Dressing at the restaurant or in the store anymore, but now you can make it at home! Perfect sweet heat for tacos, salads, sizzling meats, party dips - and much, much more!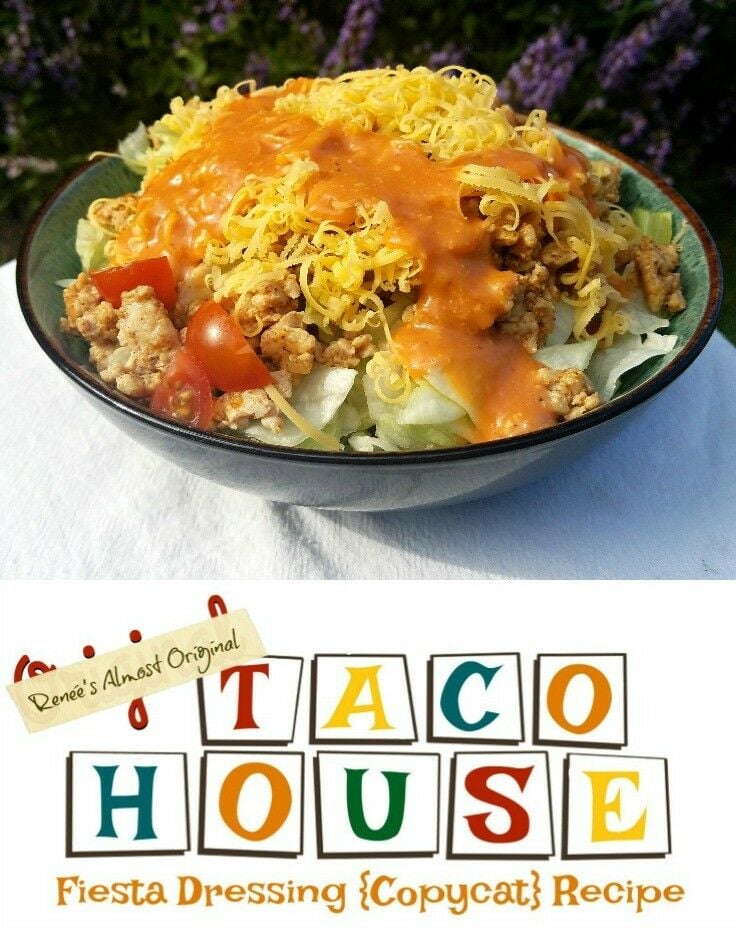 This post may contain affiliate links, but don't worry - they won't bite.
On December 31, 2017, the Original Taco House, Portland's first "Mexican" restaurant and a fixture on the Eastside for more than fifty years, abruptly closed its doors forever - yet another old-school Portland restaurant lost to the mists of time.
The Original Taco House was one of those places that brought families together. The food was dependably good and priced to sell in our working-class neighborhood, and when I was little, it was one of my family's go-to spots for a night out. My Dad was a middle school teacher, and he often had former students who waited tables there, so there was always a smiling face to greet us. They treated Dad like a celebrity, and we always got great service.

When I got older and started dating Mr B, we made some fond memories of our own at Original Taco House. The original location on 82nd Avenue was just a short walk from our high school, and in 1980-something you could get a beef "El Picador" (what they called nachos before we called them nachos) or a large "meat & cheese salad" - both smothered with that amazing Original Taco House Fiesta Dressing and big enough for two - for four or five bucks. Needless to say, Mr B and I spent many (extended) lunch hours there sharing a meal and gazing adoringly into each others' eyes.
Later, when I went on to have my own family, we often found ourselves eating at the Original Taco House when we visited my parents, to the point where it became one of my kids' favorite eating spots. And the last time we ate there as a family, my grandchildren were sitting around the table with us. After three generations, dinner at the Original Taco House had become a solid family tradition.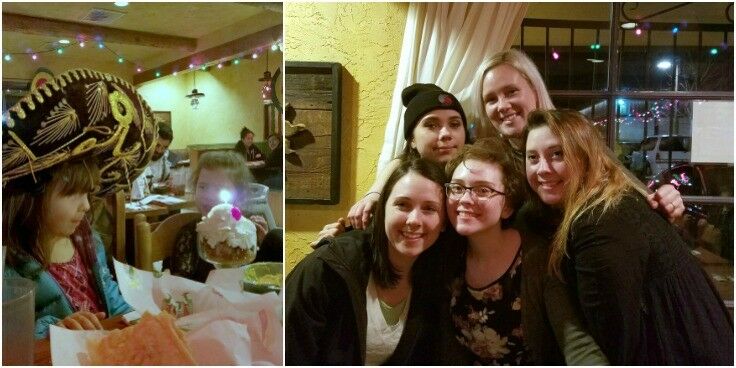 After all that history, it probably goes without saying Mr B and I were pretty broken up about the Original Taco House's sudden closing. Sure, the decor was dated and the menu anything but authentically Mexican, but we loved it because of those things, not in spite of them.

Now there will be no more pictures of adorable black-eyed babies in sombreros hanging on the wall watching you eat. No more burros with brightly colored saddle packs. No more (amazing!) corn-flake crusted deep-fried ice cream balls. No more sizzling "El Picadors" heaped with melting cheese and olives and peppers. No more amazing house-made Fiesta Dressing.
Wait! What?!?
When I figured out that our favorite salad dressing would no longer be available, I started to worry. I checked our bottle in the fridge: only about two or three ounces left. I checked local stores: discontinued, and limited to stock on hand. Amazon: same. I sprung into action:
Me: "OK, no one touch the taco salad dressing!"
Them: "Why?" (Until that moment, no one was even thinking of it.)
Me: "I have to figure out the recipe before it's all gone. I need it for taste comparison."
Them [reaching into the fridge door for the bottle]: "What if we just use a little?" (Once again, no one had even considered using it that day until I mentioned it.)
Me: "Not. One. Drop." (Translation: Just put the bottle down and walk away slowly, and no one will get hurt.)
Good thing they know when I mean business.
To recreate the recipe, the first thing I did was consult the ingredient label on our treasured "last bottle."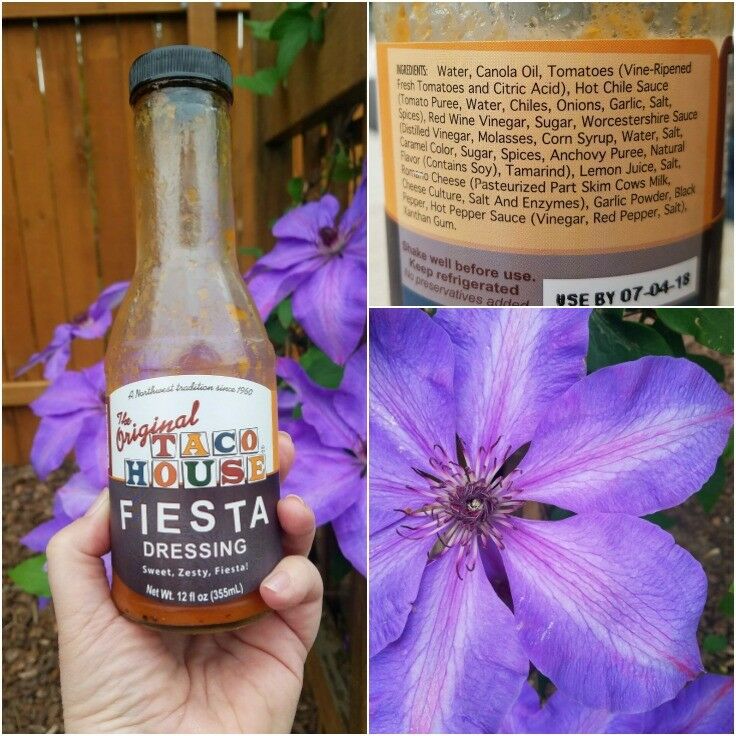 Conveniently, ingredients on product labels are listed in order of predominance, with the ingredients used in the greatest amount first, followed in descending order by those in smaller amounts. This gave me a good road map for figuring out the recipe.

I chose the brands of necessary premade products (i.e., El Pato Tomato Sauce, Chalula hot sauce) based on the ingredients listed parenthetically on the label list (i.e., the list of collective ingredients in the hot chili sauce, Worcestershire sauce, etc. as listed on the label) in an effort to keep them as close to the original ingredients used as possible.
After that, it was just a lot of mixing, tasting, adjusting, tasting, mixing, adjusting, tasting... and repeat. (Let's just say that I have enough Fiesta Dressing in my fridge now to get us all through a major nation-wide salad dressing shortage.)
In the end, I think we hit it pretty darn close. (We even nailed the exact calorie count of the original!) The mixture I created is somewhat creamier in appearance than the original Original Taco House Fiesta Dressing, but the flavor is spot-on and it has the familiar slightly sweet kick and peppery tang that we crave so much.
UPDATE: How to make Original Taco House's El Picador Sauce:
It definitely takes a village sometimes! I'm thrilled to share this tip with you! According to Dieggs, who worked as a cook at OTH for four years, "the PIC sauce was a mix of 3 parts dressing and 1 part El Pato sauce." It just doesn't get any easier than that. Thanks again to our wonderful readers!
Here's to happy memories! Enjoy!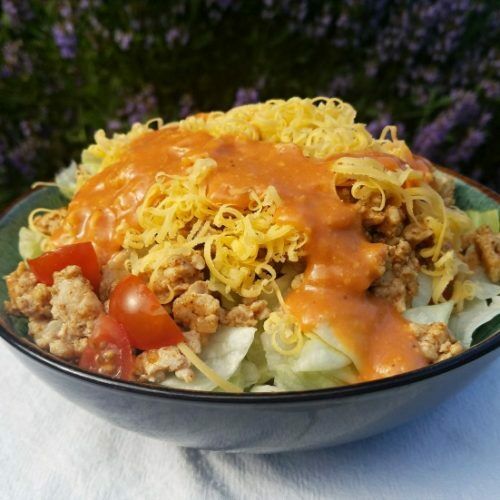 Original Taco House Fiesta Dressing (Copycat Recipe)
Perfect sweet heat for tacos, salads, sizzling meats, party dips - and much, much more!
Print Recipe
Pin Recipe
Ingredients
½

cup

water

½

cup

Canola oil

6

tablespoons

crushed or diced canned tomatoes

drained

6

tablespoons

El Pato Tomato Sauce, Mexican Hot Style

Yellow can (not green)

¼

cup

red wine vinegar

3

tablespoons

sugar

1 ½

teaspoons

Worcestershire sauce

1

teaspoon

lemon juice

1

teaspoon

salt

1

teaspoon

garlic powder

½

teaspoon

hot pepper sauce

I use Chalula

¼

teaspoon

xanthan gum

optional

1

ounce

Romano cheese

fresh, finely grated

¾ - 1

teaspoon

freshly ground black pepper
Instructions
Put everything in a blender jar except the Romano cheese and black pepper, and blend until smooth and creamy.

Add the cheese and pepper and pulse to break up the cheese a bit more.

You want the pepper and cheese to be a little grainy to give the dressing some texture. 
Notes
This dressing is ready to use immediately, but a day in the fridge will help the flavors really come together.
1 serving = 2 tablespoons = 60 calories = 2 Weight Watchers SmartPoints [2018]
Nutrition
Serving:
2
tablespoons
|
Calories:
55
kcal
|
Carbohydrates:
2
g
|
Protein:
1
g
|
Fat:
5
g
|
Saturated Fat:
1
g
|
Polyunsaturated Fat:
1
g
|
Monounsaturated Fat:
3
g
|
Trans Fat:
1
g
|
Cholesterol:
1
mg
|
Sodium:
143
mg
|
Potassium:
32
mg
|
Fiber:
1
g
|
Sugar:
2
g
|
Vitamin A:
30
IU
|
Vitamin C:
1
mg
|
Calcium:
16
mg
|
Iron:
1
mg
This website provides approximate nutrition information for convenience and as a courtesy only. You are solely responsible for ensuring that any nutritional information provided is accurate, complete, and useful.
Ingredient Notes:
El Pato Tomato Sauce has the exact list of "hot chili sauce" ingredients as are listed on the OTH dressing label, in the same order. It was the only sauce I could find that did.
Xanthan gum is a thickener, and can be found the bulk food area of many stores. You don't have to use it, but if omitted, your dressing will be a little thinner.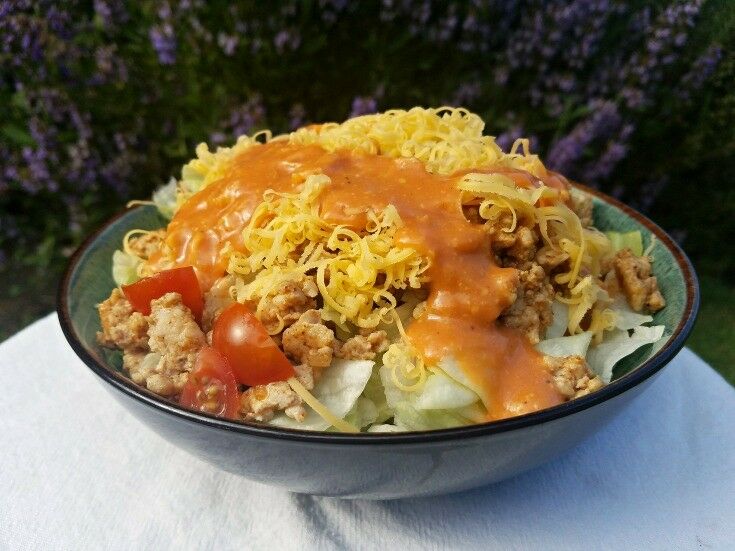 Fiesta Dressing adds a sweet little kick to tacos, salads, and nachos, of course, but I've also used it in everything from eggs to soups to casseroles, and as a marinade for grilling, all with amazing results.
Try this delicious salad dressing on our Favorite Layered Taco Salad (Vintage Recipe)!

THANK YOU so much for being a faithful reader and supporter
of The Good Hearted Woman. • Be sure to PIN this post!
ATTENTION: Following the overwhelming success of this dressing recipe, I've received many requests for other recipes from OTH, including the enchilada sauce and mild salsa recipes. Unfortunately, while I'd love to work out and share those recipes too, I lack the ingredient lists and samples to do it properly.
Disclosure: This post may contain affiliate links, including Amazon affiliate links, which means we may receive a commission if you click a link and purchase something that we have recommended. While clicking these links won't cost you any extra money, they do help keep this site up and running. As always, all opinions and images are my own. Please check out our disclosure policy for more details. Thank you for your support!