Cool, creamy, tangy, and garlicky; our Homemade Buttermilk Ranch Dressing is bursting with fresh flavors!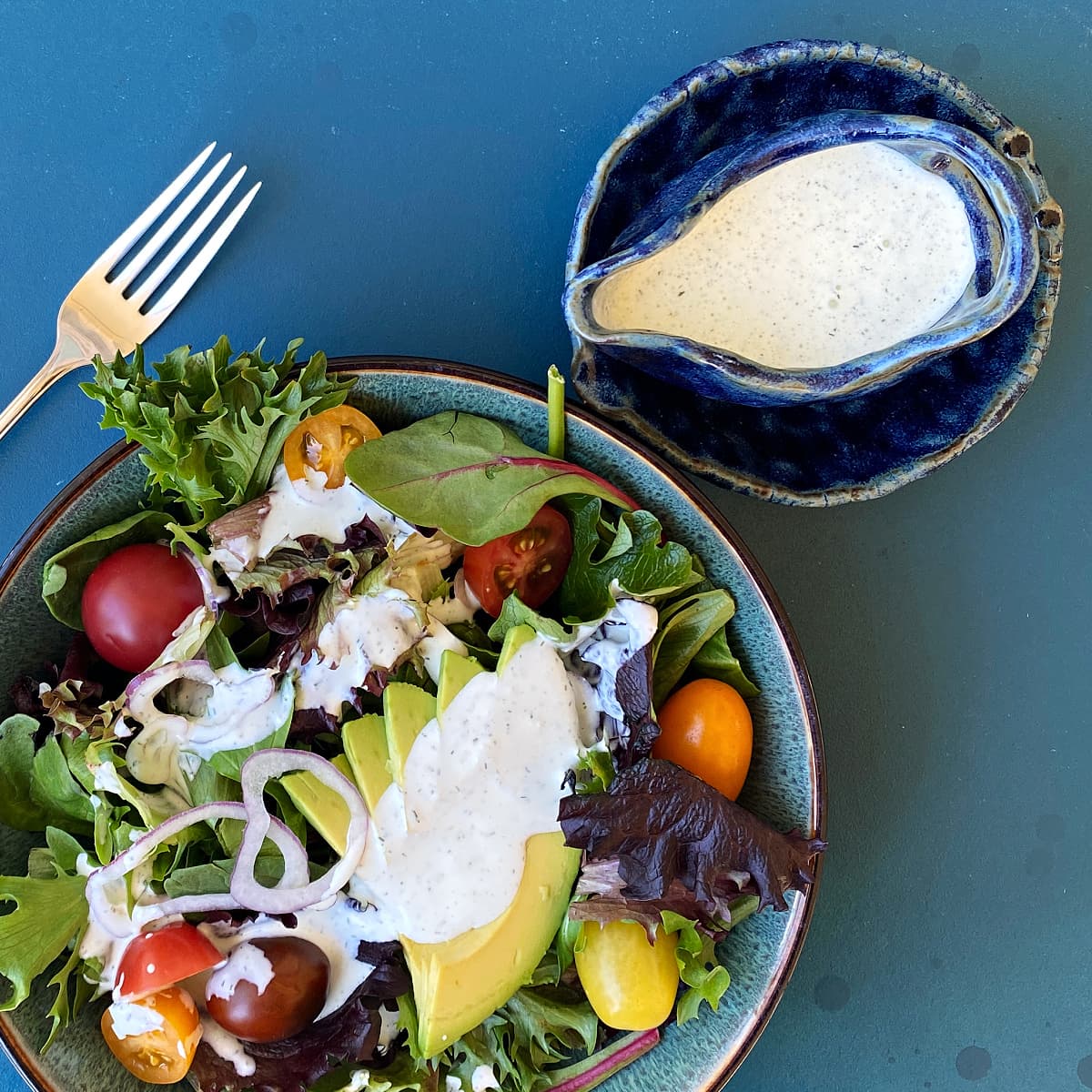 It seems nearly everyone loves a good, fresh buttermilk Ranch dressing! According to Thrillest, the average American consumes 38 salads a year (which sounds really low to me: we eat a minimum of four or five salads a week). Of those 38 salads, fifteen of them are served up with Ranch dressing; more than twice as often as its closest rival, Italian.
Jump to:
Why this Ranch Recipe Works
Homemade Ranch is a relatively simple thing to make – but first, you have to have a great recipe. In my mind, the perfect Ranch dressing is creamy and cool, with a fresh, light, buttermilky tang. It has a bright, clean flavor with absolutely no bottle or preservative taste, and it pours smoothly and stays where you pour it.
We've been working on creating our "perfect Ranch recipe" for what seems like forever now. After making innumerable batches, we established that the most important recipe factor rests in the balance of the three main "creamy base" ingredients: buttermilk, sour cream, and mayonnaise.
Get that balance right, and you can adjust the seasonings and undertones to your heart's delight. Want to make a Super-Garlicky Ranch? Go ahead and throw in more garlic. Want to make an Avocado-Cilantro Ranch? Easy peasy. Just don't change the ratios of the big three: buttermilk, sour cream, and mayo. 
In tandem with our "creamy base" ratio is a single rule – one that (I have learned the hard way) must never be broken. OK, that sounds pretty dramatic: of course, rules were made to be…, etc. etc. But I'm telling you, this one makes a real difference...
The one rule you must follow to make the best Buttermilk Ranch Dressing ever:
Always use full-fat ingredients.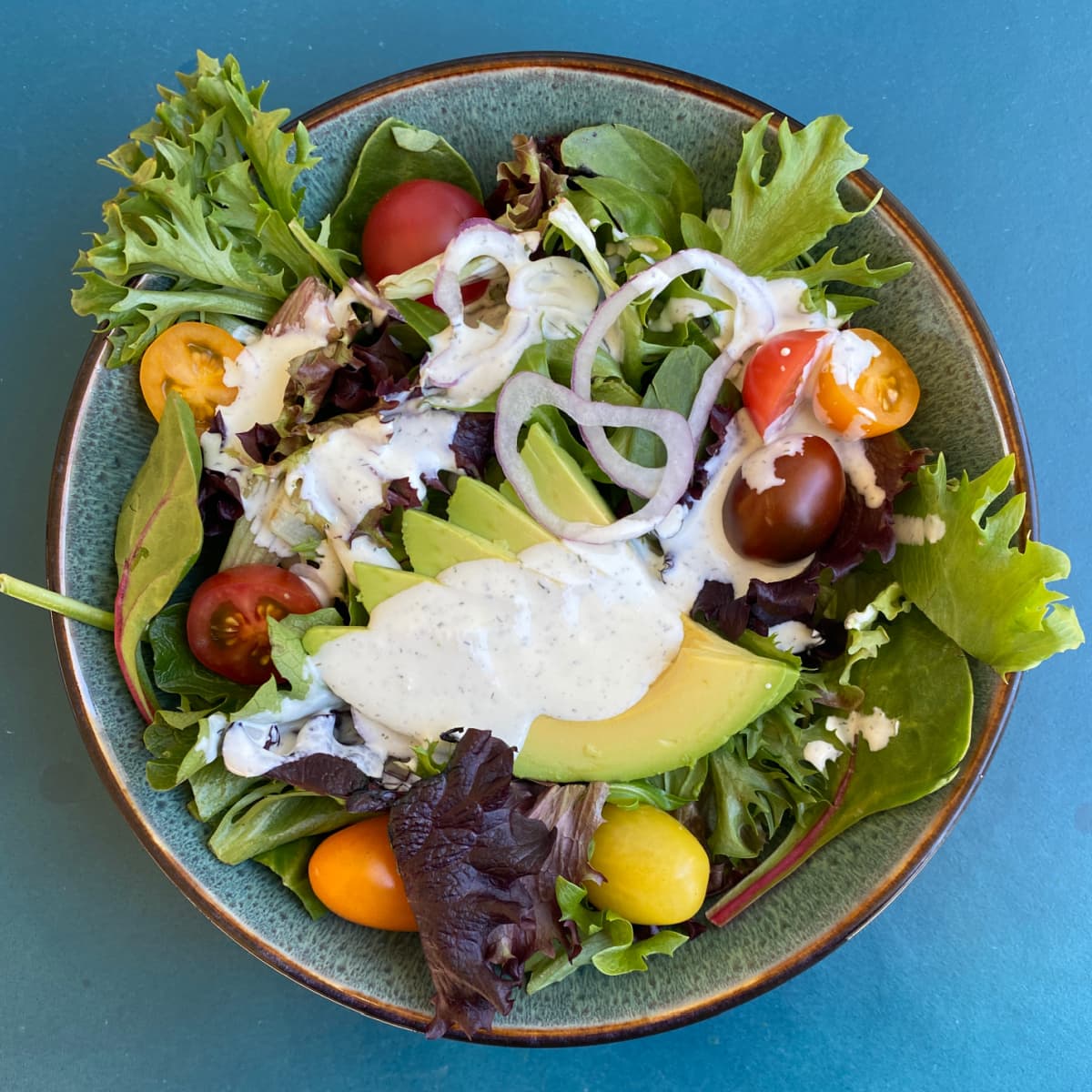 It comes down to this: you can make light Ranch dressing, or you can make a rich, creamy, delicious Ranch dressing, but you can't have both. If you're looking for a "lite" dressing recipe, keep searching. If you want to make a fabulously delicious, creamy Ranch dressing, keep reading.
Fresh Ranch Dressing Ingredients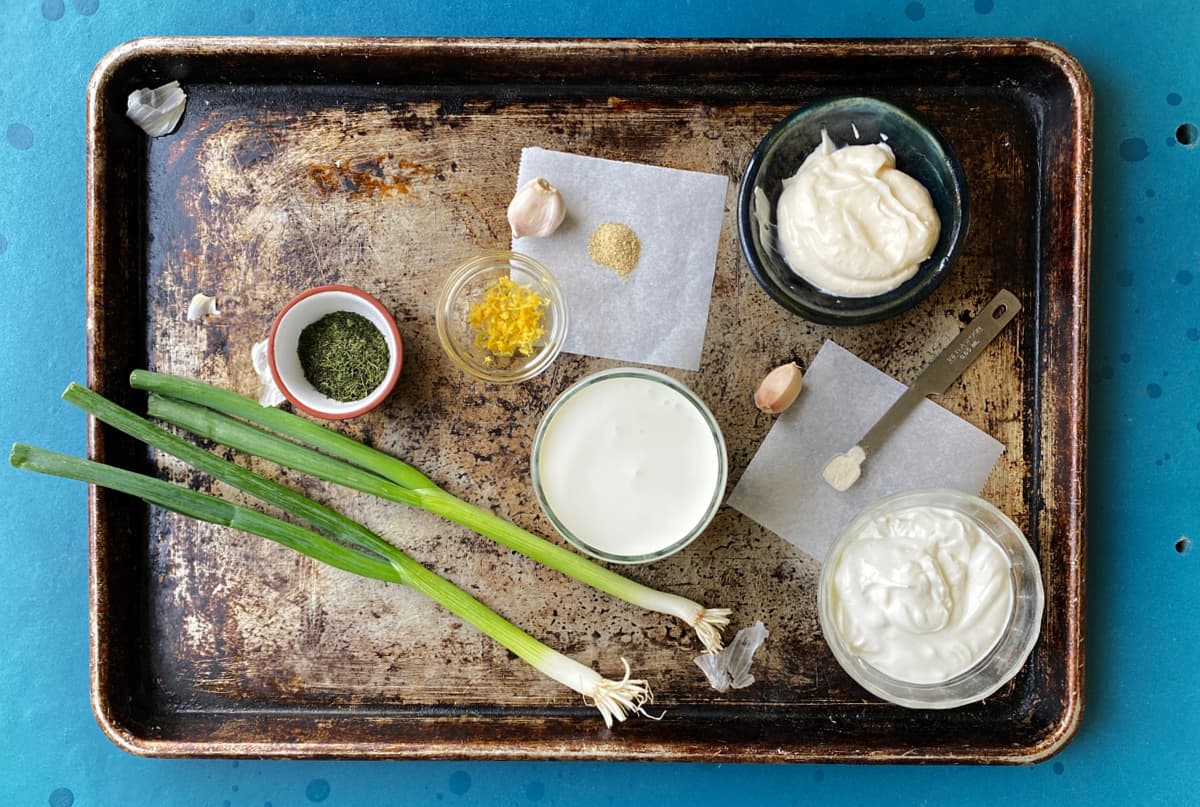 • Buttermilk: Use full-fat store-bought or home cultured buttermilk.
• Sour cream: In any event, use full-fat dairy in all cases. 
• Mayonnaise: You can use store-bought or homemade mayo: just make sure it's full-fat.
Do not use Miracle Whip. We are a Miracle Whip family, so I say this with both understanding and appreciation; MW is not mayonnaise. Do not ever, ever sub it into this or any other non-sandwich-filling recipe calling for mayo.
• Green Onions: We've used fresh chives, dried chives, scallions, red onion, and even chopped sweet onion. (Note that because this dressing is made in a blender, red onions will turn your dressing a light pink color. Which might be good in case you ever need to serve ranch dressing at an old-school baby shower or frost an english muffin for April Fools Day.)
• Dill: For the purposes of this recipe, dried dill works as well as fresh. However, using it makes it even more critical to allow the dressing to sit in the fridge for at least a few hours to allow the flavors to blend. This is the one ingredient I sub in all the time.
• Garlic: Hold up, garlic lovers! I know you want to throw a couple extra cloves of garlic in. I feel you. I did that too, during recipe development. But a little garlic goes a long way in Ranch dressing, so before you throw in another clove, give it a taste.
• Lemon zest: Zest brings a big punch in a little package. We love the clean, bright flavor it adds.
• White pepper: White pepper is a spice produced from the dried fruit of the pepper plant, Piper nigrum (as is black pepper). It is usually milder than black pepper, and comes very finely ground. We like the low-key peppery taste it brings to the dressing without competing with the other flavors. You may sub in any pepper of your choice. 
• Chili powder: We use a mild chili power. Like the lemon zest, this adds to the overall profile, but not call itself out in the process. 
• Xanthan gum: This is a natural thickener that helps bind and stabilize the dressing. It can be found the bulk food area of many stores. Using it is totally optional to this recipe; however, if omitted, your dressing will be a little thinner and may separate slightly between uses. 
How to Make this Recipe
For the best outcome, layer ingredients in stand blender in the order given in the recipe, top to bottom.
If you are using a beverage blender (the kind for which you fill the cup and then turn it over to blend), layer the ingredients in order from bottom to top.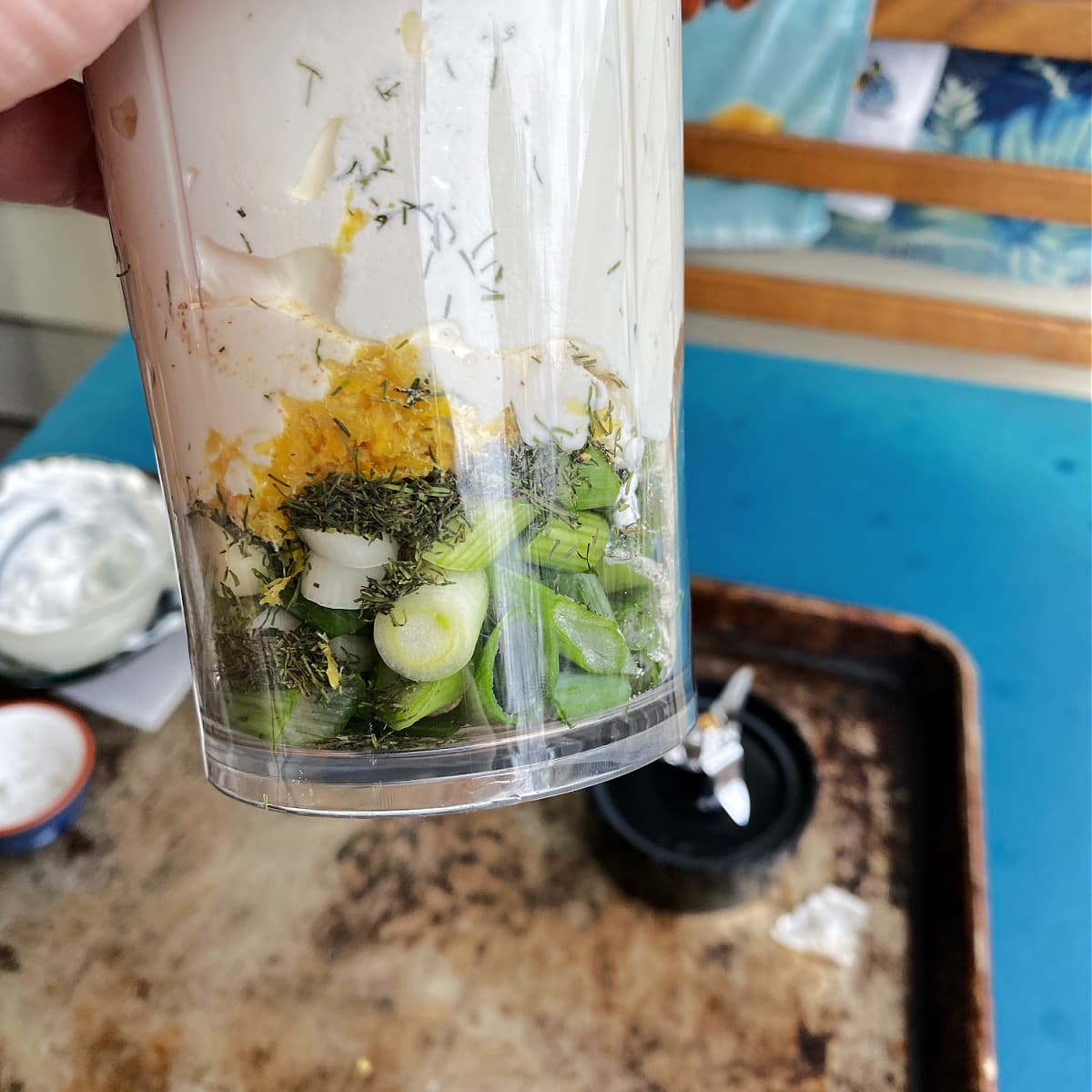 Substitutions
• Buttermilk: Adding lemon juice or vinegar to milk is not making real buttermilk, and in this case, it does make a difference. If you do culture your own buttermilk, use full-fat milk in the process. 
• Sour cream: If necessary, you can sub in plain greek yogurt, but it will make the dressing decidedly more tangy. In any event, use full-fat dairy in all cases. 
I haven't tried to make this with non-dairy sour cream (i.e., cashew sour cream, etc.) so I can't speak to how well that would work; however, if you are already using buttermilk, you probably don't have a problem with dairy, so just go ahead and use the sour cream already. 
• Garlic: Garlic powder may be substituted for fresh garlic. Approximately one-eighth teaspoon of garlic powder is equal to one clove of garlic.
• Lemon Zest: You can sub in a teaspoon of lemon juice, or even a teaspoon of vinegar.  
• Chili Powder: Substitutions include a ⅛ - ¼ teaspoon of mild hot sauce or a sprinkle of dried hot pepper flakes.
Variations
Changing the flavor profile of the Ranch dressing is super-easy!
Garlic-Ranch: Throw in more garlic.
Avocado-Ranch: Add half an avocado to the mixture before blending.
Avocado-Cilantro Ranch: Add a third of an avocado, plus a handful of cilantro.
Dill Pickle Ranch: Add half a dill pickle to the mixture before blending.
Bacon-Ranch: Add a handfull of bacon bits to the mixture before blending.
Chipotle Ranch: Add half a small chipotle pepper to the mixture before blending.
(I could go on, but you get the idea.)
Storage
Store in a sealed container in the fridge. Fresh buttermilk ranch dressing will keep for up to two weeks.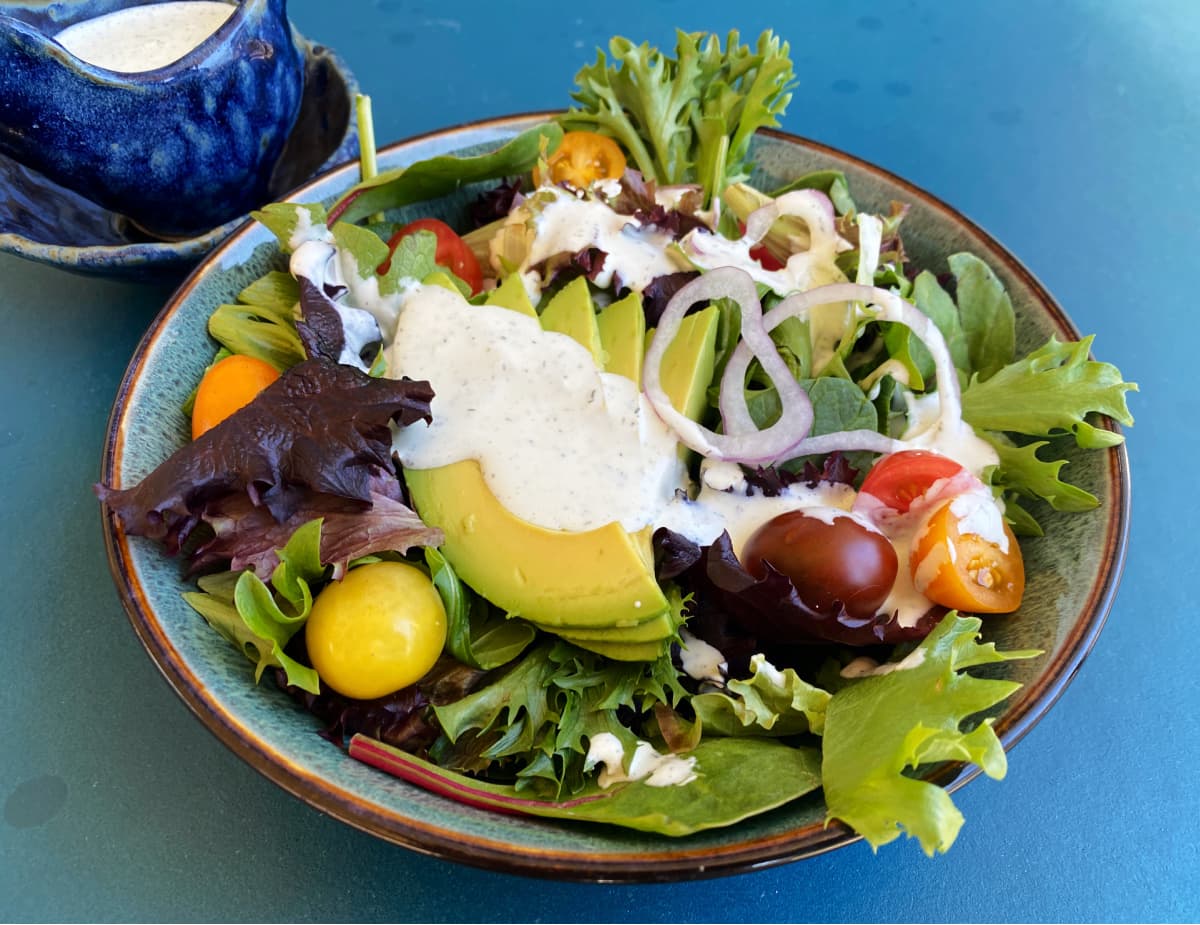 More Creamy Salad Dressing Recipes
What to Serve with Ranch Dressing
Here are just a few of the infinite ways to enjoy this homemade Ranch dressing:
♥︎ Dip wings, nuggets, and fresh veggies.
♥︎ Dunk breadsticks and crudites.
♥︎ Slather sandwiches. (Try it on a Nashville Hot Chicken Sandwich! Yum!!)
♥︎ Sprinkle potato skins.
♥︎ Drizzle corn on the cob and pizza.
♥︎ Elevate BLTs.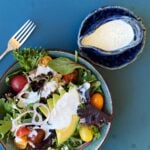 Homemade Buttermilk Ranch Dressing
Cool, creamy, tangy and garlicky; this Homemade Buttermilk Ranch is bursting with fresh flavors!
Print
Pin
Add to Shopping List
Go to Shopping List
Ingredients
1

cup

whole fat buttermilk

½

cup

sour cream

¼

cup

mayonnaise

2

whole

green onions

chopped

1

clove

garlic

ONE

1½

teaspoons

dried dill

or 2 Tbls fresh

¾

teaspoon

kosher salt

½

teaspoon

fresh lemon zest

¼

teaspoon

white pepper

⅙

teaspoon

chili powder

¼

teaspoon

xanthan gum

optional
Instructions
Put everything in a blender cup and blitz until smooth.

For the best outcome, layer ingredients in blender in the order given in the recipe, top to bottom.

If you are using a beverage blender (the kind for which you fill the cup and then turn it over to blend), layer the ingredients in order from the bottom of the list to the top. 
Notes
This dressing will keep in the refrigerator for about two weeks.
Nutrition
Serving:
1
tablespoon
|
Calories:
24
kcal
|
Carbohydrates:
1
g
|
Protein:
1
g
|
Fat:
2
g
|
Saturated Fat:
1
g
|
Trans Fat:
1
g
|
Cholesterol:
3
mg
|
Sodium:
77
mg
|
Potassium:
18
mg
|
Fiber:
1
g
|
Sugar:
1
g
|
Vitamin A:
42
IU
|
Vitamin C:
1
mg
|
Calcium:
14
mg
|
Iron:
1
mg
This website provides approximate nutrition information for convenience and as a courtesy only. You are solely responsible for ensuring that any nutritional information provided is accurate, complete, and useful.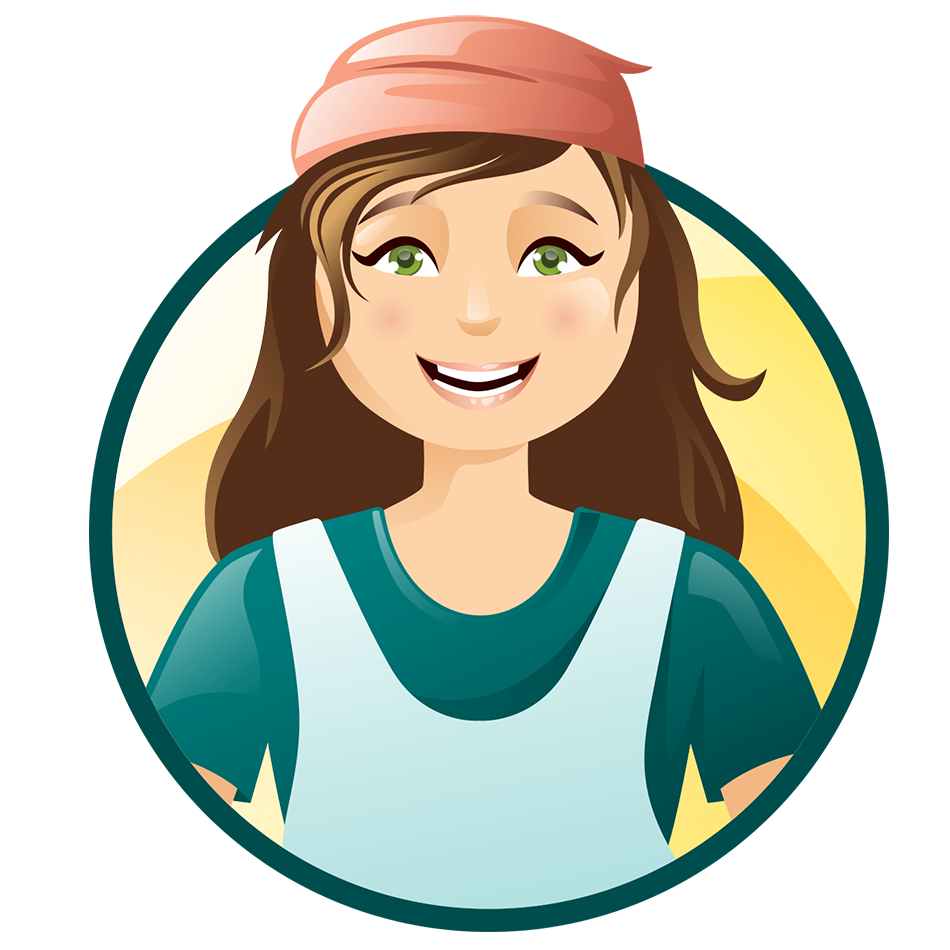 Thank you for visiting the Good Hearted Woman. Remember to bookmark this site, and come back soon!