A treasured family recipe, Mary's Sticky Popcorn is the best Soft Caramel Corn recipe ever! It is everything wonderful about homemade caramel popcorn; and despite its nickname, it's not sticky at all!
This post may contain affiliate links, but don't worry - they won't bite.
Today I am sharing a very special treat; one my girls grew up calling Sticky Popcorn (although it's not sticky at all). This ridiculously easy caramel corn recipe takes less than 10 minutes to make, and will completely turn your idea of caramel corn on its head!
But first, I want to tell you about Mary.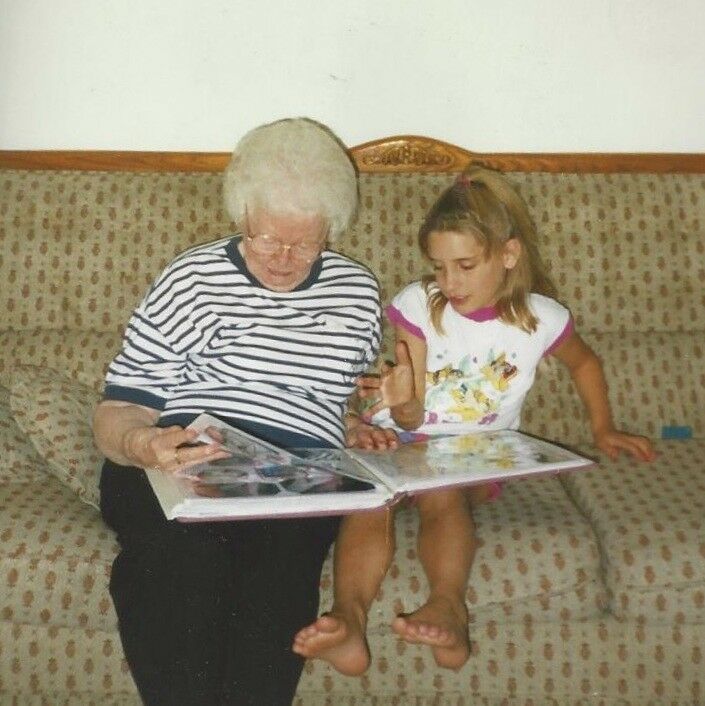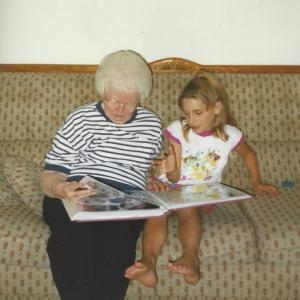 Back when my oldest girls were little (before some were even born), we lived in a cul-de-sac, three doors down from my BFF Cheryl. Next to Cheryl lived a little woman named Mary, age 90ish. Mary lived on her own long past the time when most folks need to have more assistance, and I learned a lot by watching her.
Mary was able to stay independent for so long for two reasons: First, she lived next door to Cheryl and her family. (If you know them, that is all the explanation you need: they are amazing examples of loving and serving their neighbors.) Second, Mary learned to adapt.
My favorite example of Mary's modifying life to meet her needs was her Christmas tree. Mary kept a fully decked Christmas tree year round. The tree was only about three or four feet tall, and it sat eleven months out of the year in her garage, protected by a white plastic garbage bag tied closed at the top of the tree.
Every December, Mary would ask someone would bring her tree in from the garage, sit it on a little table, and untie the twist-tie that held the bag closed. (One year, I was the someone who got to put up Mary's tree. I felt so special!)
Once her tree was standing on its little table, Mary would carefully pull down the bag to reveal the tree already hanging with ornaments. Then she arranged the bag around the base like a tree skirt, and stand back to enjoy her beautiful decorations.
When the holidays were over, someone would go over to Mary's, pull the bag back up to the top and tie it off, and then put her little tree back in the garage until the following Christmas.
Brilliant!
Which brings me back to Sticky Popcorn.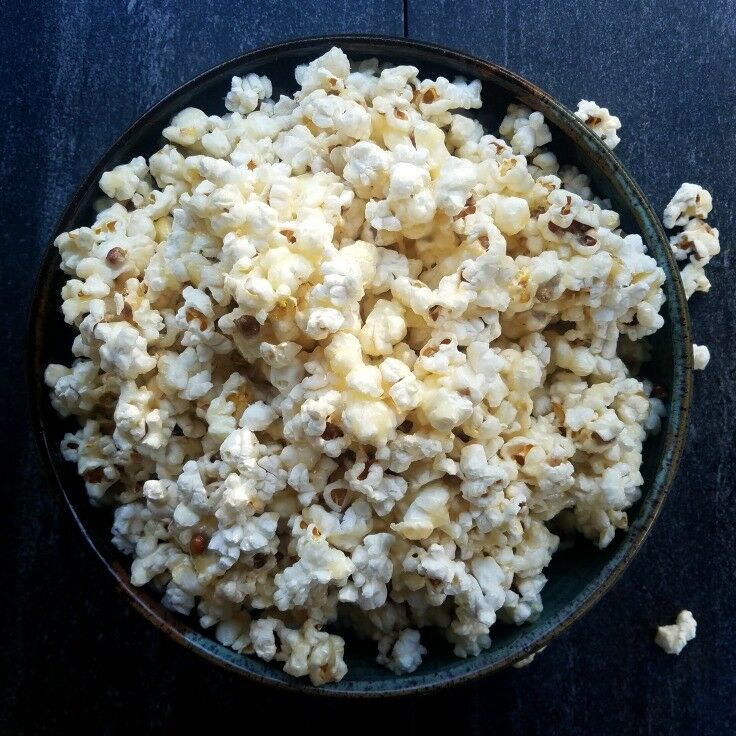 Every Christmas season, Mary would make her soft caramel corn recipe. As the buttery-sweet popcorn cooled, she formed it into popcorn balls, which she later handed out to the neighborhood kids for the holiday.
Normally, I don't like popcorn balls at all. Never have. They are hard and stick to your teeth, and the popcorn in them is always gross. In fact, the first time one of my girls offered me a bite of Mary's caramel corn, I turned her down.
But then I noticed that, as she ate it, there was no distinctive crunch-crunch-crunching and side-of–mouth biting going on, like there always was with typical rock-solid popcorn balls. Instead, my daughter was taking neat little bites and chewing them with satisfaction, making her way around the popcorn ball as if she was eating an ice cream cone.
So I snuck a little bite. And another. And then another. (Good thing she was just a toddler, or I would have never gotten away with that many bites!)
I soon discovered that Mary's popcorn balls were different from any I had ever had, in all the best ways. The caramel was soft and didn't stick to my teeth; the texture was smooth and buttery; and in addition to being easy to eat, the caramel popcorn itself was absolutely delicious!
As soon as I could, I asked Mary for the recipe and was floored by the simplicity of it - just five ingredients, including the popcorn!
I was soon making Mary's caramel corn as a family treat almost weekly, although we dispensed with the "popcorn ball" model almost immediately. Now we always just eat it straight from the bowl. This caramel corn recipe - now a family tradition - is everything wonderful about homemade caramel popcorn; and despite it's nickname, it's not sticky at all!
Mostly, it's just wonderful.

Mary has been gone for many years now, but every time I make Sticky Popcorn, I think of her. I asked Mary once what the best thing about getting old was, and I will never forget what she said:
By the time you get to be about 80, you can say anything you want to, because no matter what you say, people either think you're wise or you're crazy.
So now, my friends, I am passing this little bit of Mary's wisdom onto you. Enjoy!

Best Ever Soft Caramel Popcorn
A treasured family recipe, Mary's "Sticky Popcorn" is the best soft caramel corn recipe ever! It is everything wonderful about homemade caramel popcorn; and despite its nickname, it's not sticky at all! 
Print Recipe
Pin Recipe
Ingredients
Instructions
Pop popcorn and set aside in an extra-large bowl or roasting pan.

In a medium saucepan over medium heat, combine remaining ingredients.

Stirring constantly, melt butter and heat mixture on medium until it reaches a full, rolling boil. (This is a boil that cannot be stirred down.)

Boil 1 minute.

Remove from heat.

If you are want to, you can check the temperature with a candy thermometer. It should read 200° F [94° C].

Note: This is the first time I have checked the temperature for this caramel, ever. If you don't have a candy thermometer, no worries! Just boil it for one minute, and you'll be golden!

Immediately remove from heat and pour over popcorn.

Stir popcorn with wooden spoon until popcorn is all coated with caramel.

Immediately remove from heat and pour over popcorn.

Stir popcorn with wooden spoon until popcorn is all coated with caramel.

You need to do this step very quickly! NOTE: My caramel got a little too cool because I was stopping the process to take pictures. If you watch the video, you can see that it is already getting stiff when I'm stirring the caramel in. If you do pour the caramel and stir it right away, without stopping in the middle to take a half a million pictures and video, it will stir in very smoothly.

Stir and mix to cool. Form into balls if desired.
Nutrition
Serving:
1
serving
|
Calories:
377
kcal
|
Carbohydrates:
52
g
|
Protein:
2
g
|
Fat:
19
g
|
Saturated Fat:
12
g
|
Cholesterol:
49
mg
|
Sodium:
174
mg
|
Potassium:
50
mg
|
Fiber:
2
g
|
Sugar:
40
g
|
Vitamin A:
567
IU
|
Calcium:
8
mg
|
Iron:
1
mg
This website provides approximate nutrition information for convenience and as a courtesy only. You are solely responsible for ensuring that any nutritional information provided is accurate, complete, and useful.
Have you ever had Nuts & Bolts? It's another one of our favorite snacks, especially around the holidays!

So just how good is this caramel corn, anyway?
Mr. B always says he doesn't much like popcorn. Which must be why the first time I made Sticky Popcorn for him, he ate almost half a batch! All by himself!! Allow me to quote him: "This (nom-nom-nom) popcorn is (nom-nom) really (nom-nom) really (nom-nom-nom) delicious!
When I updated this post in 2019 with new process photos, more concise directions, and a how-to video. (Thanks for the music, Mr. B!) So of course, I had to make a batch of Mary's caramel corn recipe for picture-taking purposes, right? Well, guess who ate more than half the batch by the time I got done editing images?
I'm not naming names, but his name rhymes with Mr. G.
Seriously, this stuff is really tasty, folks.
I'm sharing this recipe on the Weekend Potluck Recipe Linkup.


Check it out for more great recipes!

THANK YOU so much for being a faithful reader and supporter
of The Good Hearted Woman. • Be sure to PIN this post!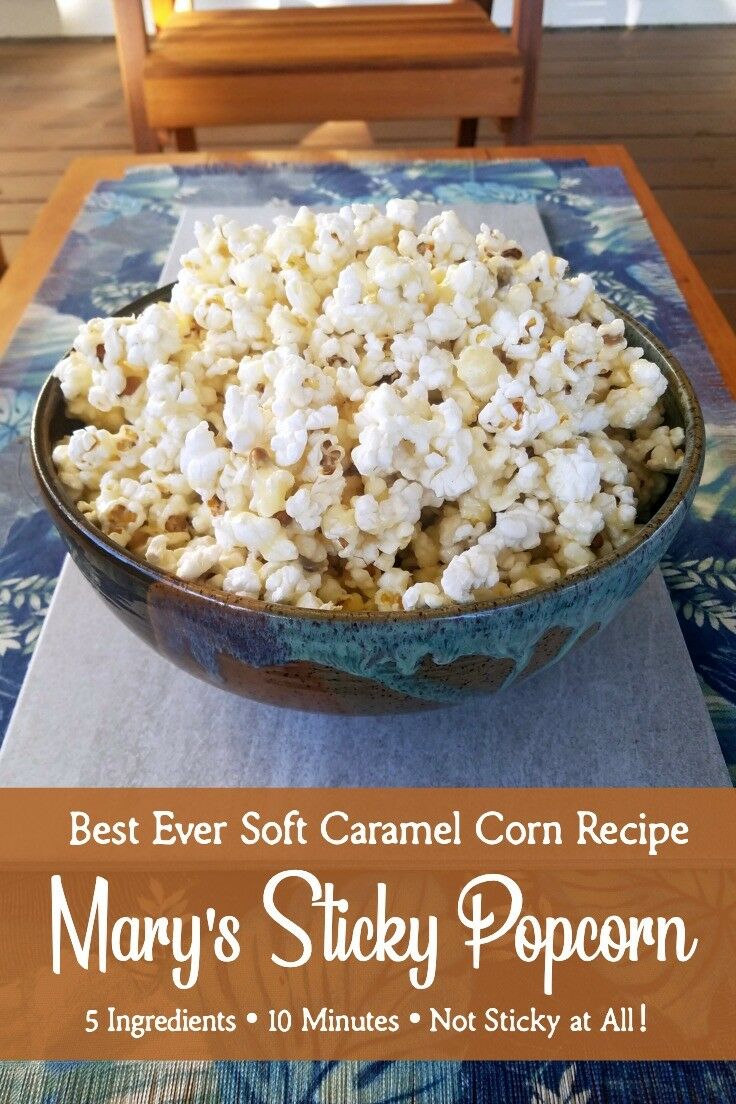 Disclosure: This post may contain affiliate links, including Amazon affiliate links, which means we may receive a commission if you click a link and purchase something that we have recommended. While clicking these links won't cost you any extra money, they do help keep this site up and running. As always, all opinions and images are my own. Please check out our disclosure policy for more details. Thank you for your support!
UPDATE: This post was first published December 10, 2013.