In Sweet Potato Pad Thai with Pan-fried Shrimp, the natural sweetness and robust texture of spiralized sweet potato noodles perfectly complements the flavors and textures of traditional Pad Thai.
This post may contain affiliate links, but don't worry - they won't bite.
I'll admit it - I am just now diving into the Spiralizer pool.
In case you've been living in a cave for the last few years, spiral vegetable cutters, or "spiralizers," are kitchen gadgets that cut fruits and vegetables into long noodles and ribbons, which then can be then be used in place of pasta, and as additions in salads, side dishes, etc.
There is a good reason for my reticence to Spiralize: all of the hand-held and counter-top spiralizers I've previously tested/used/experimented with simply don't deliver: they crack under the strain of hard, dense vegetables; they hurt my hand and wrist to operate; and some models are a huge pain when it comes to clean up.
Then KitchenAid®  came to my rescue - with a carefully engineered, well-thought Spiralizer Attachment. I couldn't wait to try it out! (Please note: this is not a sponsored post. I just really love this thing!}
One of the first things I tried was a combination of two of my favorite things – Thai food and sweet potatoes. The outcome - Sweet Potato Pad Thai with Pan-fried Shrimp - is a deliciously tasty dish that blends the natural sweetness and robust texture of spiralized sweet potato noodles with the traditional flavors and textures of Pad Thai.
Bonus: It's loaded with super-healthy stuff, and takes just one pan and 30-minutes to create.
Extra Bonus: Everyone in my household loves it! (Which means that there is a good chance everyone in your house will love it too!!)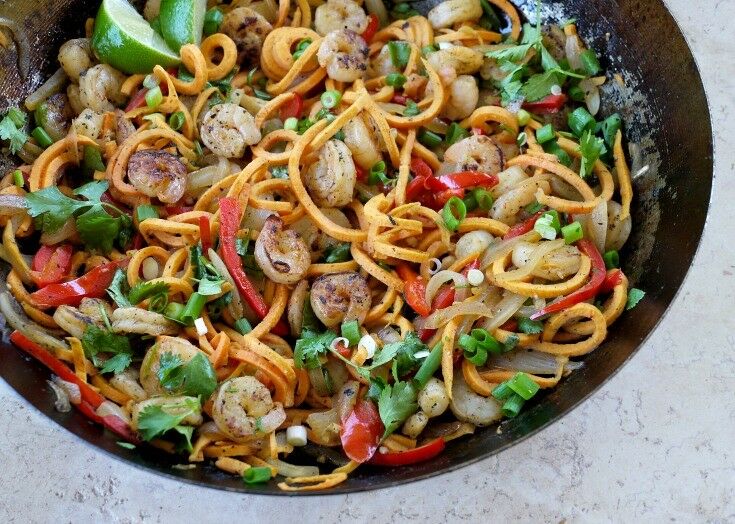 Sweet Potato Pad Thai with Shrimp is a pleasure for your senses, hitting all the taste points – sweet, salty, sour, bitter and umami; plus it's gluten-free (just use gluten free soy sauce or tamari), dairy-free, and naturally high in fiber. Bottom line though – it tastes amazing!
Sweet Potato Shrimp Pad Thai
Print Recipe
Pin Recipe
Ingredients
Sauce
Zest & juice from one lime

1

clove

garlic

minced

3

tablespoons

Sweet Chili Sauce

2

tablespoons

Thai fish sauce

2

tablespoons

light soy sauce or tamari

¼

cup

water

2

tablespoons

brown sugar
Shrimp
1

lb

medium shrimp

70-80/lb, shelled and cleaned

2

tablespoons

peanut oil

or refined coconut oil

1

clove

garlic

minced
Sweet Potato Noodles
2

large orange-fleshed sweet potatoes

aka yams Spiralized

2

tablespoons

peanut oil

or refined coconut oil

1

large onion

peeled & sliced thinly root to end

2

cloves

garlic

minced

1

red bell pepper

sliced in thin strips

¼

cup

chopped cilantro
Garnish
Chopped cilantro

Chopped peanuts

Sliced green onions

Crushed red pepper flakes
Instructions
Sauce
Combine sauce ingredients in a medium bowl and whisk to combine. (You can also make the sauce in a small beverage blender.)
Shrimp
Pour ⅓ cup sauce in a large ziploc bag. Add cleaned shrimp to the bag and toss around a bit to combine. Set the rest of the sauce aside. Allow the shrimp marinate in the sauce for 15-30 minutes.

Heat 2 tablespoons peanut oil in a wok or large skillet over medium-high. When a drop of water sizzles in the pan, drop the shrimp in a few at a time.(I do this in 2 batches.) Let the shrimp stay where they are when they hit the hot pan so that they get a little bit browned on one side and then flip them over. This will take just a couple of minutes - don't overcook them! The shrimp are done when they are pinkish all the way through.

Immediately remove the cooked shrimp from pan with a spider or slotted spoon and set aside.
Sweet Potato Noodles
In a large wok or skillet over medium-high heat, saute the sliced onion in 2 tablespoons of peanut oil until translucent; about 3 minutes.

Add garlic and sliced bell pepper and saute about 4 more minutes; until the red pepper begins to soften.

Add spiralized sweet potato noodles and cook for 2-3 minutes, gently folding up from the bottom of the pan a few times. Add ¼ cup water to the pan and cover immediately. Steam for 2 minutes. Check for doneness, and then cover again and cook 2 more minutes. Repeat until noodles are tender but not mushy. (You are not making mashed potatoes!)

Add remaining sauce, cooked shrimp, and chopped cilantro and toss gently to combine.
Garnish & Serve
Garnish with additional cilantro, chopped peanuts, chopped green onions, and crushed red pepper flakes. Serve warm (although it is delicious cold too!)
This website provides approximate nutrition information for convenience and as a courtesy only. You are solely responsible for ensuring that any nutritional information provided is accurate, complete, and useful.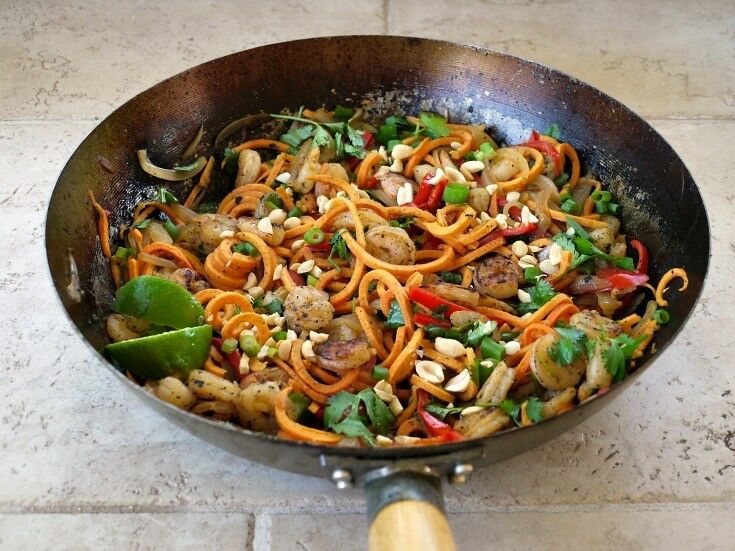 Recipe Notes
What the heck is a Spider? A "spider" is a type of skimmer used in Asian and Dutch cooking. It is a wide shallow wire-mesh basket with a long handle, used for removing hot food from a liquid or skimming foam off when making broths. The name is derived from the wire pattern, which looks like a spider's web. I use mine all the time.
Why is there no tamarind paste in this Pad Thai? Pad Thai usually relies on tamarind paste for its unique flavor profile, but I think that the combination of lime and brown sugar accomplishes this well in this dish, without requiring that you search out and buy difficult-to-find ingredients. That said, if you have tamarind paste available to you, you can definitely use it here - simply reduce the brown sugar in the  sauce by 1 tablespoon and use only ½ the lime juice. Dissolve 1 tablespoon tamarind paste in ¼ cup warm water before adding it to the sauce. Do not add additional water.
Oh my gosh, I love those KitchenAid® people! They know how to do things right!! The KitchenAid Spiralizer lets your stand mixer motor do all the work. Once you figure out how to use the attachment (I found the instructions a little sub-par) it's a breeze. Clean-up is super easy too. Waste is minimal, and what is made creates these cool little cores that can be sliced or used for garnishing.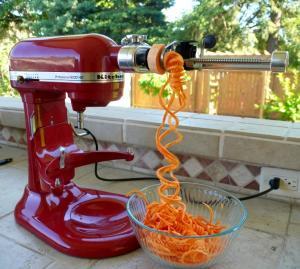 For Lefties Only: Unlike almost every counter-top spiralizer out there, this one works equally well for lefties and non-lefties alike! (See, that's me looking out for you.)
Disclosure: This post may contain affiliate links, which means we may receive a commission if you click a link and purchase something that we have recommended.While clicking these links won't cost you any extra money, they will help us keep this site up and running - and (relatively) ad-free!! Please check out our disclosure policy for more details. Thank you for your support!
Remember to Pin this post for later!