Our delicious Shrimp & Grits Pizza is naturally gluten-free; topped with rich, garlicky mix of spicy shrimp, bacon, tomatoes, onions, and peppers that uniquely honors its classic Southern roots.
For the past few weeks, I have been a little obsessed with the idea of making a polenta pizza.
First, I thought about making a Tex-Mex style pizza, but that seemed too obvious. Then an Italian-themed pizza, or maybe a roasted veggie pizza. (Actually, I'm still considering the latter.)
But none of those ideas were making me all that excited. So I changed tacks and started focusing on the polenta as an ingredient and what it goes best with. Which of course led me to Shrimp & Grits, which is one of my favorite things in life, food-wise.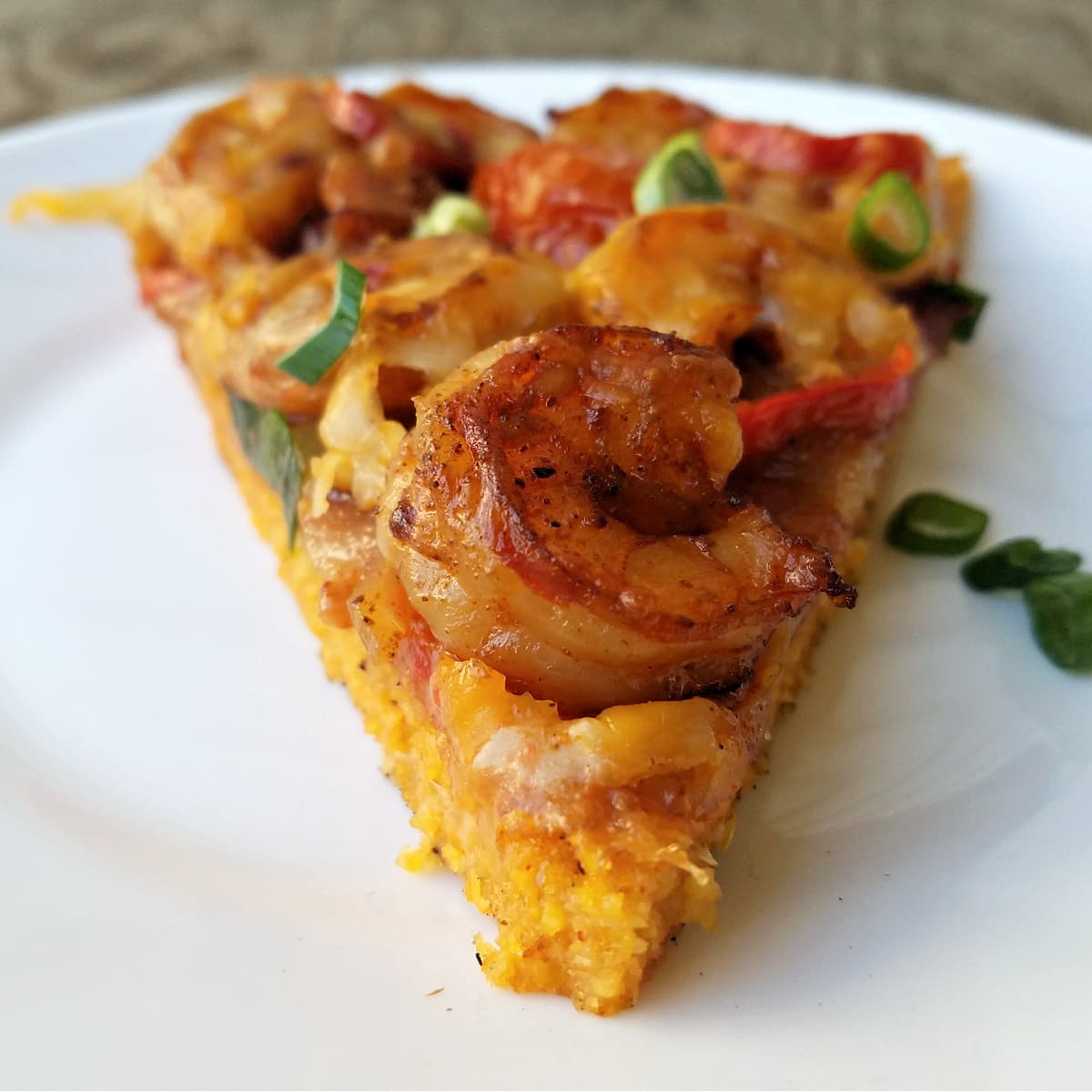 This post may contain affiliate links, but don't worry - they won't bite.
Shrimp and grits is a Southern classic. A dish once served almost exclusively below the Mason-Dixon line, shrimp and grits (cheesy or otherwise) has become wildly popular across the US in recent years, and now appears on menus from New York to Oregon.
This deconstructed Shrimp & Grits Pizza honors the flavors and essence of this archetype of Southern cooking, while presenting something deliciously unique.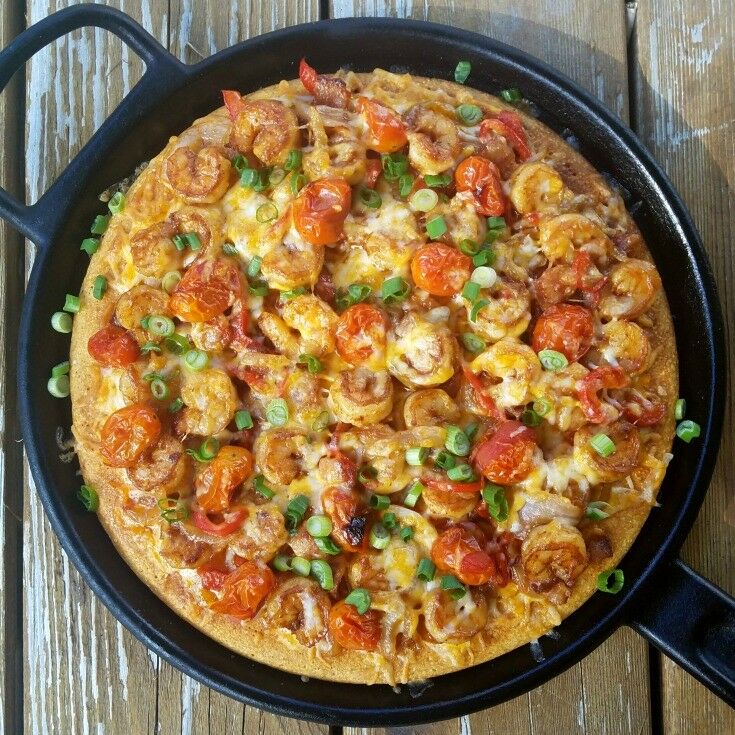 The biggest hurdle to this recipe was creating a crust that could stand up to hearty toppings. I didn't want to make a pizza you have to eat with a fork, which is essentially what you get if you use traditional polenta. In order to make a crust that can be sliced, held in your hand, and eaten like a proper pizza, I had to include a few extra ingredients.
In the end, this is technically not so much a "polenta" crust as it is a Polenta-Meets-a-Giant-Johnny-Cake, but that is simply too long to put in a recipe title, so I'm calling it Polenta and calling it good.
You are welcome to call it whatever you want. (There is a whole post devoted to my Spicy Polenta Pizza Crust recipe, if you'd like more tips on making the crust.) Bonus points for gluten free pizza crust!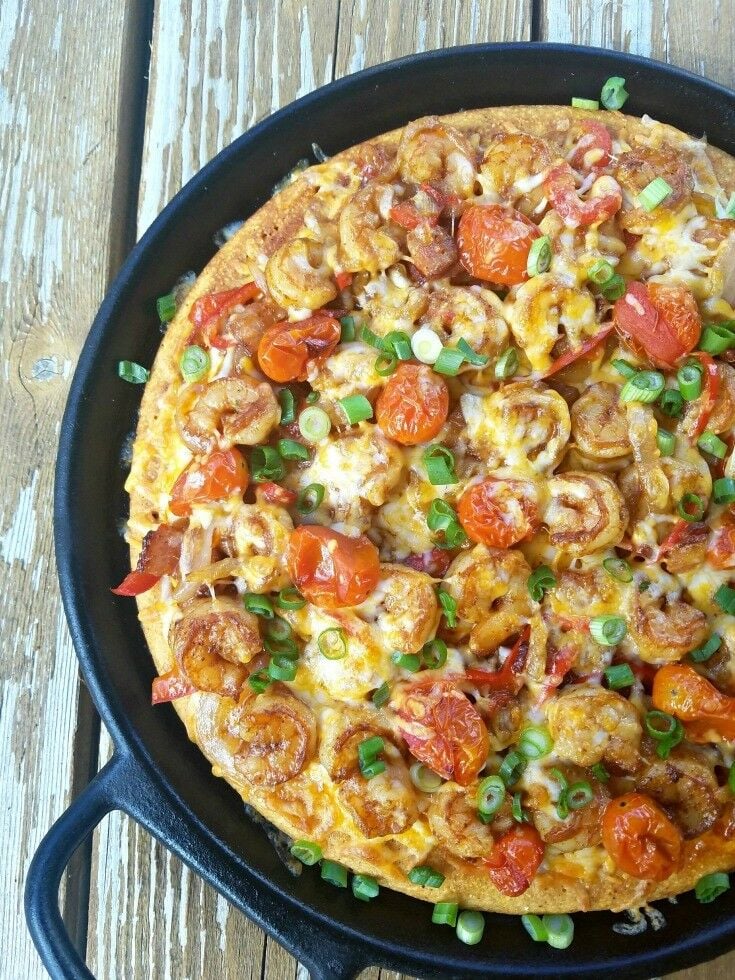 Time to Spice It Up!
The Spice Mix we use for this recipe is a variation on the Skillet Dry Rub originally created for Spicy Pan-fried Rockfish; however, I've used it on everything from roasted vegetables to barbecued steak, and it is amazing every single time. It's especially great on shrimp, and really makes this Shrimp & Grits Pizza pop!
For the Spice Mix, you can use any chili powder you normally would use. We typically use a combination of ground pasilla, ground chipotle, and ground New Mexico Chili peppers in roughly equal parts (i.e., a little less chipotle, and a little more pasilla and NMC). All the ground peppers can be found at your local merchado, or in your grocery Hispanic foods section.
Shrimp & Grits Pizza is one of those recipes that looks long and involved, but in reality, is very easy to execute. You can make it in any large, oven-safe skillet, but cast iron will give your crust a nice crispy texture.
Mr B and I are both huge shrimp fans! Here's a few more of our favorite shrimp recipes:
Shrimp & Grits Pizza
Our delicious Shrimp & Grits Pizza is naturally gluten-free; topped with rich, garlicky mix of spicy shrimp, bacon, tomatoes, onions, and peppers that uniquely honors its classic Southern roots.
Print Recipe
Pin Recipe
Ingredients
Pizza Toppings
1

lb

medium shrimp

deveined and shelled

½

Spicy Mix

2

cloves

garlic

minced

2

tablespoons

olive oil

divided

½

pint

cherry or grape tomatoes

2-3

slices

thick bacon

cut into ½" pieces

½

large

sweet onion

sliced into thin strips, root to tip

½

red bell pepper

cut into thin strips
Polenta Crust
1

cup

medium-grind cornmeal

I use Bob's Red Mill Medium Grind Organic Cornmeal

½

cup

flour

I use Bob's Red Mill GF Flour

½

Spice Mix

½

teaspoon

baking powder

1

cup

milk

2

tablespoons

butter

1

large

egg

lightly beaten

1

tablespoon

olive oil
Final Steps
1 ½

cups

shredded cheddar cheese

divided

2-3

green onions

sliced
Instructions
Spice Mix
In a small bowl, mix the Spice Mix ingredients until they are evenly distributed.

Set aside.
Prepare Pizza Toppings
Preheat oven to 400°F [204°C]. 

Marinate Shrimp: In medium bowl, combine 1 tablespoon olive oil, half of Spice Mix, brown sugar, and minced garlic to make a thick paste. Add shrimp and toss to coat thoroughly. Allow to marinate while you roast the tomatoes. 

Reserve remaining spice mix for making the crust.

Roast Tomatoes: While shrimp is marinating, roast the cherry tomatoes. To do this, toss the tomatoes lightly in a little olive oil and spread on a heavy sheet pan. Sprinkle generously with kosher salt. Roast for 15 to 20 minutes, until the tomatoes are soft. Remove from oven and set aside.

Prepare Shrimp & Veggies: In a cast iron skillet or heavy pan over medium heat, fry bacon pieces until crispy. Using a slotted spoon, carefully remove bacon from skillet and set aside.

Add chopped onion and red bell pepper to hot skillet and sauté in bacon drippings until soft and translucent.

Push all the vegetables to one side of the pan. Stir in shrimp and and cook 3-4 minutes, or until just barely pink. (DO NOT overcook!)

Set shrimp mixture aside while you make pizza crust. If you are using the same skillet for the pizza, just put the shrimp mixture in a bowl and wipe your cast iron skillet clean before beginning the next step.
Polenta Pizza Crust
IMPORTANT: Visit our Polenta Pizza Crust recipe for additional directions for making the pizza crust. 

Preheat oven to 400°F.

In a large bowl, whisk together cornmeal, flour, salt, remaining half of Spice Mix, and baking powder.

In a medium saucepan, heat milk and butter over medium heat until tiny bubbles begin to appear around the edge of the pan. Remove from stove and stir until butter is completely melted.

Add the hot milk mixture to the dry ingredients and stir to blend. Whisk in the beaten egg and thoroughly combine. Let set briefly while you prepare skillet.

Heat a 10-inch cast iron skillet or round griddle over medium heat until a drop of water sizzles on the surface. Add a tablespoon of olive oil to the skillet and swirl oil to thoroughly cover pan. Give the cornmeal mixture one more good whisking, then carefully pour prepared cornmeal batter into hot griddle and spread evenly with spatula.

Bake in preheated oven for 8-9 minutes, or until the top is set and the bottom is beginning to brown.
Final Steps
Remove prepared crust from oven, and switch oven to broil.

Optional: If you wish, you can flip the crust over at this time. I do this because I like the browned part facing up, plus it gives the other side a chance to brown a bit too.

Sprinkle prepared pizza crust with a generous cup of shredded cheddar cheese, then place under broiler for 1-2 minutes to melt the cheese.

Remove from oven and distribute shrimp mixture and roasted tomatoes evenly across pizza crust.

Sprinkle ½ cup shredded cheddar over top. Place under broiler for 1-2 minutes - just long enough to melt the cheese on top. Remove from oven.


Garnish with sliced green onions. Cut into slices and serve warm.
Notes
This recipe makes one 10-inch pizza. If your skillet is larger or smaller, adjust amounts accordingly.
---
You can substitute 3 tablespoons of
Spicy Skillet Dry Rub
for the Spice Mix.
Nutrition
Serving:
1
slice
|
Calories:
402
kcal
|
Carbohydrates:
27
g
|
Protein:
23
g
|
Fat:
22
g
|
Saturated Fat:
9
g
|
Cholesterol:
202
mg
|
Sodium:
711
mg
|
Potassium:
317
mg
|
Fiber:
3
g
|
Sugar:
4
g
|
Vitamin A:
813
IU
|
Vitamin C:
20
mg
|
Calcium:
308
mg
|
Iron:
3
mg
This website provides approximate nutrition information for convenience and as a courtesy only. You are solely responsible for ensuring that any nutritional information provided is accurate, complete, and useful.
It's no secret that I'm a huge fan of cast iron cooking, and my 10.5-inch griddle is one of the pieces I use nearly every day. If cast iron is something you're thinking about investing in, I suggest starting with a 10-inch chef's skillet and following it up with a 10.5-inch round griddle. These are the two cast iron items I use most often, followed closely by my beautiful cast iron pie plate!
Do you love Southern cooking? Be sure to check out some of the best recipes around in our Southern BBQ and Southern Cooking recipe roundups!
(And if you're looking for more unique pizza ideas, try our Old-School Cafeteria-style Pizza!)
---
THANK YOU so much for being a faithful reader and supporter
of The Good Hearted Woman. • Be sure to PIN this post!
Disclosure: This post may contain affiliate links, including Amazon affiliate links, which means we may receive a commission if you click a link and purchase something that we have recommended. While clicking these links won't cost you any extra money, they do help keep this site up and running. As always, all opinions and images are my own.Please check out our disclosure policy for more details. Thank you for your support!