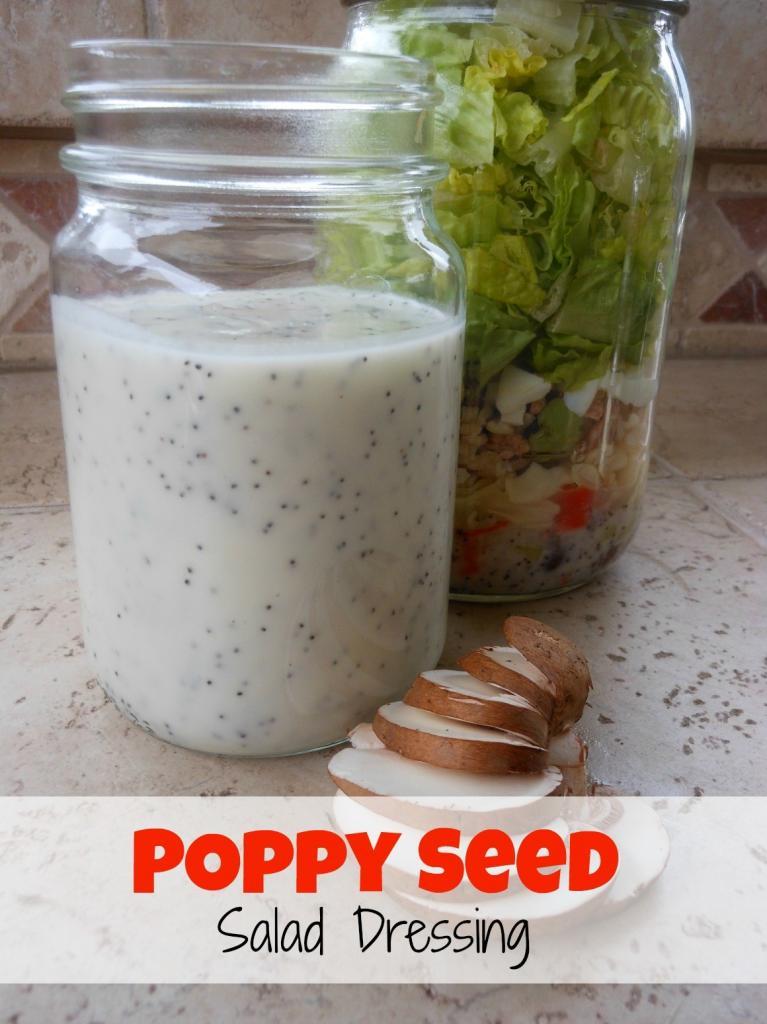 First off, I had a really good first week back at Weight Watchers – thanks for asking!  As part of that lifestyle transition, I'm slowly rekindling my love affair with salads.  I find that if you get out of the habit of taking the time to make a really good salad, you forget just how fabulous they can be.  Since just about every great salad I've ever had ends with a great dressing, I thought I'd share one of my favorite salad dressings with you today. But first…
[Rant Warning!]
I almost bought some poppy seed salad dressing this week. I love it, and I was already at the store and feeling lazy, so I thought, why not? Well, I'll tell you why not… Have you read the labels lately!? Too much sugar, too much fat, and definitely too much weird stuff. Oh… No… you missed that on the label?  I don't blame you; you're probably your like me – stuck back there on the nutritional table reading up on the calorie and fat counts.  Whohoo!  Or maybe you're just experiencing sticker shock: the average bottle of poppy seed salad dressing at my local Winco costs between three and four dollars.  For a 12 ounces.  A cup and a half.  And the good stuff – that's even more!  This bottle of Brianna's Poppy Seed Dressing (admittedly delicious) sells for a whopping $7.70 a bottle on Amazon!!!!  That is almost 65 cents an ounce: the same price as mid-range, high quality cheese.  O.M.G.  (And I can tell you, if I have to choose between a bottle of salad dressing and a 12 ounces of good cheese, the cheese will win, every time!!)  In just five minutes, I can make a cup and a half of the same salad dressing at home for about fifty cents.  FIFTY Cents! That's just over 4 cents an ounce.  Crazy.  I am never buying salad dressing again.  (OK, you're right – "Never" is a big word… I tell my kids that all the time. But I am sure gonna do my darnedest not to.)
[End of Rant.]
Here's my favorite poppy seed dressing recipe – low in fat, high in flavor, with just the right balance of tart and sweet.  Did I mention it takes all of five minutes to make?

Poppy Seed Salad Dressing
Recipe type:
Salad Dressing
Ingredients
½ cup white vinegar
½ cup plain low-fat yogurt (I use Nancy's Plain Nonfat)
½ cup Light Miracle Whip (I don't like the Fat Free - it tastes weird.)
¼ cup white sugar (If I'm making this to use on fruit, I use ⅓ cup of sugar)
2 Tbls onion, coarsely chopped (Mince if you are mixing this by hand.)
1 tsp mustard
1 tsp Kosher salt
1 Tbls poppy seeds
Instructions
Combine all ingredients except poppy seeds in a blender and blend until smooth. Add poppy seeds and pulse to combine.
Refrigerate at least 30 minutes to allow the dressing to thicken.
Nutrition Information
Serving size:
2 Tablespoons
Total Calories:
53
Total Fat (g):
2.5
Saturated fat:
.4
Carbohydrates (g):
7.4
Sugar (g):
.9
Sodium (mg):
256
Fiber (g):
.2
Protein (g):
.7
Cholesterol (mg):
0