Over the course of my life, I must have thrown a thousand bread heels away. When I was a kid, they were just so much more crust, which I was not big on at all. Then, as an adult, the heels on "store bread" always seemed to get pushed off, by both me and my kids because, let's face it – they are usually thin and dry and not all that appealing. (Wow. Talk about your First World problems.) Sure, I'll use them for French toast, or the last sandwich face in a pinch; nevertheless, they tend to be the last piece left and more often than not, they get tossed. I know - terrible habit, but it's the truth.
Homemade bread heels are another story. Because, first of all, I made that bread, dang-it! With my own two hands!! Plus, everyone in the house seems to like the homemade bread heels, especially if they can snag one while the loaf is still warm. But even with that kind of demand, I usually still have a little bag full of bread heels by the end of the week – particularly when I am on a bread-making binge – and I just don't have the heart to throw them away. Last week, I found myself with a four little heels and a couple of stray pieces of stale-ish bread – not nearly enough to make a whole pan of bread pudding, but just the right amount for making our little family Bread Pudding Muffins for breakfast. They are so easy to make, and take less than 20 minutes start to finish.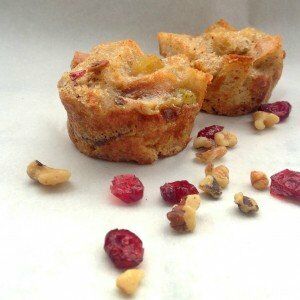 Bread Pudding Muffins
Print Recipe
Pin Recipe
Ingredients
About 2 cups of stale bread ½ -¾-inch cubes

I had three heels and two extra old pieces

A generous handful of a combination of raisins

craisins and/or chopped nuts

2

eggs

¾-1

cups

of milk or almond milk

3-4

tablespoons

of brown sugar

depending on how sweet you like things

1

teaspoon

ground cinnamon

and maybe a dash of ginger or nutmeg if you like it.
Instructions
Preheat the oven to 350°. Spray a standard muffin tin with cooking spray. You probably won't need all the cups – when I made this the other day, I only used seven of them.

In a medium bowl, combine bread cubes and raisins/nuts and set aside.

In a smallish bowl, beat eggs with a fork and then stir in milk. Add spices and brown sugar. Pour egg mixture over dry bread mix and stir to combine. Let set for a minute so the bread can absorb the egg mixture. (If it seems too dry, add a little more milk.)

Spoon mixture into muffin cups and bake in preheated oven for about 15 minutes, until set.

Serve warm or cold. Either way, everyone will love you.
Notes
This recipe is extremely flexible – just use what you have on hand. Makes a great breakfast or after-school snack.
Nutrition
This website provides approximate nutrition information for convenience and as a courtesy only. You are solely responsible for ensuring that any nutritional information provided is accurate, complete, and useful.