Want to make someone feel really special? Want to feel great yourself? Give a loaf of homemade sourdough bread!!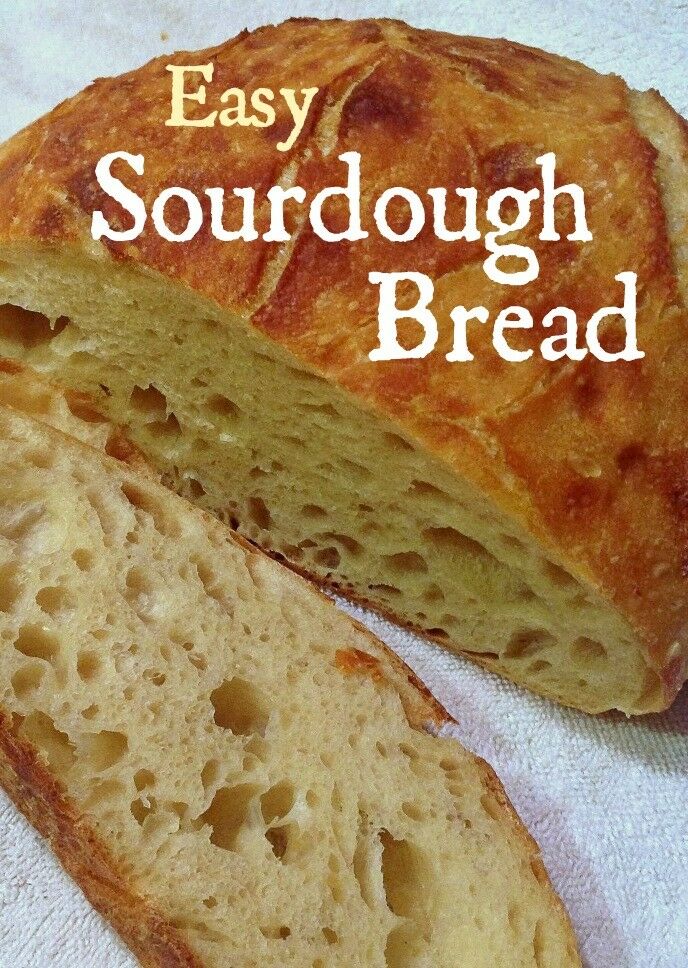 This post may contain affiliate links, but don't worry – they don't bite.
Last month, I embarked on a new adventure – I started the of growing a sourdough starter and learning how to use it. Last week, after lots of research and careful thought, I made my very first loaf of sourdough bread.
I'm not great at following much of anything to the letter, so I didn't use one particular recipe – instead I studied a few that were recommended for beginners and put something together that made sense to me. And it turned out wonderfully!! My little loaf of bread was gone so fast that I barely had time to take a picture!!
Sourdough bread is more than just delicious and pretty though.
One study using sourdough bread made with specific strains of bacteria found that it could reduce gluten intolerance in people sensitive to wheat gluten. While that doesn't mean that people diagnosed with gluten intolerance can eat sourdough bread with impunity, it does suggest that the bread is more easily digested than other breads made with wheat flour. (Reader's Digest)
In fact, that was the idea that compelled me to start investigating Sourdough.
As I mentioned in an earlier post, my BFF Jenny asked me to give sourdough a go in the hopes that it will benefit her daughter, Kaylen, a beautiful young woman with some serious digestive issues. Gluten is not Kaylen's friend. But she misses bread – real bread that does not "taste like sand" (Kaylen's words) – a lot.
I've known Kaylen since she was six and love her like my own daughter – of course I will bake her bread. Last night, I dropped off the first loaf to her and here's what I found on Facebook when I got home:
Made me cry. You just don't get a better feeling than that, you know?
Here is my recipe for Easy Sourdough Bread, including links to those recipes I used for guidance.
Basic Sourdough Bread
Super-basic. No bells, no whistles - just bread.
Print Recipe
Pin Recipe
Ingredients
3/4

cup

sourdough starter

unfed & room temperature

1 1/4

cups

lukewarm water

you may need more or less, depending on your starter's hydration. Mine is 100% hydration starter.

3

cups

unbleached all-purpose flour

1

tablespoon

maple syrup

or honey

1 1/2

teaspoons

kosher salt
Instructions
In a stand-mixer, mix ingredients with bread hook until just combined. Let rest for 10-20 minutes. While it is resting, lightly coat a medium-sized bowl with olive oil. The bowl needs to be a big enough to allow the dough to double in size.

Knead dough with bread hook 5-10 minutes.

Remove from mixer, shape into ball and put into the oiled bowl, smooth-side down, and then flip it smooth-side up so that all sides of the dough are covered with oil. Cover bowl with plastic wrap.

Let rise at least 6 hours (or until double in size) folding twice during that time. (This long rise is what helps make it tolerable for folks with gluten sensitivity.)

Form bread into a boule (a round loaf) and place on a square of parchment paper. With a wet serrated knife, cut a couple of slashes on the top. (So far, I've always forgotten to do this and it wasn't the end of the world.) Cover loosely with a damp towel and allow to rise for 1 1/2- 2 hours.

In the last 30 or 40 minutes of the last rise, move your oven rack to the bottom third of oven. Put a

cast iron Dutch oven

with lid in the cold oven and preheat to 450º for 30 minutes.

Remove the lid from the Dutch oven and put the boule in by picking up the corners of the parchment and gently setting it in. Be very careful - the Dutch oven and lid are very hot. (I burnt myself the first time!)

Put the lid on the Dutch oven and bake for 12-13 minutes. Uncover and bake another 12-13 minutes.

Remove and place on a wire rack to cool for 30 minutes. DO NOT slice the bread until it has set for 30 minutes - this is part of the baking process. Really.
Notes
If you don't have a cast iron Dutch oven, you can use a baking stone. If you use a baking stone, cover the boulé with a big roast pan lid or something like that. The idea is to create some steam for the first part of the baking process- this is what gives it that awesome chewy crust.
References for this recipe include:
I've learned so much already about baking with sourdough; enough to know that what I do know barely scratches the surface, so if you are a sourdough baker and see something I've written that could use improvement, please leave a comment. Like most of us, I'm here to learn.
BREAD BAKING FREEBIE: Bread Making Basics is a free PDF guide available exclusively on Craftsy, featuring 24 pages of tips, tricks & recipes from incredible bakers and cake decorators. Download it instantly for free now (you can print it easily if you'd like) and enjoy it forever in the comfort of your own home or even on the go!

Disclosure: This post may contain affiliate links, which means we may receive a commission if you click a link and purchase something that we have recommended. While clicking these links won't cost you any extra money, they will help us keep this site up and running! Please check out our disclosure policy for more details. Thank you for your support!