This Easy Sourdough Bread recipe is perfect for beginning bakers and old sourdoughs alike! (Recipe makes a long-rise dough, and requires only sourdough starter: no added yeast.)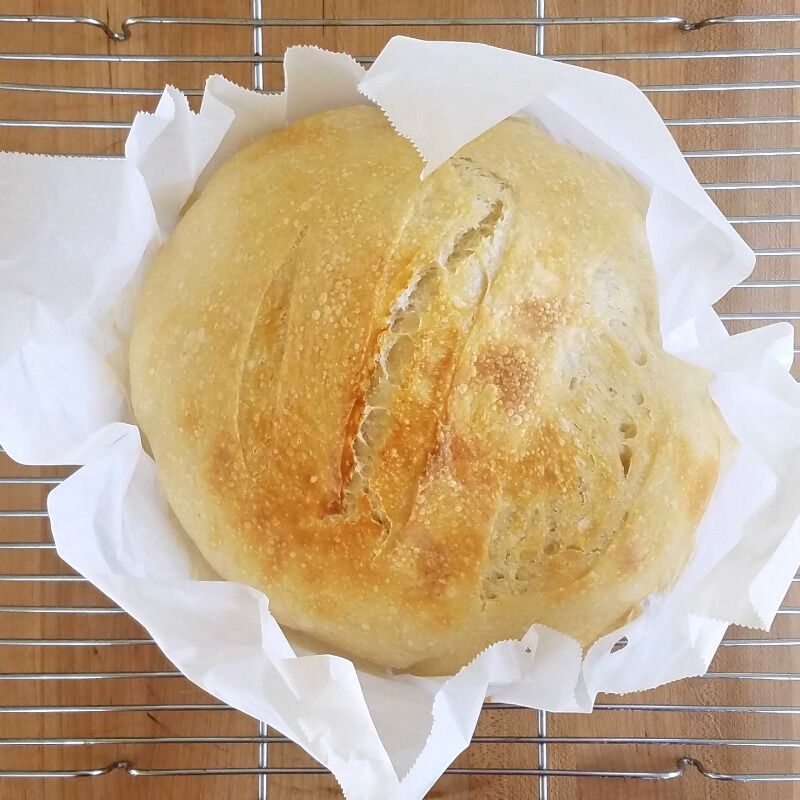 This post may contain affiliate links, but don't worry - they won't bite.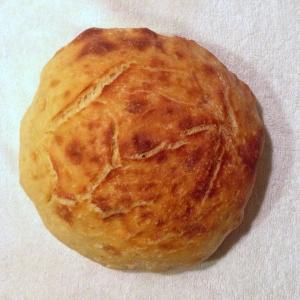 Some years ago, when I first embarked my own sourdough baking journey, I took a deep-dive into the science of sourdough. I studied as much as I could, and got a feel for the process by testing out all the best beginner bread recipes I could find.
From that experience, plus advice from experts and lots of trial and error, I created this easy, beginner sourdough bread recipe - one that can be easily repeated over and over again with consistent, delicious results.
If you fall in love with sourdough baking, this may not always be your forever-sourdough recipe: you'll probably find bigger, better, crustier loaves to bake. Artisan loaves. Breads with Attitude. But this recipe is a wonderful, forgiving beginner recipe with a high rate of success - Everything you want in your first loaf!
You Always Remember Your First Loaf
Since this post was first published in 2013, I've received hundreds of pictures and messages from excited new sourdough bakers who have made my bread recipe. I am so proud of and honored by everyone who has shared pictures of their "first loaf" with me over the years!
Happy baking, and I hope you love this bread as much as we do!
P.S. If you make a loaf of Kaylen's Bread, be sure to tag it with #thegoodheartedwoman #GHWfirstloaf #KaylensBread

POST UPDATE: March 30, 2020

[Originally published September 17, 2013]
This post has been so popular over the years that, with the recently renewed interest in sourdough baking (in particular sour dough that does not require any additional yeast), I decided it was long overdue for a complete overhaul.
For longtime readers: The recipe is basically still the same, but I'm constantly fine-tuning the process. I've added some new information, as well as images for each step.

Your Go-To Basic Sourdough Bread Recipe
Compared with many sourdough bakers, my skill level barely scratches the surface. That's probably one of the reasons I keep going back to this recipe over and over again.
This Basic Sourdough Bread recipe is easy and straightforward, and it consistently bears excellent results (even when I forget it for an extra hour or five). Moreover, the bite is amazing: chewy and tender, with a mild, pleasant sourdough tanginess. In a nutshell, it's one of the best all-round breads I've ever made.

What is True Sourdough, and Why Do I Care?
This bread is a true sourdough bread, which means that it does not rely on the addition of any extra yeast. It depends solely upon the natural yeast in the Starter for leavening.
True sourdough bread is significantly slower to rise than dough that relies on added traditional yeast to do the heavy lifting. For example, from the time you stir first the ingredients through the final post-baking rest time, this Easy Sourdough Bread takes a minimum of nine hours to make.
Don't stress about the time element, though. Sourdough is both easy to work with and very forgiving. Once you get the rhythm and flow of the sourdough baking process, you'll be able to throw a loaf of this bread together with only about 20 minutes of actual hands-on time. The rest of the time, you'll just be waiting around for it to do its thing.
About the Rising Times in this Recipe
When you stir up a batch of sourdough bread dough, your dough goes through a number of phases on its way to becoming bread; most notably, the bulk fermentation (first) and proofing (second) rise times.
BULK FERMENTATION: This bread recipe requires a minimum 6-hour bulk fermentation (1st rise); however, I personally recommend allowing it to rise at least 8 hours before moving on to proofing (2nd rise), when you form your loaf or boule. A longer rise will yield a chewier crust, and intensify the sourdough flavor in your bread.
PROOFING: Proofing (2nd rise) can take anywhere from 2-3 hours on the countertop to 12 hours overnight in the refrigerator.
My personal preference is to proof overnight in the fridge and bake my bread first thing in the morning. This gives me a house that smells like fresh bread all day, and I don't have to heat the kitchen up during the day.
How (and Why) to Fold Sourdough Bread Dough (Instead of Punching It)
This Sourdough Bread recipe calls for you to "fold the dough" a couple of times during the bulk fermentation (first rise), and I thought it might be helpful to some people if I explained what that means. (If you are a seasoned dough-folder, you can skip this section.) The folding helps to encourage those long gluten strands, and create those lovely sourdough bubbles.
Many, if not most, bread recipes call for you to punch down the dough after rising. Punching down the dough does a number of things. Most importantly, it removes some of the gas bubbles from the dough and redistributes the yeast cells, sugars, and moisture so that they can ferment and rise again during the proofing stage.
Folding yields similar results: it too expels the carbon dioxide produced during fermentation, strengthens the dough by stretching the gluten strands, and redistributes cells, sugars, moisture and heat spots in the dough to even out the rising.
Punching dough down will result in a fine crumb, which is desirable when making sandwich breads or pastries. Folding, on the other hand, will give you a loftier rise and a looser crumb - resulting in all those lovely little air pockets in our sourdough and artisan breads that we love so much.
Folding dough is a relatively easy process:
Sometimes, because this dough is so sticky, it works easier "fold-and-stretch" your dough right in the bowl, instead of folding it on the countertop. If that works better for you, go for it.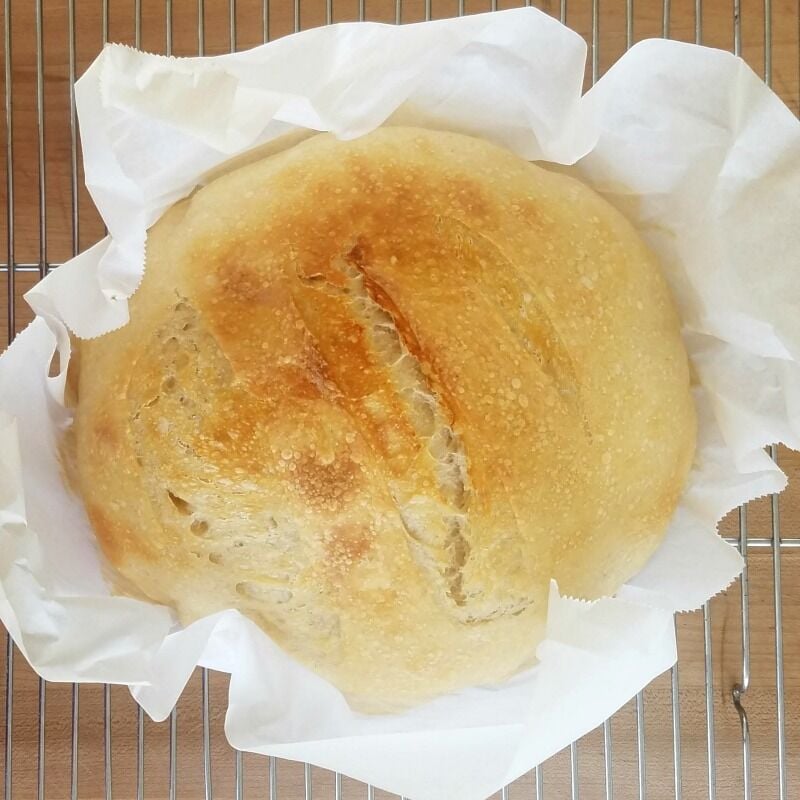 Below you will find my recipe for Basic Sourdough Bread. The links I used for guidance can be found at the bottom of the post. You may find them helpful as well.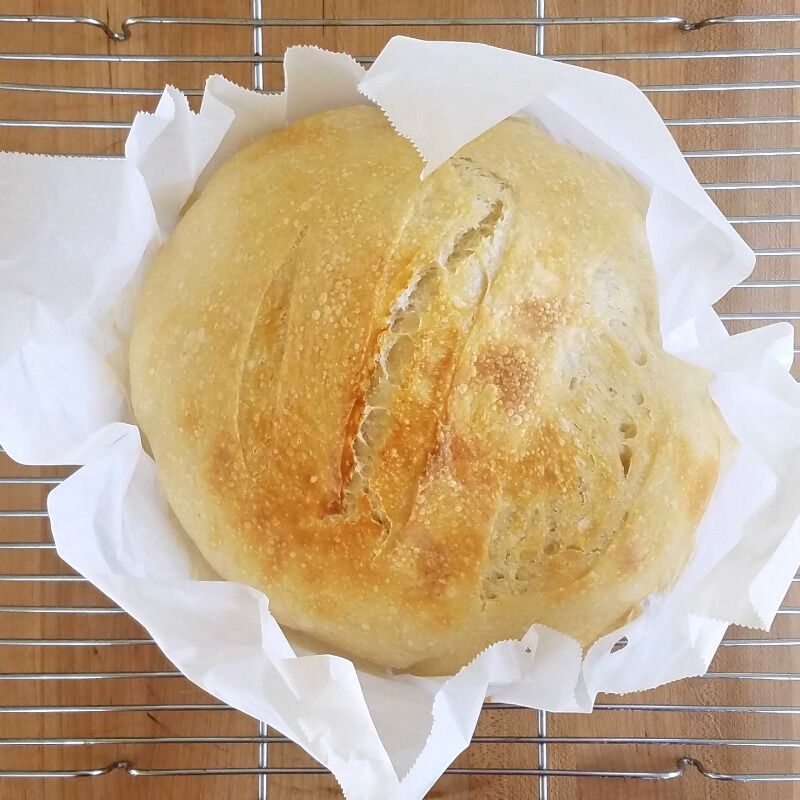 Basic Sourdough Bread
Super-basic. No bells, no whistles - just bread.
Print Recipe
Pin Recipe
Ingredients
Additional Ingredients
6

tablespoons

extra-light olive oil

or other neutral cooking oil, for oiling bowl
Instructions
Feed your starter 12-24 hours before beginning.
AUTOLYSE (Mix Dough)
In a large stand-mixer bowl, mix together water, flour, syrup or honey, starter, and salt thoroughly with wooden spoon.

Allow to rest for at least 15 minutes, and up to an hour. Measuring the Starter: The vigor of your Starter will affect its density. Stir Starter down before measuring, especially if use a measuring cup. (I highly recommend using a kitchen scale to get more consistent results.)

While dough is resting, lightly coat a medium-sized bowl with olive oil. The bowl needs to be a big enough to allow the dough to double in size.

I use about two tablespoons of oil to coat the bowl the first time.
KNEAD
Put the mixer bowl on the stand-mixer. Knead dough with bread hook for 10 minutes.

NOTE: This normally is a very sticky, soft dough. However, depending on the actual hydration of your starter, you may find that you need to add a little more flour to get things started.

I often end up adding an extra ½ cup during the kneading step. Try not to add more than ½ cup of flour, though. You can work in a little more flour during the folding process if you need to.
BULK FERMENTATION (1st Rise)
Remove dough from mixer, place on a well floured board, knead by hand a couple of times, and shape into ball.

After you form the ball, it should kind of slowly settle onto the board, like an old man into a lounge chair. It won't hold its shape for a long time, but it also shouldn't just melt into a puddle. You need to find a happy medium. 

Put dough ball into the oiled bowl, smooth-side down first. Then flip it smooth-side up so that all sides of the dough are covered with oil.

Cover bowl with plastic wrap and set in a warm place.

Allow dough rise at least 6 hours, folding every 30 minutes for the first 2 to 2½ hours.

To fold, turn dough out onto a floured surface and pat down to remove most of the air bubbles. Fold as illustrated and return to bowl, smooth side up.

Cover and proceed with the rising process.

Re-oil the bowl with a tablespoon or two of oil the first two times you fold the dough.

The folding at the beginning of this step helps to align those long gluten strands, and create those lovely sourdough bubbles. You should notice a discernible change in the texture of your dough after folding the first couple of hours. By the end of this step, your dough should feel more "stretchy" and less "sticky" than when you started.Sometimes, because this dough is so sticky, it works easier to "fold-and-stretch" your dough right in the bowl, instead of folding it on the countertop. If that works better for you, go for it.
PROOF (2nd Rise)
After the dough has risen for at least 6 hours (folding every 30 minutes for the first 2-2½ hours), form bread dough into a boule* and place it on a square of parchment paper.

Place the dough, parchment and all, back into the bowl.

*A boule is a round bread loaf.

Cover loosely with a damp towel and allow to rise for 1½- 3 hours, or until it has approximately doubled.

If it is late in the day and your bread needs more time to rise, you can slow the process by allowing it to rise in the refrigerator overnight, and then baking it first thing in the morning.

In the last 30 or 40 minutes of the last rise, move your oven rack to the bottom third of oven.

Put an empty cast iron Dutch oven with lid in the cold oven.

Preheat to 500°F [260°C] for 40 minutes.
SLASH
Remove the hot Dutch oven from the oven. Remove the lid from the Dutch oven and put the boule in by picking up the corners of the parchment and gently setting it in.

Be very careful - the Dutch oven and lid are very hot!

With a wet, serrated knife, cut a couple of slashes on the top of the boule. (I often forget to do this step, and everything still turns out just fine.)
BAKE
Put the lid back on the Dutch oven. Put the Dutch oven back into the oven.

Immediately reduce oven temperature to 450° [232°C], and bake for 13-14 minutes with the lid ON.

[Image: After first 13-minute baking time]

If you don't have a cast iron Dutch oven, you can use a baking stone. If you use a baking stone, cover the boule with a big roaster lid or something like that. The idea is to create some steam for the first part of the baking process- this is what gives it that awesome chewy crust.

Remove the lid and bake for another 13-14 minutes with the lid OFF.

Using the parchment corners, carefully remove bread from the Dutch oven and place on a wire rack to cool for 30 minutes.

DO NOT slice the bread until it has set for 30 minutes - this resting time is part of the baking process.
Notes
Weigh your ingredients: doing so will yield more uniform results.
---
UNFED Starter [as called for in this recipe] is Starter that is due to be fed right before you begin making the bread. It should have been fed in the last 12-24 hours. Unfed Starter is mature, active, and hungry for food.
For comparison, FED Starter is Sourdough Starter that has been fed very recently compared to when you begin making the bread recipe. It isn't as hungry. 
For more information, see Stages of Sourdough in post.
Nutrition
Serving:
1
slice
|
Calories:
130
kcal
|
Carbohydrates:
19
g
|
Protein:
2
g
|
Fat:
5
g
|
Saturated Fat:
1
g
|
Polyunsaturated Fat:
1
g
|
Monounsaturated Fat:
1
g
|
Trans Fat:
1
g
|
Cholesterol:
1
mg
|
Sodium:
195
mg
|
Potassium:
28
mg
|
Fiber:
1
g
|
Sugar:
1
g
|
Vitamin A:
1
IU
|
Vitamin C:
1
mg
|
Calcium:
4
mg
|
Iron:
2
mg
This website provides approximate nutrition information for convenience and as a courtesy only. You are solely responsible for ensuring that any nutritional information provided is accurate, complete, and useful.
Like each baker, every loaf has a personality all its own. The loaf of bread pictured here below was made using the exact same techniques and recipe as the one above the recipe, with just one small variation. Instead of proofing on parchment and going directly from there to the Dutch oven, it was proofed in a bowl lined with a floured tea towel, and the turned out onto parchment just before baking.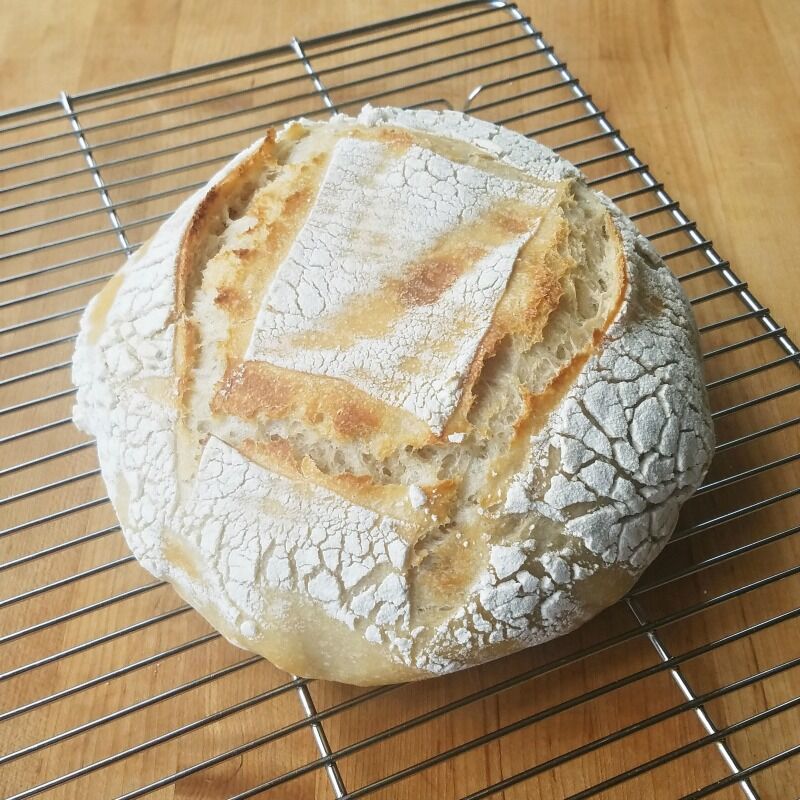 Who is Kaylen, and Why is this Her Bread?
The original spark that set off my interest in sourdough baking was ignited by my BFF, Jenny. Jenny has an amazing daughter, Kaylen, who has some medically serious digestive issues. Gluten is not at all Kaylen's friend, but she missed real bread "that does not taste like sand" [Kaylen's words]. Jenny asked me about sourdough bread after reading that it might be able to help those who are gluten-intolerant.
One study using sourdough bread made with specific strains of bacteria found that it could reduce gluten intolerance in people sensitive to wheat gluten. While that doesn't mean that people diagnosed with gluten intolerance can eat sourdough bread with impunity, it does suggest that the bread is more easily digested than other breads made with wheat flour. (Reader's Digest)
Remember that long rise I mentioned earlier, when I explained what true sourdough is? Well, it is during that long rise that the wild yeast and bacteria in a sourdough starter break down some of the carbohydrates and proteins in the flour, which (in theory) makes true sourdough bread more tolerable for folks with gluten sensitivity than bread leavened with traditional yeast.
When Jenny asked me to bake some sourdough bread for Kaylen, I was all in. (I've known Kaylen since she was six and love her like my own daughter: of course I'm going to bake her bread.) After developing a new Sourdough Starter and working out the kinks in my recipe, I carefully made Kaylen a loaf, using a minimum 14-hour rise and not adding any additional flour (during folding) after Hour 4.
After I dropped off her first loaf of bread, here's what I found on Facebook when I got home: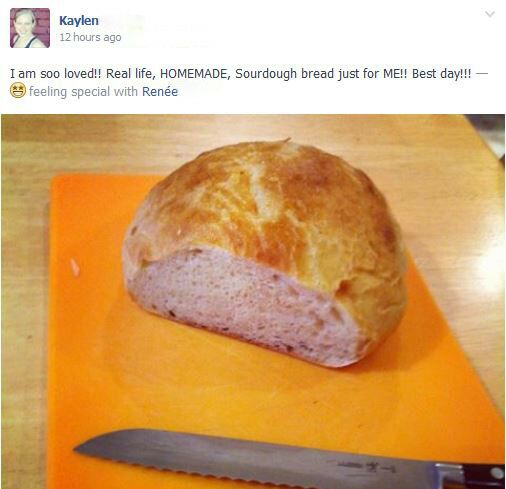 Made me cry. You just don't get a better feeling than that, you know?

Stages of a Healthy Sourdough Starter
Use Unfed Starter for this recipe.
Fed Starter – Fed Starter is active, healthy starter that has been fed within about 2 hours. By hour 2, it will be producing little bubbles on the surface.
Active Starter – Starter is Active about 5 hours after feeding. By hour 5, you should be able to watch large bubbles actively rising through the Starter and making their way to surface.
Ripe Starter – Starter is considered Ripe about 8 hours after feeding. The volume has doubled, and the top is just beginning to show signs of sagging under its own weight.
Unfed Starter – Unfed Starter is healthy, vigorous Starter that has not been fed for 12 hours or more. By hour 12, it collapsed after Ripening, and is ready to be fed again or put in the fridge until next time. (Note that this is NOT neglected Starter that hasn't been fed in days.)
Discard – Sourdough discard is the portion of your sourdough starter that you get rid of when you do a feeding. It should be healthy and vigorous, with some small bubbling activity.
If you are curious about why this recipe uses UNFED Starter instead of FED Starter, you might find this conversation on The Fresh Loaf helpful.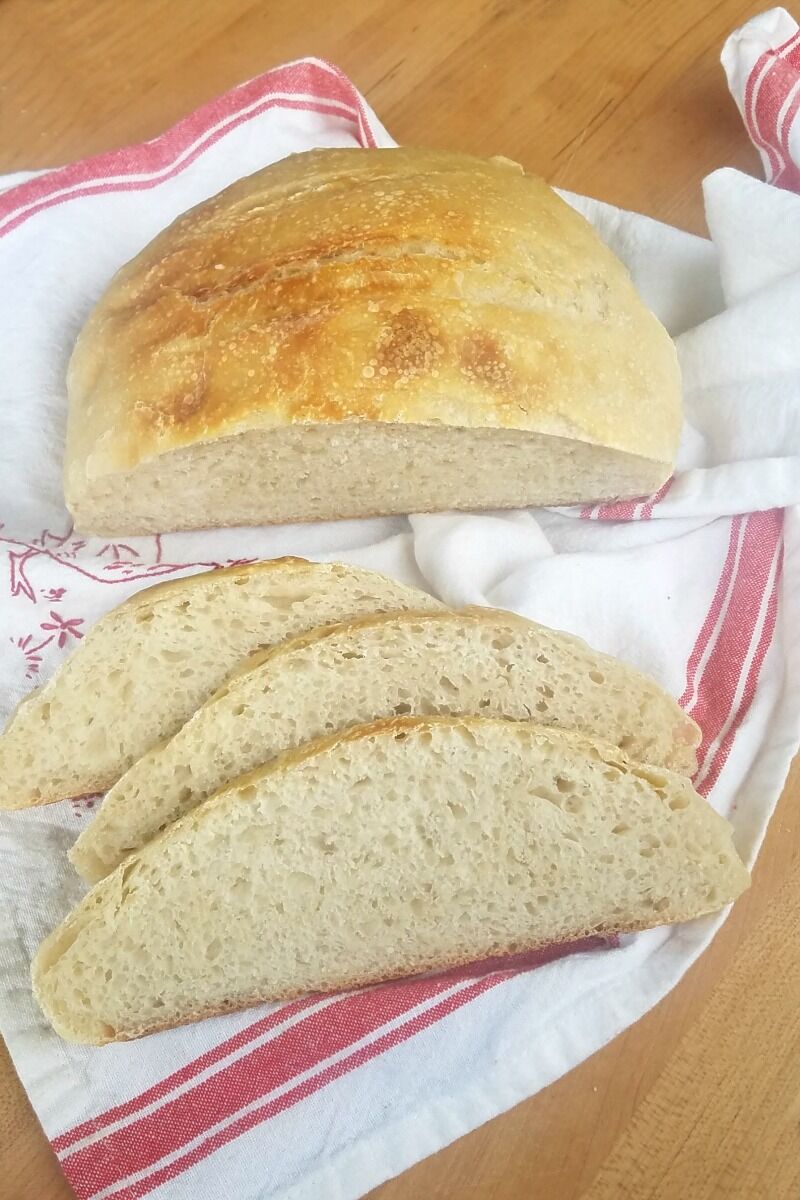 References for this recipe include:
The Art of Baking with Natural Yeast: Breads, Pancakes, Waffles, Cinnamon Rolls and Muffins, by Caleb Warnock & Melissa Richardson
If you have additional questions about the recipe, just leave a comment and I'll reply asap. Be sure to check out the comments below, too. We've had so many people share their sourdough knowledge here, and there is a lot to be learned from their experience. Like most of us, I'm here to learn, too.

THANK YOU so much for being a faithful reader and supporter
of The Good Hearted Woman. ? Be sure to PIN this post!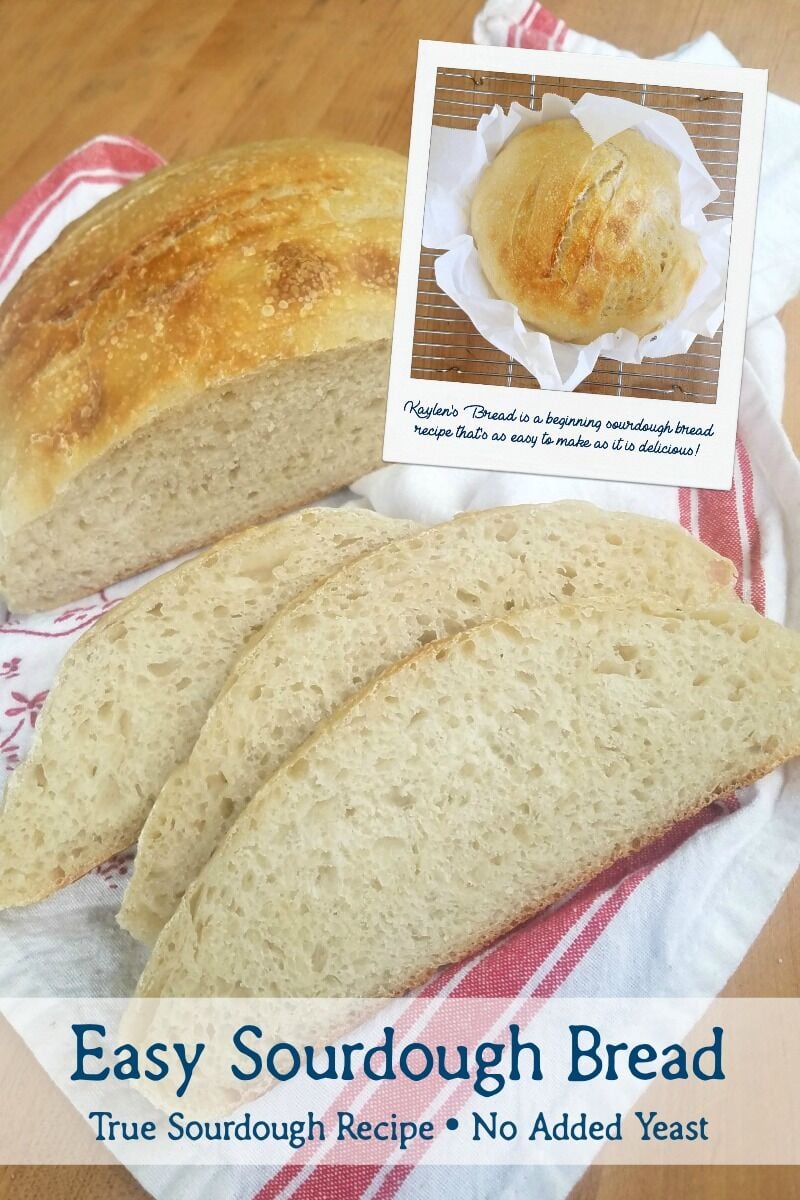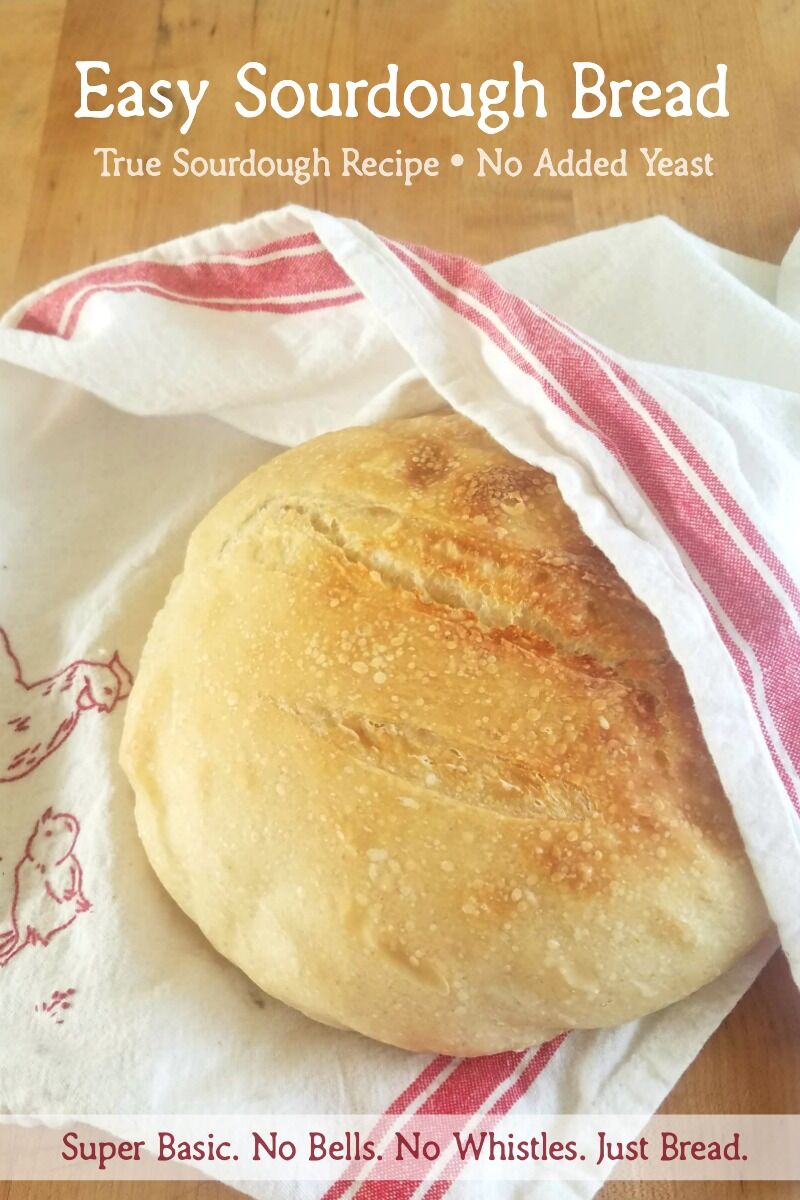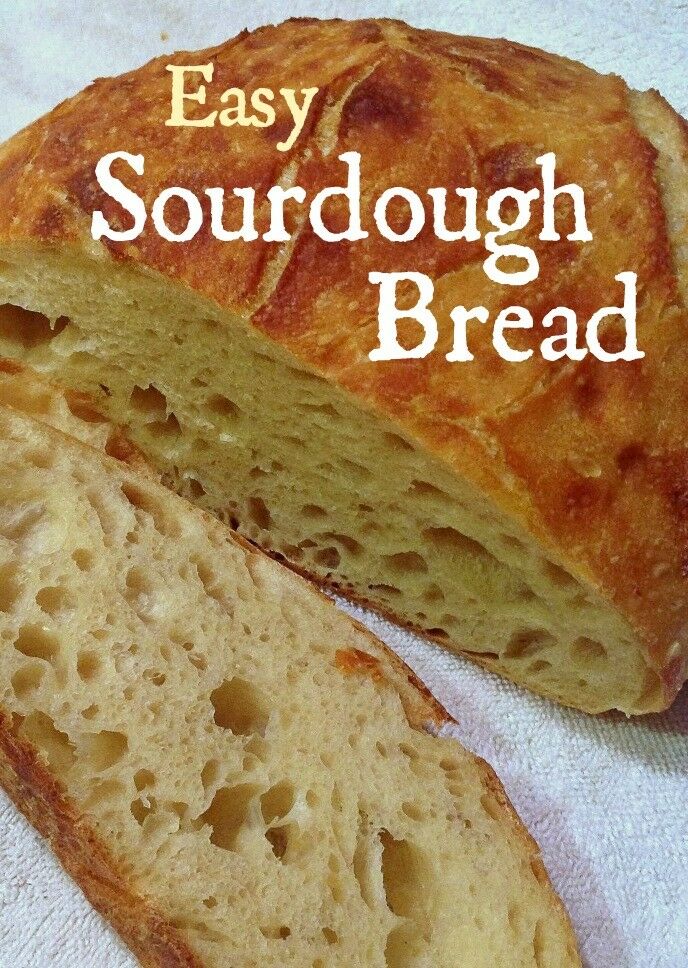 Easy Sourdough Recipes & Advice for Beginners
Disclosure: This post may contain affiliate links, including Amazon affiliate links, which means we may receive a commission if you click a link and purchase something that we have recommended. While clicking these links won't cost you any extra money, they do help keep this site up and running. As always, all opinions and images are my own. Please check out our disclosure policy for more details. Thank you for your support!