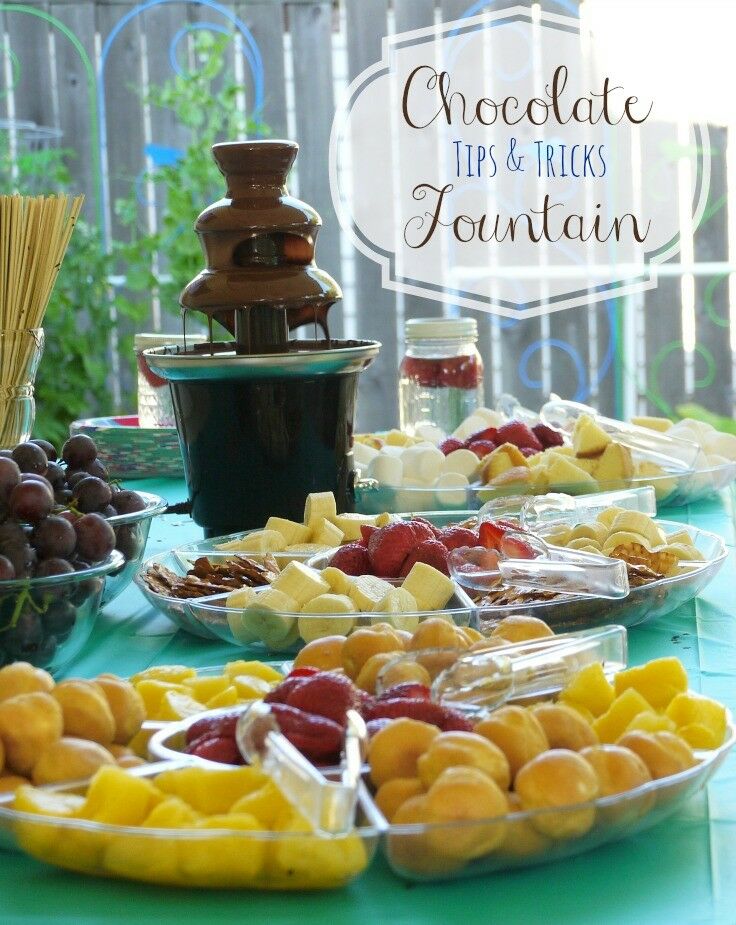 This post may contain affiliate links, but don't worry - they won't bite.
Some time ago, we hosted a little celebratory gathering for our graduating senior. Usually when I host a get-together, I get totally carried away making all kinds of party food, but life has been throwing us a few curves lately, and so I decided to keep things simple this time. And what could be simpler than a chocolate fountain, right?
We did a lot of things right. I'll share those chocolate fountain tips in a minute, but this is the most important thing I can tell you about using a chocolate fountain, so if you don't read anything else, read this: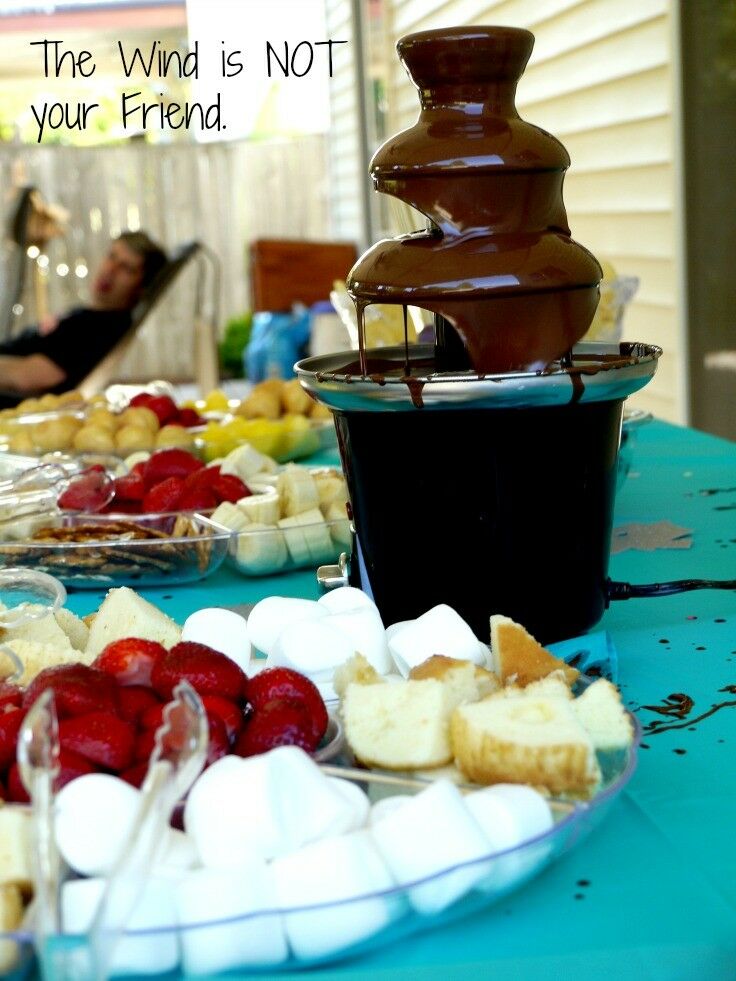 When you are hosting a party and plan to use a chocolate fountain, the wind is not your friend.
Ever.
Say it with me...
"The Wind is NOT my Friend."
Even when you think it is only a little wind, and no one will notice. Because guess what? You're wrong! The chocolate will notice.
And so will the laws of physics.
Location, Location, Location
Besides the actual chocolate itself, location is the single most important factor in the success or failure of your chocolate fountain. Consider heating and air conditioning ducts, traffic flow, pet access, wind, rain, bugs and small children when choosing where to set up your fountain. Also, be careful about where you lay the electrical cord: if someone were to trip on it, it could have dire consequences for your entire party.
Once we moved everything inside, everything flowed like Willy Wonka's Chocolate River.
On the Level
Before you ever pour a drop of chocolate into your fountain, make sure it is level. As in, plumb bubble-up level. Once again, melted chocolate is all about the laws of physics.
Prepping the Chocolate
Although I was tempted to buy more expensive chocolate, I decided to go with good old Tollhouse Semi-sweet Morsels, for a couple of reasons: they are low in milk solids, they are available at Costco in huge bags for a decent price, and they taste delicious when you melt them.
In order to get the chocolate to flow properly, you need to mix it with oil. (I know - you just squinched up your nose and said Eww.) But I stumbled onto the perfect solution: unrefined coconut oil.
A ratio of one tablespoon of coconut oil per cup of semi-sweet morsels works perfectly and tastes delicious.
Even if your fountain has an internal heating element (most do), do not attempt to melt your chocolate in the fountain. Heat your chocolate together with your coconut oil for 40 seconds at a time in the microwave, stirring after each interval and repeating until completely smooth. Only then is it ready to pour into your fountain. Follow the directions that come with your chocolate fountain to determine how much you will need to start out. (We used a small fountain, and it took about two pounds of chocolate to start off)
Chocolate Fountain Tip ♥ Use a ratio of 1 Tbls Coconut Oil: 1 cup Chocolate Chips = Smooth, Delicious Perfection!
Preheat, Prime & Prep
Preheat your fountain before adding the chocolate. When you have the fountain filled and running, let it run for a minute or two and then turn it off. Wait a minute or two and then turn it back on. This will help get any air bubbles out of the tube and auger system. Also, be sure to take the time to set up a second batch of chocolate for when you need to refill the fountain later.
Dippity-Do's
We had lots of delicious choices for dipping: Bananas, Pretzels, Pineapple, Cream Puffs, Marshmallows, Pound Cake, and lots of Strawberries.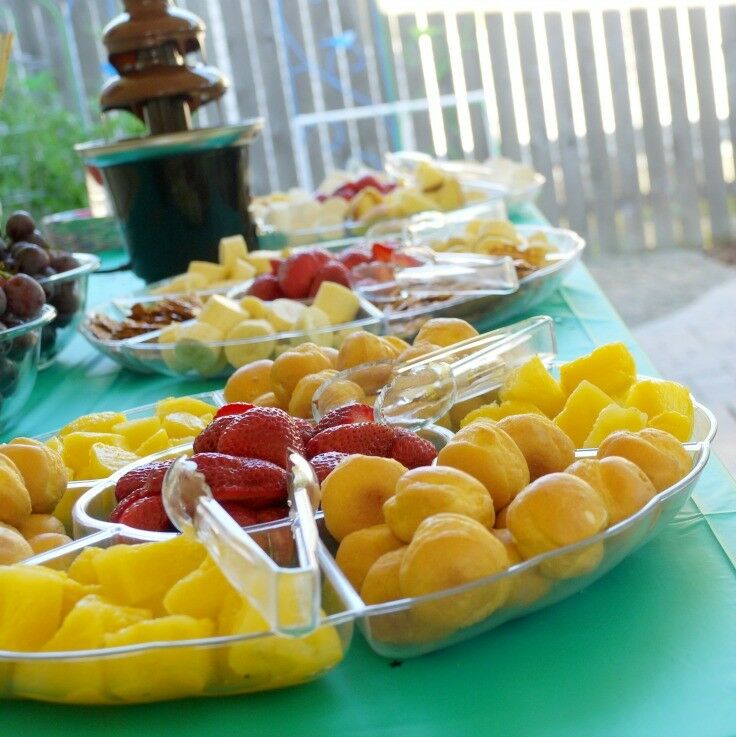 After the Party's Over
If that bit about the Wind not being your friend is the most important point in this post, then this is the second most important:
No matter how tired you are - clean the fountain right away.
DO NOT, under any circumstances, "leave it for tomorrow."
If you wait until the next day, the chocolate will harden up and it will take you ten times as long to clean.
I hope you have great success with your party planning, and if you learn some new chocolate fountain tips, please be sure to come back and share them with us all in the comments!
---
THANK YOU for being a faithful reader and supporter
of The Good Hearted Woman. • Please PIN this post!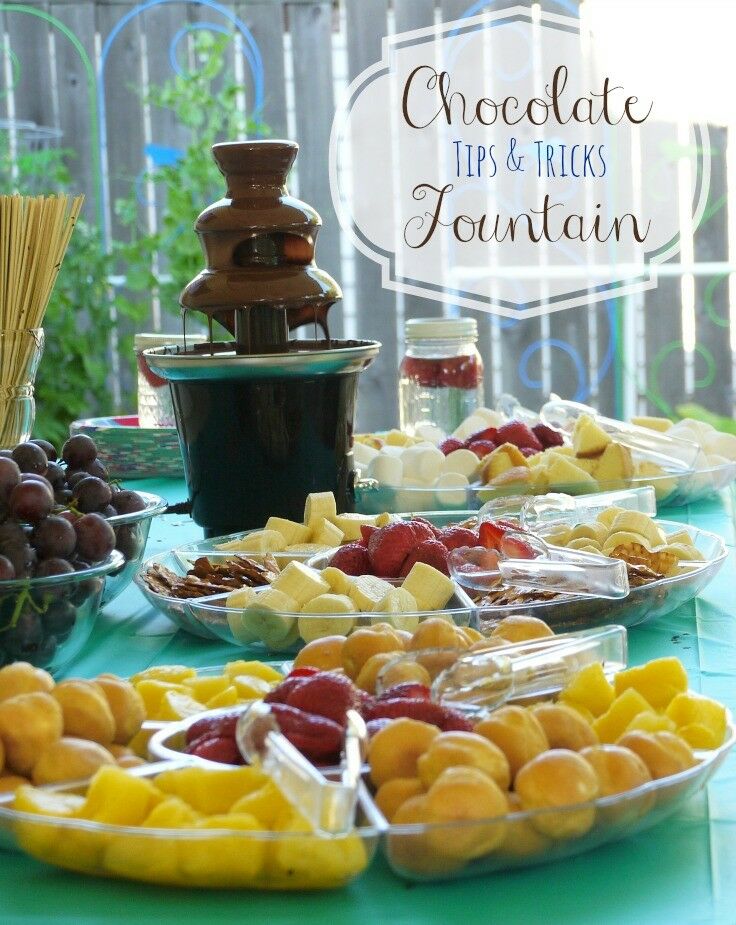 E
Disclosure: This post may contain affiliate links, including Amazon affiliate links, which means we may receive a commission if you click a link and purchase something that we have recommended. While clicking these links won't cost you any extra money, they do help keep this site up and running. As always, all opinions and images are my own. Please check out our disclosure policy for more details. Thank you for your support!