El Paso is a city abounds in FREE FUN! Explore the historic Plaza Theater, discover the Museum of History, take a scenic drive; even visit the downtown pool where live alligators once frolicked!
El Paso is abundant in FREE FUN! You can enjoy an entire day exploring this thriving city for just the price of lunch! If you have one day to spend in El Paso, and you don't want to spend a lot of money, you have come to the right place!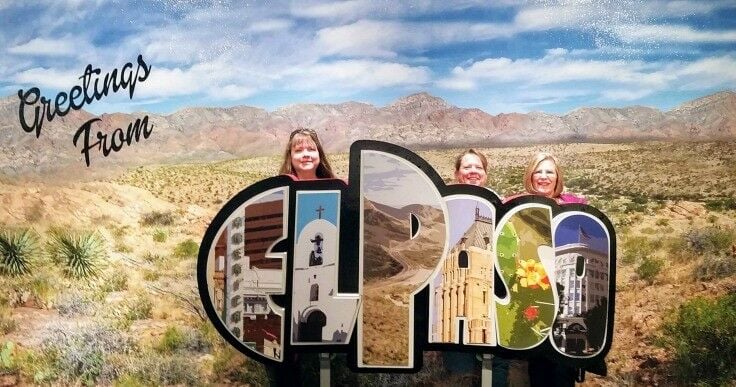 Free Things to Do in El Paso
Jump to:
Downtown El Paso Self-Guided Walking Tour
One of the best ways to explore a new city is boots on the ground. Get out there and walk!
This map illustrates our walking route through downtown El Paso, and will take you by all of the locations listed above.

If you take this route, plan for at least two hours, especially if you are lucky enough to score a tour of the Plaza Theater! This is an easy, level walk that covers just under one mile one way.
Be sure to see:
San Jacinto Plaza
Los Lagartos [Gator Statue] (in San Jacinto Plaza)
DIGIE - Digital Information Gateway in El Paso
El Paso Museum of History
Fray Garcia de San Francisco Statue (Right outside the Plaza Theatre)
Plaza Theater
El Paso County Courthouse

NOTE for Nervous Travelers: El Paso often gets a bad rap for its proximity to Juarez, Mexico; however, it actually has a crime rate significantly lower than the national average, and ranked as the 7th safest metropolitan city in the United States in 2018.
San Jacinto Plaza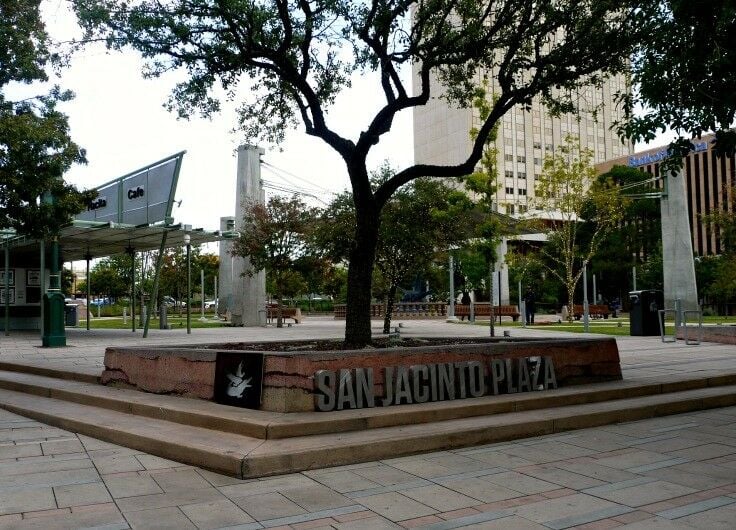 San Jacinta Plaza opened in 1883 in the heart of downtown El Paso as a place where visitors could relax amid a walled pond and gazebo, seventy-five Chinese elm trees, and a small congregation of alligators.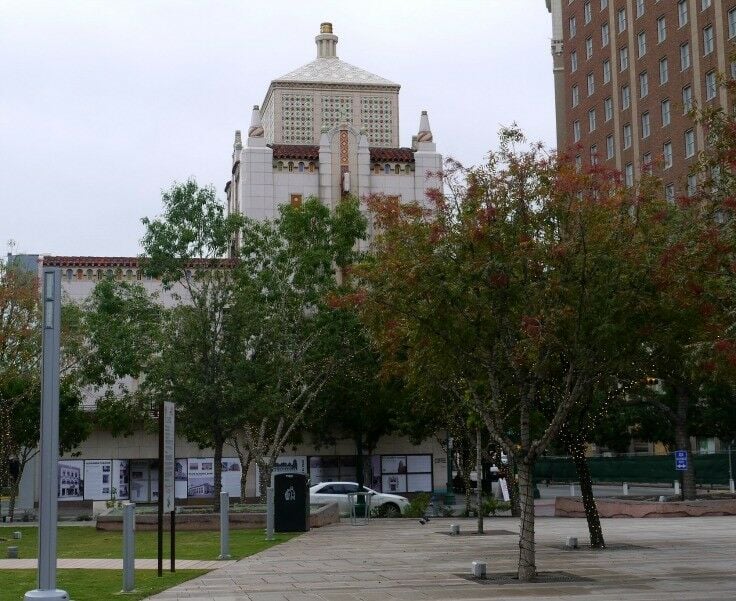 Because yes: there were alligators.
Live alligators.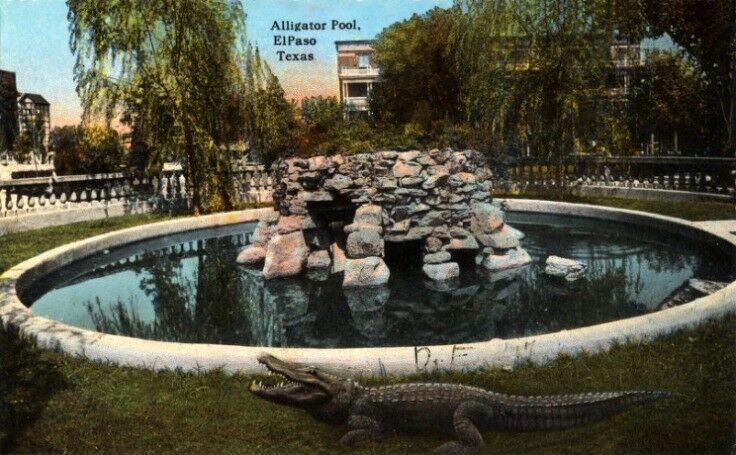 From the beginning, the alligators were the central attraction of the plaza, and at one time, the walled pond that served as their home held as many as seven of them.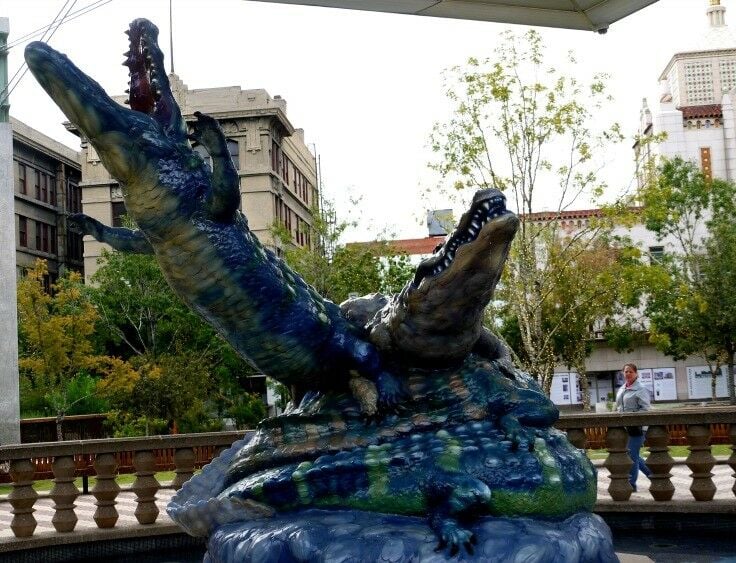 The alligators were moved to the El Paso Zoo in 1965, and after a brief, failed attempt to bring them back in the mid-70's, their pond was permanently removed.
The plaza is still fondly known to locals as "La Plaza de los Lagartos," or Alligator Plaza. Today, a fiberglass sculpture by nationally acclaimed El Paso artist Luis Jiménez honors the original alligators.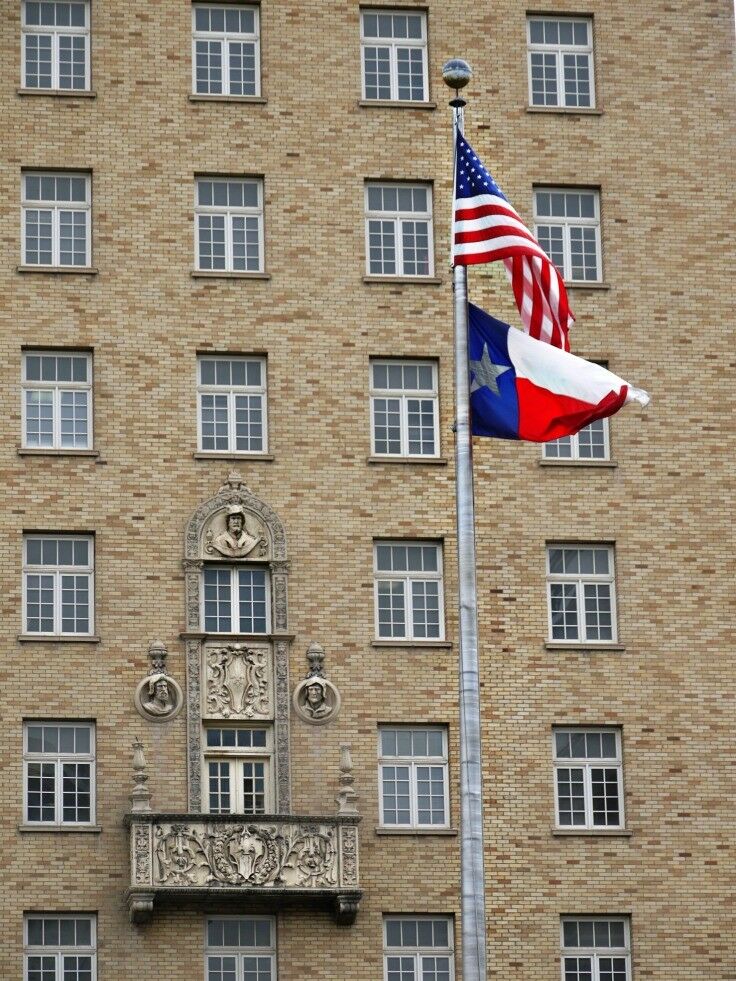 San Jacinto Plaza is located on the corner of Oregon and Mills in the heart of Downtown El Paso, Texas. Visitors should be aware that (to my knowledge) there are no restrooms in the Plaza. At the time of our visit, the nearest restrooms appeared to be the ones at the Starbucks across the street.
El Paso Museum of History
The El Paso Museum of History is a small but interesting local museum that promotes the understanding and significance of the rich, multicultural and multinational history of the border region known as "The Pass of the North."
Like all the attractions on this itinerary, the museum is free. It is also clean, air-conditioned, and has a public bathroom - making it a bargain at twice the price, as my dad used to say. (Especially on a hot day in August!)
The museum is very kid-friendly, especially on the ground floor, where you will find a number of interactive displays. We spent about forty minutes there, which is about all you will need.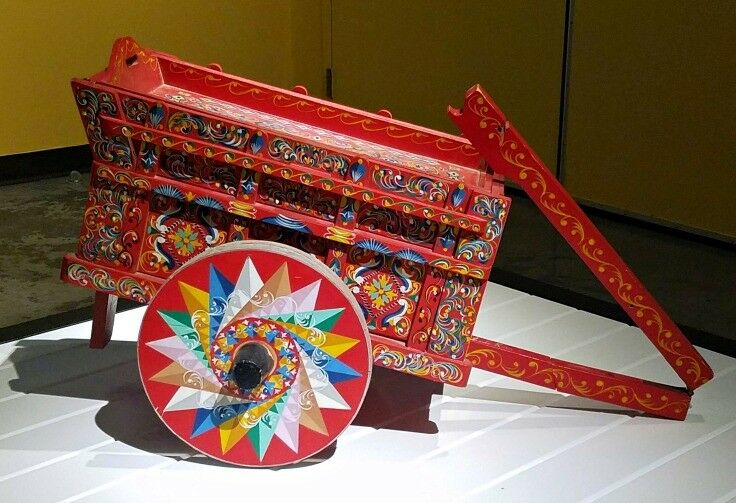 We probably would have spent longer at the museum, but we didn't know that there was a second floor. This, I came to learn after the fact, is where much of the historical information and artifacts are found. That brings me to my only complaint about the museum: it would be helpful to visitors to have clear directions or discovery paths so they don't miss half the exhibits. But really, that's on us for not exploring more.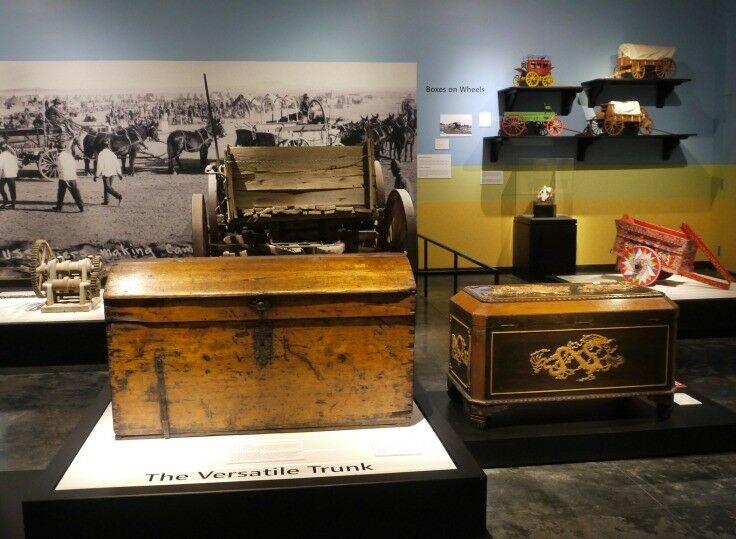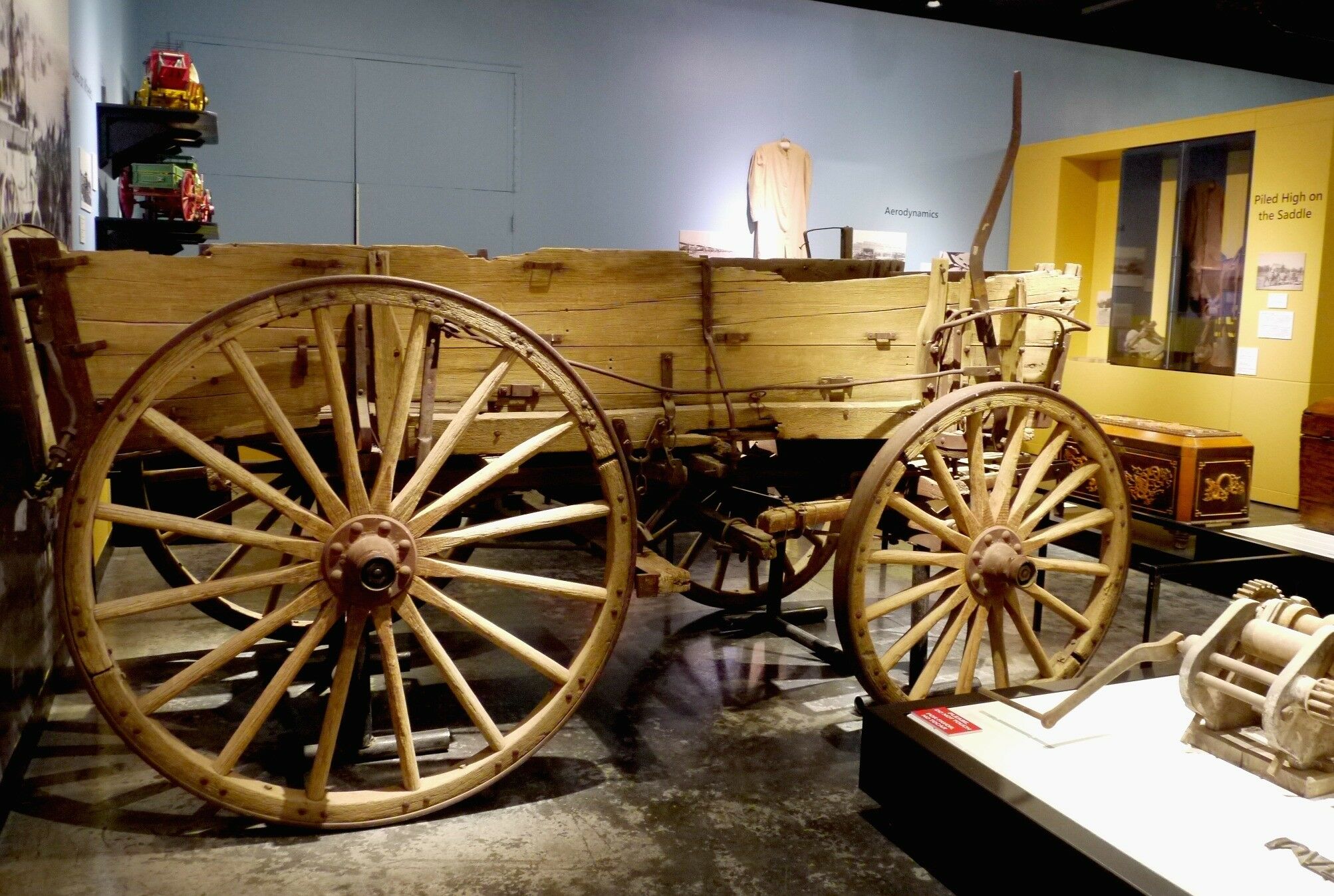 El Paso Museum of History
510 N Santa Fe St
El Paso, TX 79901-1145
Phone: 915.212.3120
DIGIE (Digital Information Gateway in El Paso)
Immediately outside the entrance to the El Paso Museum of History, you will find The large touchscreen digital wall. Known as DIGIE [Digital Information Gateway in El Paso] it is the second digital wall in the world and the first in the United States.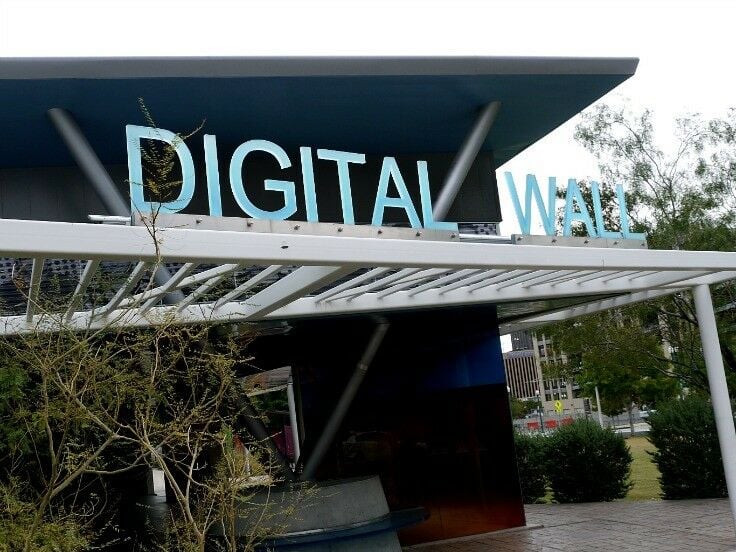 The wall is made up of five huge touch screens that offer an interactive view of the history of El Paso, with images, video, and information covering from present day back through the 1600's.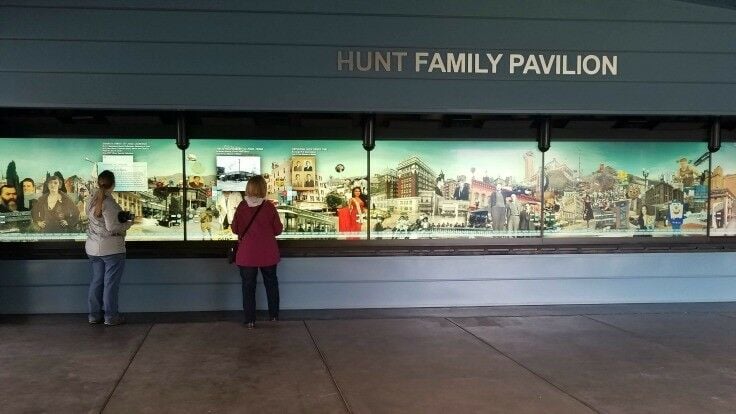 This display is extremely well researched and curated, and we all enjoyed interacting with it immensely. (I definitely should have taken video. Next time!)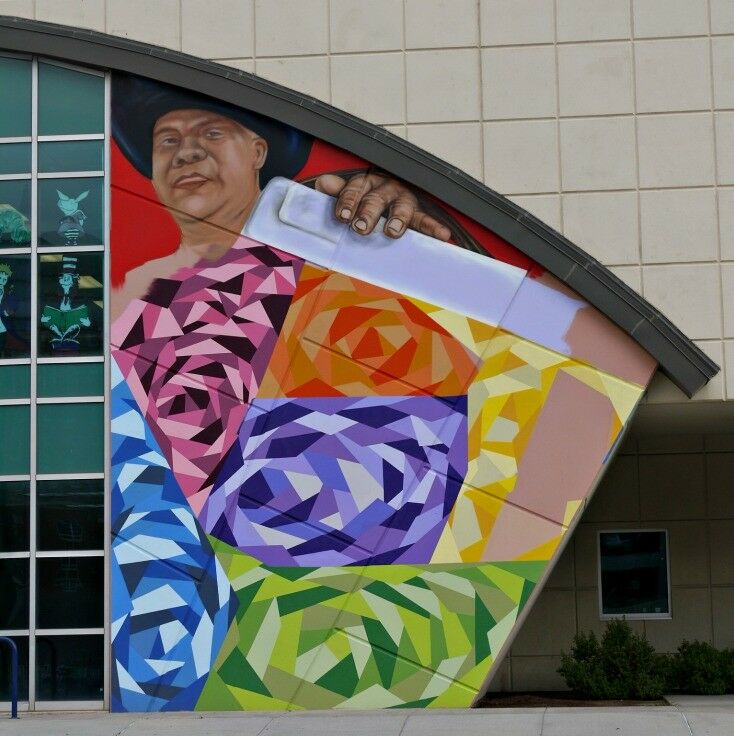 More than a hundred brightly-painted murals can be found throughout El Paso. Reflecting a rich Mexican storytelling tradition, these pieces of public art depict El Paso's history and community pride.
Fray Garcia de San Francisco Monument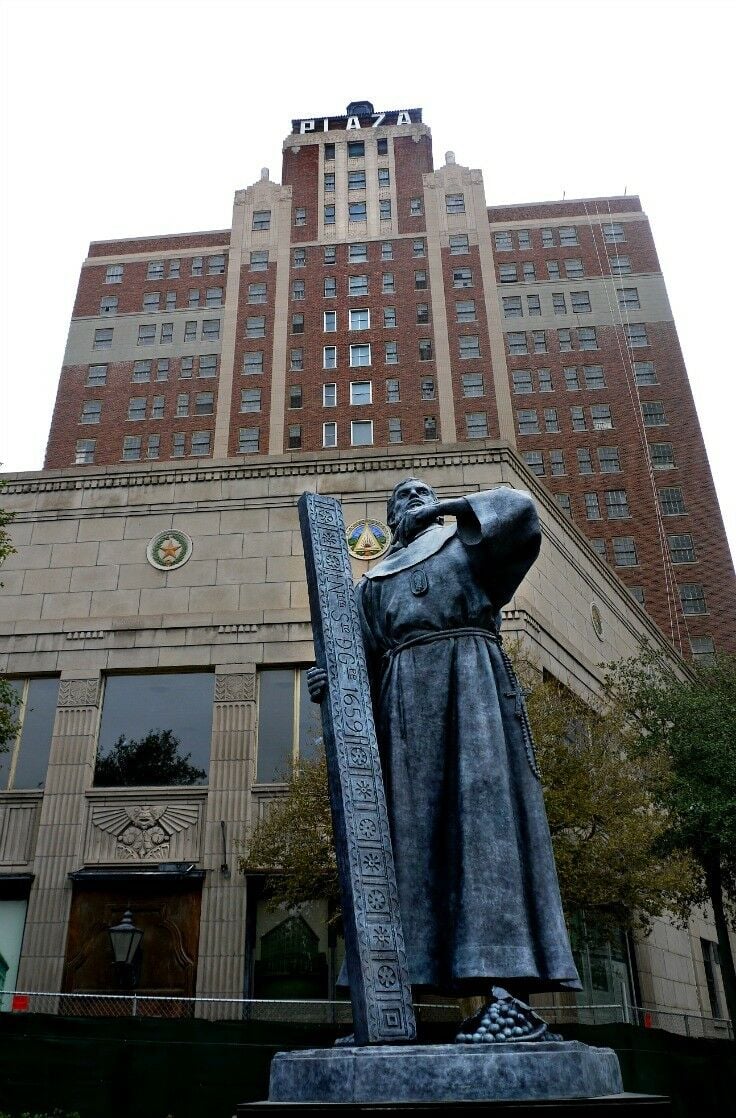 Fray Garcia Monument honors the priest who founded the El Paso area's first mission. Located the corner of El Paso and San Francisco Streets just outside the entrance to the Plaza Theater.

Sculpted in 1996 by El Paso native John Houser, the 14-foot bronze sculpture is a testament to the great legacy of this Spanish missionary who was known for his kind heart.

Plaza Theater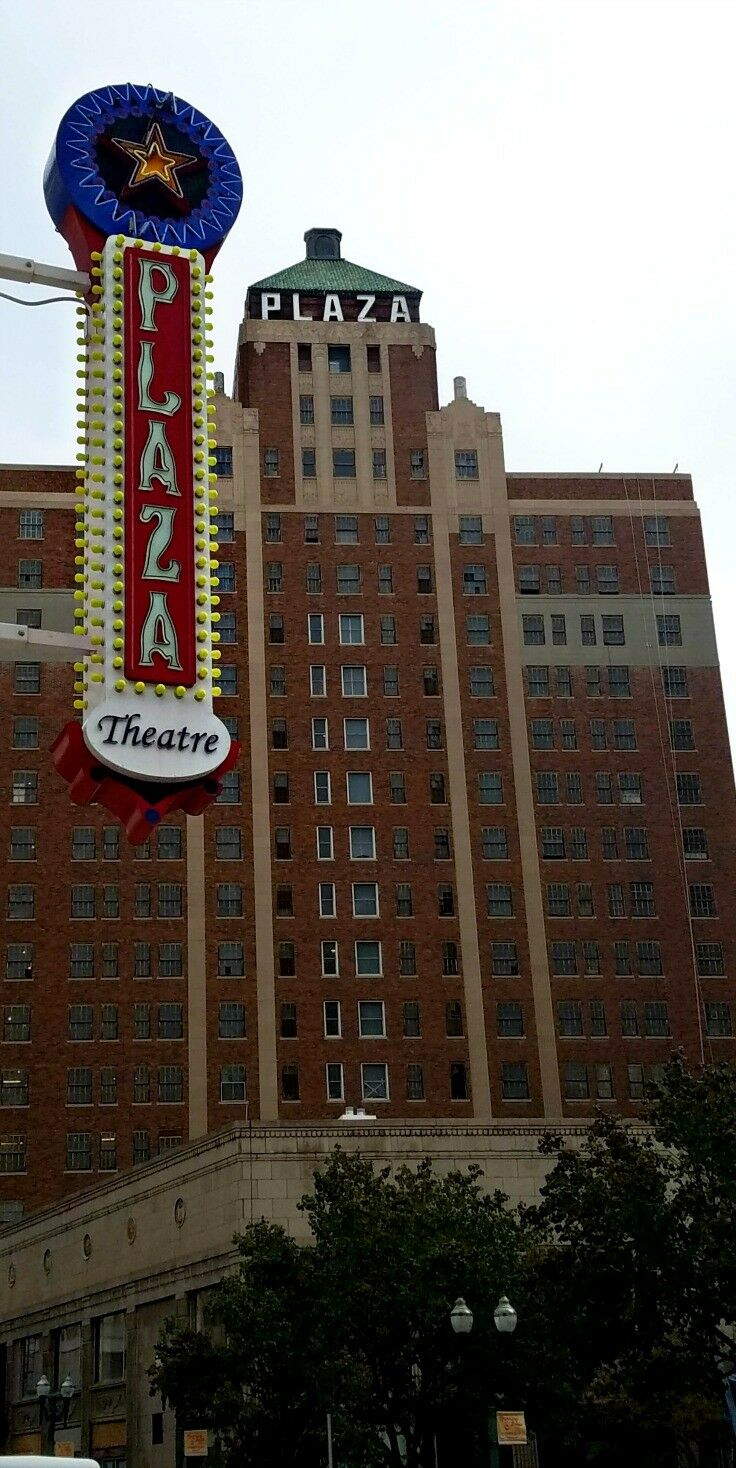 The Plaza Theater is one of El Paso's most iconic landmarks. This grand monument to old world elegance hosts two theaters: the 2,050-seat Kendall Kidd Performance Hall, and the smaller 200-seat Philanthropy Theatre. The Plaza hosts concerts, Broadway shows, individual performers, and the annual Plaza Classic Film Festival.
The ladies working at the theater that morning seemed almost excited to show us around.
Tours for the public are held every Tuesday at 12pm, and if you can work your schedule around that, by all mean, do so. Unfortunately, we were there on Friday morning, with no Tuesdays in sight. However, when my BFF Jenny asked at the ticket booth, we were immediately invited us inside.
From the outside, you would never know what awaits you beyond the doors. Once you enter, the opulence and grandeur of the space is stunning.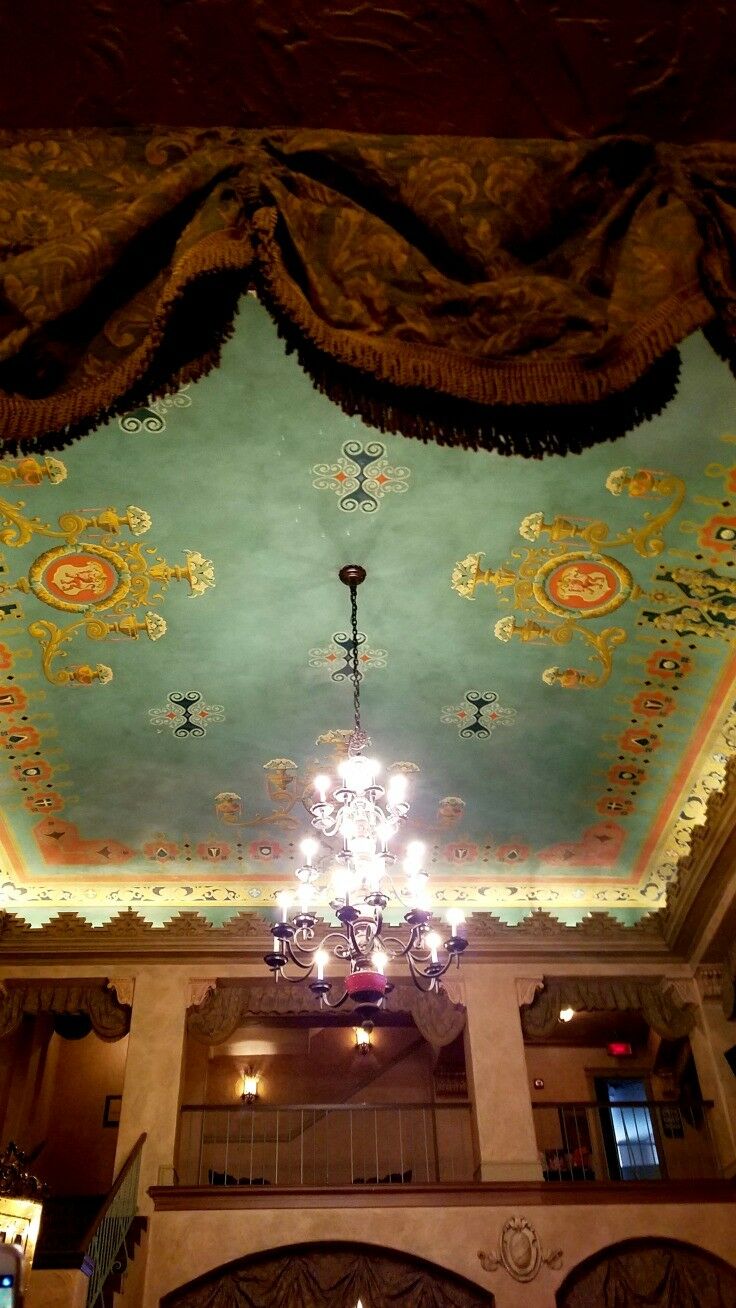 The Plaza Theater first opened September 12, 1930, with advertisements touting it to be the largest theater of its kind between Dallas and Los Angeles. Over the decades, it presented everything from burlesque shows to stage plays to movies.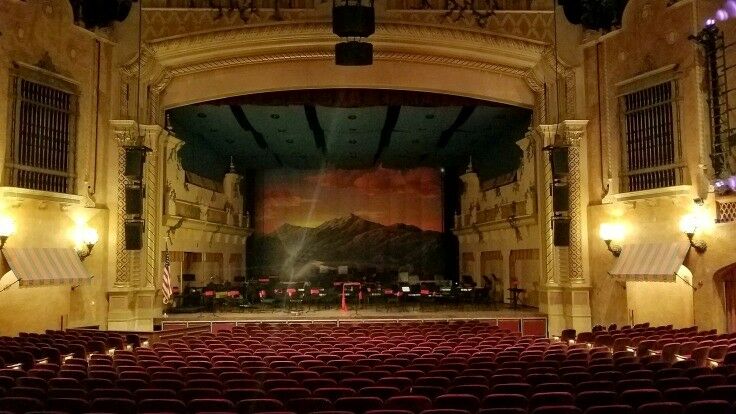 In the 1950's the theater began to fall into disrepair, and at one point in 1989 was scheduled for demolition before the community support was able to raise enough finds to save it. The theater was completely refurbished, with great attention and care given to preserving both its structure and history, and reopened in 2006.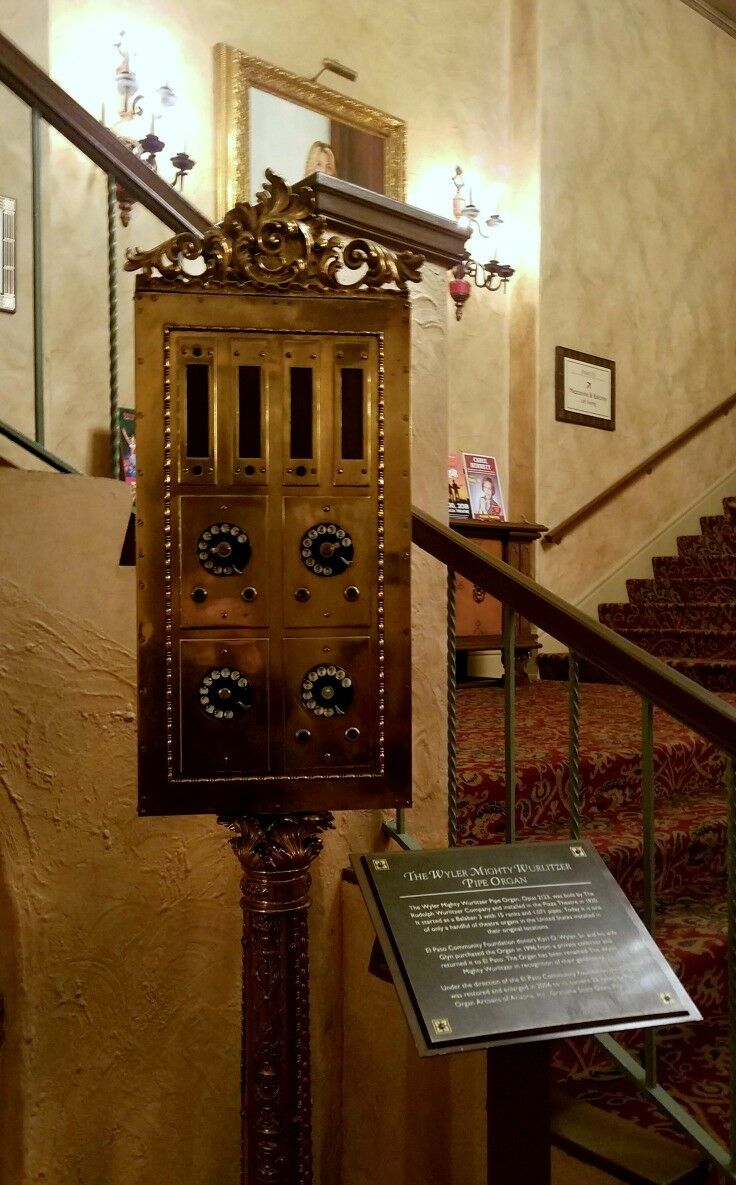 One of my favorite spaces at the Plaza was the ladies lounge.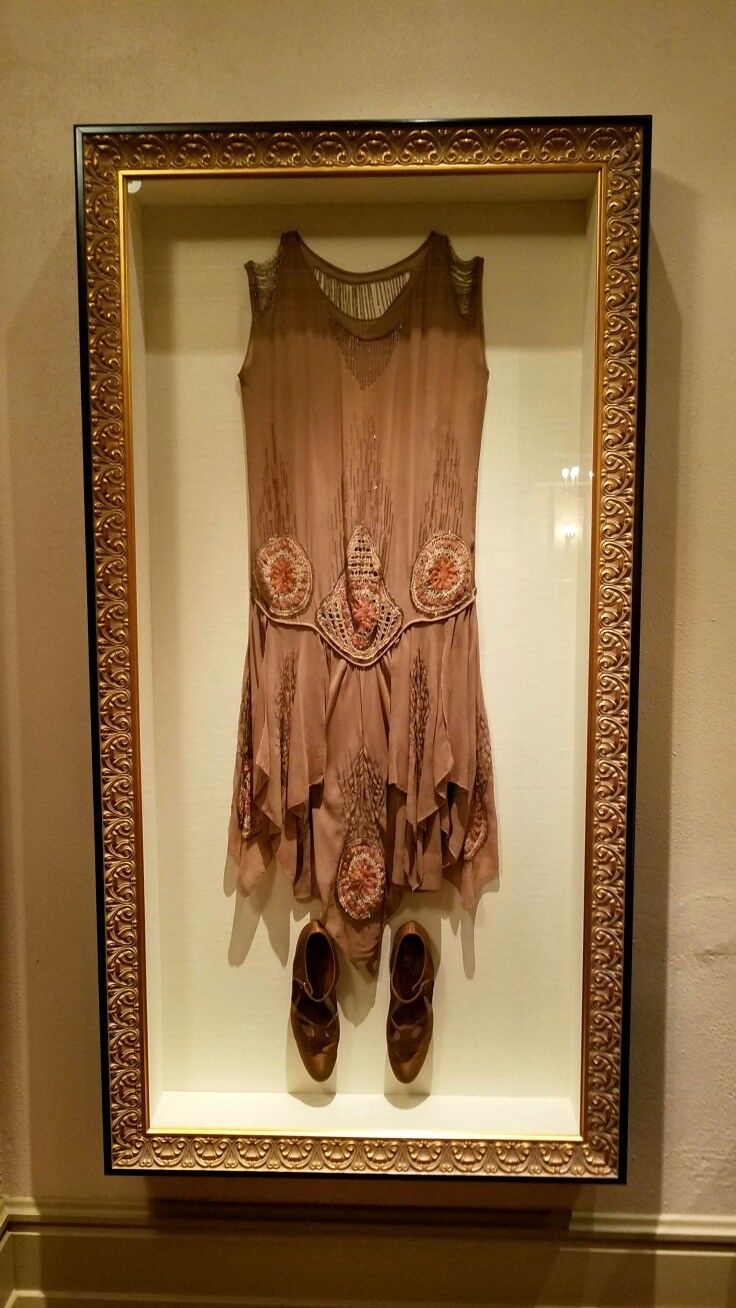 The Plaza Theatre
1 Civic Center Plaza
El Paso, TX 79901-1153
PHONE: 915-534-0600
Weekly public tours on Tuesdays at 12:00 pm. For information on tours of the Plaza Theatre, please call 915-534-0660.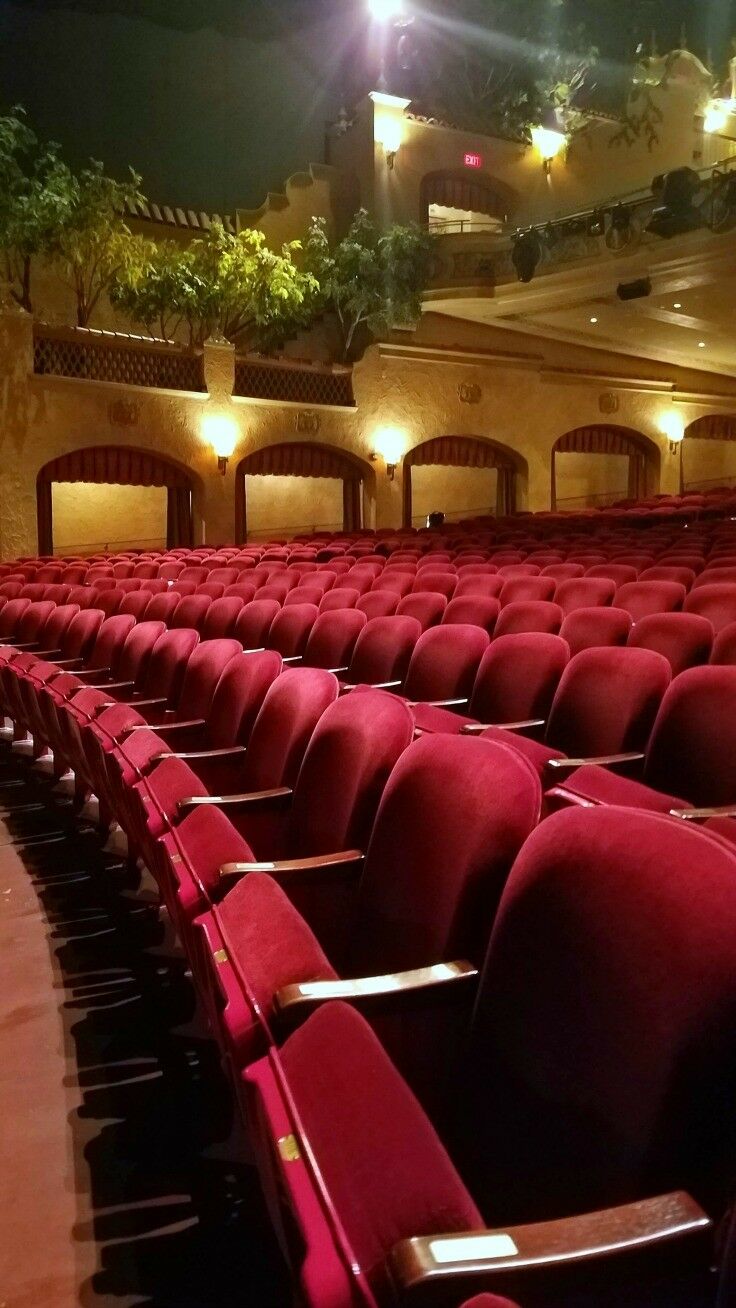 County Courthouse
While I don't typically make it a point to stop at the county courthouse when I visit a new city, in El Paso's case I made an exception. Because their county courthouse is exceptional.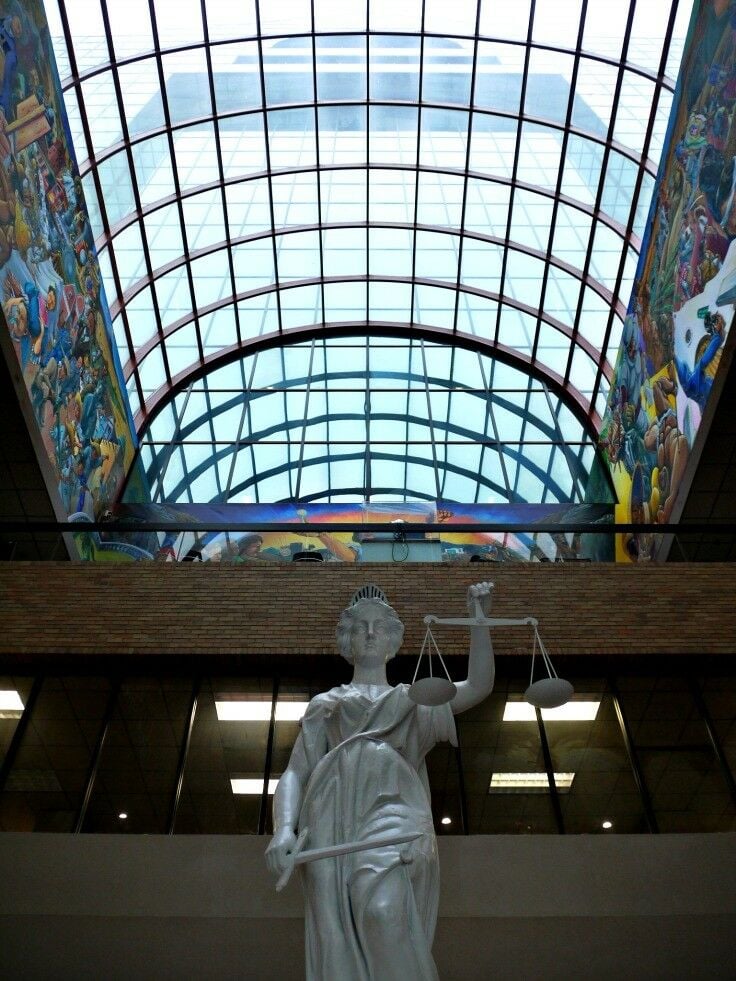 The mural inside the atrium of the El Paso County Courthouse are simply beautiful. Spanning three walls and protected by a glass ceiling, "Our History" depicts artist Carlos Callejo's vision of El Paso's history in a vibrant, dynamic blend of past, present, and future.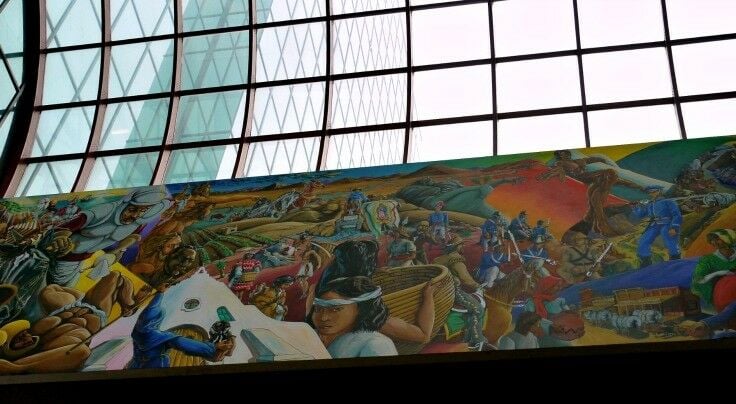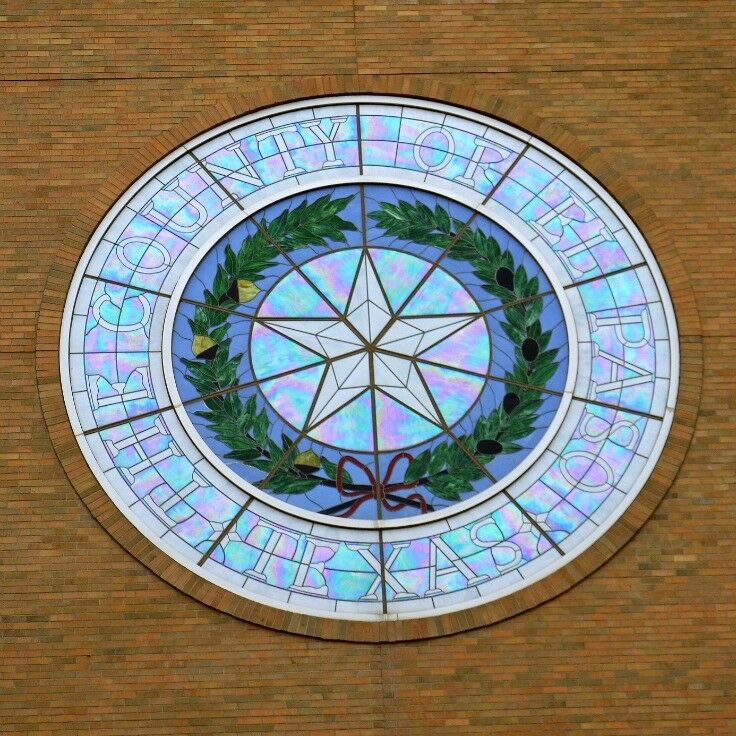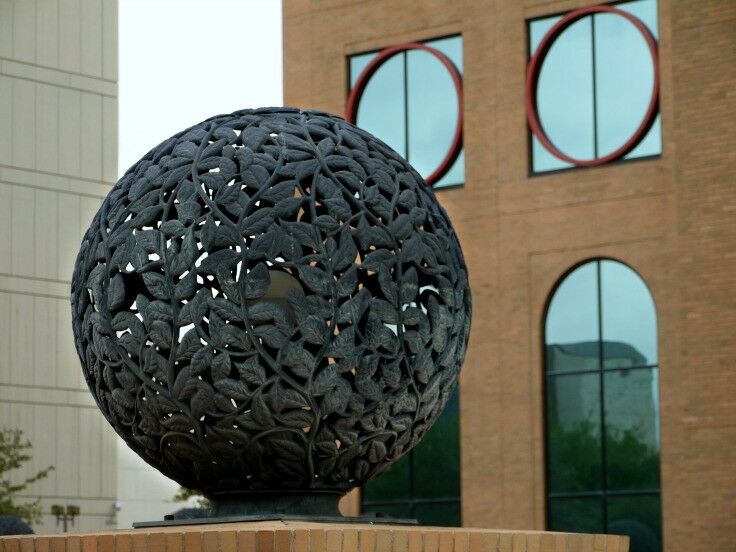 Justice in the life and conduct of the State is possible only as it first resides in the hearts and souls of the citizens.

Inscription over the entrance to the US Dept of Justice, Washington, DC.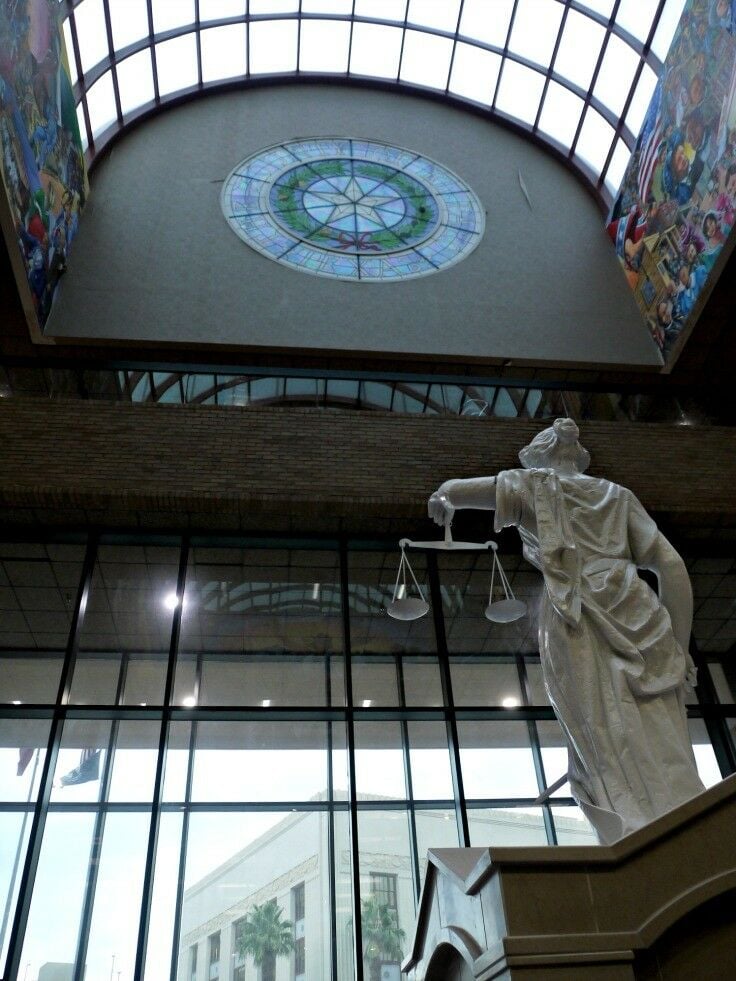 Scenic Drive & Overlook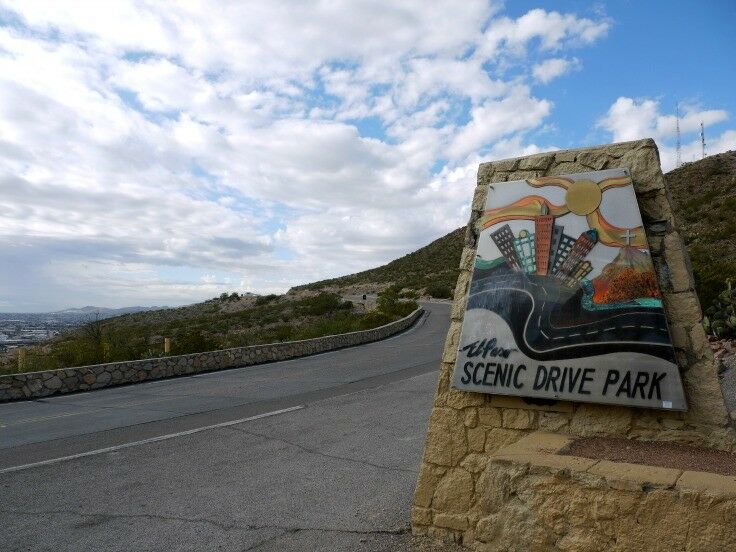 El Paso's spectacular Scenic Drive winds along the southern tip of the Franklin Mountains, affording visitors a stunning view of El Paso, Juarez, Mexico across the Rio Grande, and just a bit of New Mexico.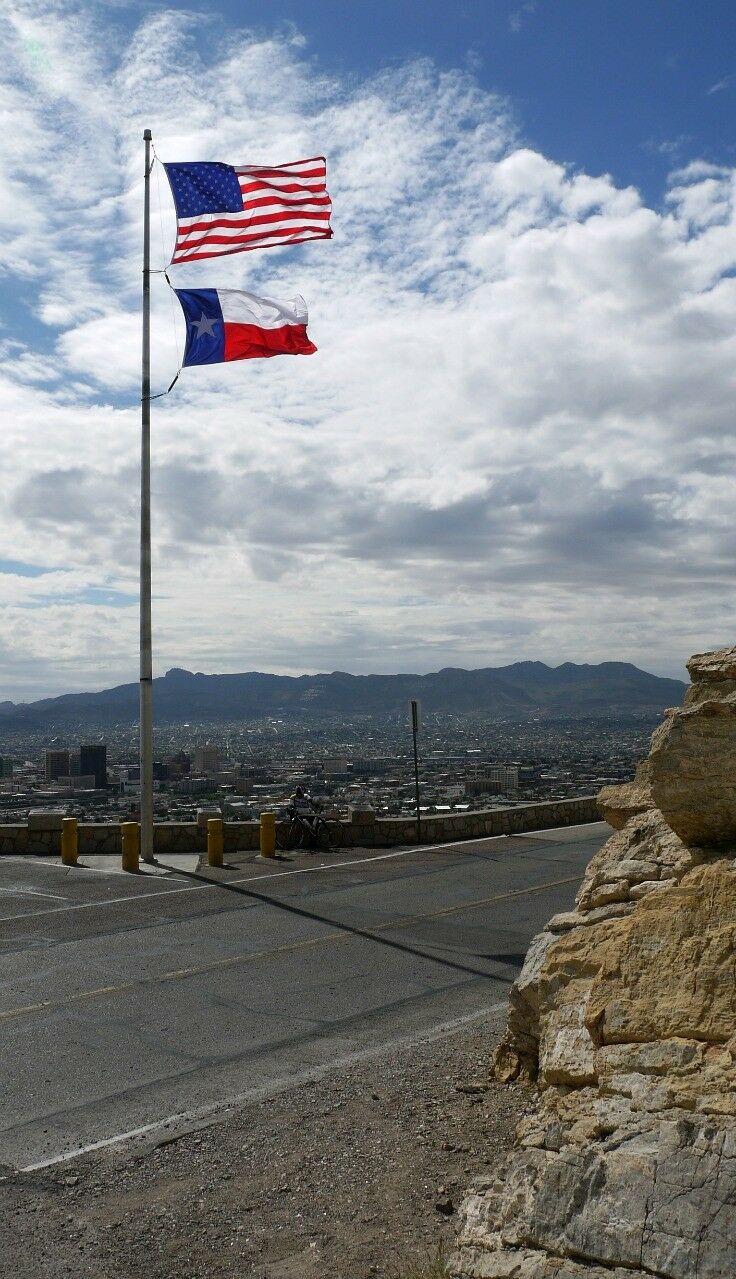 To get the most out of your drive, pull over at the small park and scenic overlook for a spectacular view across El Paso and Juarez. If you are driving, look for the US flag that will likely be flapping in the relentless wind - you will find a small parking lot at its base, and an extended viewpoint that is ideal for capturing that perfect panorama.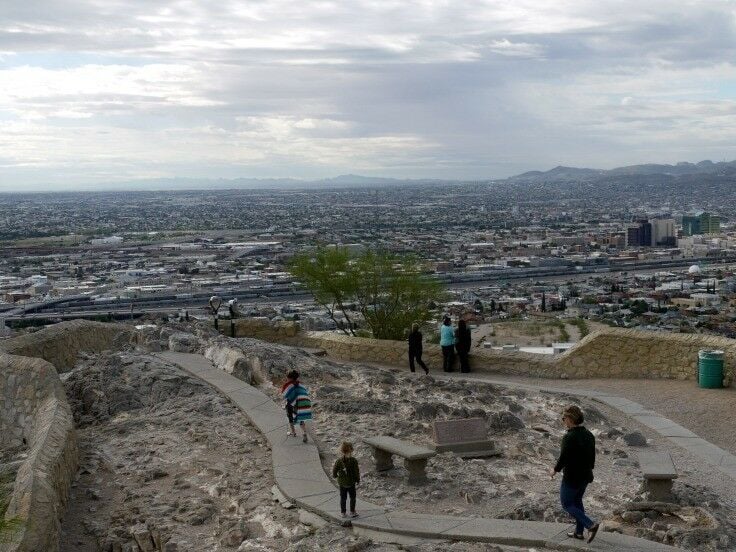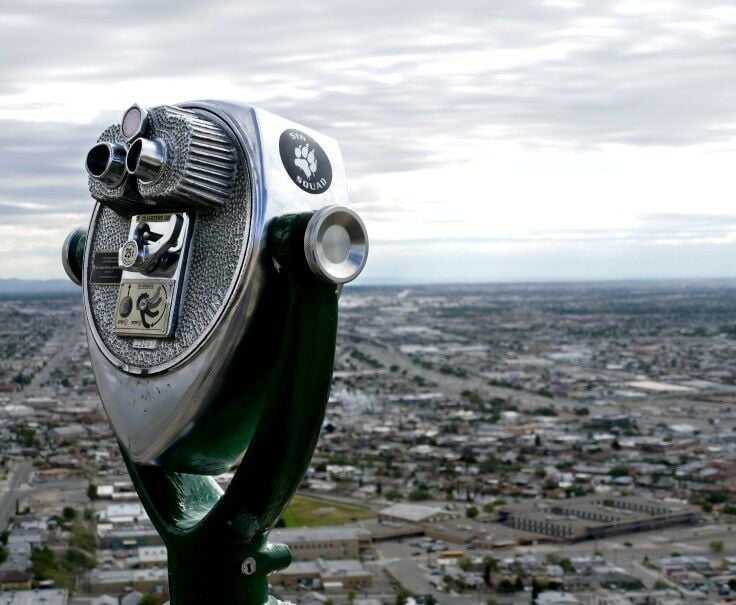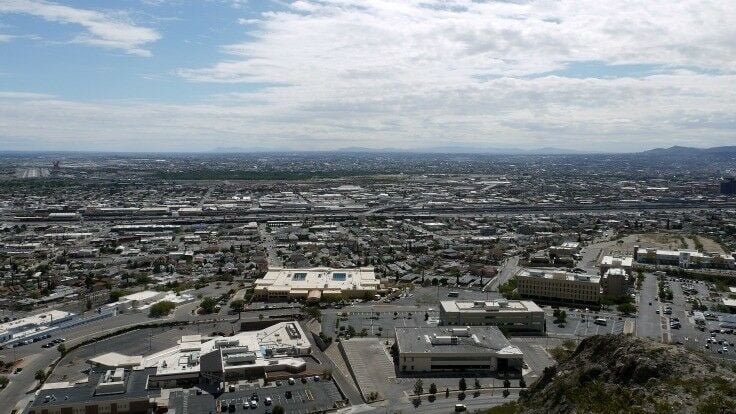 Be aware that the drive is closed to cars on Sundays, making for a pleasant pedestrian stroll or bicycle ride. On hot days, you may welcome the ice cream truck that is often parked there.
Also, and I cannot emphasize this strongly enough: dress for the weather. In cooler weather, it can be VERY windy! And for Pete's sake, DO NOT (as I did) wear anything that even resembles a dress. (Thank goodness for leggings!!) We visited during the cooler months, but if you are there when it's hot, be sure to bring sun protection.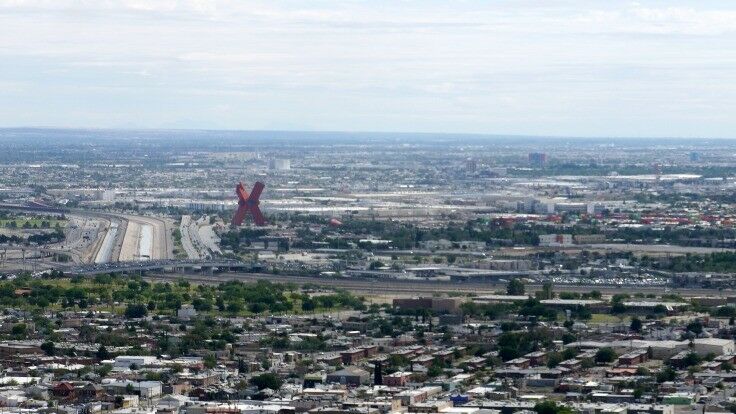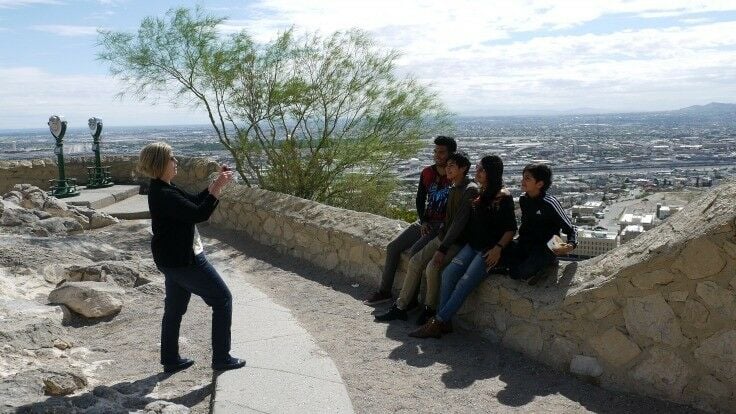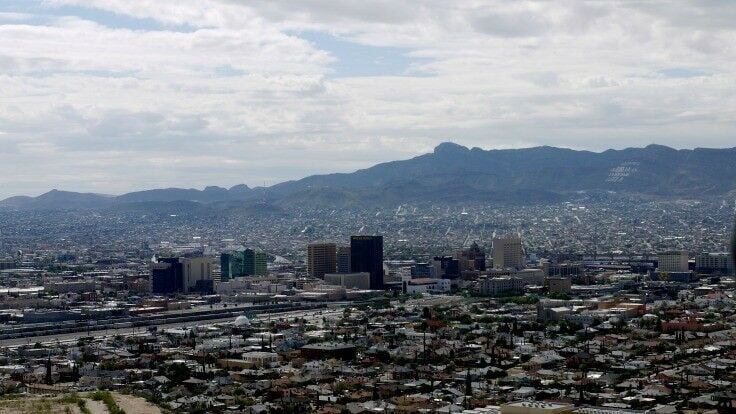 Mission Trail
El Paso's historic Mission Trail is well worth your time! The Mission Trail traces a nine-mile segment of the oldest road in North America – the historic El Camino Real, taking travelers on a journey that passes through three Texas missions and 400 years of history.
If you have more than a day in town, take time to read about our experience, and consider reserving a morning or afternoon to drive the Mission Trail.
More El Paso Travel
If you're visiting El Paso, be sure to check out the historic Mission Trail! Also, you're probably going to need to buy lunch and/or dinner, which are not free. To that end, be sure to visit our El Paso Restaurant Reviews, where you'll find reviews of a must-try, a sentimental favorite, and a Texas Institution.
VISIT EL PASO APP: El Paso has a handy "Visit El Paso" app, available for Android or IOS. The app provides up-to-date information about things to see and do in El Paso, and you can also get more information on El Paso's culture, attractions, hotels, and restaurants.
Related Recipes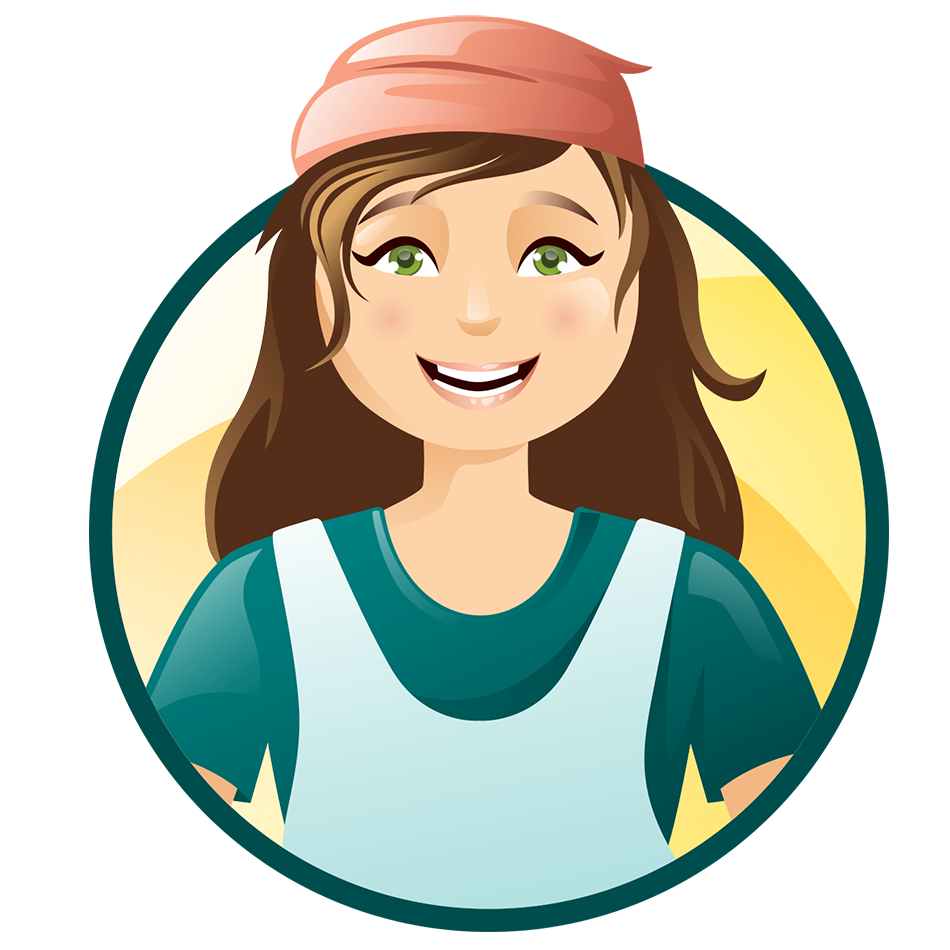 Thank you for visiting the Good Hearted Woman. Remember to bookmark this site, and come back soon!