Concordia Cemetery in El Paso, Texas is the final resting place for over 66,000 members of the El Paso community. Residents include early settlers, civic leaders, politicians, and regular folks, as well as outlaws and gunfighters of the Old West.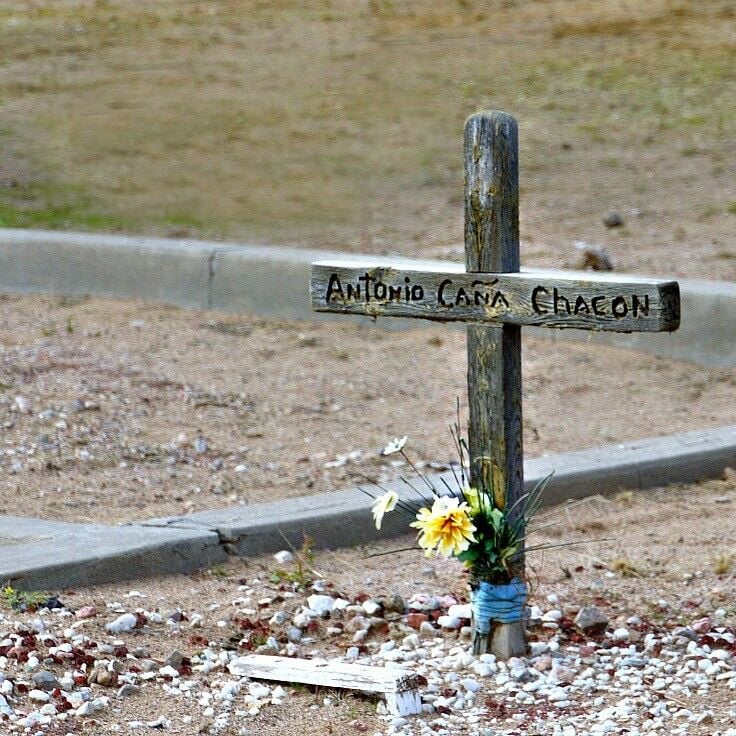 If you are looking to connect with West Texas history, Concordia Cemetery - known as El Paso's "Boot Hill" - is the mother-load.
The cemetery's fifty-two acres are the final resting places for over 66,000 Texans, including Buffalo Soldiers, gunslingers, Texas Rangers, and a handful of certified Old West outlaws.
Concordia was designated a Texas State Historical Cemetery in 2006, and Winner of True West Magazine's "Best Historic Cemetery" in 2010, 2013 and 2018.
Jump to:
Buffalo Soldiers Monument
If you don't stop at Concordia Cemetery for anything else, take time for the Buffalo Soldiers Monument.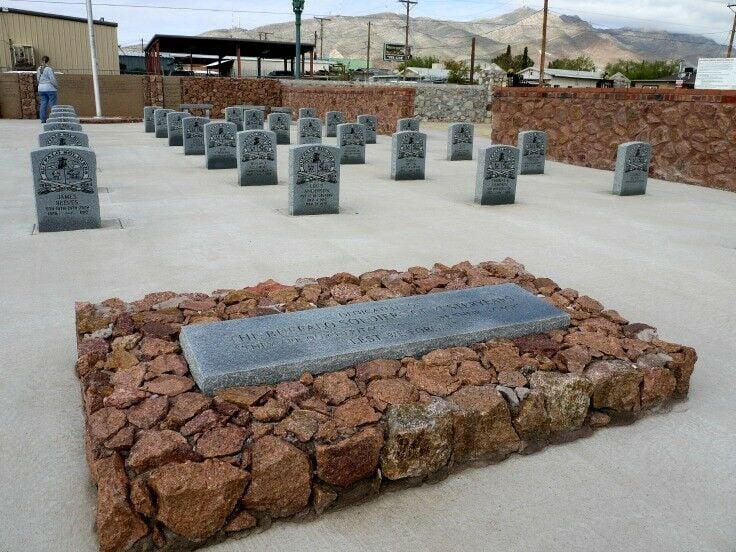 Just inside the main gate of Concordia Cemetery, you will find a beautiful monument of bronze plaques, granite memorial markers, and native stone dedicated to Buffalo Soldiers - war veterans from four regiments of African American soldiers who served on the frontier after the end of the Civil War.
The remains of forty-some Buffalo Soldiers are buried at Concordia, and the Buffalo Soldier Memorial commemorates both their military service and their contribution to the history of Texas.
It is believed that the name "Buffalo Soldier" began with the Cheyenne warriors in 1867. The Black Soldiers were ferocious and courageous in battle, even when outnumbered. Out of Respect, the Cheyenne referred to these hard-fighting Black men as "Buffalo Soldiers" - reportedly because their hair resembled that of the revered Bison. Because the Buffalo was a sacred animal to the Indians, the calvarymen accepted the title with great pride. The name became a highly respected American Legacy.

- Inscription on the Buffalo Soldiers Memorial, Concordia Cemetery, El Paso, Texas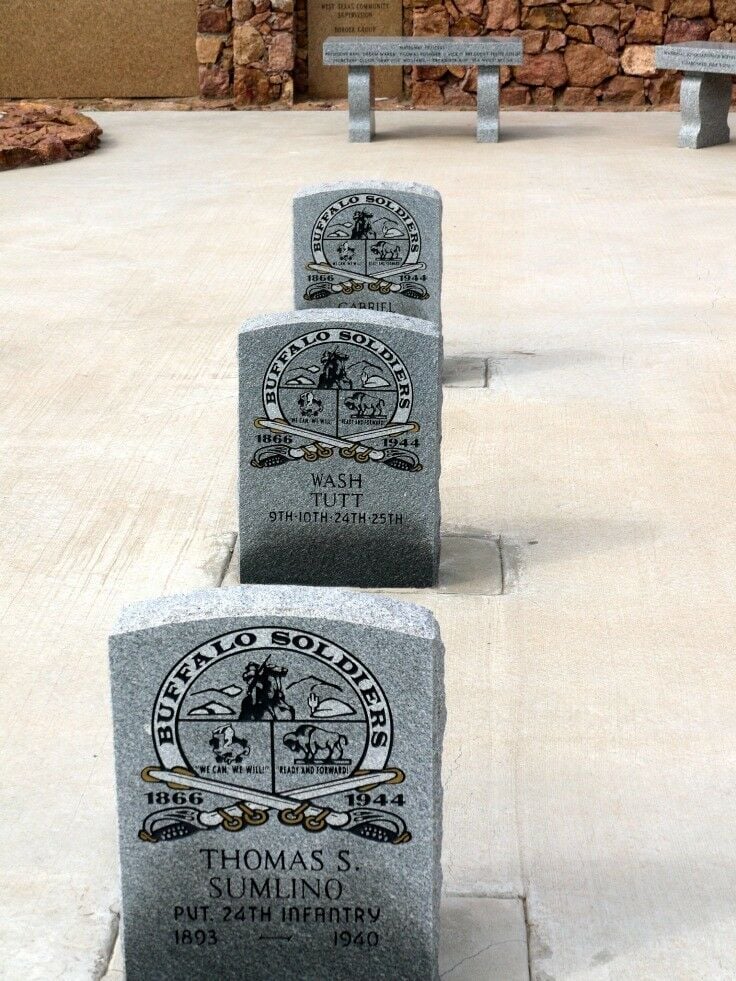 I found this memorial inscription heartrending.
By my skill the West was tamed but today few know my name. From the plantations of Southern America we came to stake the plains of Texas.

The muddy waters of the Rio Grande we built forts and staked our claims under the command of Grierson and Hatch, we spilled our blood in pursuit of outlaws and indians to catch the 59th minute of the final hour for the honor of it.

We towered the Souix, Cheyenne, Comanche, and Apache bet their life against the Blacks in blue. And we in dress blues at reveille, boots and saddles and the Yellow Rose of Texas made us all that we could be.

After the battle, we became the eyes and ears of the pioneers from slavery to soldiering that took hundreds of years. They called our homes ghettos, but our trials are lauded by sonneteers - the Blacks in Blue, all volunteers. By many names I am called: Negro, Boy, Colored, and Soldier all.

In defense of freedom, we forsook all to heed the shouts of the wall. A hundred years ago and many fallen comrades we pursued Santana in Blue we were clad for the honor of it. And the lives we lost, we were sad. Darker the blue, and the Buffalo Soldiers, too.

We did what we had to do, for God and country. We are Americans, too.

- Inscription on the Buffalo Soldiers Memorial, Concordia Cemetery, El Paso, Texas
Beyond the Buffalo Soldier Memorial, much of the remaining cemetery landscape stands in bleak contrast. There are no flowing gardens or lush green lawns: just acre after acre after acre of regal concrete memorials, crumbling stone markers, and lonely, weatherbeaten wooden crosses.
While official literature suggests that at least sixty-thousand are interred in Concordia, nobody is really sure how many people lay buried beneath sandstone or wooden markers long decayed by the relentless dust storms, beating hot sun, and droughts of West Texas.
Every Grave Marker Tells a Story
This solitary marker called out to me.
What brought you joy, Antonio? How did you live? When did you die? Clearly, someone loves you. In my mind's eye, I see a lonely figure hunched over a rough-hewn board late into the night, painstakingly carving his grief into each letter of your name. Your brother? Your father?
Who mourns you today, Antonio?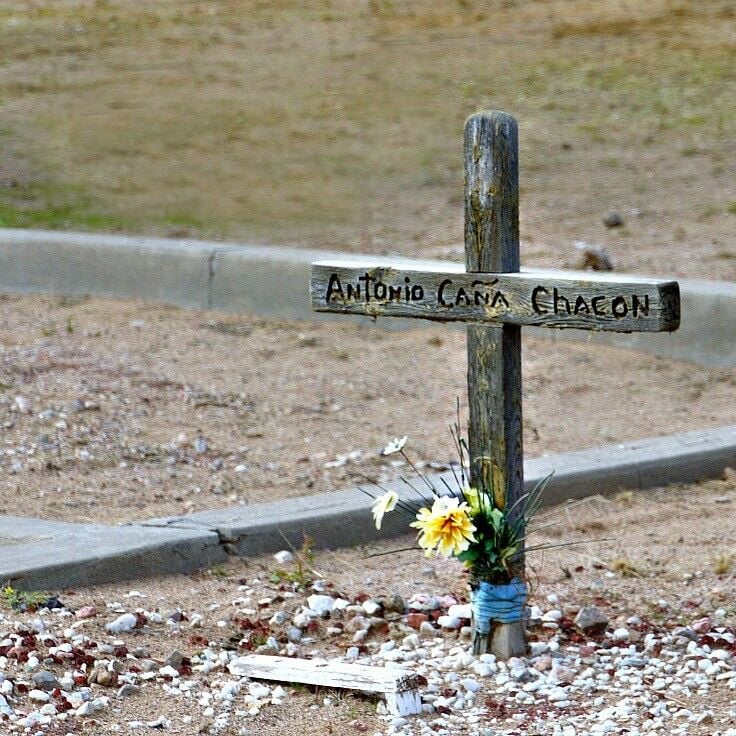 When you stop to think about the People who lay beneath, you start to understand that every grave - prince or pauper - holds a story.
On a lighter note, if I see your gravestone and your name is Cleopatra, I'm going to take a picture. I'll probably make up a back-story about you, too. It's going to happen.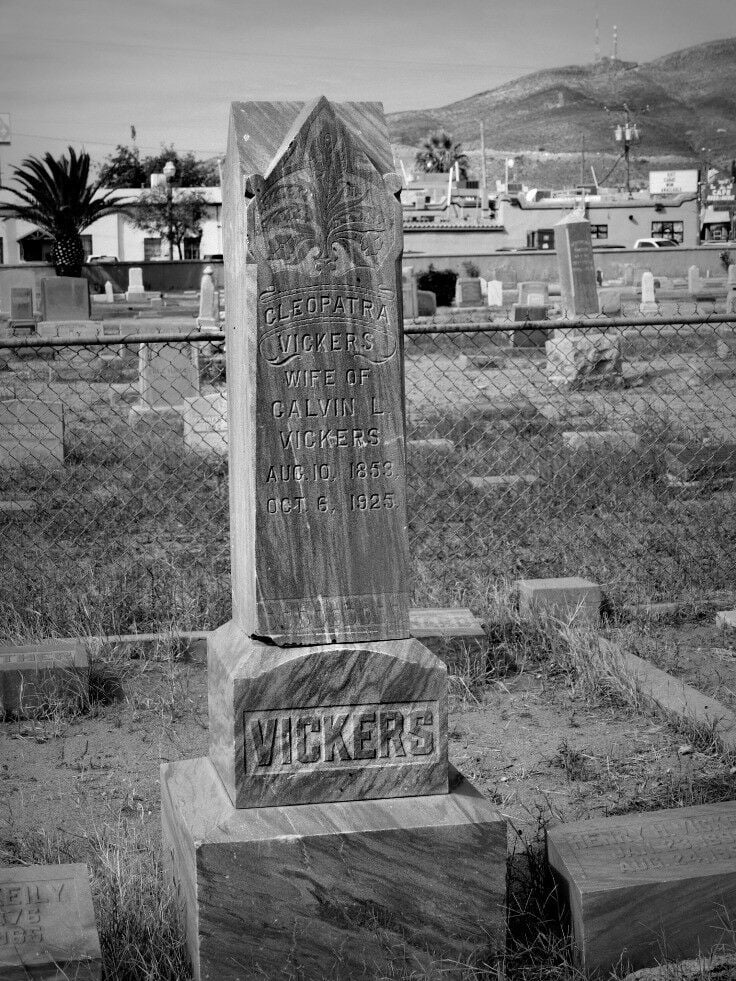 Concordia Cemetery is home to a surprisingly broad assembly of folks. There sections in the cemetery dedicated to a wide variety of racial, national, religious, and fraternal groups, including:
Mexican Revolutionary Figures
Chinese Section
Jewish Section
Catholic Section
Mormon Section
Masonic Section
Masonic Veterans Monument
Jesuit Priests Section
Grand Army Republic Veterans
Oddfellows Section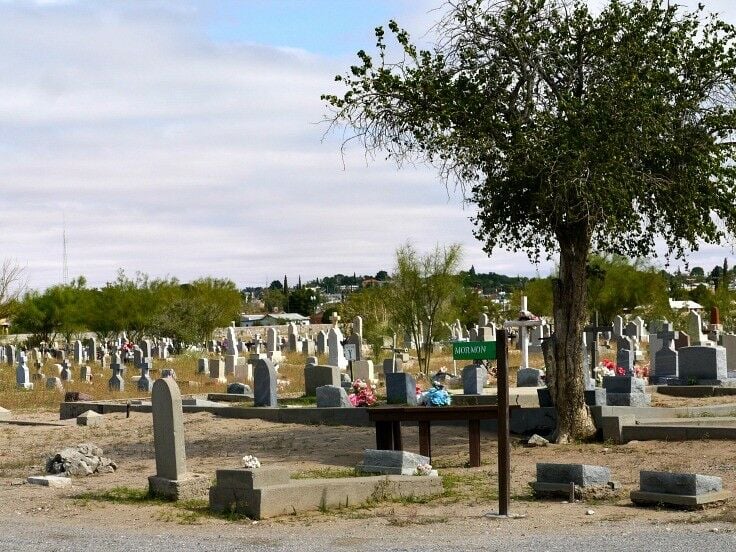 One particularly poignant section of the cemetery is the "Infant Nursery," filled with unmarked graves for babies who were victims of the Influenza epidemic of 1917-18.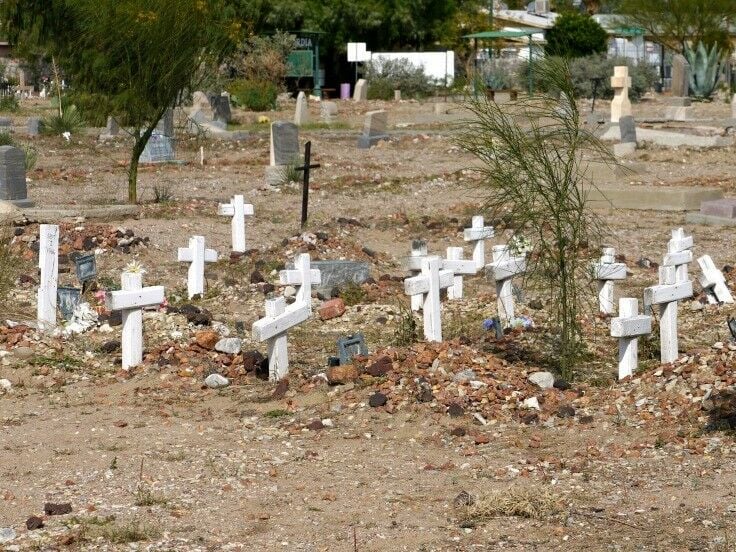 Famous Residents of Concordia Cemetery
The most famous (or infamous) individual interred at Concordia is notorious Wild West gunslinger John Wesley Hardin. Depending on perspective, Hardin is remembered as either a "a friend to the poor" or a murderous brute.
Known as a cowboy, gunslinger, poker player, and later in life a lawyer, Hardin courted trouble most of his life. He reportedly killed his first man when he was fifteen, and claimed to have killed forty-two men throughout his life, remarking, "I never killed anyone who didn't need killing."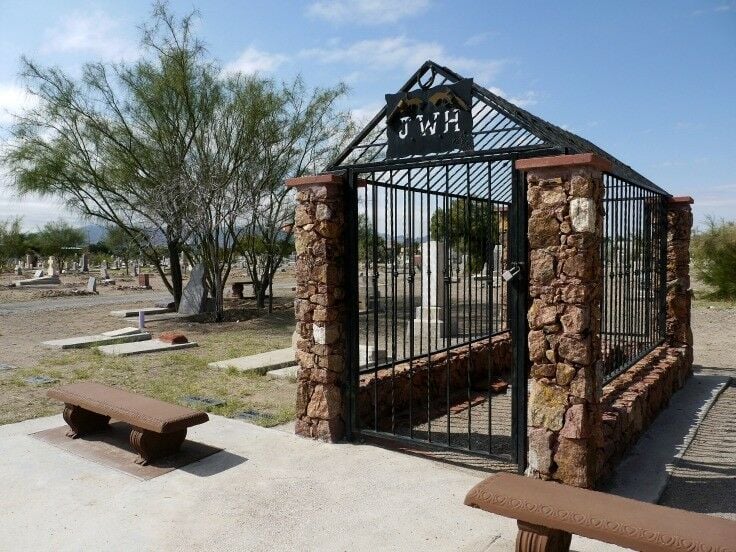 To dissuade visitors from taking souvenirs (which apparently was quite a problem for awhile), the grave of John Wesley Hardin now fenced and secured by a lock. It also has a nice Texas State Historical Marker detailing Hardin's life.
Today, many of those who visit Hardin leave trinkets at his gravesite. When we visited, we saw shot glasses, coins, bottle caps, and cartridge shells scattered inside the iron-barred enclosure.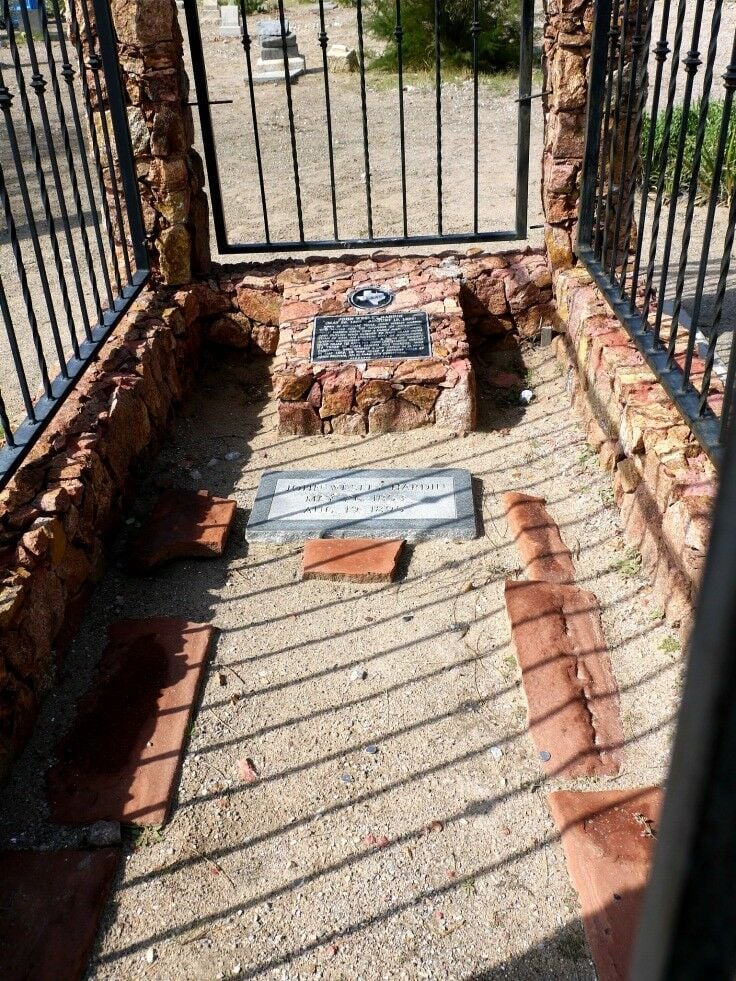 Other notable burials in Concordia include:
James Biggs, for whom Biggs Army Airfield is named.
Moses Carson, younger brother of Kit Carson.
Benjamin S. Dowell, first mayor of El Paso.
John Selman (1839-1896), gunslinger, killer of John Wesley Hardin.
Ernest St. Leon (d. 1898), Texas ranger.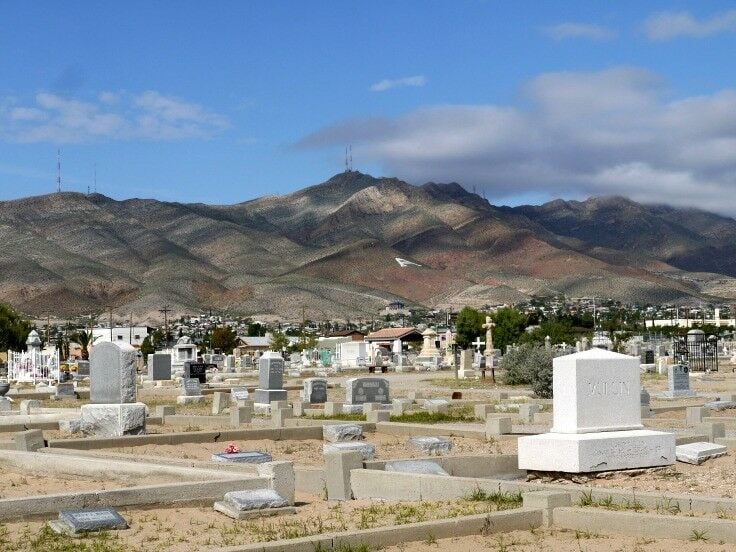 What to Know Before You Go
A walking tour of Concordia Cemetery can take anywhere from 15 minutes to an hour or more. It all depends on what you want to take away.
Bring a camera, drinking water, and good walking shoes.
The terrain is desolate, with little to no shade, so it can get very hot, particularly in the summer. Wear sunscreen and/or carry a parasol. (Don't knock it until you've tried it.)
Walking sticks are available at the cemetery.
Texas Red Ants are not a myth: they will crawl up your shoes and bite you if you stand in one place too long. Keep moving.
Guided night "Ghost Tours" are available if you're into that kind of thing.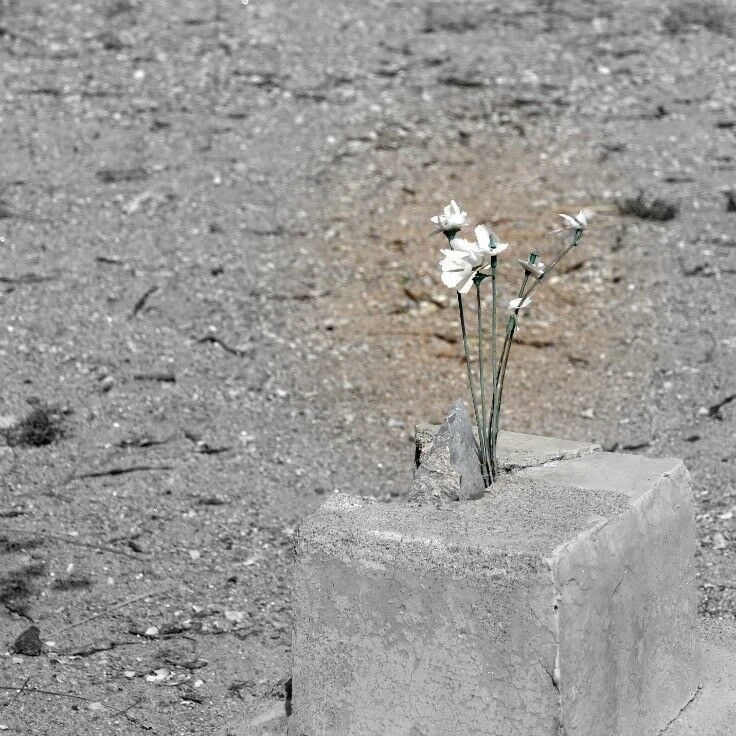 Concordia Cemetery, 3700 E Yandell Dr., El Paso, Texas (915.842.8200)
More About El Paso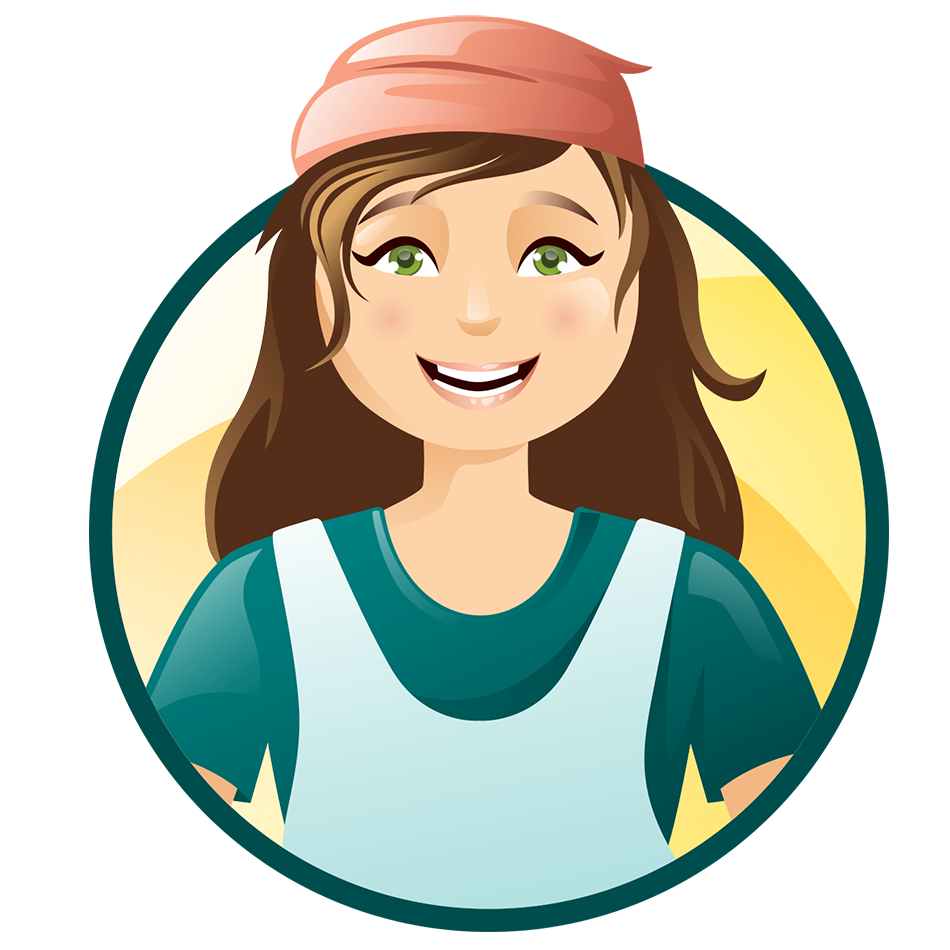 Thank you for visiting the Good Hearted Woman. Remember to bookmark this site, and come back soon!