Melted Dubliner cheese, tart apples, sweet apple butter, and cinnamon bread combine to make this amazing, award winning "Irish Apple Pie Twice-Grilled Cheese."
Ahem…You may now refer to Mr. B and me as Portland's reigning King & Queen of Grilled Cheese [2015]. In fact, we would be absolutely tickled if you did!
When we were growing up in east Portland, there were three memorable school field trips that every kid in town took – Alpenrose Dairy, the Zoo, and Franz Bakery. The first two required a long bus ride across the river to the west side, but Franz Bakery was just a few miles down Sandy Boulevard from where I lived.
The rich, mesmerizing scent of fresh Franz bread right out of the oven was as familiar to me as my mother's peanut butter cookies. I remember going to the Bakery in first grade like it was yesterday: at the end of the tour, you got an official Bakery hat (very stylish!), and a lovely, warm, child-size loaf of bread that smelled like all was good with the world.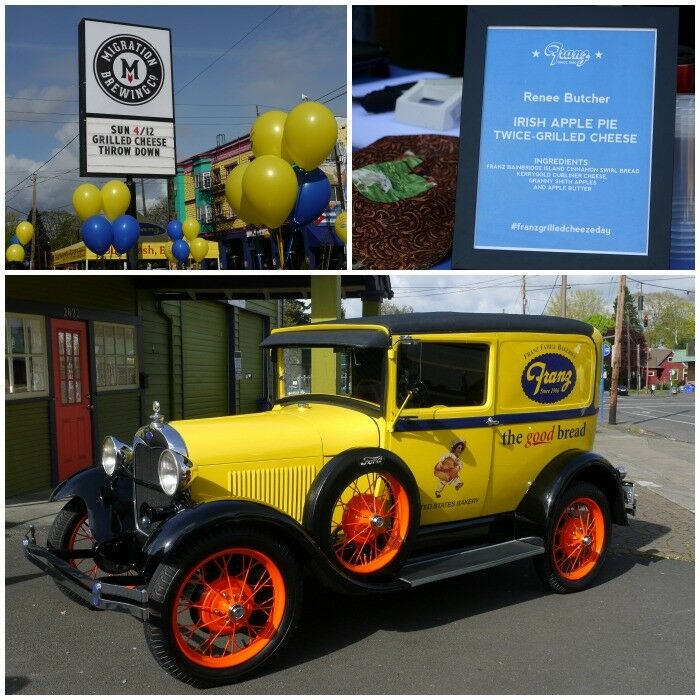 When I decided to enter Franz' first ever Grilled Cheese Contest a couple of weeks ago, I did it on a whim. I had no idea that it would culminate in making over a hundred sandwiches for an amazingly patient, nearly endless line of Portlanders drawn by early spring sunshine and the promise of a free lunch.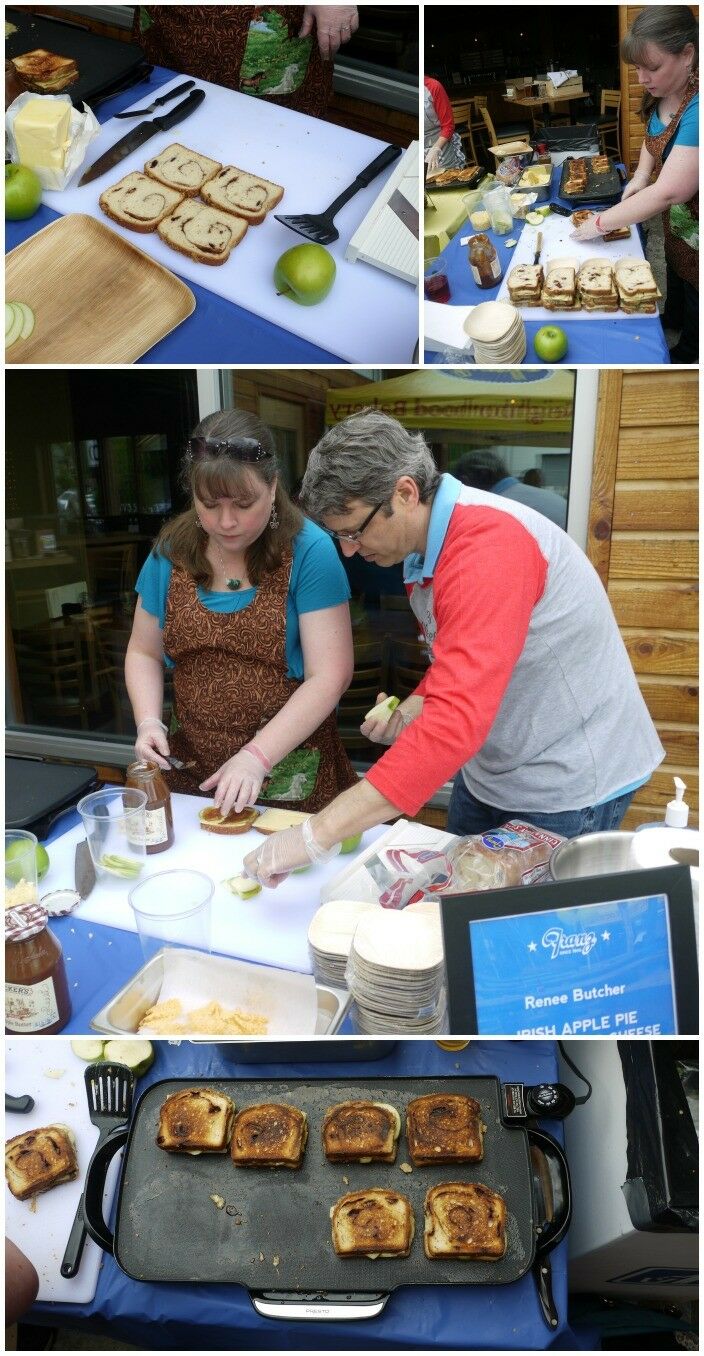 Mr. B jumped on board the second I asked him to be my "sous-chef." He couldn't have been more enthusiastic or helpful, and the day would have been a complete bust without him. He chopped cheese, assembled sandwiches, and kept the flow going – even when we had ten sandwiches down, another ten stacked and ready to grill, and ten ready to plate.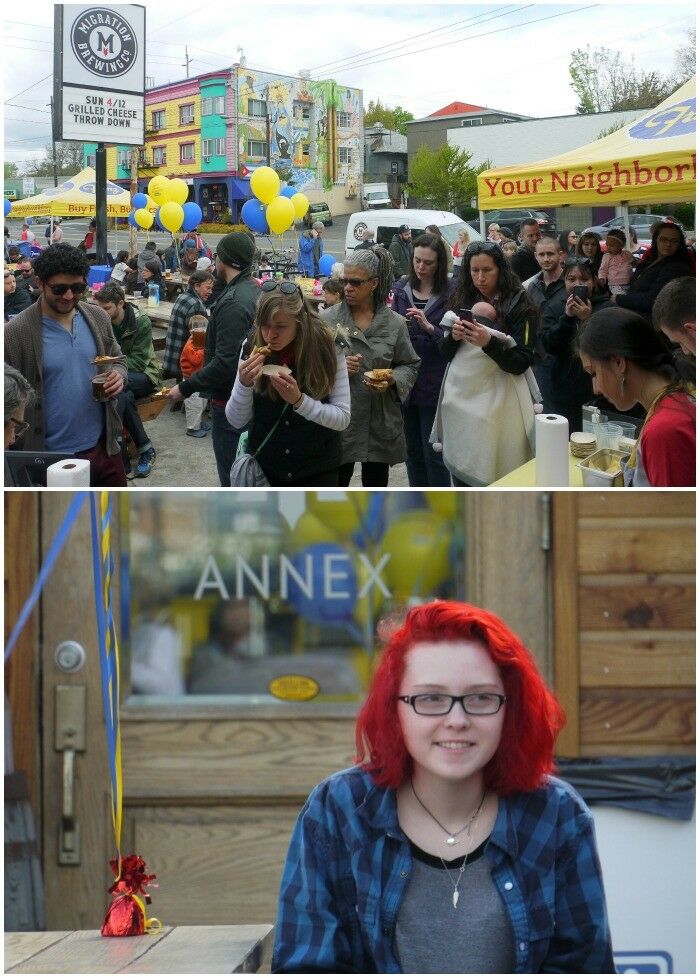 Our youngest, Em, came with us for moral support, and ended up being our primary gofer, photographer and inspiration. She's pretty awesome.
When Missy Maki was getting ready to announce the winner, I put my game-face on and got totally prepared to graciously congratulate the winner, so when she called my name, it literally took me a couple of beats to realize that she meant me!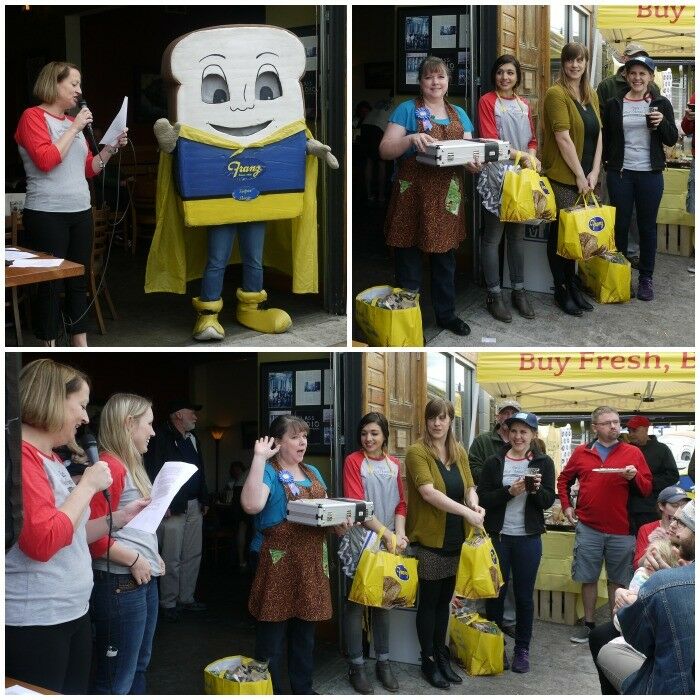 Franz awarded all the finalists with a generous swag bag full of delicious goodies, including a variety of fresh breads, bagels, and their recently repackaged frosted animal cookies. As winner, I also received a beautiful All-Clad barbecue set and a year's worth of Franz products. And a ribbon. (Which is so cool, I cannot even tell you.)
So here's (what I hope) you've been waiting for – our winning recipe:
For the contest, we were limited to five ingredients, and ours came in at one under (unless you count the butter to grill it with). Each item was carefully chosen to complement the whole: Aged Irish Dubliner Cheese for its marriage of sweet undertones, slight nuttiness and just a bit of a bite; apple butter for that spiced apple-pie sweetness; Granny Smith's for crunch and tartness; and Franz Bainbridge Island Cinnamon Swirl Bread, acting as the "crust" in this apple pie, to bring it all together. The Dubliner also works very well when making cheese crisps, which are one of my favorite parts of this sandwich.
Irish Apple Pie Twice-Grilled Cheese Sandwich
1st Place Winner!
Franz Bakery
2015 Grilled Cheese Contest, Portland, Oregon
Print Recipe
Pin Recipe
Ingredients
For each sandwich, you will need
2

slices

Franz Bainbridge Island Cinnamon Swirl Bread

2

thin slices. Kerrygold Dubliner Aged Cheese

1/8

cup

grated or finely chopped Kerrygold Dubliner Aged Cheese

1

Tbls

Apple butter

homemade or Smuckers

3-4

thin slices Granny Smith Apple

Butter for grilling sandwich
Instructions
Layer sandwich in this order:
Slice of Bread

Slice of cheese

Apple-butter

Apple slices

Slice of cheese

Slice of bread
Grill Sandwich slowly!
In a non-stick pan over medium low heat (or an electric grill heated to about 310 degrees), spread butter on surface of the grill. (I do this by just holding the stick of butter and rubbing it over the hot surface.)

Put prepared sandwiches onto grill. Dubliner cheese has a higher melt-point than many cheeses, so it is very important that you allow your sandwich to grill slowly. Flip over when golden: about 4-5 minutes. Grill equally on the other side.
Make the cheese crisp:
Sprinkle grated cheese on non-stick surface and allow to cook until golden onthe bottom. Using a spatula, carefully peel the crisp cheese off the grilling surface and allow to cool. You can shape it if you want before it cools, but if you do so, be extremely careful as the cheese will be very hot! You can make small cheese crisps to use as garnish, or a large one to serve over the entire sandwich.
Notes
The key to any good grilled cheese sandwich is patience. Don't rush the process, or you will just have a handful of toasted bread with cheese slices inside.
This website provides approximate nutrition information for convenience and as a courtesy only. You are solely responsible for ensuring that any nutritional information provided is accurate, complete, and useful.

THANK YOU so much for being a faithful reader and supporter of The Good Hearted Woman.

❤

Be sure to PIN and Print this recipe!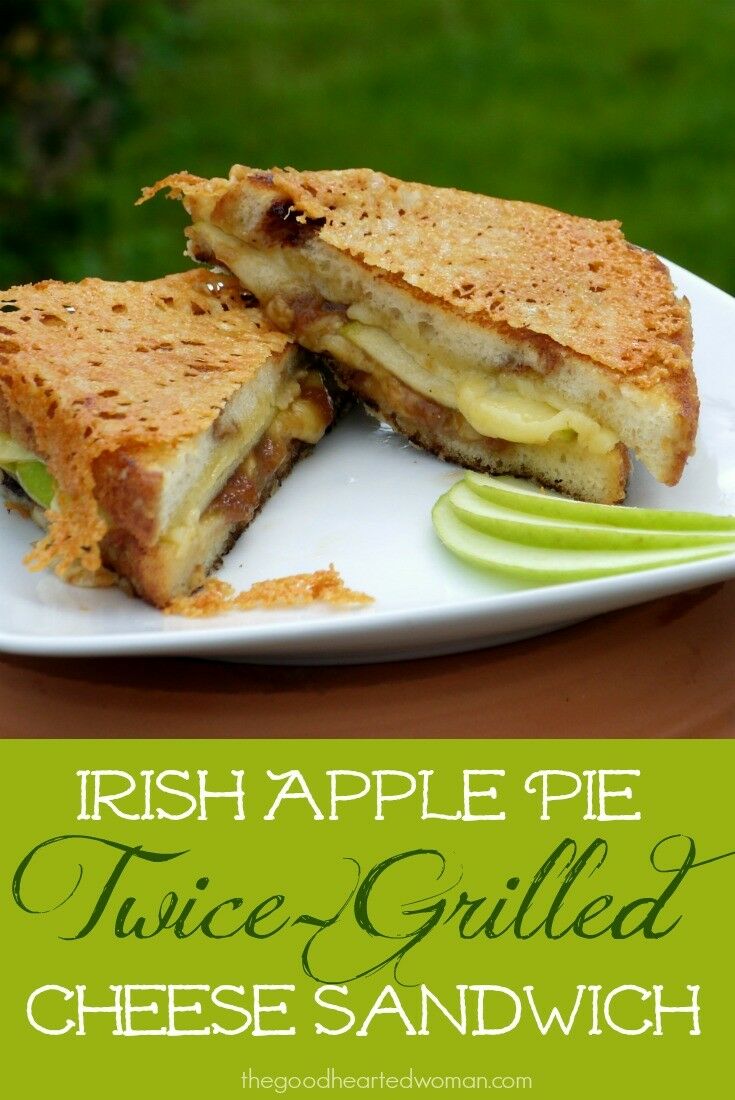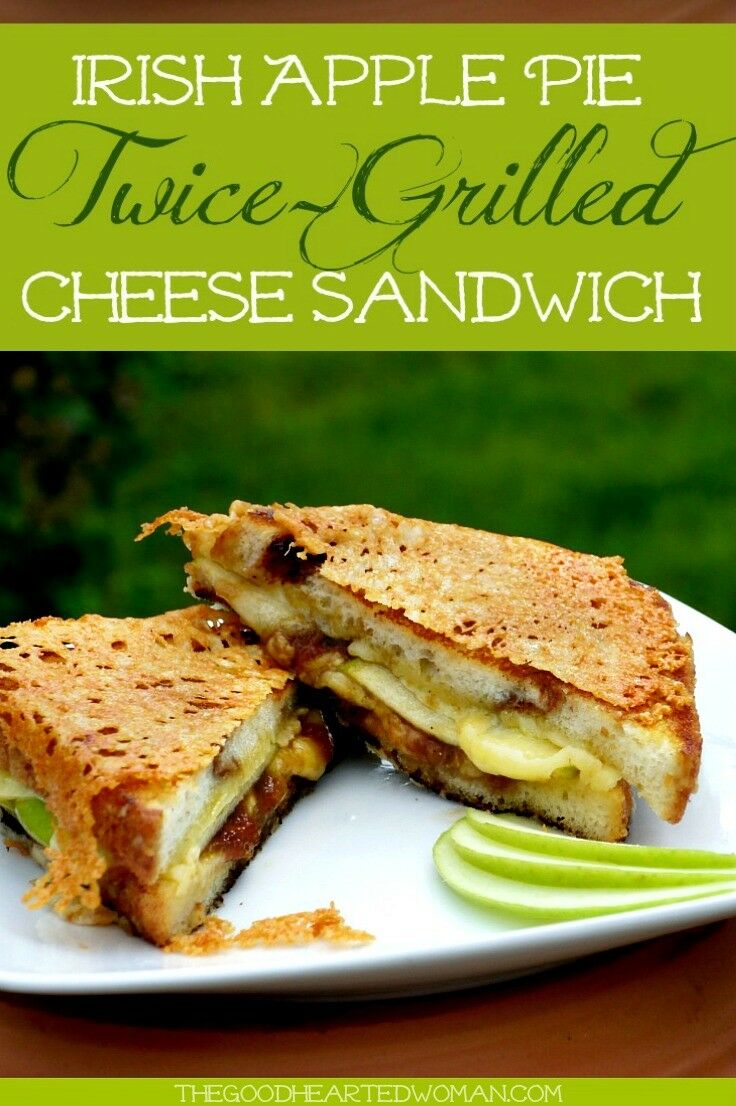 The little cook in my head is already thinking up new creations for next year's sandwich. I'd love to hear your ideas: what's your favorite grilled cheese sandwich combo?