Commemorating the life and legacy of Packy, Portland's biggest celebrity, on the anniversary of his birth.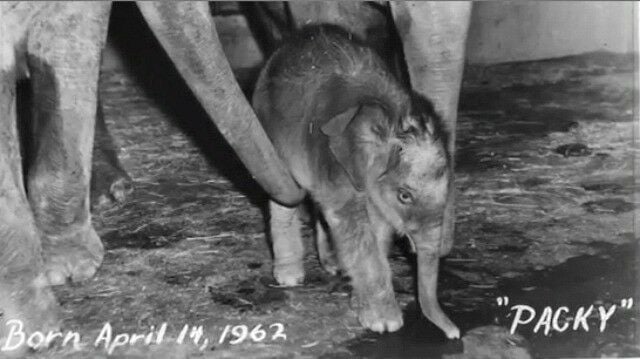 When I was a little girl, Packy the Elephant was the biggest celebrity in town - an international superstar even. But like most Portland kids who grew up in the 60's and 70's, to me Packy was more than just our Zoo's most famous resident - he was a member of the family.
Packy made his entrance into the world and the hearts of children everywhere on April 14, 1962, weighing in at a dainty 225 pounds.
Packy was the first elephant born in captivity in the Western Hemisphere in 44 years; a status that garnered him, among other things, an 11-page spread in Life magazine, a song written for and dedicated to him, countless reproductions of his image on everything from coffee mugs to parade floats, and a life-time supply of pachyderm-sized, carrot-topped birthday cakes.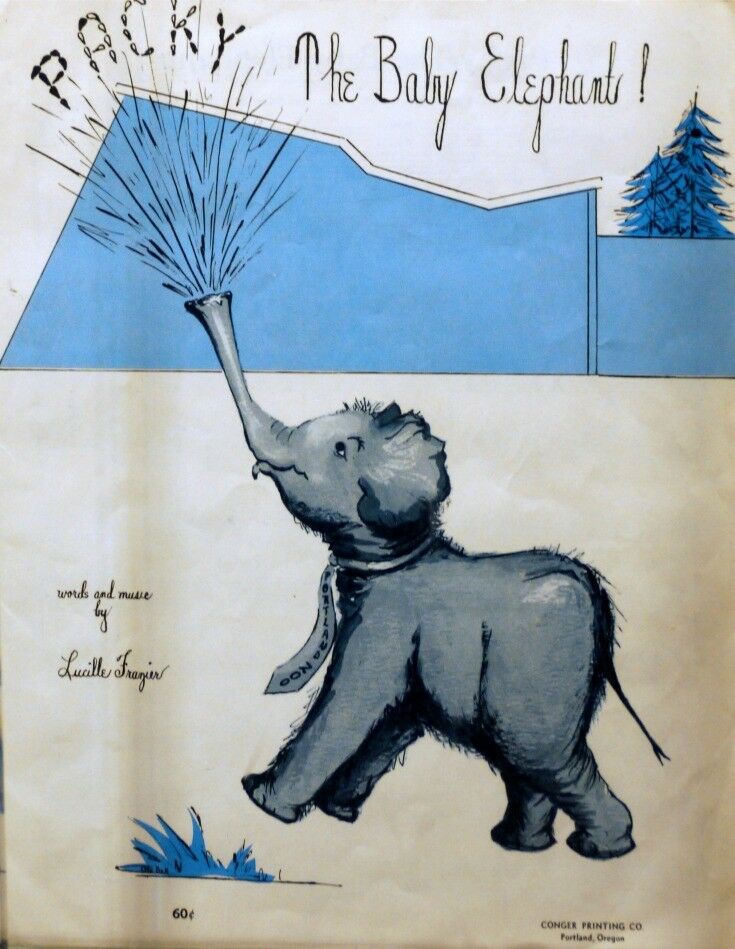 Packy's birthday was exactly one month and one week before mine, so during the earliest years of my life, his city-wide celebration became my cue that my own birthday was just around the corner.
I fondly remember going to the zoo as a child, elephant-shaped zoo-key in hand, and begging my grandpa for change to buy peanuts to toss to Packy and the other elephants. (Times do change, don't they?) I had a little plastic Packy purse and a bright yellow Zoo-train whistle imprinted with his likeness.
Over the years, Portland jubilantly welcomed each of Packy's seven calves, beginning with Me-Tu - the world's first baby elephant to be born from second-generation, zoo-born parents. (Sadly, Packy outlived all but one of his offspring: daughter Sung-Surin ("Shine"), born in 1982, still lives at the Oregon Zoo.)
In fact, Packy was a constant in my world from the day I was born until, in a controversial move in 2017, he was euthanized after failing to respond to treatments for drug-resistant tuberculosis. February 9, 2017 marked a profoundly sad day for everyone in the Rose City.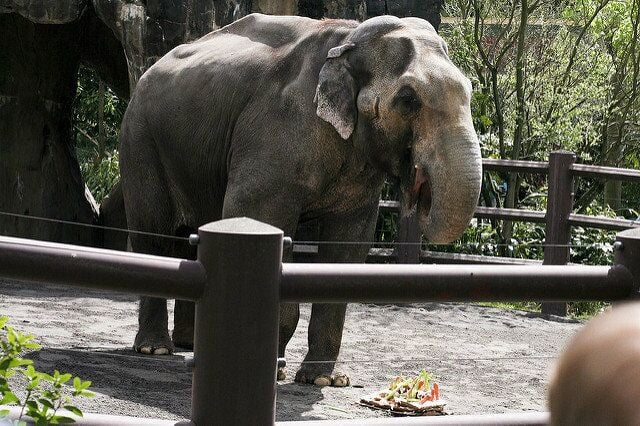 While his loss saddened our hearts, Packy left a great and enduring legacy - one that will ultimately continue to inspire and educate the Oregon Zoo's 1.6 million annual visitors about elephant research and conservation for generations to come.
Elephant Lands: Preserving the Packy's Legacy
About a year ago, Em and I had an opportunity to go to the opening of the new Elephant Lands at the Portland Zoo. As someone who has lived in this city for a very long time, I remember what the old elephant enclosure was like... (No, not the one you remember from a few years ago - that was a major improvement over the one I grew up visiting. I mean this one ↓ all stark, sterile, and barren.)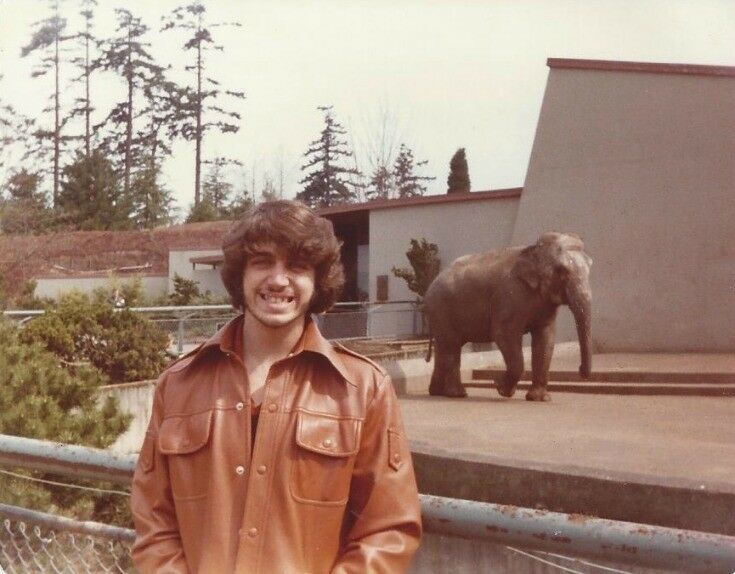 A lot has changed at the Oregon Zoo since 1980...including Mr B. (I took these pictures. It may or may not have been a school day.)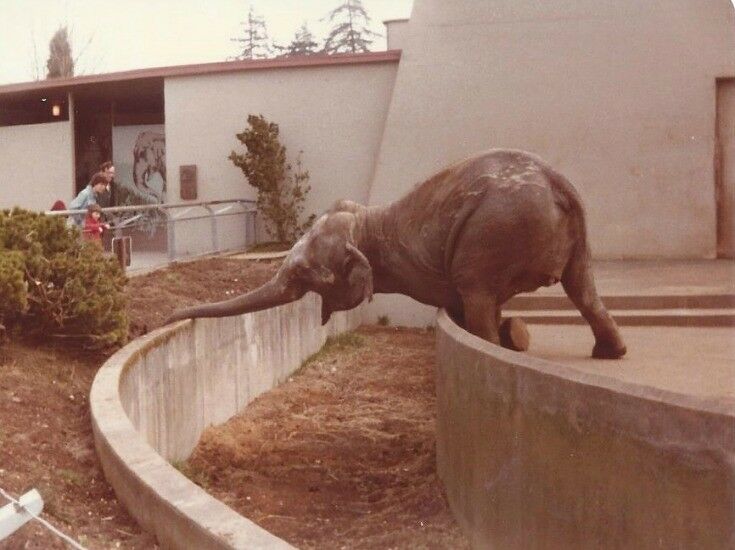 Recalling the not-so-good ol' days, I was deeply heartened to see that, with the opening of Elephant Lands, these gentle giants finally have a home where they can live with a generous measure of joy and dignity.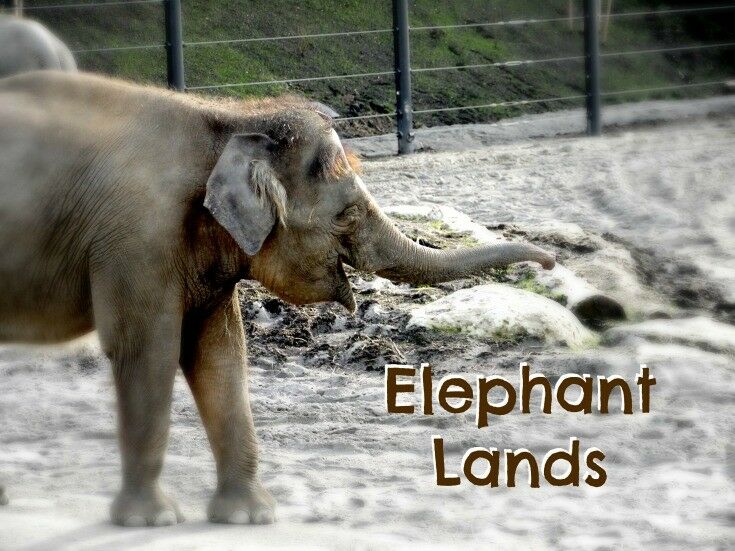 Elephant Lands reflects the Zoo's philosophy that all animals' lives should be filled with choice. The new habitat includes time-released feeders, mud wallows, and plenty of water features - including a 160,000-gallon pool - all designed to encourage elephants to be active 14-16 hours a day, just as they would in their natural environment.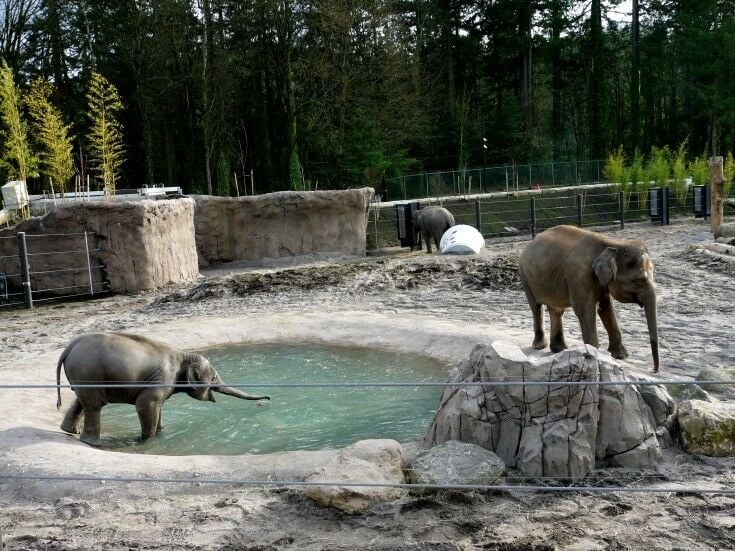 A thick covering of sand blankets the entire elephant habitat; (thankfully) a far cry from the unforgiving, often blistering cement floors of days gone by.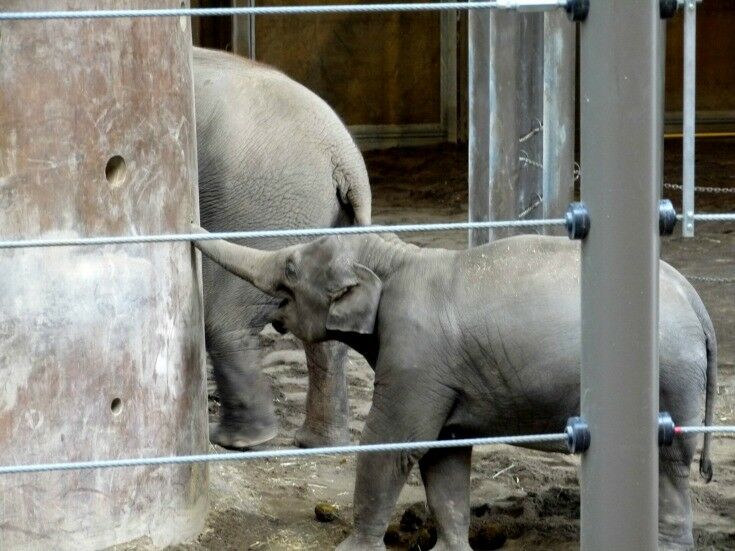 Indoor areas feature natural flooring and state-of-the-art heating and ventilation systems, and the herd can move inside and outside at will.
Forest Hall offers a spacious, inside viewing area, as well as an educational area that highlights the 5,000-year-old history of the human-elephant relationship around the world.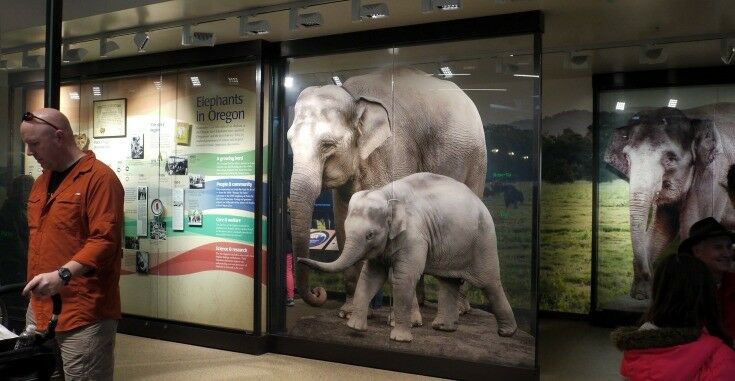 Together, the Elephant Building and Forest Hall form one of the largest indoor elephant facilities in the world.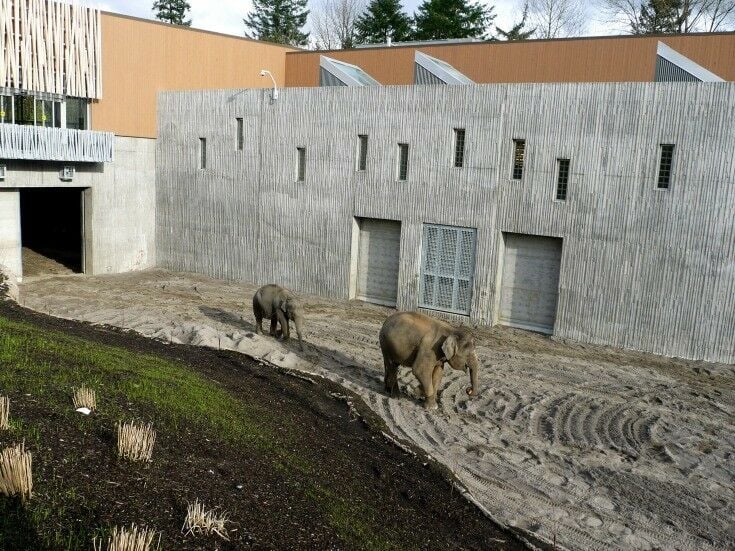 Elephant Lands at the Oregon Zoo (Video)
I was so impressed by the new facility that I put together this short video ↓ of our visit. I hope you enjoy it!
If you live in or are planning to visit the Portland area, I encourage you to visit our Zoo soon. There's always something new to see and learn. (Our Miss Em volunteered as a ZooTeen for five summers!)
Want to read more about Packy? Be sure to pick up a copy of Packy & Me, a fascinating account by Dr. Matthew Maberry, the doctor who delivered and cared for Packy for many years.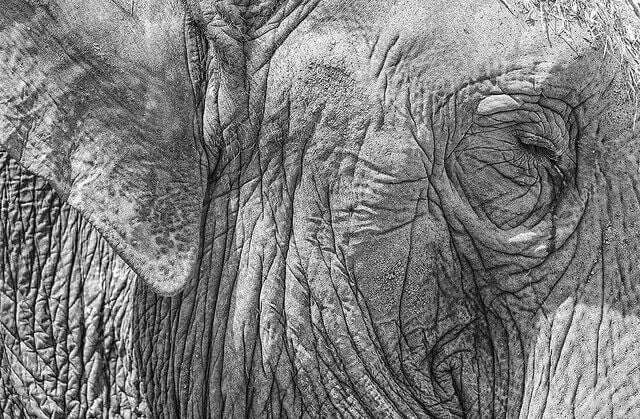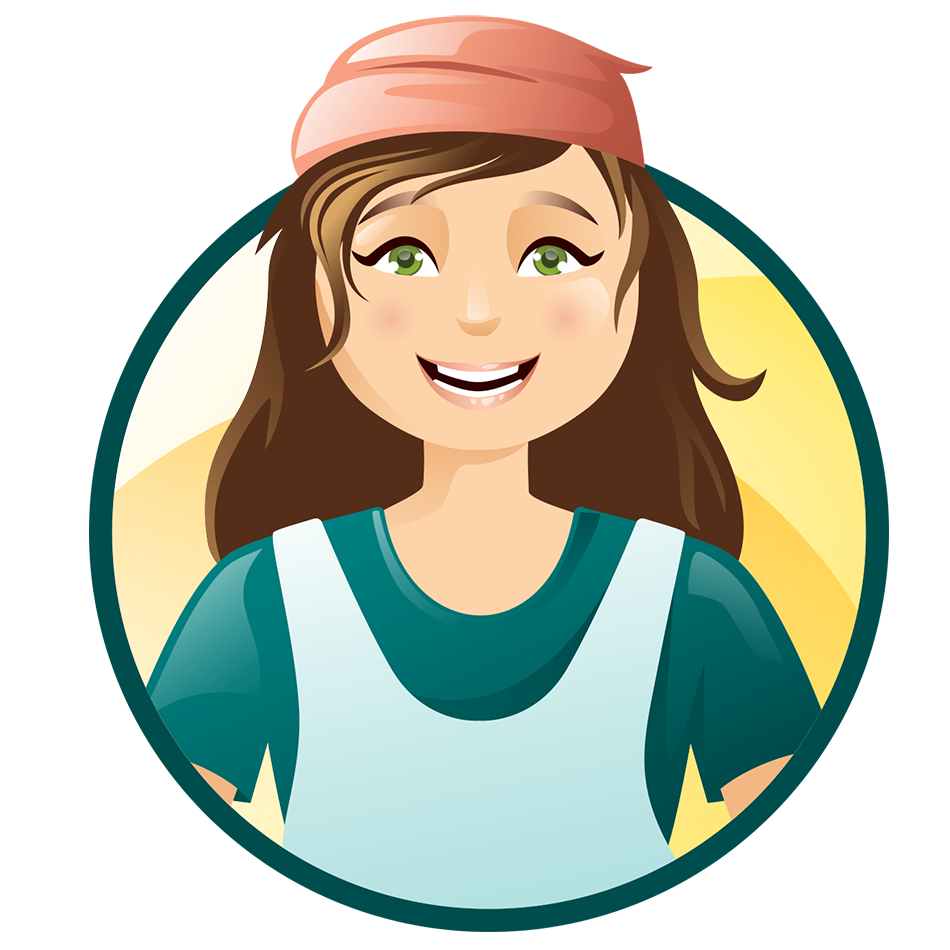 Thank you for visiting the Good Hearted Woman. Remember to bookmark this site, and come back soon!