Italian Easter Dove Bread is a tradition with a long and colorful history that dates back as far as 572 A.D. The most popular legend, however, comes from Italy's Lombardy region and the Lombardian victory over Holy Roman Emperor Barbarossa. According to legend, two doves (representing the Holy Ghost) miraculously appeared over the battle field.
However it began, the popularity of Colomba Pasquale (literally, "Easter Dove") swept across Italy, until it became what is now the unofficial national Easter bread.
This is a deliciously rich, sweet egg bread is very easy to make, and I highly recommend it to novice and expert bread-bakers alike. Wrapped well, it will taste even better then second day, perfect for pre-Easter preparation.
Novice baker or in a hurry? You can also make this bread with a prepackage bread mix. Just follow the directions as instructed on the package, reducing the liquid by 1/4 cup, and adding the anise, zest, and dried fruit. After the dough has risen once, follow the directions for shaping the Dove.
Disclaimer: I had schedule this post to go live nearly a week ago – giving you plenty of time to prepare for Easter. All I had to do was get a picture of the finished product, which I had cooling on a rack on the counter. Enter Patches, our Blue-Tick Heeler mix, who is completely untrustworthy in the kitchen when left to her own devices. In other words, the dog ate my homework.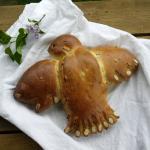 Italian Easter Dove Bread
Ingredients
2

large

eggs

1

large

egg yolk

1

cup

milk"

4 1/4

cups

bread flour

1/4

cup

sugar

1 1/2

tsp

Kosher salt

2

Tbls

butter

cut in four pieces

1

tsp

orange zest

2

tsp

active dry yeast

1

tsp

anise seed

1/2

cup

golden raisins

1/4

cup

dried cranberries

craisins

1

egg white

2

tsp

water

14

blanched almonds
Instructions
To prepare dough in an electric bread maker:
In a glass measuring cup, whisk eggs and egg yolk with enough milk to make exactly 1 ½ cups of liquid. Pour into bread machine or mixer.

Add flour, sugar, salt, butter, softened butter, orange zest, and anise in that order. Make a small indentation in the top and add the yeast.

Set the bread machine to the Dough cycle. When it beeps to add additional ingredients, add the craisins and golden raisins. (If your bread machine doesn't have this feature, just add the craisins and raisins after the dough is thoroughly mixed, but before it completes the kneading process.)

When the dough process is complete, turn the dough out onto your countertop, cover with a clean cloth and let it rest another 5 minutes.

Cover a large baking sheet with parchment paper or lightly grease.
To shape the Dove:
On a lightly floured board, roll dough into a 10"x8" rectangle. Cut into two 10"x4" rectangles.

Place one rectangle on the prepared baking sheet, and pinch middle to make wings.

On the second rectangle, pinch for head and body.

Cut seven 2 inch slashes for tail and fan out.

Cut two 2 inch slashes for each wing and fan.

Cover and let Dove rise in a warm place for 30 minutes.

Preheat oven to 350°. Combine egg white and water and brush onto dove. Place almonds on feathers as shown.

Bake 30-35 minutes or until golden. Remove to wire rack to cool.
Recipe Notes
You can also make the dough by hand. Just mix it up in your mixer, knead it as you would any bread dough, and let rise once before shaping.