Leftover Chili & Cornbread just got a makeover! Our easy layered Cornbread Breakfast Casserole transforms your leftover cornbread and chili (or stew) into a hearty, company-worthy breakfast.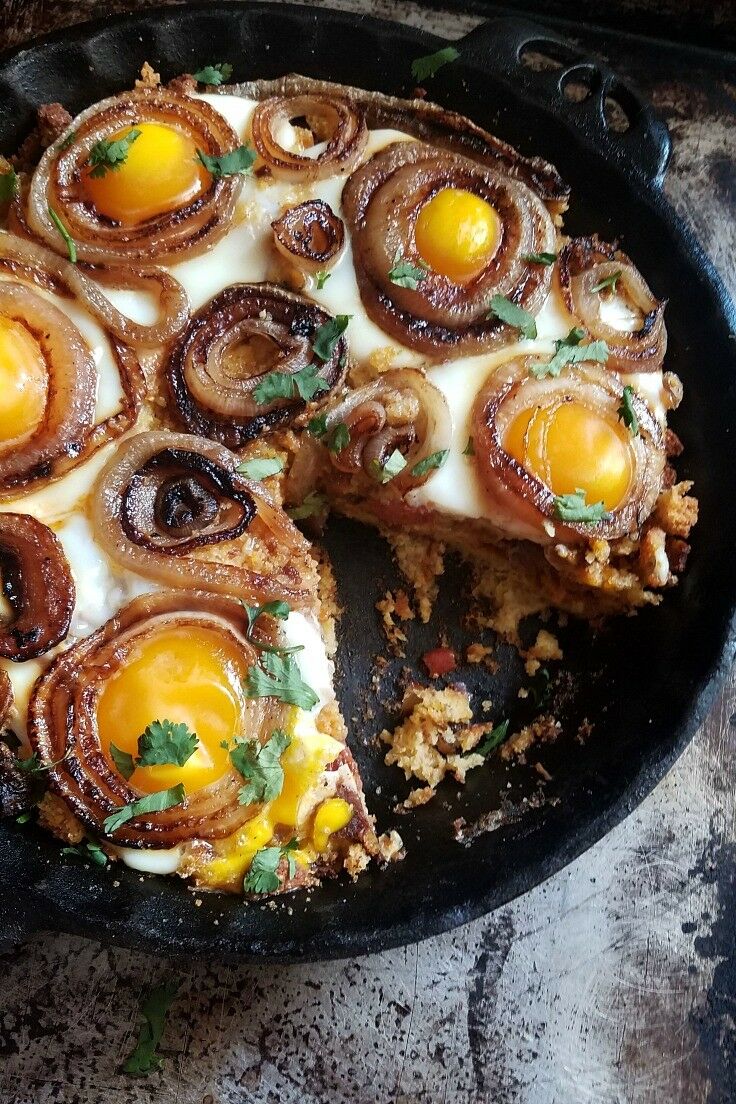 This post may contain affiliate links, but don't worry - they won't bite.
To make this scrumptious layered Cornbread Breakfast Casserole, all you need is leftover cornbread, a cup or two of leftover chili or thick stew, and a handful of standard pantry and fridge staples. Easy-peasy!!!
Cornbread is one of those things that is best eaten the day it is prepared: after that, it quickly begins to toughen and lose its freshness.
Recently, while developing my recipe for Sweet Skillet Cornbread, I made four separate batches of cornbread in the same week. I usually try to string recipe tests out over a few weeks, but that didn't happen this time, and as a result, we had a mountain of leftover cornbread.
Normally when I have leftover cornbread, I crumble and freeze it for use as breadcrumbs for casserole and pasta toppings; but that giant cornbread pile just called out to be made into something wonderful.
My first thought was to make a savory cornbread pudding, but then, Ooo... What about a stratta? (FYI - stratta, or strata, is just a fancy name for a layered casserole, often prepared with bread).
As it happened, we had a fridge full of fresh eggs thanks to Lady Bird Johnson and Harriet Lane Johnston (our two chickens), and a bowl of leftover chili. A plan began to take form.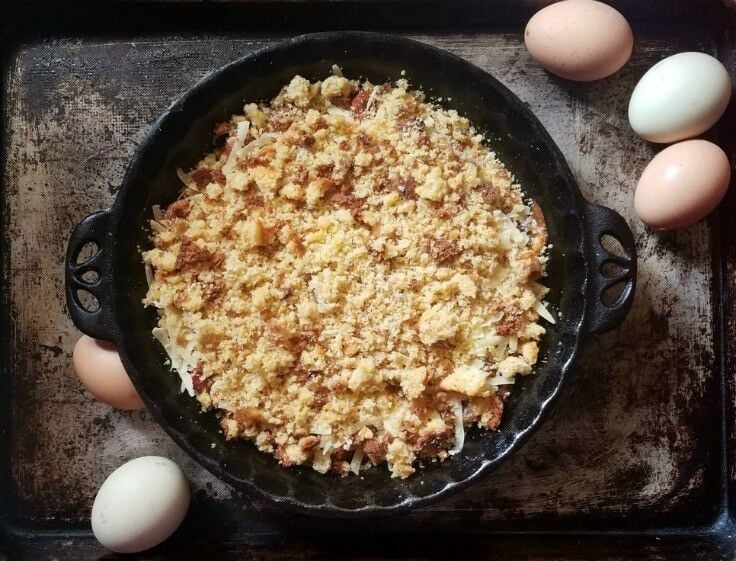 From Inspiration to Reality: How Recipe Developers Really Test Recipes
It is a long road from having a cool food idea to creating a viable recipe that is both tasty and can be successfully replicated by others. That road requires knowledge, preparation, organization, and testing, testing, testing.
When I'm working on a new recipe, I usually make it between one and four times, depending upon how involved it is and how many times I've made it in the past.
For tried and true recipes like Mom's Spaghetti Sauce or Split Pea Soup, which I've made countless times in the past, I make a single batch to verify ingredient amounts, instructions, and cooking times - and so that I can take pictures, of course!
For original recipes like this Leftover Cornbread Breakfast Casserole, however, I make the recipe a minimum of three times, and often more. A few years ago, Mr B and I made at least seven batches of (Almost) Original Taco House Fiesta Dressing before we deemed it perfect.

How Do Other Food Writers Test Their Recipes?
As I chiseled away at my Mountain of Leftover Cornbread, turning it into a trio of breakfast casserole test runs, I started wondering about how other food writers, recipe developers, and bloggers approach the task of proving a new recipe, so I ask a few of my foodie friends to share a little about their process.
It was interesting to learn how other food writers approach the challenge of testing out a recipe. I know first hand the amount of time and work involved, but the lengths some go to in pursuit of perfection surprised even me! (I'm looking at you and your 100 cakes, Eileen! ?) Check out what they have to say:
QUESTION: On average, how many times do you make a recipe from start to finish before posting it to your blog? What is your standard process for developing recipes?
Every recipe has been tested at least three times in my kitchen after it's been perfected. First test is for measurement accuracy. Second is for timing. Third for photography. New recipes and new methods are tested more extensively before they enter this process. When someone tries a recipe from my blog I want them to know it will turn out and I can't give that guarantee by making a recipe just once.
~ Renee, Renee Nicole's Kitchen
I make all of my recipes about 4 to 5 times before I post. The first two times are just for me and my husband to eat. I make most of my changes at this stage. The next two batches are given out to different groups of neighbors to get outside feedback. Finally, if I haven't done it already, I make it one last time to re-shoot any photographs that I might want for the article.
~ Valerie, Tiny Kitchen Cuisine
Typically once ?, sometimes twice, but the most to date I've repeated and photographed and tweaked was my Nutella Banana Bread; I made it 3x in 10 days. I share that experience in my post. Most of my recipes are tried and true and since my focus is easy and simple, if I can't get it right the first time then I typically don't make it again.
~ Kathleen, The Fresh Cooky
[I make a new recipe] at least 3 times, then more to test different substitutions that I know readers will ask about...so I usually make each one 10x (including one for photos and one for video). I work ahead so I spread out the batches (so we're not eating the same thing 10x in a short time frame).
~ Laura, Joy Food Sunshine
Because I have a baking blog and baking recipes need to be precise, I usually make a recipe a minimum of 3x before I'm ready to post. Four or five tests for a recipe is not unusual. For my Pound Cake Perfection recipe I baked over 100 cakes to get the best recipe possible.
~ Eileen, Baking Sense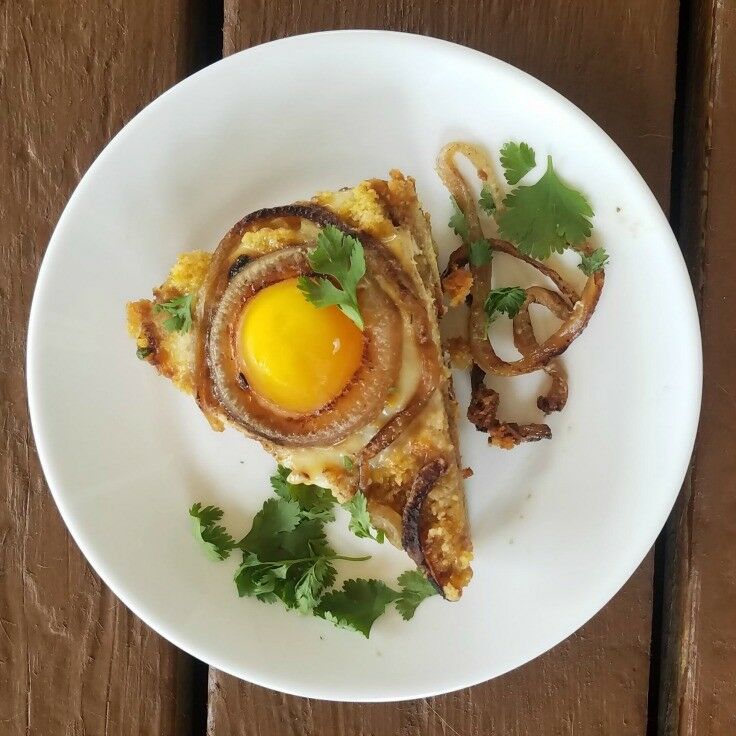 Usually it's 3 times but sometimes more if I end up creating variations or if I want to test different methods of cooking (stove top, instant pot, etc). There was one time where I tested it like 6 times and ended up with so much leftovers that my husband told me to STOP! haha..because he ends up eating most of it.
~ JinJoo, Kimchimari
I make a recipe at least three times and sometimes more before the recipe is completely worked out. By the time I've done the video and the photos and all the recipe testing it's a total of 7 or 8 times. By that time I never want to see it again. Lol. I actually have a little group of people who I call my baby bellies who take a lot of extras off of my hands..
~ Wendi, Loaves and Dishes
Typically, the third time is the charm, although I have nailed recipe experiments on the first try (but made it again to be sure) ... and abandoned ideas altogether after too many tries, chalking them up to "recipe fails." When it comes to recipe development, like anything creative (plus scientific), you must be willing to fail in order to succeed.
~Kelly, Kitchen Gone Rogue
I like to make my recipes 3-4 times before posting, assuming it's a brand new recipe. If it's a family favorite that I'm just getting around to posting, it won't take that many tries. If it's a dessert recipe I try to time it around a social gathering of some sort so I can give a batch or two away.
~ Megan, Scratch to Basic
Third Time's a Charm
Overall, three successful trial runs seems to be the magic number for the majority of recipe developers who responded to my question, though clearly everyone puts their own spin on that triple-check. Many thanks to those recipe writers and bloggers quoted here, as well as the many others who chimed in, for all their hard work and dedication!

Now it's time to grab those leftovers out of the fridge and throw together one of the best breakfast casseroles you've had all year!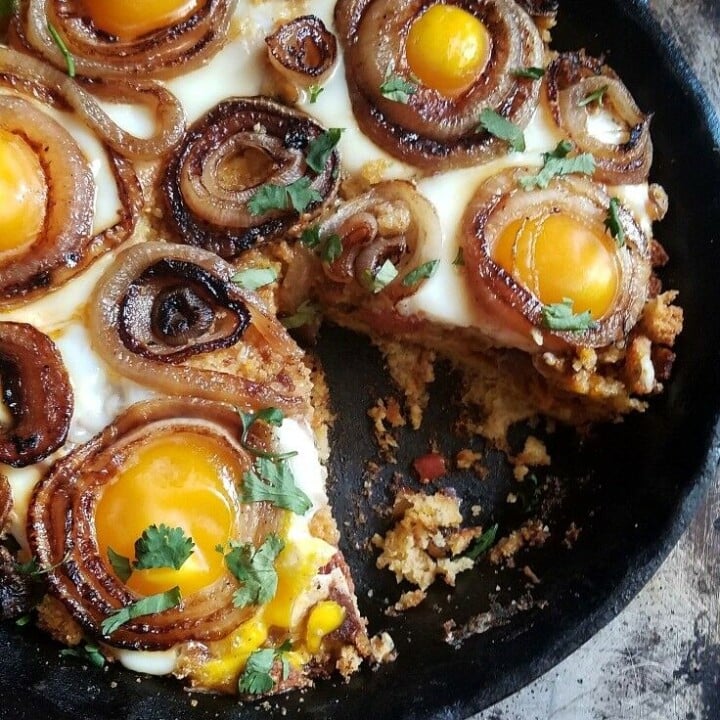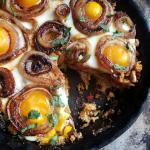 Leftover Cornbread Breakfast Casserole
This easy layered Cornbread Breakfast Casserole transforms your leftover cornbread and chili (or stew) into a hearty, company-worthy breakfast.
Print Recipe
Pin Recipe
Ingredients
2

tablespoons

butter

divided

1

large

sweet onion

peeled and sliced ⅜" - ¼" thick

3

cups

leftover cornbread

to 4 cups; sliced, cubed or crumbled (see Notes)

1½

cups

leftover thick chili or stew

to 3 cups

1½

cups

grated cheese

to 2 cups (see Notes)

8

whole

eggs

to 10 eggs
Instructions
Fried Onions
Heat 10" cast iron skillet (or cast iron pie dish) over medium heat for 2 minutes.

Add one tablespoon of butter to the skillet and swirl to coat as the butter melts. The butter should sizzle, but not brown.

Immediately place the onion slices in hot butter in the skillet in a single layer.

You can crowd them a bit because they will shrink as the cook.

Fry onions for about 2-3 minutes, or until golden.

Using a spatula, carefully turn onion slices over to fry the other side.

When onions are nicely browned on each side, carefully remove them from skillet using a spatula and set aside on a plate.
Assembling Casserole
Melt 1 tablespoon butter in a 10" cast iron pie dish (or cast iron skillet). Swirl melted butter to coat bottom and sides.

Cornbread Layer #1 • Cubed

Into the prepared cast iron pie dish, lay in 1 ½ - 2 cups of sliced (or crumbled) leftover cornbread, so that the bottom of the dish is completely covered by about ½ inch of cornbread.

In a small bowl, whisk together 2 eggs and ⅓ cup milk.

Season with ¼ teaspoon salt and a few turns of freshly ground pepper.

Pour evenly over cornbread layer in pie dish.

Press down slightly, just enough to flatten layer.

Grated Cheese Layer

Sprinkle grated cheese over cornbread layer.

"Leftover" Layer

Spread leftover chili (or stew, or whatever you are using) on top of the grated cheese.

Cornbread Layer #2 • Crumbled Spread 1 ½ - 2 cups crumbled leftover cornbread over the top of the Leftover layer.

Carefully crack 6 to 8 eggs onto casserole, arranging them evenly in a ring.

Arrange pan-fried onions around egg yolks.

This is actually kind of fun: I was thinking of Vincent Van Gogh's "Starry Night" while I was working.

Bake for 30 to 35 minutes at 350°.

Eggs whites should be set, and the whole thing is relatively firm to the touch.

Allow casserole to rest for 10 minutes before slicing.

Garnish with chopped fresh parsley or cilantro.

Serve warm.
Notes
For best results, use leftover cornbread from my Sweet Skillet Cornbread recipe. 
Preparing Leftover Cornbread
If possible, try to avoid making your leftover cornbread into fine breadcrumbs. This will result in a very heavy, dense casserole. 
I prefer to cube, or even slice, the cornbread that I use for the first layer. I try to slice it ⅜ - ½" thick, and use the slices to cover the bottom of the pan. That said, occasionally leftover cornbread defies slicing; in which case I try to keep it in the largest crumbled state possible. I use the larger crumbles for the first layer, and smaller crumbles for the top layer. 
Cheese
Cheddar and Mozzarella are always safe bets, but feel free to use whatever goes well with your "leftover layer."
Nutrition
Serving:
1
serving
|
Calories:
272
kcal
|
Carbohydrates:
25
g
|
Protein:
10
g
|
Fat:
15
g
|
Saturated Fat:
8
g
|
Cholesterol:
58
mg
|
Sodium:
582
mg
|
Potassium:
283
mg
|
Fiber:
3
g
|
Sugar:
7
g
|
Vitamin A:
509
IU
|
Vitamin C:
3
mg
|
Calcium:
222
mg
|
Iron:
2
mg
This website provides approximate nutrition information for convenience and as a courtesy only. You are solely responsible for ensuring that any nutritional information provided is accurate, complete, and useful.
I found the act of arranging the pan-fried onions around the egg yolks quite therapeutic. I was thinking of Vincent Van Gogh while I was working.
Need more ideas? Try these delicious, eggy breakfast recipes from GHW!

THANK YOU so much for being a faithful reader and supporter
of The Good Hearted Woman. ? Be sure to PIN this post!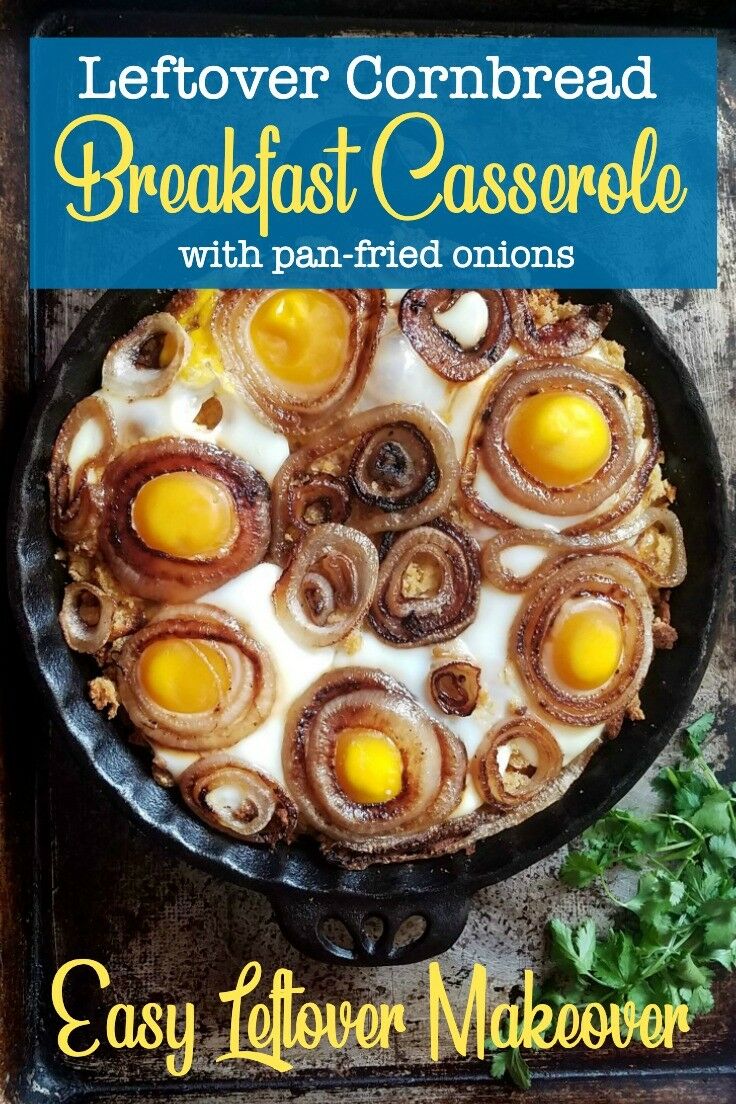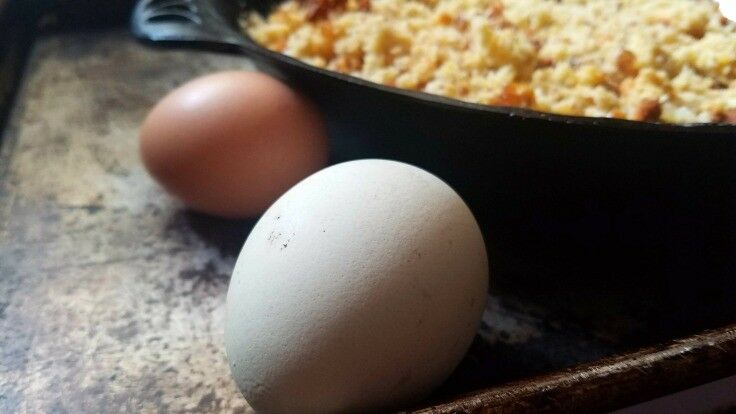 Disclosure: This post may contain affiliate links, including Amazon affiliate links, which means we may receive a commission if you click a link and purchase something that we have recommended. While clicking these links won't cost you any extra money, they do help keep this site up and running. As always, all opinions and images are my own. Please check out our disclosure policy for more details. Thank you for your support!